July 8/17 15:59 pm - Iles Claims 4th World Cup Win & World Cup Title

Posted by Editoress on 07/8/17

The Downhill Mountain Bike World Cup moved from Andorra in the Pyrenees to the Alps for Round 5 on Saturday, at Lenzerheide, Switzerland, which will host the world championships next year. Greg Minnaar (Santa Cruz Syndicate) padded his lead in the Elite Men's standings, with the 21st World Cup win of his career, while Myriam Nicole (Commencal/Vallnord) won her second straight World Cup to take over the lead in the Elite Women's competition.

Rain overnight had helped make the dry and dusty track a little less slippery. The 2.2 kilometre run drops 430 metres over its length, and features rough and technical root sections and rock gardens, as well as high speed sections.

Junior Men's world champion Finnley Iles (Specialized), out of Whistler, B.C., took his third straight victory, and the fourth of the season in his category, with an impressive ride that would have put him in the top-50 in Elite Men. The absence of his usual rival Matt Walker (Madison Saracen) gives Iles an insurmountable lead in the overall standings with 280 points to Walker's 140, with only two rounds remaining, making Iles the defacto World Cup champion for 2017.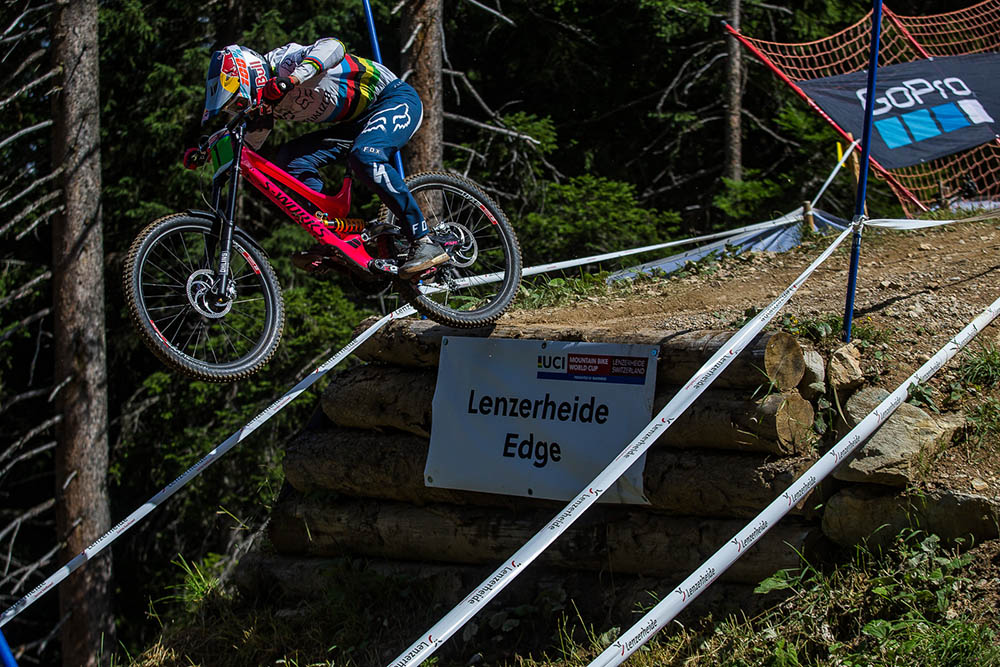 Finnley Iles
"I'm pretty happy," agreed Iles, " it has been in the back of my mind all week that I have a chance of winning the overall at this race. I was thinking about it during my run and I almost blew straight off the first corner ... I started thinking 'what am I doing' and began focussing. I felt like I rode pretty good, even though it was still slippery from the rain last night; all the roots had a good coating on them and it was hard to hold your line. You had to be slower going into some sections and it was more challenging."

In the Elite Women, Rachel Atherton (Trek Factory) served notice that she is back in contention for wins with the fastest ride in Qualifying and second place behind Nicole in the Final, after a mistake near the bottom of the course while leading. Atherton missed Rounds 2 and 3 due to a dislocated shoulder injury and finished fourth last weekend in her comeback race.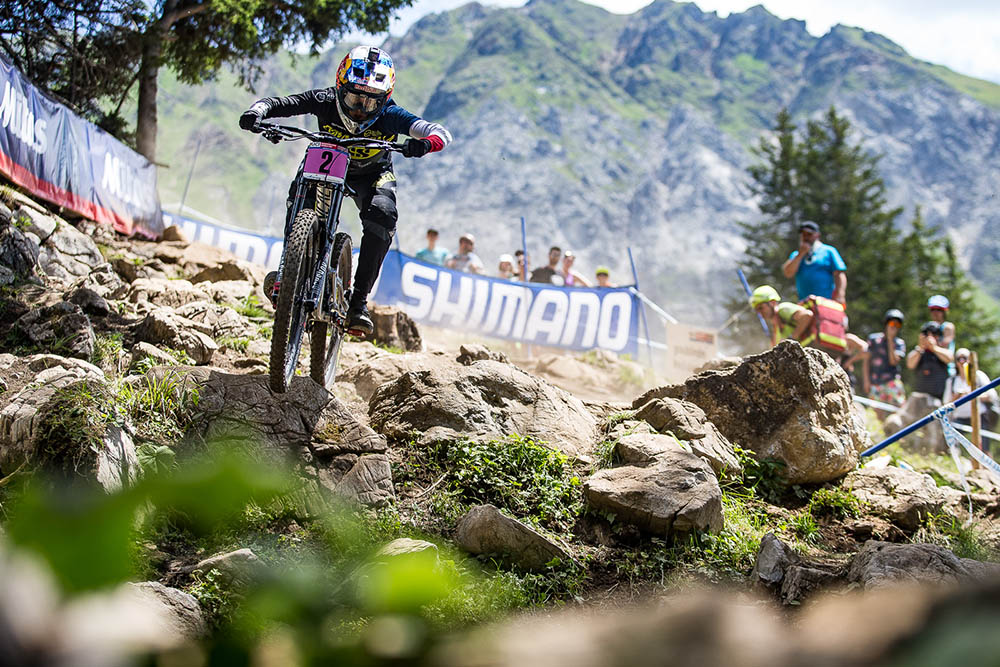 Myriam Nicole
Marine Cabirou (VV Racing) set the first sub-3:40 time at 10 riders to go, which stood up until the final five starters, when first Tahnee Seagrave (Transition/FMD Factory) and then Emilie Siegenthaler (Pivot Factory) beat it, the latter the first under 3:30. World Cup leader Tracey Hannah (Polygon UR), riding with an injured hand after a training crash, couldn't manage to surpass Siegenthaler and eventually finished fourth, but Nicole, the second fastest qualifier, smashed the Swiss rider's time by over two seconds to take the lead. Atherton, riding last, was fastest on the first three splits, but then bobbled a corner, losing her momentum, to finish 0.512 seconds back.

"I never thought I could do this [2 wins]," said Nicole. "Honestly, the whole week here has been okay but nothing fantastic in my riding; this is such a hard track that it is hard to find a good feeling on my runs. But it was tough for everyone. I thought my win last weekend was because of how much I love that track, but now for sure I can have more confidence because even on Bike Park tracks I can win."

"It's such a short track and so wild," commented Atherton. "I knew it would have to be a special run to beat Pom Pom [Myriam Nicole] and Tracey, and I was having a pretty good run until I messed up a corner at the bottom, and I blew wide and was in the grass. I thought 'if I was in the lead, I've thrown it away here'. But I'm so stoked to be back in the mix; I never thought after Fort William that I would be back on the podium so quickly."

Vaea Verbeeck was the top Canadian qualifier in ninth, followed by Canadian champion Miranda Miller (Specialized) in 13th. Miller, still recovering from a leg injury suffered in the second round, finished 12th, but Verbeeck had the best World Cup ride of her career, finishing seventh, just under two seconds off the podium.

In the overall standings, Nicole takes the lead from Hannah with 980 points to Hannah's 900. Seagrave stays third at 819 points. Verbeeck improves two spots to 12th, with Miller remaining in 13th place.

In the Elite Men, Luca Shaw (Santa Cruz Syndicate) sat in the Hot Seat as the final 20 riders began their runs, with a time just under 3:01. Philip Atwill (Propain Dirt Zelvy) knocked a tenth of a second off the leading time, but was immediately bumped by former Junior world champion Laurie Greenland (MS Mondraker), who became the first to go under three minutes, and the first to beat Aaron Gwin's (The YT Mob) top qualifying time.

Greenland's time continued to hold up as the top qualifiers came down, and it wasn't until his MS Mondraker team mate, world champion Danny Hart, came down at six to go that there was a new leader. Hart kept the lead until Minnaar, at three to go, came through the finish line, over 1.8 seconds faster. Troy Brosnan (Canyon Factory), the winner of the previous World Cup round, was ahead of Minnaar in the upper sections before losing time lower down to finish 0.162 seconds back, leaving only defending World Cup champion Gwin to ride. The American was on a stellar ride, ahead at every time check and over 1.5 seconds faster than Minnaar at the fourth and final intermediate split, before suffering a rear flat near the bottom of the course, dashing his hopes. For Minnaar, it is an incredible 75th career World Cup podium appearance.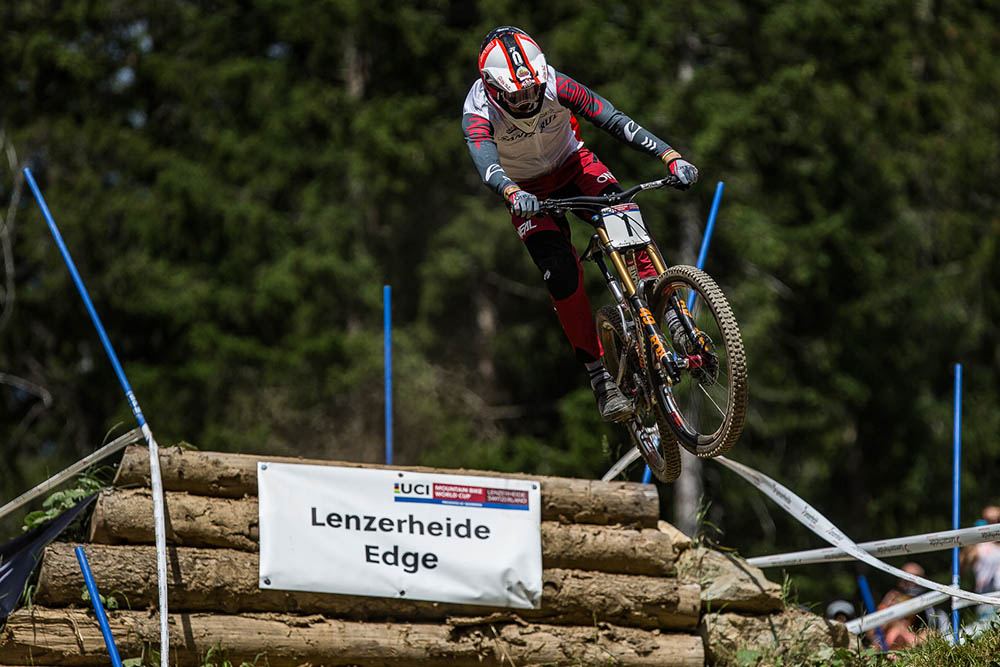 Greg Minnaar
"My run started a bit stiff and I tried to pull it back a bit," explained Minnaar. "And then through the rocks I stalled, so I really needed to get things going. I pushed hard through the middle to get back and I felt that I caught up a bit of time, and then rode the bottom nicely. One of the hardest things was that there were sharp rocks everywhere. It was a good solid ride; this is a tough track and tough conditions. But Aaron was on such a good ride when he punctured, and he was the fastest at that point. It's not a nice way to win, but at the same time it's always a race right to the end."

Gwin was philosophical about his bad luck, "That's racing, and anything can happen. I'm not sure what really happened. I could feel the tire going low towards the bottom and I was hoping it would hold. But I think I actually cut the sidewall, and when that happens there is nothing you can do. It's just a bummer that it had to happen then."

The top Canadian of the day was Mark Wallace (Canyon Factory) in 17th place. Forrest Riesco was 43rd, Canadian champion Kirk McDowall 72nd, and Henry Fitzgerald (Norco Factory) 75th.

"To be honest, I wasn't really happy with my run," admitted Wallace. "But, all things considered, I can't be too upset. It's tough to come off a run that felt perfect like last week, and then have one that's not quite there. It's such a tough track to race here, I think it's underrated for how hard it is. In my race run I just struggled and couldn't flow. I'd push too hard in one section and make a mistake and then not push hard enough in the next one. It was frustrating."

In the overall standings, Minnaar has 902 points, with Brosnan overtaking Gwin for second place at 742 points to Gwin's 649. Wallace moved up one spot to sixth in the standings, at 481 points, with Riesco in 46th place.

Results
Junior Women and Men, Elite Women
Qualifying: Junior Women and Men, Elite Women