July 9/17 15:27 pm - Schurter Takes Fourth Straight World Cup Win

Posted by Editoress on 07/9/17

Round 4 of the XCO Mountain Bike World Cup offered some of the most exciting racing of the season on Sunday in Lenzerheide, Switzerland. Annie Last (OMX Pro Team) became the first British XCO winner in 20 years in the Elite Women's race, while Nino Schurter (Scott-SRAM) extended his perfect season with his fourth straight win in Elite Men.

Canada did not score XC any podiums this weekend, however, Peter Disera (Norco Factory) had his fourth straight top-10 in Under-23 Men, while both Emily Batty (Trek Factory) and Catharine Pendrel (Clif Pro) finished in the top-10 in Elite Women.



The Lenzerheide circuit, while not at as high an altitude as Andorra last weekend, is still nearly 1500 metres above sea level. The 4.2 kilometre circuit has one longer opening climb and a series of short steep climbs, combined with numerous rough and rooty forest sections. Heavy rain the night before made the wooded sections almost unrideable in places, and the UCI made the unusual decision of cutting a lap from the women's race part way through the competition (they also cut a lap from the men's race after).

Gunn-Rita Dahle Flesjaa (Team Merida Gunn-Rita) and Yolanda Neff (Kross Racing) opened a gap on the first lap of six (initially seven), with Neff falling back halfway through the lap, leaving Dahle Flesjaa alone up front. The Norwegian, chasing her 30th career World Cup win, was joined at the front on the next lap by World Cup leader Yana Belomoina (CST Sandd American Eagle), and the two swapped the lead position over the next few laps, with Belomoina stronger on the climbs and Dahle Flesjaa better in the technical sections.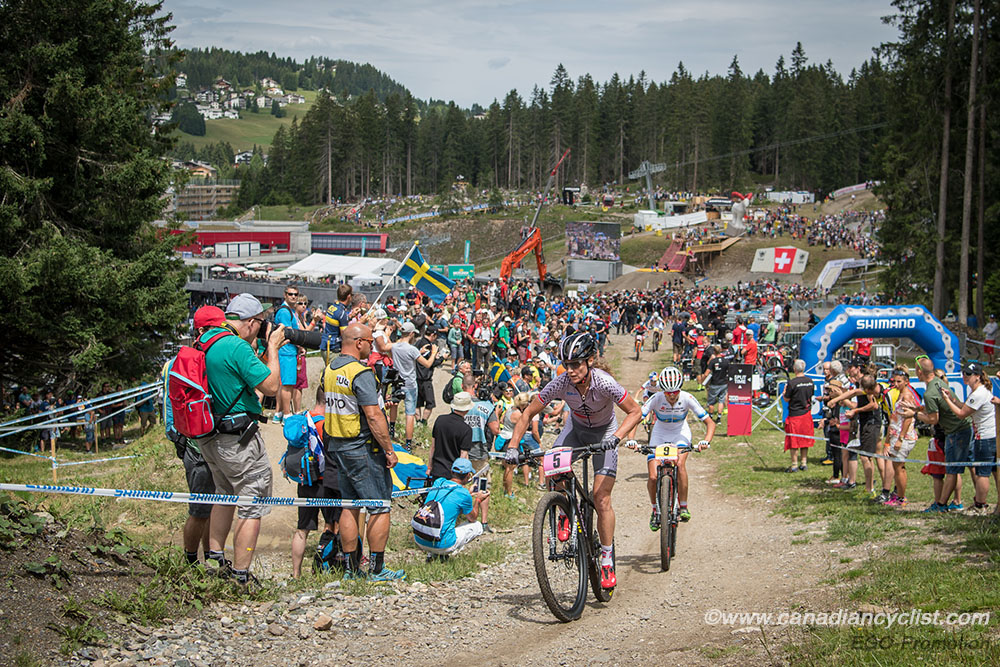 Gunn-Rita Dahle Flesjaa (Team Merida Gunn-Rita) and Yolanda Neff (Kross Racing)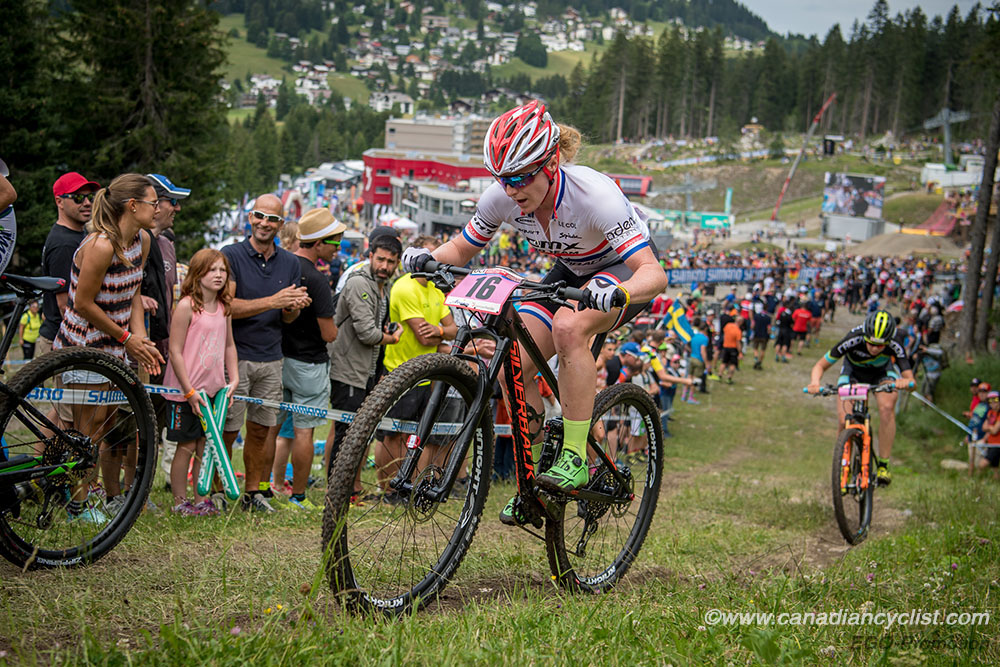 Annie Last (OMX Pro Team) became the first British (female) XCO winner in 20 years
Emily Batty (Trek Factory)
However, Last, who has struggled with back problems over the past few years, was steadily moving up from behind, into third by Lap 4 (when the lap reduction was announced) and joining the leaders on the fifth lap. She attacked late in the lap to move seven seconds clear of Dahle Flesjaa by the start of the final lap, with Belomoina starting to drop back further. Last had the fastest lap of the day on the final lap, to beat Dahle Flesjaa by 13 seconds and Belomoina by 27 seconds. With her win, Last became the first British World Cup winner since Caroline Alexander in 1997 at St-Wendel, Germany. It should be noted that Dahle Flesjaa was 17th in St-Wendel that year and Sabine Spitz (Wiawis Bikes), 13th in Lenzerheide, was 24th in the 1997 race.

"To be honest, I have no idea what I feel right now," said Last, overwhelmed by her win. "I've had a tough couple of years, and even to be racing felt incredible, and then to move forward like that ... it's not sunk in yet. It's unbelievable and I'm so happy."

Dahle, who was looking for her 30th World Cup win, was gracious in her defeat, saying "I'm really happy with my result, and I'm also happy for Annie winning her first World Cup ever. There were a lot of strong women out there and you need a good day to be top three."

Batty, after finishing fifth last week in Vallnord, had a strong start and was fourth after the first lap. She faded a bit in the middle of the race, dropping to eighth, before recovering in the final lap to finish seventh. Catharine Pendrel, who struggled in Andorra and started at Lenzerheide on the third row, had a much stronger race this week, setting the fastest lap time on the second lap and moving up as high as sixth before fading in the last lap and a half to drop to tenth. Haley Smith (Norco Factory) finished 23rd, her best result of the season, Sandra Walter (Canadian National) was 27th, Catherine Fleury (Canadian National) was 41st and Cindy Montambault (Canadian National) 50th.

"I'm disappointed with today's performance," admitted Batty. "I was hoping to build on my successes in Andorra, and I prepared well. The form is there, and I delivered a great start, but I honestly needed more times splits or position feedback during the race to target a better result and find my rhythm on the course. I also made a few little mistakes which all adds up, especially when the level of racing is extremely tight on a track like Lenzerheide. Last weekend's fifth was confidence boosting and today's seventh tells me we need to fine tune even more and deliver a better performance. The racing is tight, and I'm well within the winning position, I just need to find a way to close that gap."

Pendrel definitely felt better then last week, commenting "I'm super pleased with today and to feel like myself again out there riding aggressively. It was disappointing to lose four spots in the last lap, but I think I just used too much gas coming through traffic on laps 1 and 2 to be able to up the pace on the last lap."

In the overall standings, Belomoina has extended her lead after number two ranked Annika Langvad (Specialized) pulled out due to illness after a lap and drops to fifth. Belomoina has 800 points, with Maja Wlozczowska (Kross Racing) moving up to second with 610 points, followed by Linda Indergand (Focus XC) at 560. Batty moves up two spots to eighth, while Pendrel remains in 17th.

In the Elite Men's race, the continuing absence of Schurter's usual rival Julien Absalon (BMC) due to a broken collarbone has opened the door to multiple rivals, although Schurter has thus far proven untouchable. Former cyclo-cross world champion Mathieu van der Poel pushed Schurter in the first two rounds, but struggled in the altitude at Andorra, and it proved to be the same situation here, with the Dutch rider starting strong and taking the race to Schurter before fading in the latter half of the race to finish tenth.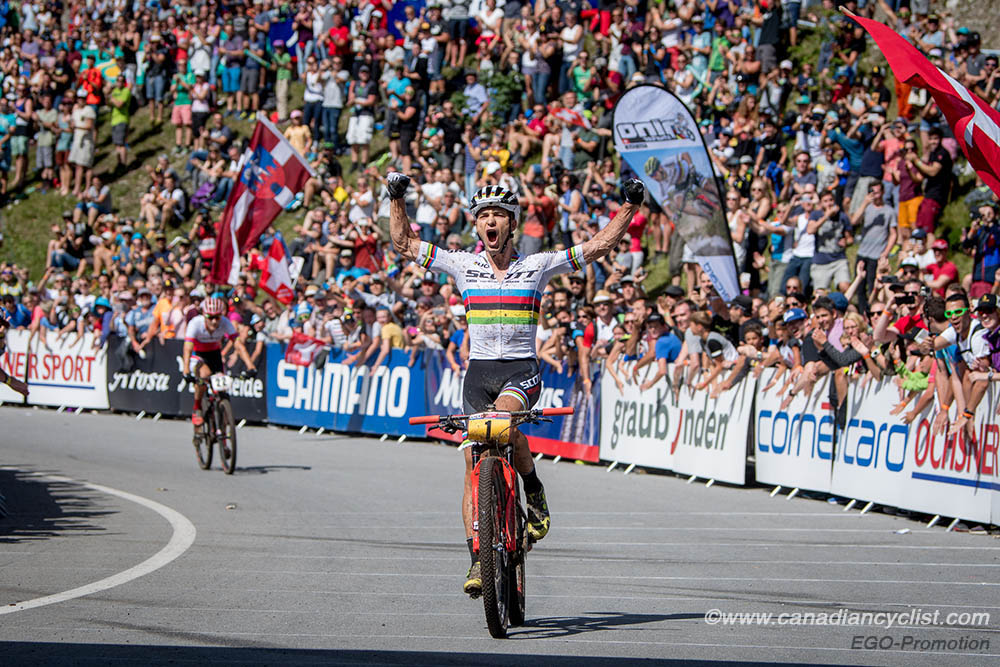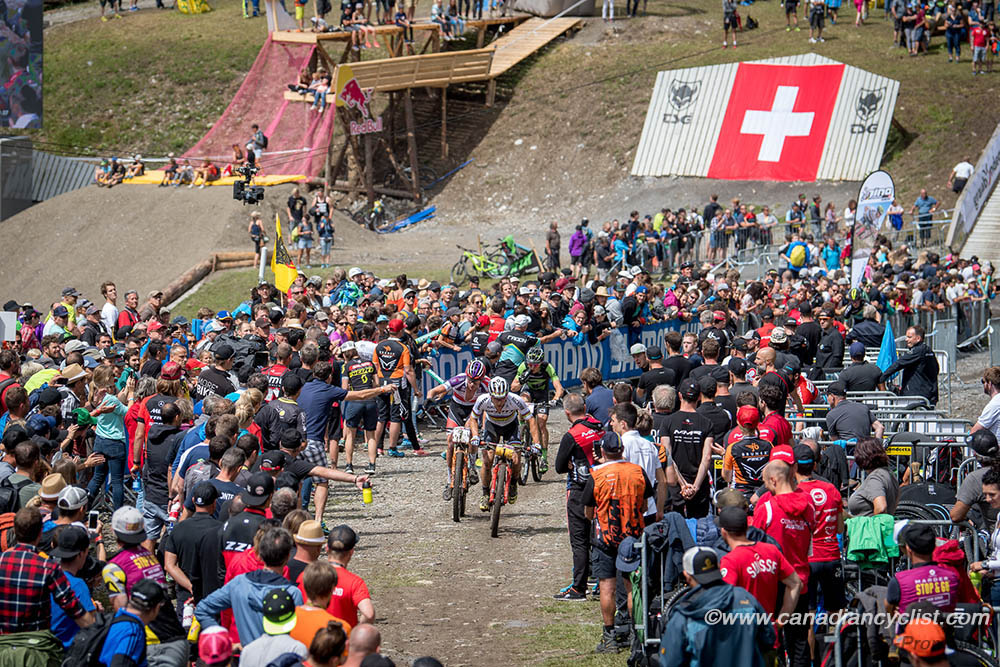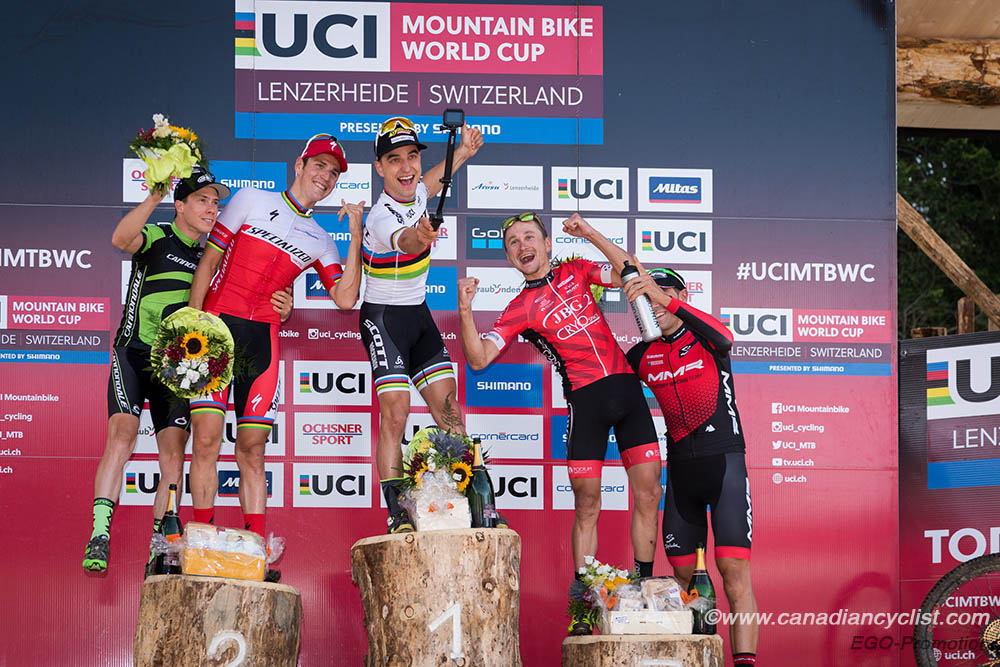 "It's amazing to win back home," said Schurter. "The crowd was amazing ... there were so many people out there. I was really struggling with the conditions at the beginning, it was super slippery and I didn't have the best tires on. So I struggled to follow Mathieu [van der Poel], who's used to the mud. Then it dried out a bit and I got better, but it was really tough and I suffered all the way through the race. I saw Jaro coming up on the second last lap, and he was coming very quick ... I was lucky it was one lap shorter!"

Maxime Marotte (Cannondale Factory) was the most consistent rival to Schurter for most of the race, but a couple of others made their way up to the leaders in the final laps. Russian Anton Sintsov (JBG-2 Pro) joined Schurter and Marotte at the midway mark, and even attacked on the fifth lap, eventually finishing third, the best result ever for a Russian man.

However, 2012 Olympic champion Jaroslav Kulhavy (Specialized), who has suffered injury and illness in the first part of the season, started from back in the third row and stormed up through the field, setting the fastest splits for the final four laps. Starting the last lap, he was in fourth and 24 seconds back. He went straight by Marotte and Sintsov on the first main climb and was only 9 seconds back of Schurter with half a lap to go, eventually coming across the finish line only three seconds down.

"It was an incredible race," agreed Kulhavy. "I had a bad start - after the start there was a big crash and I lost a lot of time. So I went step by step to fight back. I like this course, I like the technical sections with the roots and the rocks. Maybe I just needed eight laps! This World Cup season has been really bad for me until now, because I had crash before Nove Mesto and a problem with my back and wrist so I couldn't race normally, and in Andorra I was sick, so I'm happy to have a great race today finally."

There were only two Canadian men in the race - Leandre Bouchard (BH SR Suntour KMC) and Andrew L'Esperance (Canadian National). Bouchard, starting back in the seventh row, managed to make his way up to 37th, while L'Esperance finished 60th, after starting on the ninth row.

"I was happy when it started raining before our race," said Bouchard. "Unfortunately, after a chaotic start, I did not have good legs to move up. So it was a medium race for me. It was super slippery (after the rain), and with the many roots, that was a nice challenge and I like those condition.
Now, the focus is turned to the national championship."

In the overall standings, Schurter has a perfect 1000 points, with Marotte a distant second at 560 points. Schurter needs only to finish 22nd or better in one of the two remaining rounds to lock up the title. Bouchard is the top Canadian, in 25th place, with Derek Zandstra (Cannondale-3Rox) dropping from 37th to 49th after missing the last two rounds due to the recent birth of his daughter.

In the Under-23 Men's race, Martins Blums (ZZK) took his first win of the season and extended his lead in the standings, with 260 points to Nadir Colledani's (Torpado Gabogas) 203. Disera, after a strong start that saw him in fourth at the end of the first lap, began to struggle in the second half of the race, just holding on to tenth at the finish. Disera maintains his fourth overall in the standings. Other Canadian results include Marc-Andre Fortier (Pivot Cycles-OTE) in 40th, Raphael Auclair (Pivot Cycles-OTE) in 43rd, Quinton Disera (Norco Factory) in 46th, Sean Fincham (Canadian National) in 54th and Felix Belhumeur (Pivot Cycles-OTE) in 89th.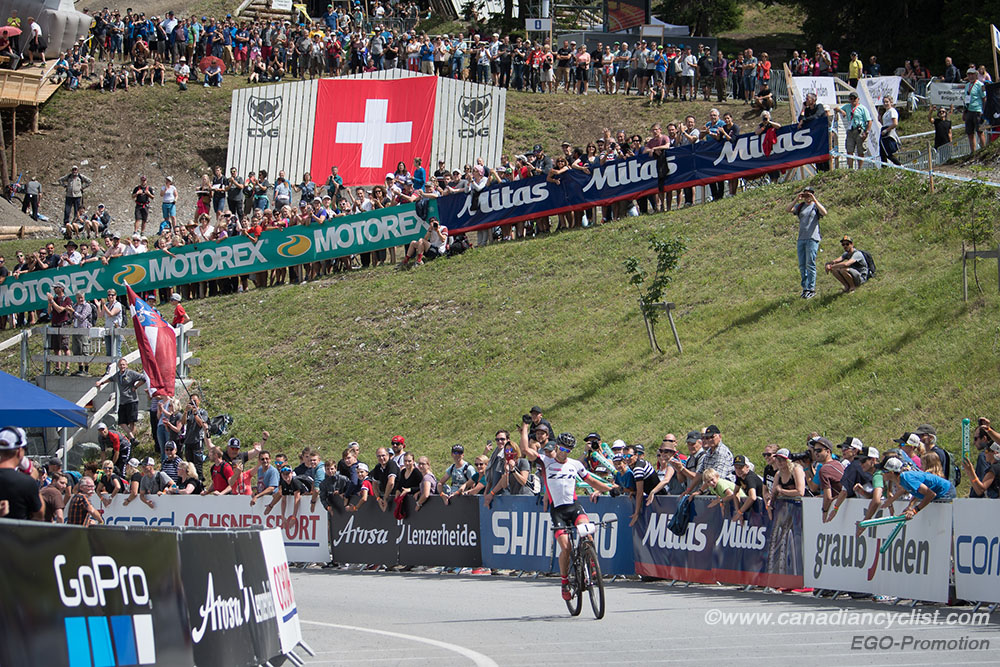 Martins Blums (ZZK)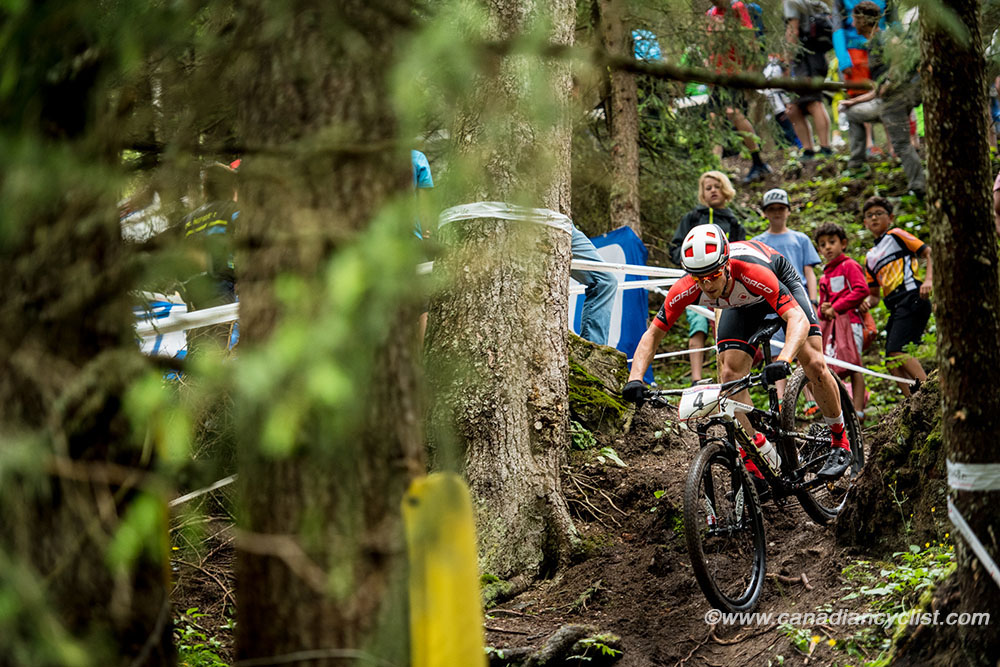 Peter Disera (Norco Factory)
"The course here in Lenzerheide is top notch and the ever-changing conditions made this an interesting race," said Disera. "Called an audible last night and switched tires to Honey Badgers instead of Kenda Kozmiks - this decision really paid off with the slight goo and really slippery roots and rocks. Still rode a semi slick Saber Pro in the rear but didn't have any issues. The course at race speed is beyond tough and relentless. Today I felt like I had it but it didn't pan out. Still pleased to manage a top 10, but I can't help but to be a little disappointed as I want another podium. I am quite motivated and ready to take on the rest of the season. Looking forward to Canmore and Mont-Saint-Anne!"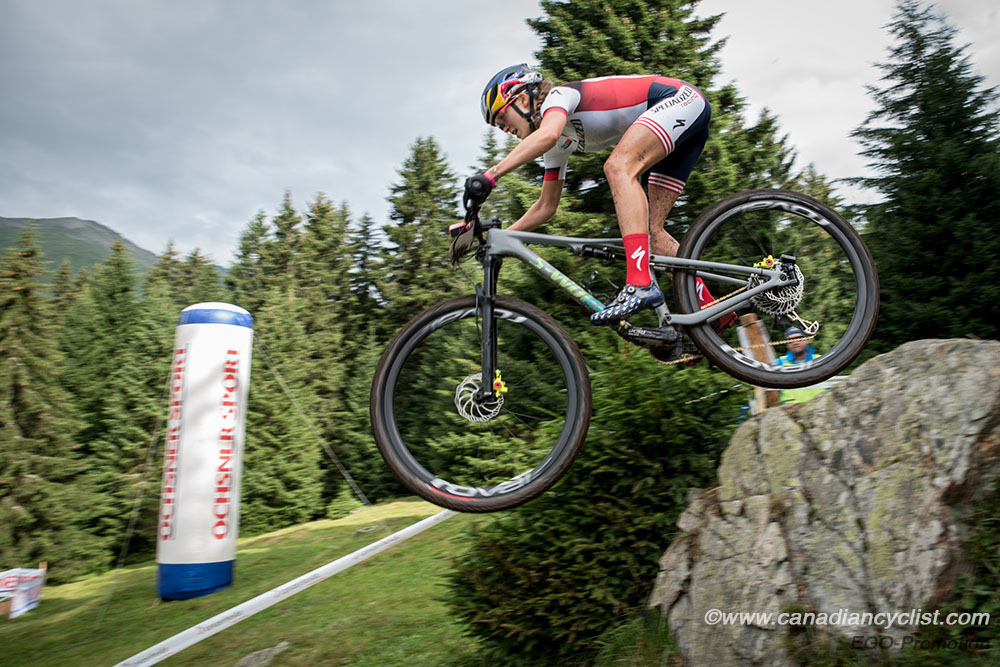 Kate Courtney (Specialized)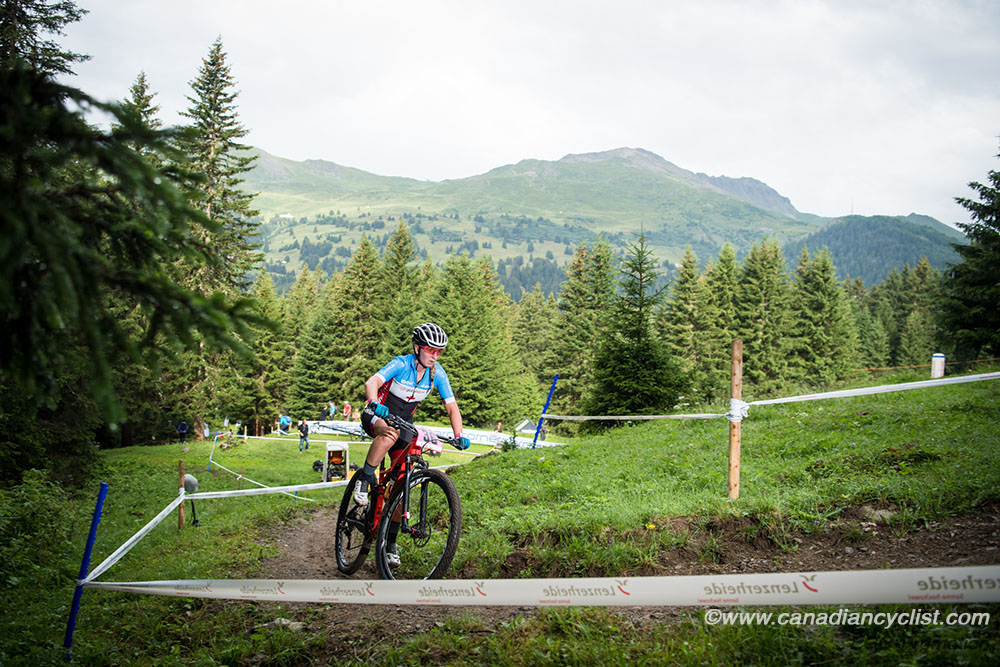 Anne Julie Tremblay (Canadian National)
American Kate Courtney (Specialized) took her second win of the series in Under-23 Women and now leads the standings with 320 points. Tied at 280 points are second and third place finishers Sina Frei (JB Brunex Felt) and Evie Richards. Anne Julie Tremblay (Canadian National) was the top Canadian in 29th, with Soren Meeuwisse (Canadian National) 38th and Amelie Simard 46th. Tremblay is the only Canadian in the rankings, in 26th place.
Results