July 11/17 12:17 pm - BMX Canada Cup Returns to Pan Am Track for Rounds 3 and 4

Posted by Editoress on 07/11/17

Nearly 100 riders from across Canada competed at the third and fourth rounds of the BMX Canada Cup held in Toronto at the Centennial Park Pan Am BMX Centre on July 8-9.

Round 3 was an internationally sanctioned UCI C1 event, and attracted Canada's top BMX athletes, including Tory Nyhaug of Coquitlam, BC, who won the Pan Am Games gold medal on this track in 2015.

Nyhaug (Answer/SSquared) showed why he is still Canada's top elite male rider by sweeping the Motos in the Elite Men's competition. James Palmer (Yess BMX) finished second to Nyhaug in all races, while Alex Tougas was third.

In the women's competition, Alberta rider Daina Tuchscherer similarly swept the Motos, with fellow Albertan Avriana Hebert (Yess BMX) narrowly defeating Cayleigh van Staalduinen (Daylight Cycle) for second. Both Hebert and van Staalduinen are Junior aged riders. Drew Mechielsen, who would have normally battled Tuchscherer for the top spot, finished last in the first Moto and, despite finishing second in the remaining Motos, could only manage fourth overall.

At Sunday's Round 4 - a national level event - Nyhaug did not compete, opening the door for Palmer to win, followed by Jared Ennis (Crisp Brothers Racing) and Tougas.

Mechielsen had no problems on Sunday and swept the women's Motos, followed by Tuchscherer and Megane Belanger of Quebec.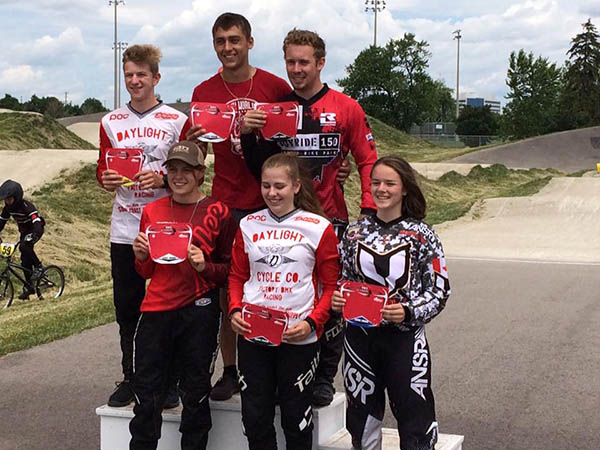 Canada Cup leaders after Canada Cup #4
In the overall standings after four rounds, Nicholas Doyle (Speedco/Avian/Sinz) of Ontario leads the Elite Men's standings with 2570 points, followed by Palmer with 2060 points. Doyle is the only rider to have attended all four rounds. In the Elite Women's standings, Chelsea Kingston (Lethbridge BMX) leads with 2660 points, followed by Mechielsen at 2080. Kingston is the only rider to have raced all four rounds.

The Junior standings are led by Alison Grecht (Ssquared/Answer Canada) for the women and Josh Samells for the men. Britney Hovencamp leads the Junior Devo women rankings, while Alex Grecht (Ssquared/Answer Canada) heads the Junior Devo men.

The BMX Canada Cup continues with Rounds 5 and 6 on August 19-20, in St Albert, Alberta.

Canada Cup #3

Elite Men
1 Tory Nyhaug (Answer/SSquared)
2 James Palmer (BC) Yess BMX
3 Alex Tougas (BC)

Elite Women
1 Daina Tuchscherer (AB)
2 Avriana Hebert * (AB) Yess BMX
3 Cayleigh van Staalduinen* (AB) Daylight Cycle Co.
*=Junior

Full Results


Canada Cup #4

Elite Men
1 James Palmer (BC) Yess BMX
2 Jared Ennis (BC) Crisp Brothers Racing
3 Alex Tougas (BC)

Elite Women
1 Drew Mechielsen (BC)
2 Daina Tuchscherer (AB)
3 Megane Belanger (QC)


Full Results



Full standings for the BMX Canada Cup can be found HERE