July 19/17 18:27 pm - XC Nationals Return to Canmore

Posted by Editoress on 07/19/17

For the first time since 2011, the Canadian XCO Championships return to Canmore, Alberta, on July 22-23. The Canmore venue, site of the 1988 Olympic cross-country skiing events, remains as spectacular as ever, with a backdrop of the Kananaskis Country mountains leading into the Banff National Park.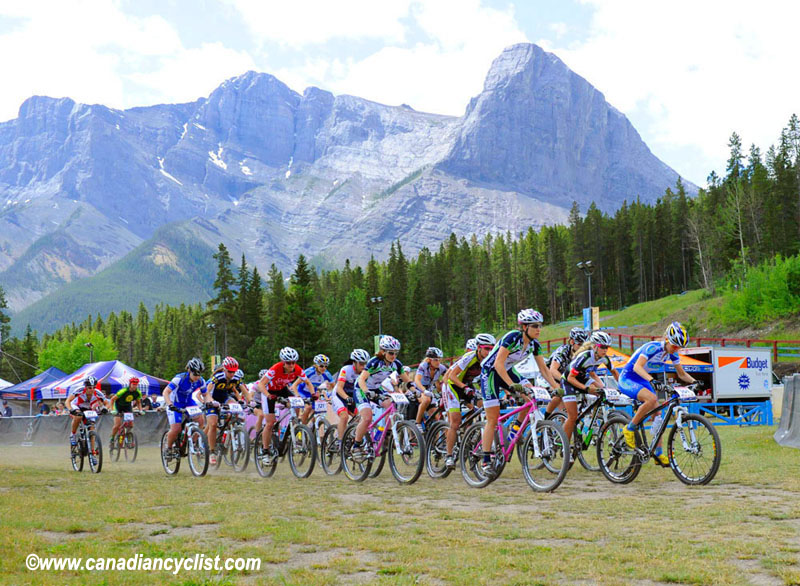 Spectacular Canmore
Photos of additions to 2017 Course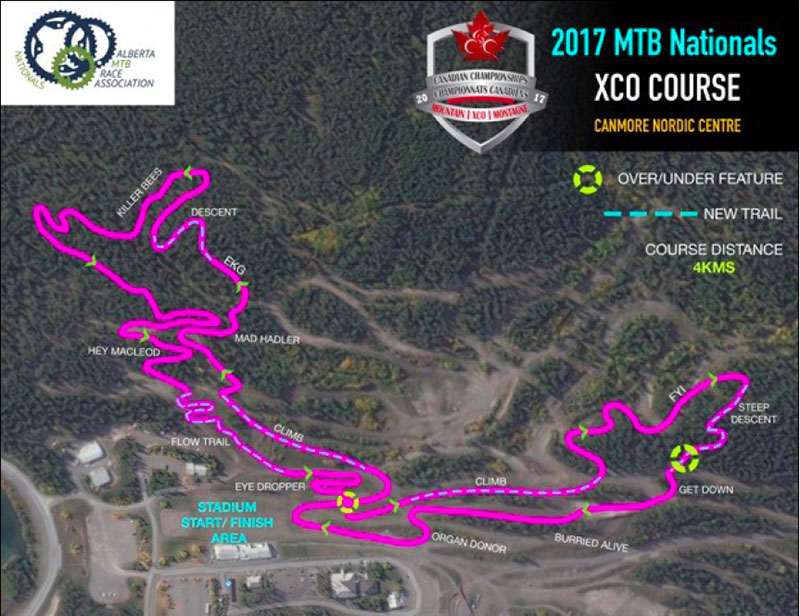 While the area has been spared the terrible forest fires ravaging the B.C. interior, riders can expect warm, dry conditions. The circuit has been revised substantially from when the Championships were held in 2010 and 2011, reflecting the change to shorter courses at the World Cup and world championship level. The previous course measured 6.8 kilometres, while current circuit is four kilometres in length, looping back into the main finish bowl area multiple times.

Race Director Ron Sadesky says, "Canmore is excited to host the 2017 Mountain Bike National Championships. This year's course is perhaps one of the best ever National's courses, featuring a clover leaf design full of technical features and grueling climbs. It is a 4 kilometre course that utilizes the natural landscape and rugged beauty of the Canadian Rocky Mountains."

"A lot of thought and creativity went into the layout and design of the course and we are thrilled with the outcome. The buzz around the Canmore Mountain Bike community has been all very exciting and positive. The athletes we have talked to are also thrilled with the natural features and the complexity of the course design. The fact that the course offers incredible and numerous spectator options makes for an intense viewing spectacle."

The Cross-country championships for men and women will take place on Saturday, July 22nd, for categories ranging from Cadet (Under-17) through Junior (Under-19), Under-23, Elite and Masters. On Sunday, July 23rd, the Team Relay event will conclude the Championships.

"We are very excited to return to Canmore for the 2017 Canadian XCO Championships," says Josh Peacock, Competitions Coordinator at Cycling Canada. "Organizers have been hard at work over the past 12-plus months, creating brand new trails and features that will take advantage of the rugged terrain that the Canmore Nordic Centre is known for. Riders should expect a race loop full of punchy climbs and technical descents mixed with plenty of double track for optimal passing opportunities."

In the Elite women's race, expect to see a battle between Olympians Emily Batty (Trek Factory) and Catharine Pendrel (Clif Pro Team). Pendrel won the title here in both 2010 and 2011 while Batty, a first year Elite in 2011, finished third that year. However, Batty is now the defending champion and has had a stronger season thus far on the World Cup circuit. Other podium possibles are Sandra Walter (Liv Giant), Catherine Fleury (Specialized Canada), Haley Smith (Norco Factory) and Cindy Montambault (Equipe du Quebec).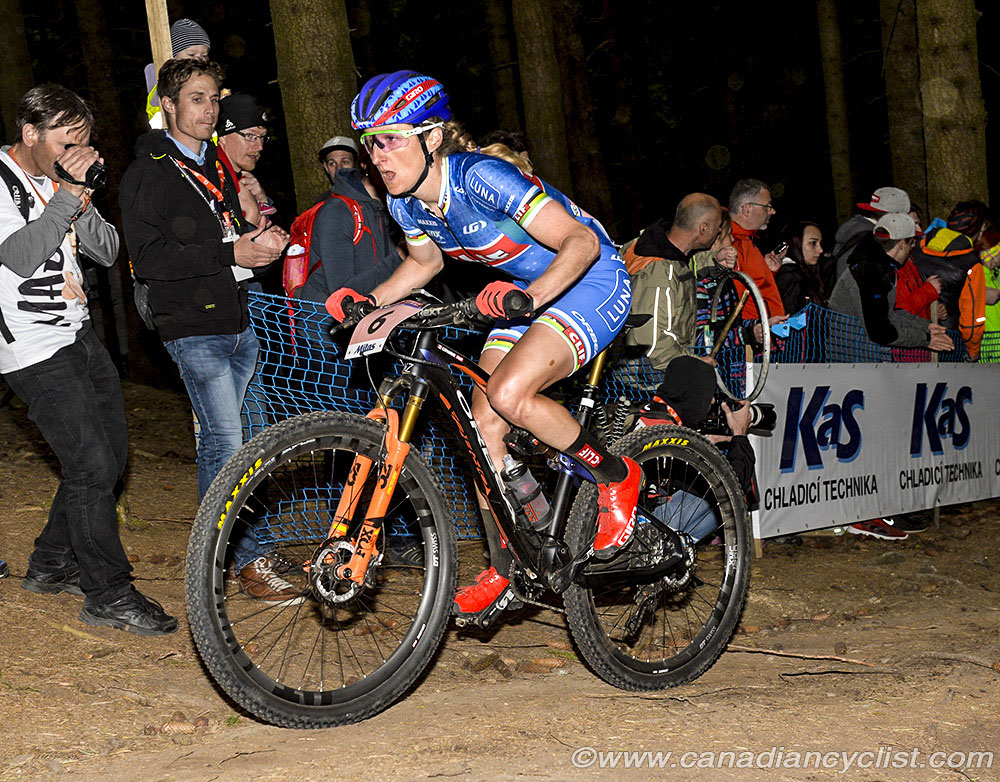 Catharine Pendrel
Defending Champion Emily Batty
"I'm excited to be back in Canmore for Canadian National Championships," says Batty. "I have many memories from competing here over the years, and the low/moderate altitude suits me as well as the course characteristics. I have turned a few laps on the track and funnily enough; I ran into Clara Hughes, who offered some wise words of wisdom on all things sport-related and this weekend's race. Competing on home soil is slightly more relaxed than World Cup racing, but the competition is as tough as ever, and I've come prepared for a fast race in which I aim to defend the title."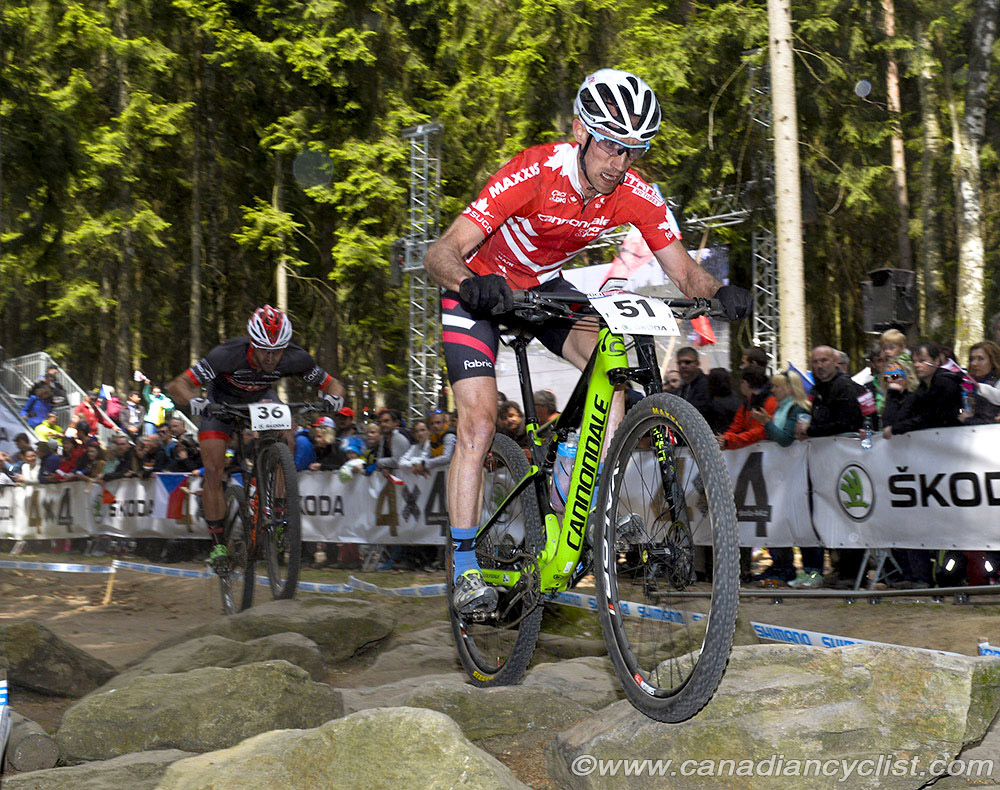 Derek Zandstra is the defending Champion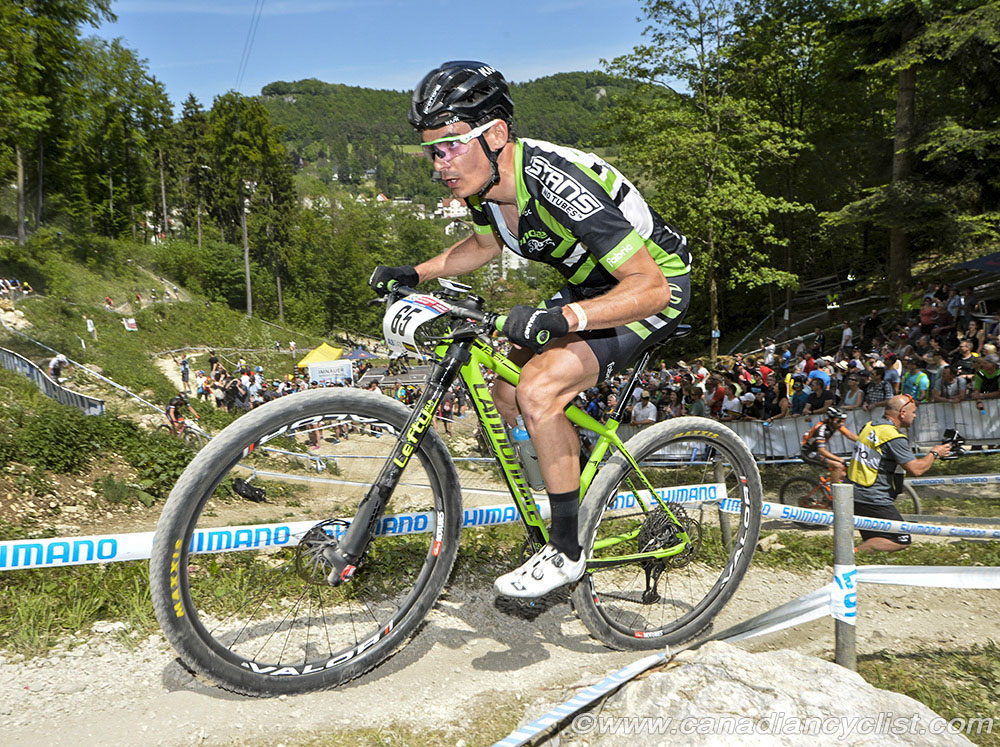 Raphael Gagne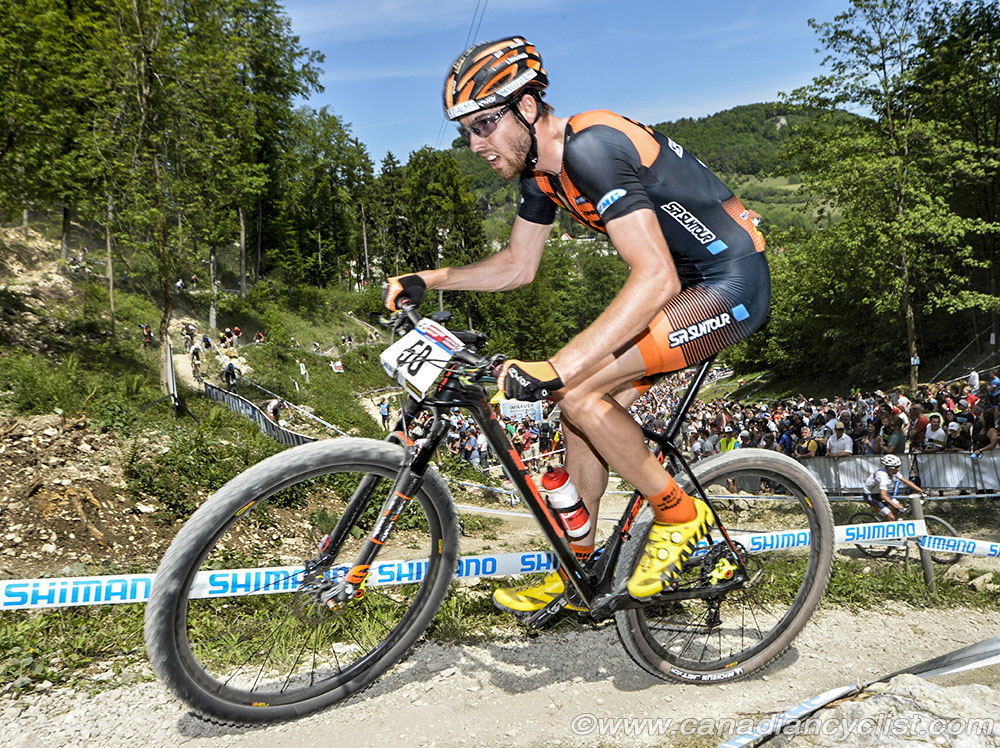 Leandre Bouchard
The men's race has a deep field of contenders, including defending champion Derek Zandstra (Cannondale-3Rox) and his team mate Raphael Gagne, top Canadian World Cup ranked Leandre Bouchard (BH SR Suntour KMC), Evan Guthrie (Team Solo Evan), and the Forward Racing-Norco duo of Andrew L'Esperance and Evan McNeely. The unknown factor is Geoff Kabush (Scott-Maxxis). Kabush retired from World Cup competition at the end of last season, but is still a strong contender, coming off a win last week at the B.C. Bike Race stage race. Kabush won here in 2010 and was second in 2011.

Zandstra, who has been missing from the racing scene for the past eight weeks while he and his wife welcomed the arrival of their first child, says, "Nationals is going to be an exciting show this year. Lots of new and up and coming riders are capable of taking the title. I'm really looking forward going back to Canmore after such a long break and see how my training will pay off."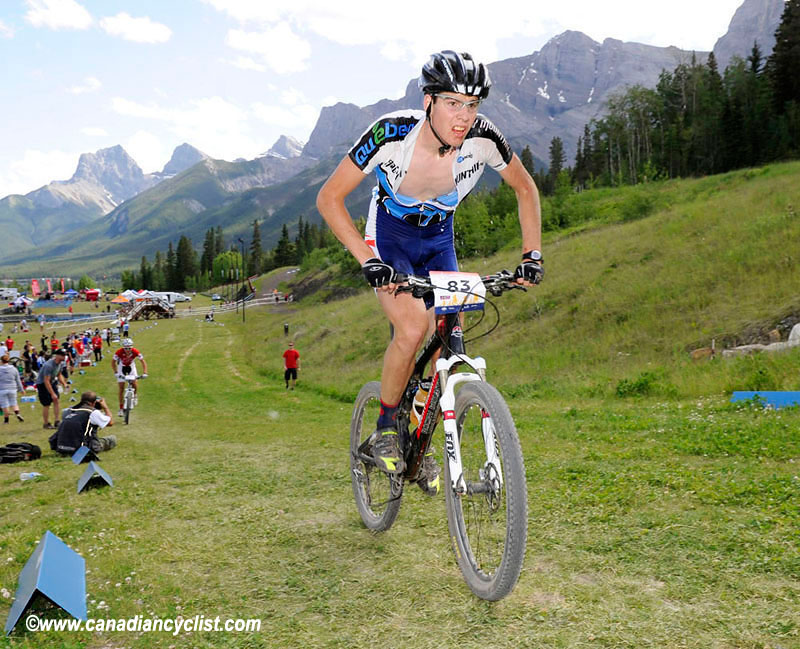 Leandre Bouchard won the U23 men in 2011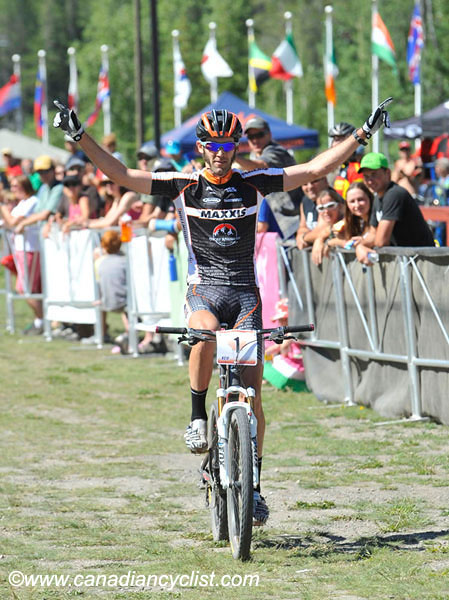 Geoff Kabush winning in 2010
Race Notes:

It has been interesting to see how riders have changed (and stayed the same) since 2010-11, the last years that Canmore hosted the Nationals. Some factoids from our archives (full reports, results, photos and interviews from those years can be found in Daily News - take a look!):

- as mentioned above, Catharine Pendrel won both previous times, with Batty, a first year Elite finishing third in 2011 and Sandra Walter fifth. Batty won the U23 category in 2010. However, some Junior women from 2011 are beginning to make their mark - in 2011 Frederique Trudel won, Haley Smith was second and Catherine Fleury was fourth.

- in the men, Kabush won in 2010 and in 2011 finished second to now retired Max Plaxton with Zandstra third (he was also third in 2010). Sticking with 2011, a young Raph Gagne was 21st in the Elite men (10th in 2010). Leandre Bouchard won the U23 men's category, with Evan Guthrie fourth, Evan McNeely fifth and Andrew L'Esperance 13th (seventh in 2010 as a U23). McNeely won the Junior title a year earlier (Bouchard was sixth).
Race Schedule for Saturday (all times MTN)


9AM (Staggered by 2 min)
Master Expert 30-39 Men, 5 laps
Master Expert 40-49 Men, 5 laps
Master Expert 50+ Men, 4 laps
Master 30-39 & Master 40+ Women, 4 laps

11AM (Staggered by 2 min)
Junior Expert Men, 5 laps
Cadet (U17) Expert Men, 4 laps
Junior Expert Women, 4 laps
Cadet (U17) Expert Women, 3 laps

1PM (Staggered by 2 min)
Elite Women, 6 laps
U23 Women, 5 laps

3PM (Staggered by 2 min)
Elite Men, 7 laps
U23 Men, 6 laps