August 1/17 10:55 am - BikeBike - A Best Bike Shops Winner

Posted by Editor on 08/1/17

Since I was flying into Calgary to attend the XCO Nationals, it seemed like a very good opportunity to visit Sean Carter and his partner Nadja Smiley at their bike shop, Bike Bike in Calgary. BikeBike has been voted as a Canadian Cyclist Best Bike Shop for the past two years.

BikeBike is rather unique among our winners because it is an urban/commuter focussed shop. Now in its seventh season, the shop specializes in urban, commuter, single speed and cargo bikes, as well as the many accessories important to this market. Remarkably, Sean says that 60% of their customers are women, a much higher percentage than usual for a bike shop.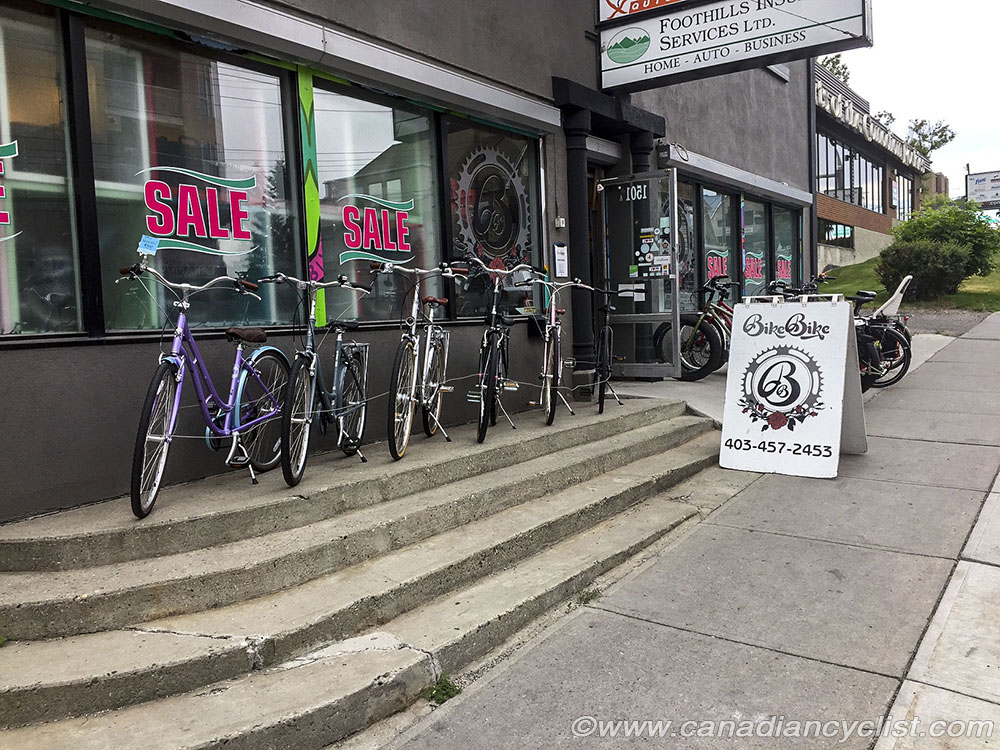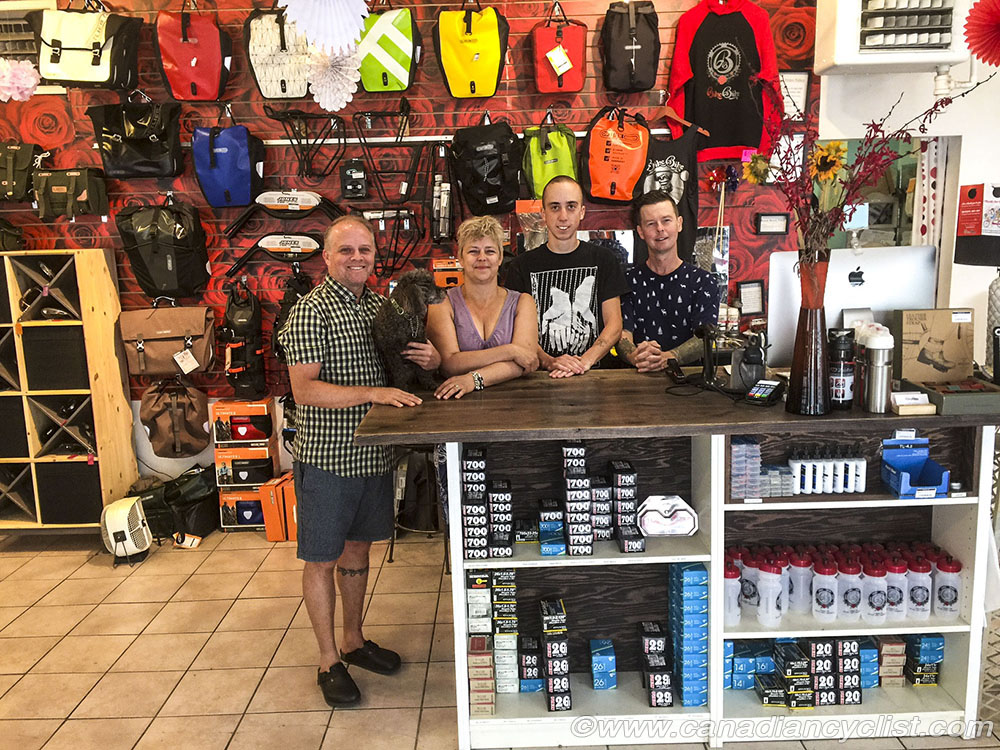 Sean Carter and his partner Nadja Smiley with the staff of BikeBike
Calgary has the largest off-street pathway system in North America according to Sean, and with the addition of bike lanes and routes in the downtown core over the past few years, the number of commuters in Calgary continues to grow.

I have known Sean for about 30 years - from when he was a 14-15 year old mountain biker who worked part time for our regular contributor Mike Badyk at his bike shop in Mississauga, Wizard of Wheels. Sean moved on to become a sales rep in the bike industry out west for a dozen years.

He says that the success of urban-focussed shops in the U.S. inspired he and Nadia to look into opening their own shop. The street front shop on 17th Ave SW takes up the ground level of a small two-storey building. The roughly 1300 square feet of display space is split into urban bikes on one side and single speeds on the other, with a kids zone at the back behind the single speeds and a single repair stand behind the urban bikes for taking in repairs and quick on-the-spot jobs. The center back wall has the cash counter, a small coffee bar set up and a wall full of (mainly) Ortlieb commuter bags. More space-consuming cargo bikes are on the sidewalk outside. In the basement is the repair and assembly shop, and storage.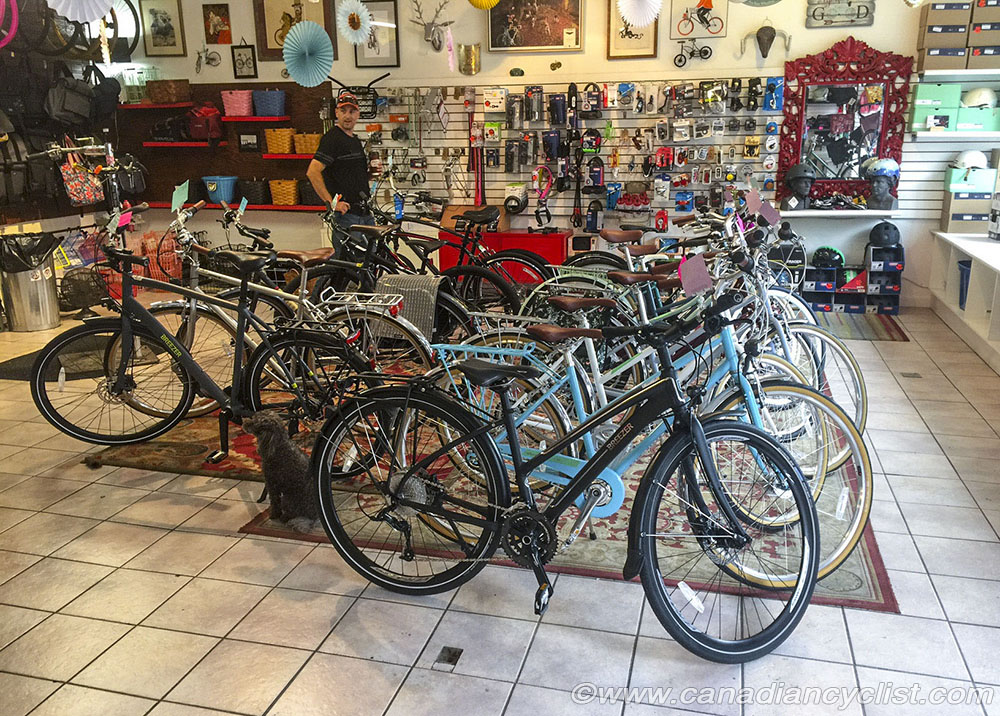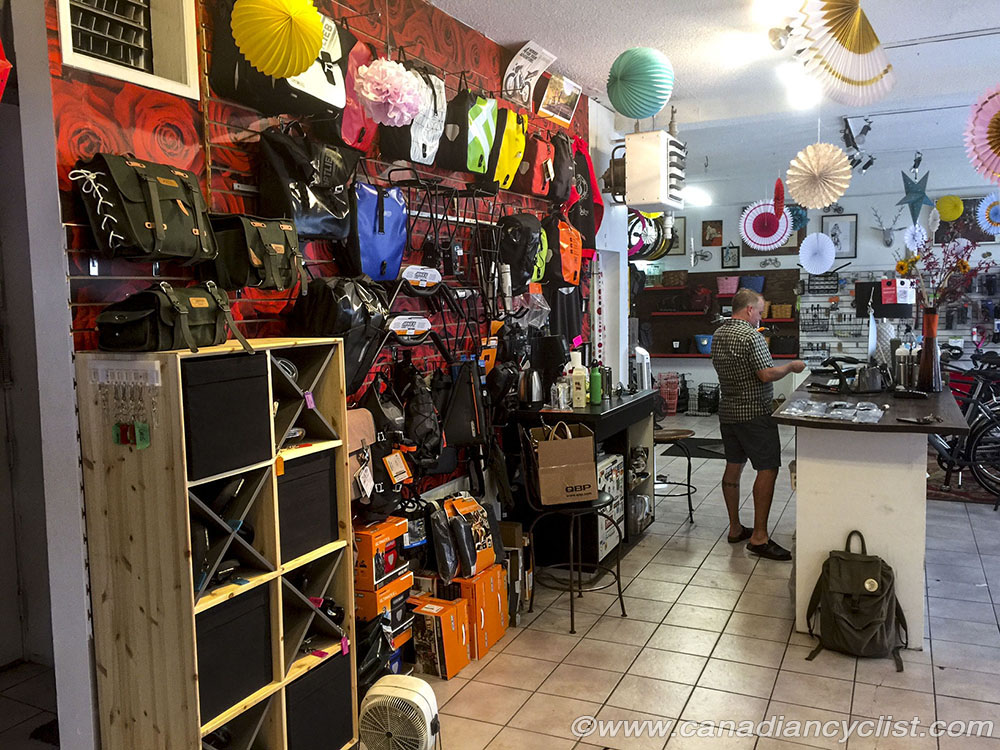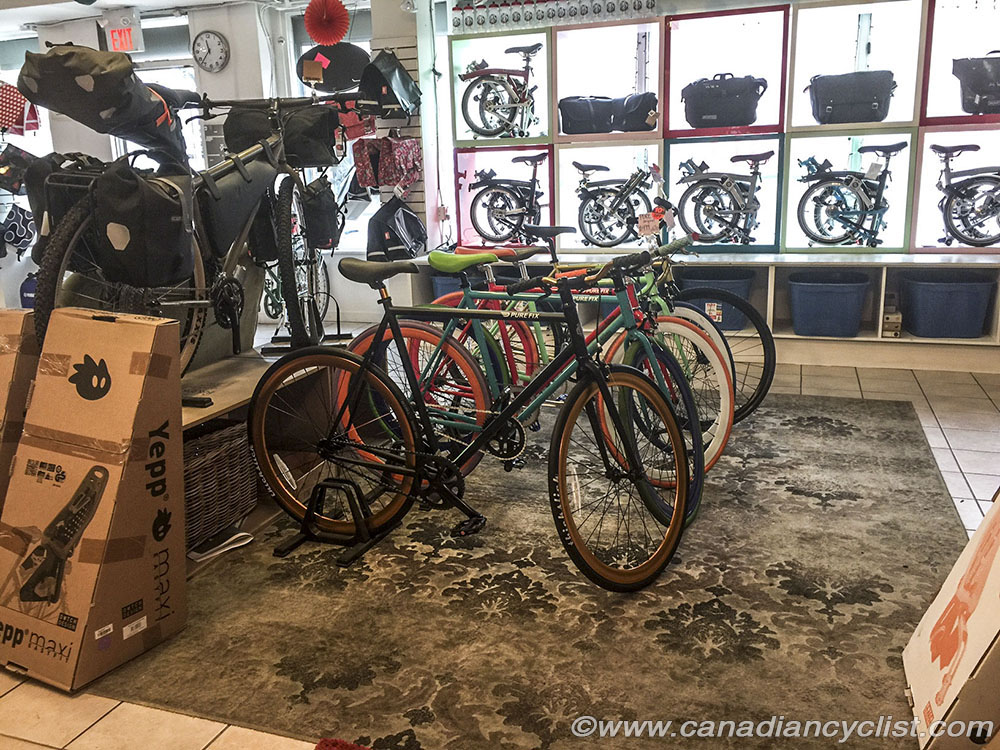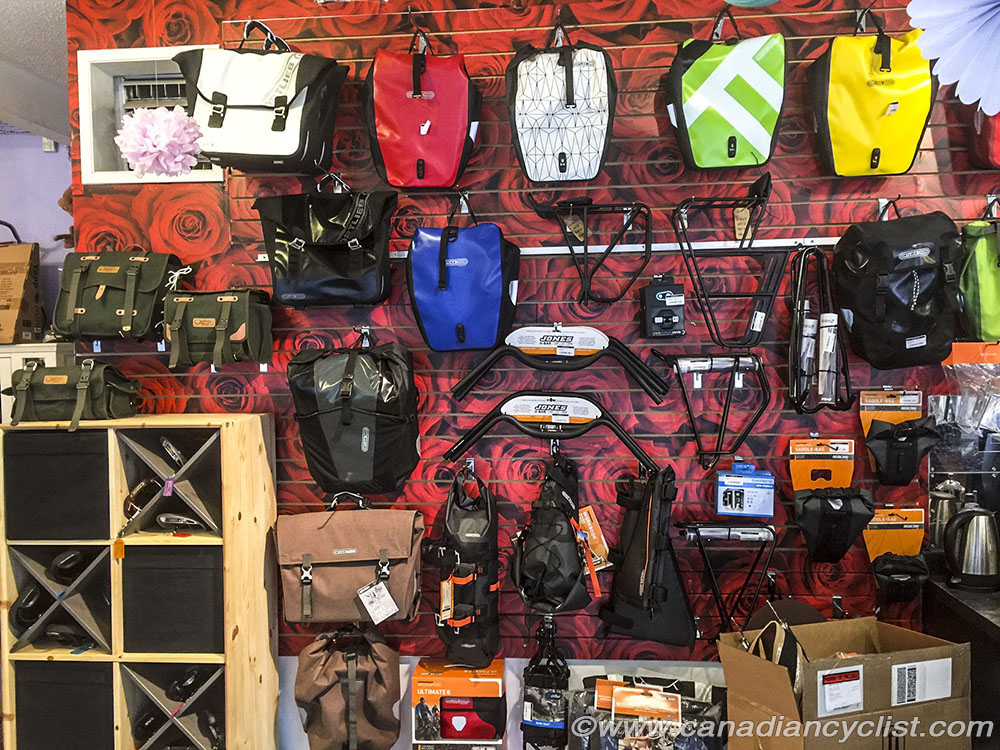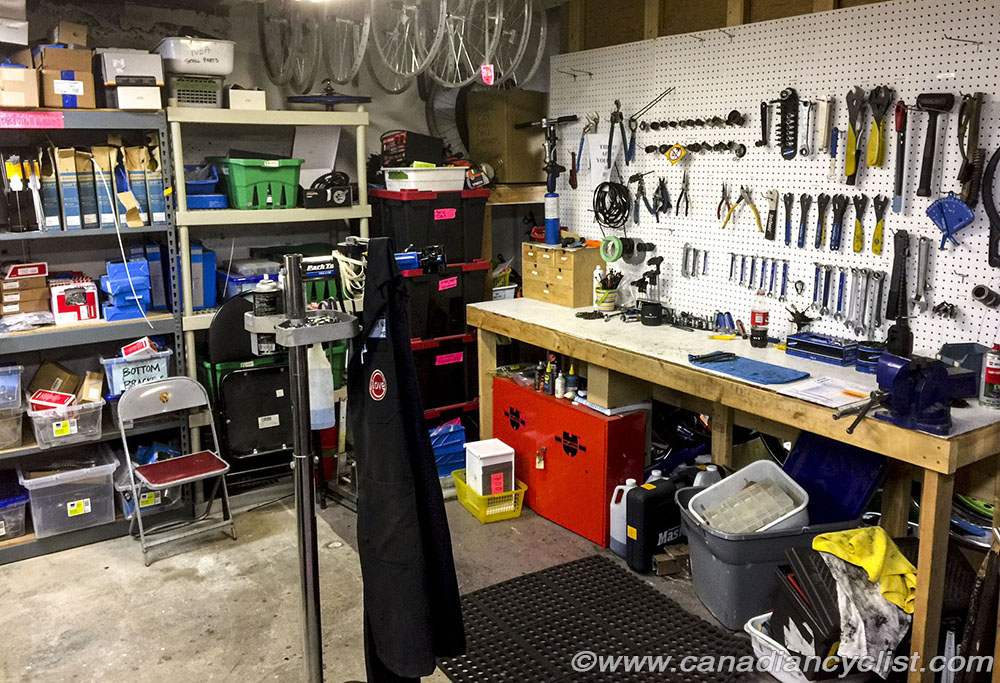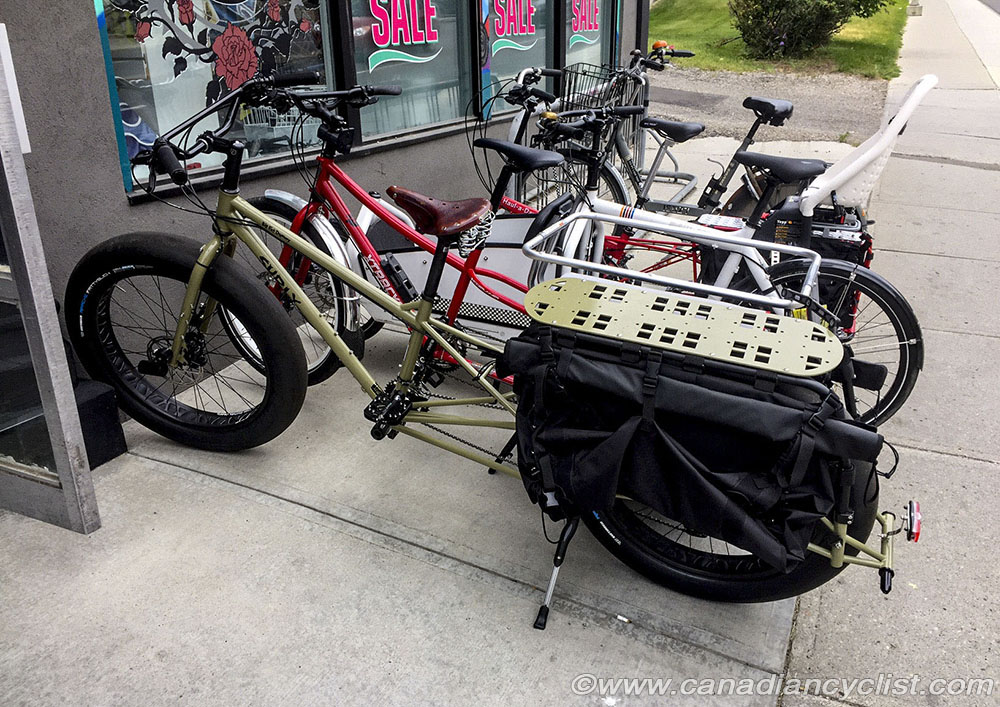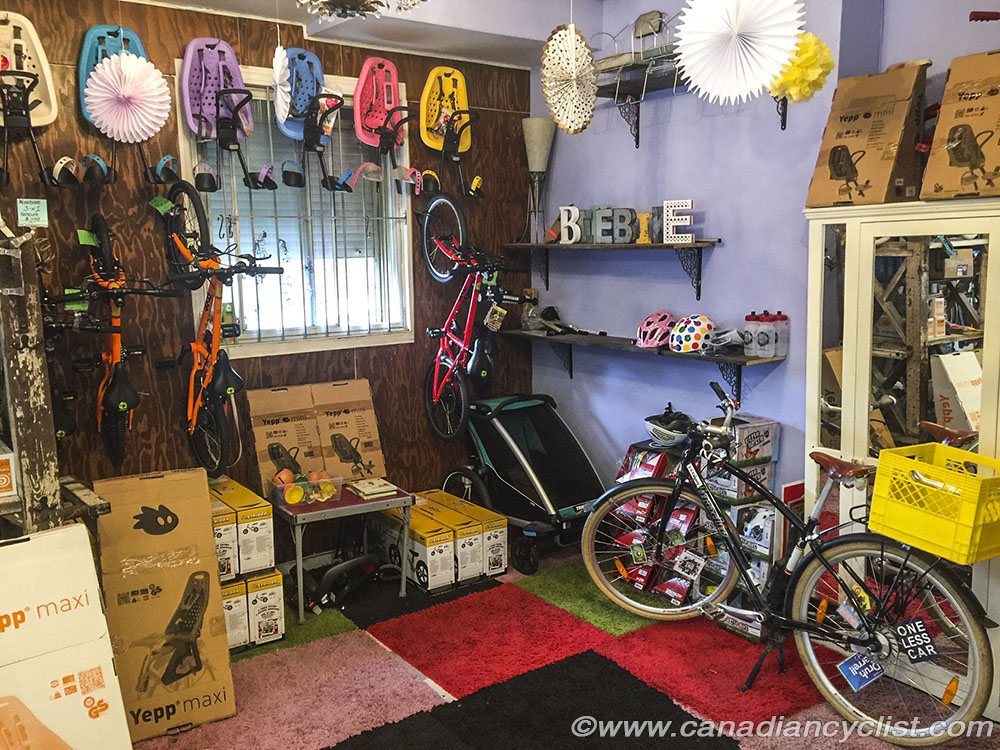 With limited display space, Sean keeps samples of most models upstairs, which are pretty much all available for test rides. He also offers a rather unique 'saddle library' - for $25 you get a library card that allows you to 'check out' many different saddles for days at a time to try out; if you find one you like, your library card fee is applied towards your purchase. It is an excellent way to get customers to try out and invest in a new, high quality saddle.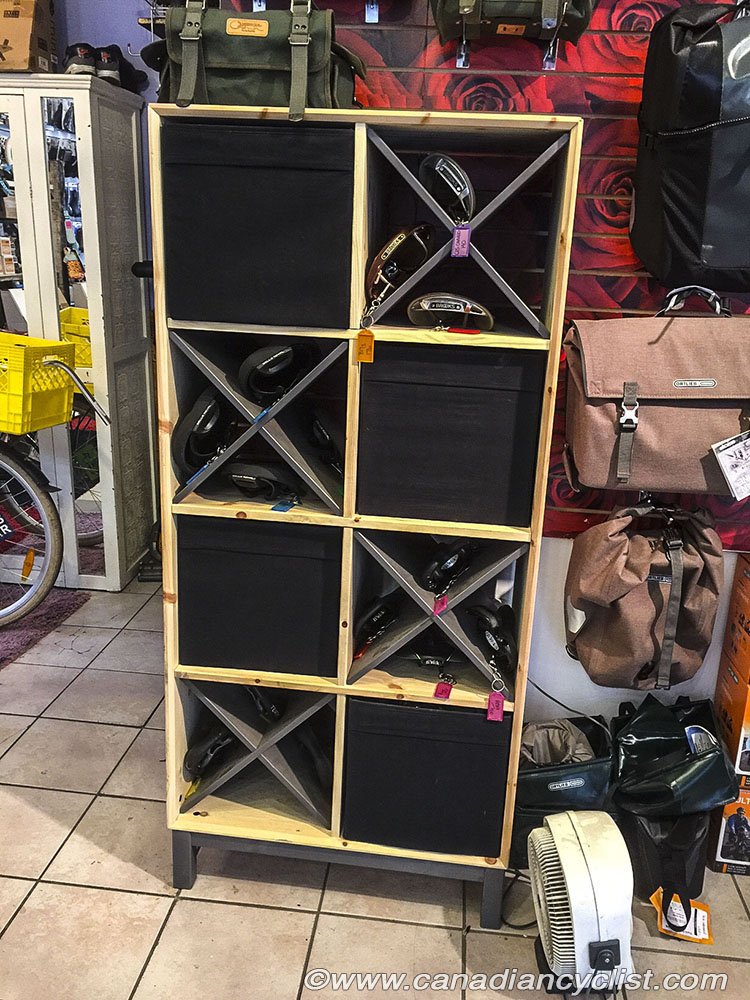 Interestingly, BikeBike does not sell electric bikes; Sean says the cost of $2500-plus for a good one is outside of the budget of most of his customers, who are looking for reliable and affordable transportation.

While the store is open year round, it slows down markedly for the core winter months - although Sean does say the number of year round commuters in Calgary continues to grow steadily, and last year they sold a record number of studded tires.

Given the speciality nature of the store and product lines - for a number BikeBike is the only Canadian retailer - they do get regular enquiries from across the country. So far, they don't have an online sales presence, although Sean does say they will be adding that (in a limited way) over the coming winter.

Congratulations to Bike Bike, a Canadian Cyclist Best Bike Shop!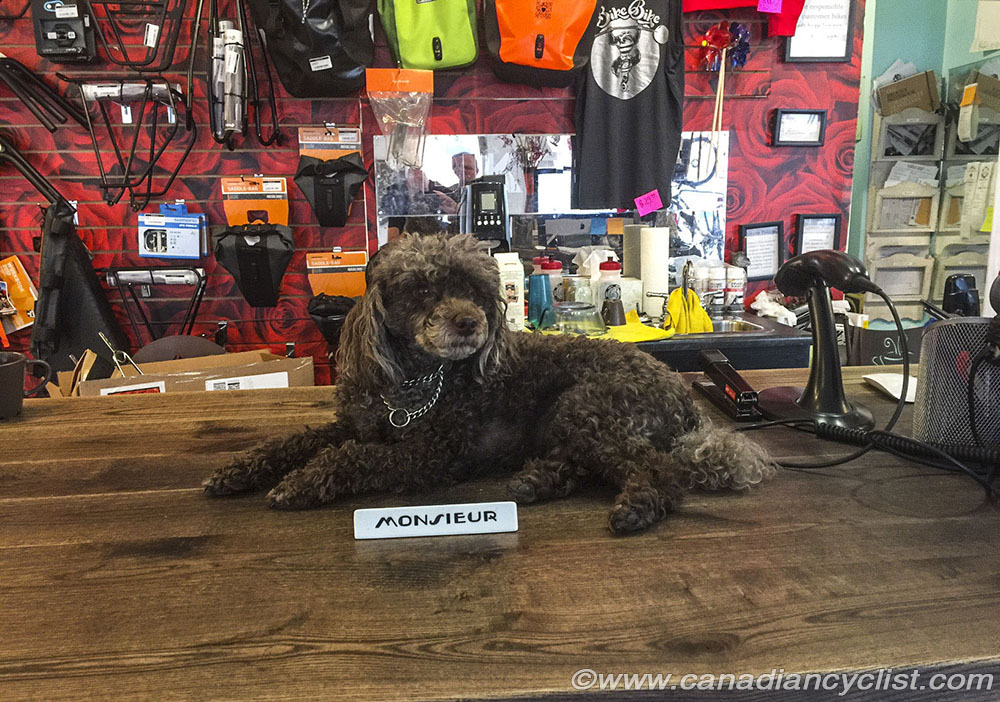 What their customers say:

- Lovely, personable staff. Never condescending. Always helpful - especially for a casual cyclist like myself. They've helped me love to bike.

- Encourages and supports ordinary citizen cyclists. Also organizes community rides, advocates for cycling infrastructure, and produces a podcast on everyday cycling in Calgary.

- Bike Bike is the most supportive, non-judgmental, friendly bike shop. They always have great solutions for any cycling problem I encounter. And how can you not love a bike shop that hands out delicious home made treats?

- They carry bikes meant for carrying people and goods. Owned and operated Nadja Smiley and her partner Sean Carter, they provide a welcoming and warm atmosphere especially for women, something lacking in every other shop I've been into. Always willing to go the extra mile and help you get what you're looking for, these two and their staff are fantastic. The super cute shop dog is just a bonus.

- They treat me with respect. They are strong advocates for better cycling infrastructure in my community. They organize group rides year round to strengthen and grow the local cycling community.