August 5/17 22:28 pm - Seagrave & Gwin Take Exciting DH Wins at Mont Ste Anne, Iles Wins Junior

Posted by Editoress on 08/5/17

The talk of the day on Saturday at the Downhill World Cup in Mont-Ste-Anne, Quebec, was the incredible run in torrential rain by Aaron Gwin (The YT Mob) to win the Elite men's competition and close in on overall leader Greg Minnaar (Santa Cruz Syndicate) in the standings. The Elite women's race saw a similar tightening in the standings, with Tahnee Seagrave (Transition/FMD Factory) beating World Cup leader Myriam Nicole (Commencal/Vallnord).

Weather forecasts were calling for rain in the afternoon with possible thunder and lightning; especially for the men's competition.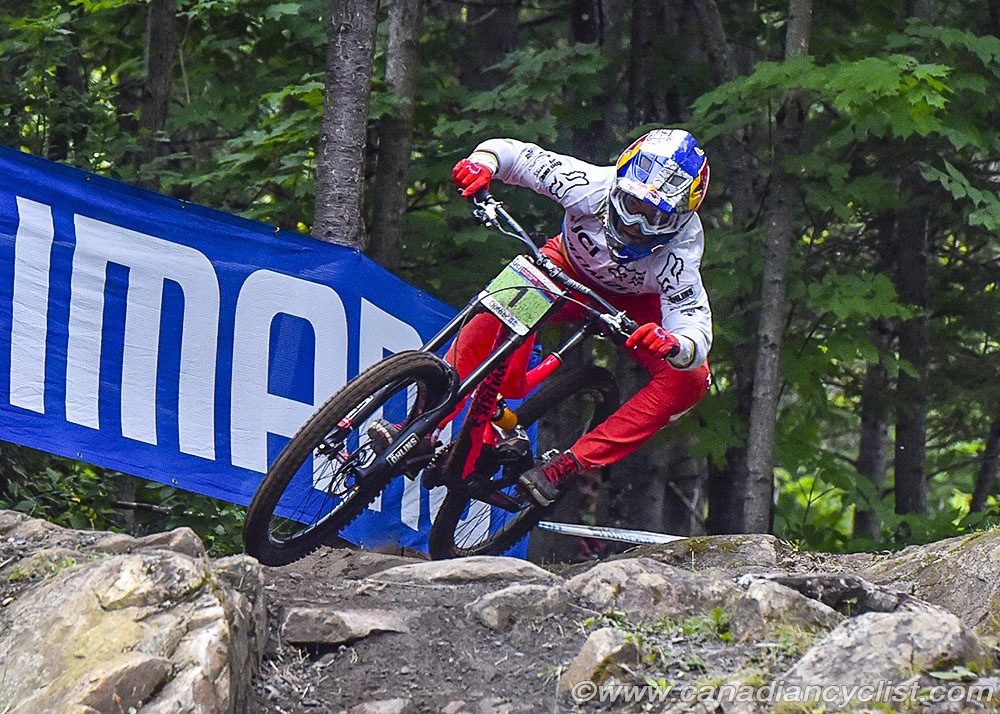 Finnley Iles (Specialized)
In the morning, the Juniors competed in dry but overcast conditions. World Cup leader Melanie Chappaz (Dorval AM Nicolai), took her second win of the season in Junior women and has already won the overall title. The Junior men's competition saw Canada's Finnley Iles (Specialized), the world champion, win his fifth race in six events. Iles has been battling illness all week and came back from a flat tire in qualifying to set the fastest time in the Final with eight riders to go. No one challenged him until the last starter, Matt Walker (Madison Saracen), who was faster at the first split before suffering mechanical problems. Iles had already won the overall title coming into the race.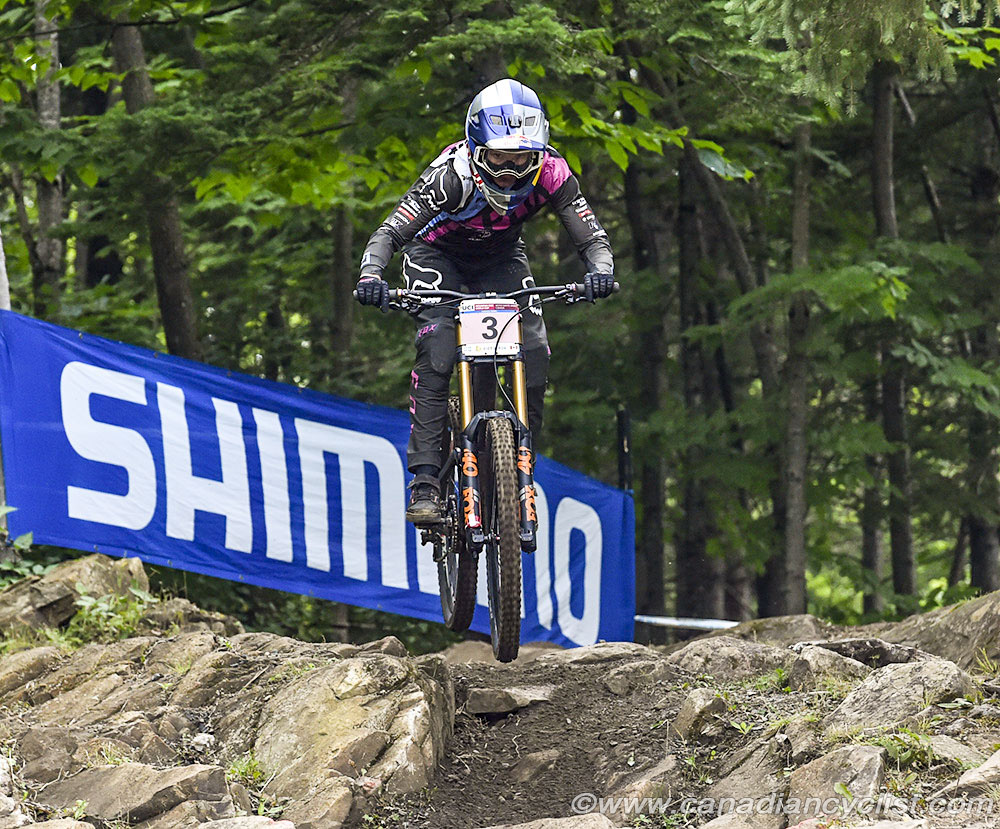 Tahnee Seagrave (Transition/FMD Factory)
The early women in the Elite field had no rain, however, the last five riders did get a brief burst of rain; but not really enough to do more than dampen the dust. Emilie Siegenthaler (Pivot Factory) set the first sub-five minute time with six riders to go. Seagrave, two riders later, blew it away, finishing over 12 seconds faster, and was the only rider to go under 4:50. World champion Rachel Atherton (Trek Factory), still coming back from injury that knocked her out of two rounds, could not match it, and neither could Tracey Hannah (Polygon UR), second in the overall standings. The only rider left was Nicole, and she came up 5.7 seconds short - good enough for second ahead of Hannah.

"This win feels so much better [than Leogang, Round 3], it feels so much more deserved," said Seagrave. "At Leogang everyone was a bit battered from Fort William and Rachel [Atherton] didn't compete ... yeah, it's a lot better. It's so cool that the overall now comes down to the last race. As long as I've been racing it has never been like that; it was always that somebody got it wrapped up by the fourth race, so I'm stoked. I just took the weather as it comes - we're used to the wet in the UK. I was happy when it started to rain; it didn't bother me and I thought it might tinker with some other girls' heads."

Top Canadian was national champion Miranda Miller (Specialized) in seventh, followed by Vaea Verbeeck in eighth. Other Canadian results were Laurie Citynski in 13th and Audree Vaillancourt in 14th.

Nicole still leads the overall, but the standings have tightened considerably going into the final round. Nicole has 1190 points, Hannah 1080 and Seagrave 1044. Depending on the results in the final round at Val di Sole, Italy, any of these three could win the title. Miller jumps from 13th to ninth in the standings, with Verbeeck moving up from 12th to tenth.

The Elite men's competition began with dry conditions for roughly the first 50 riders. After that rain began to fall, steadily increasing in intensity, with the final 25 facing mud and slippery rock, with driving rain and low visibility.

Dean Lucas (Intense Factory), the 46th rider on the course, was a recipient of the luck that came with starting in dry conditions, setting the first sub-4:20 time. He took over the Hot Seat from Mike Jones (Chain Reaction/Mavic), who had started two spot before him. Both of these riders would end up on the podium, as rider after rider later on lost time slipping and sliding down the course.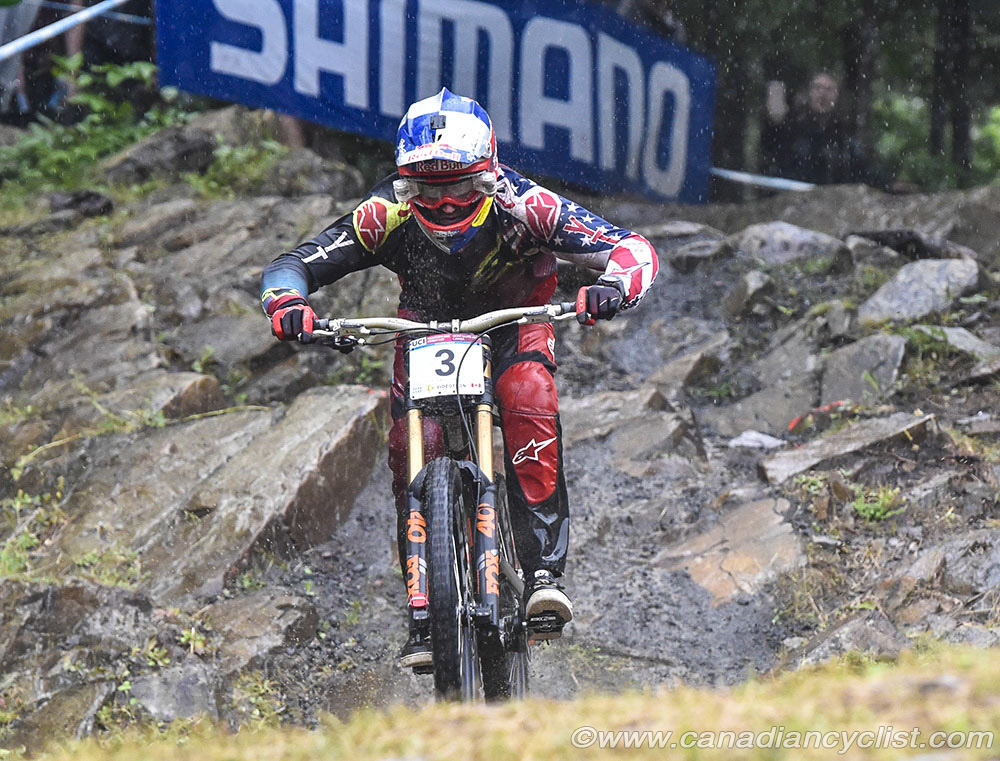 Aaron Gwinn (YT Mob)
World champion Danny Hart (MS Mondraker), at four riders to go, was the first to come close to Lucas, 0.362 seconds back, and the crowd started to think that maybe it was possible for someone to beat Lucas. World Cup leader Minnaar was next and had a strong start before being disqualified for going off course. Loic Bruni (Specialized), at two to go, was fastest at the second split, but faltered further down to slot in behind Hart, leaving only Gwin, the fastest qualifier. Gwin was fastest at every split, slipping and sliding, at the edge of crashing all the way down the hill. The crowd kept getting louder as every split was announced, and roared after he crossed the line with the timing board flashing green.

"I didn't expect it, honestly," admitted Gwin. "I got into the bottom and I could hear the crowd cheering, so I thought 'I might be in this!'. It wasn't perfect, it started really good at the top, but I got water in my goggles and I couldn't see for a while. I thought that was it, but I kept pulling roll-offs and finally I could see. I got a pace going again, but I messed up in the rocks ... I had a lot of mistakes, but I knew I had some time and I was just hoping that I was better in those conditions than everybody else. It wasn't pretty, but I am so pumped. It's great to hear that I am back in the overall hunt ... Greg's [Minnaar] been riding phenomenal all year, and we battle. But we've got so many guys going fast this year ... I've just been enjoying the battle. I'm just happy it worked out today. I love my job."

Top Canadian was national champion Kirk McDowall in 12th, followed by Hugo Langevin in 26th. Both riders went down before the rain hit, with Canada's top-ranked World Cup rider, Mark Wallace (Canyon Factory) riding tenth from last and finishing 36th. Other Canadian finishers were Magnus Manson in 44th and Henry Fitzgerald (Norco Factory) in 61st.

Minnaar continues to lead the overall standings, but by a slim 33 points ahead of Gwin, with Troy Brosnan (Canyon Factory) third, a further 44 points back. Val di Sole will decide the overall champion. Wallace remains top Canadian, dropping from sixth to eighth overall, but still in the hunt for a top-5 overall position. Forrest Riesco, who did not race, drops from 46th to 52nd, while McDowall jumps from 91st to 72nd.


Junior results
Elite results

Qualifying