August 9/17 11:13 am - B.C. & Quebec Win First Road Titles at Canada Games

Posted by Editoress on 08/9/17

Cycling competition at the Canada Summer Games resumed on Tuesday with the Road events, starting with the individual time trial for men and women. British Columbia and Quebec collected all the medals, with each winning a gold, while Quebec also won both silver medals and one bronze, and British Columbia took the other bronze medal. Quebec took four of the top-10 spots in each race.

The women raced 13 kilometres, with Ontario's Katherine Maine setting the early fast time of 19 minutes and 17 seconds. Eventually she would be surpassed by three riders, with Gillian Ellsay of British Columbia setting the winning time of 18 minutes and 59 seconds. Quebec rider Simone Boilard finished four seconds back for silver, with her team mate Catherine Ouellette taking the bronze medal, a further 11 seconds in arrears.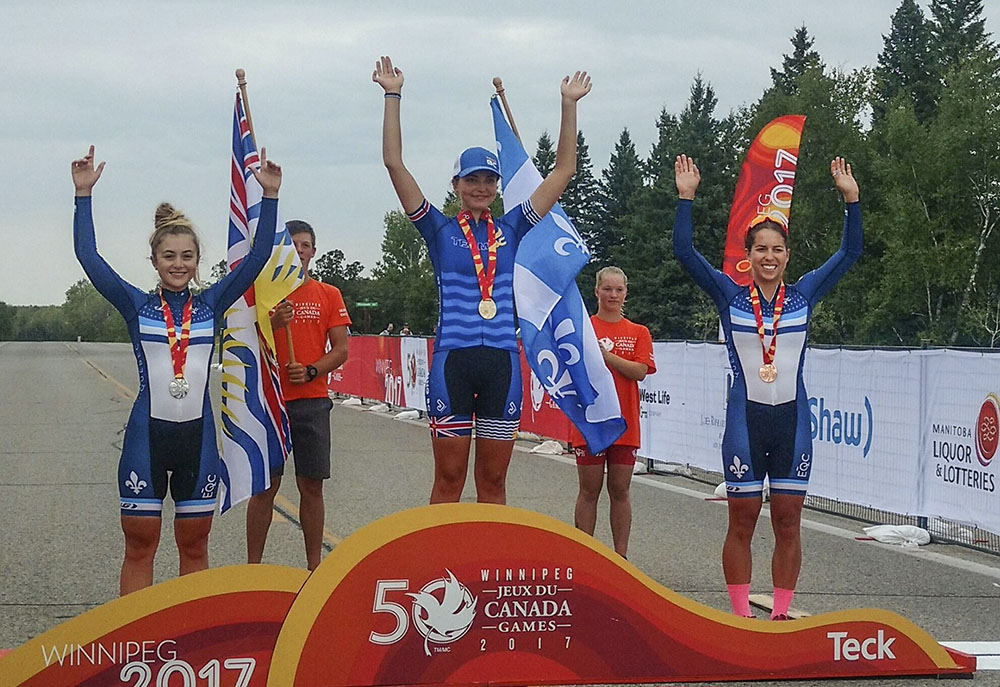 Simone Boilard, Gillian Ellsay, Catherine Ouellette
"It's really cool to win," said Ellsay. "This is my second Canada Games, so to come back and be able to win the gold medal is pretty special. It was a goal to be top-5, but I didn't know how good my form was coming here."

In the men's 20 kilometre competition, Quebec's Raphael Auclair, fresh from finishing 14th at the Mont-Ste-Anne Mountain Bike World Cup on Sunday, set the early leading time of 26 minutes and 50 seconds, eventually finishing sixth. Quebec finished 1-2, with a pair of riders who had flown in straight from the grueling Tour of Utah stage race. Adam Roberge, the Under-23 national time trial champion, took the gold medal with a time of 26 minutes and 10 seconds, while Pier-Andre Cote, the national Criterium champion, finished second, 17.87 seconds back. Jay Lamoureux of British Columbia took the bronze medal, 20.3 seconds behind Roberge.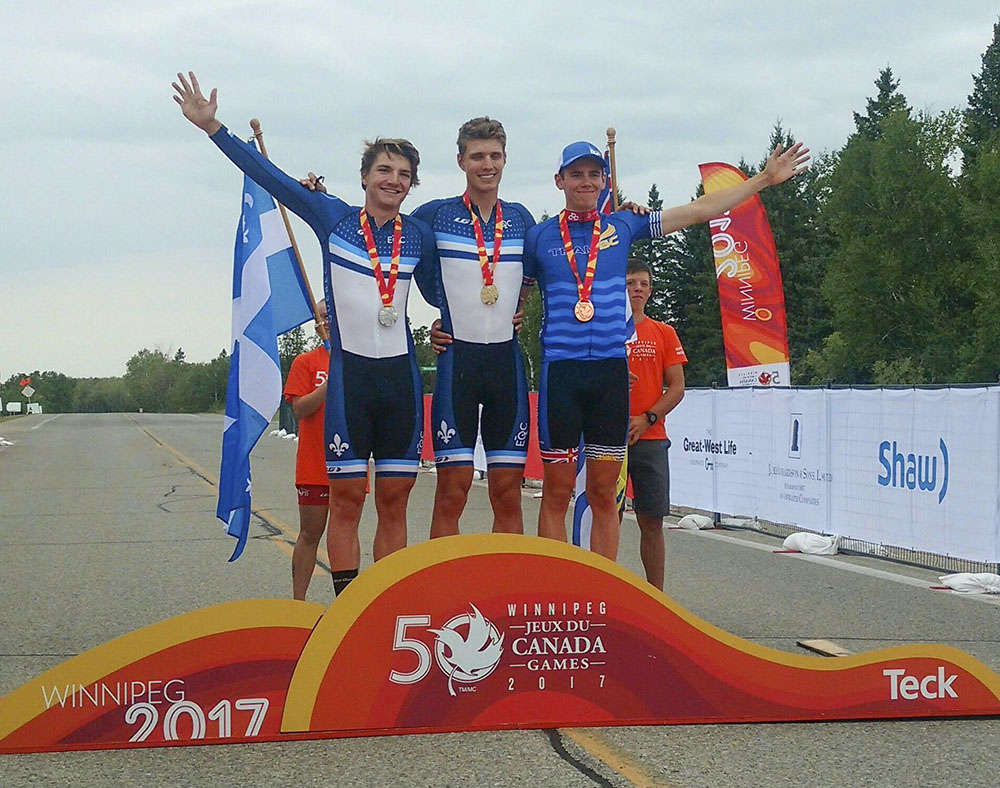 Pier-André Côté, Adam Roberge, Jay Lamoureux
"I wanted to win, for sure," said Roberge, "but I had just come from the Tour of Utah, so I didn't know how my legs would feel. At 3K [kilometres] to go I wasn't sure if I had the win, so I went all out. I didn't even know that I had won when I crossed the line, and when Pier [Andre Cote] told me I was first, I couldn't have asked for more. I'm super happy."

The Canada Games cycling events continue on Wednesday and Thursday with the Women's and Men's Road Races.

Results