August 10/17 16:14 pm - Julien Absalon Interview - The Passion Remains

Posted by Editor on 08/10/17

Julien Absalon is, arguably, the greatest male cross-country racer of all time, with two Olympic gold medals, five Elite world titles, seven World Cup titles and a record 33 World Cup wins. Earlier this season, he suffered a broken collarbone, putting him out of World Cup contention, but is now back racing, finishing 13th at Mont-Ste-Anne this past weekend.

We sat down with Julien at Mont-Ste-Anne to talk about his career - which began here with his first world title as a Junior in 1998.

Canadian Cyclist: In 1998 your first really big win was here in Mont-Ste-Anne [MSA]. What's it like, almost 20 years later, to be racing at MSA again?

Julien Absalon: It's always a pleasure to be back here. Yes, it is 19 years after my victory here in the world championship ... I can say my career started here with this world title. So there are always lots of memories, and also it is one of the best places to ride, I like it very much here.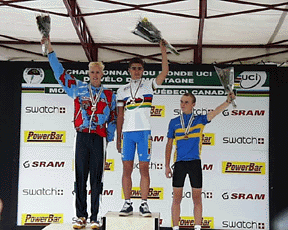 1998 Junior World Champion
CC: Earlier this year you announced that this would be your last year. Is this still true?

JA: No. When I broke my collarbone I stayed at home for two months without competition - I was able to ride but not to compete and not ride on my mountain bike. I realized that it was difficult to stay out of competition, so I decided to stay one or two years more.

CC: So no firm decision on how long - will we maybe see you in Tokyo [2020 Olympics]?

JA: I don't know. It might be nice to close the loop here in 2019 [at the world championships in MSA]. It will be more than 20 years at that time since I won my first world championship here, and it would be nice to close the loop here in Mont-Ste-Anne. Or, another option - La Bresse [France] next year at the World Cup in my hometown. So La Bresse next year or two years at Mont-Ste-Anne.

CC: So wait and see how things go?

JA: For sure I have the motivation. I realized during those weeks at home that the motivation is still there. I need to compete, I want to compete, after 20 years I still have a lot of fun on the bike. I am still able to do some good results, some podiums, so that's why I said: 'If I like it, why should I stop?'.

CC: You have had many, many awards - two Olympic titles, five elite world titles, 33 World Cups ... are there any results that in your mind are the really special ones?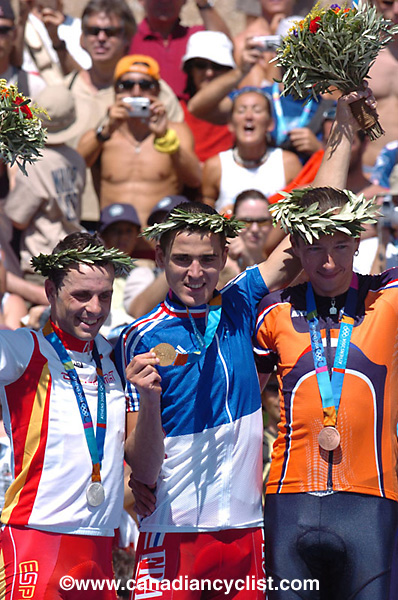 2004 Olympic Champion, Athens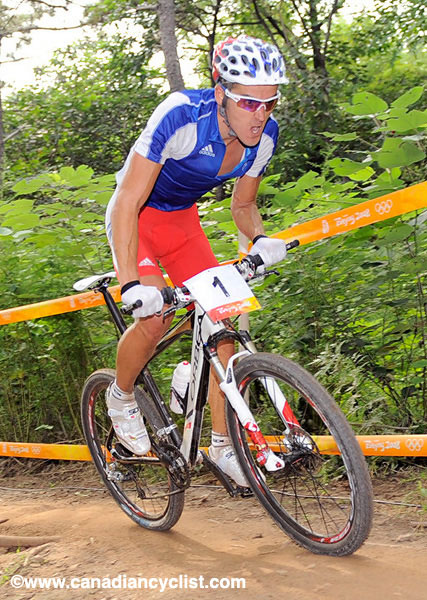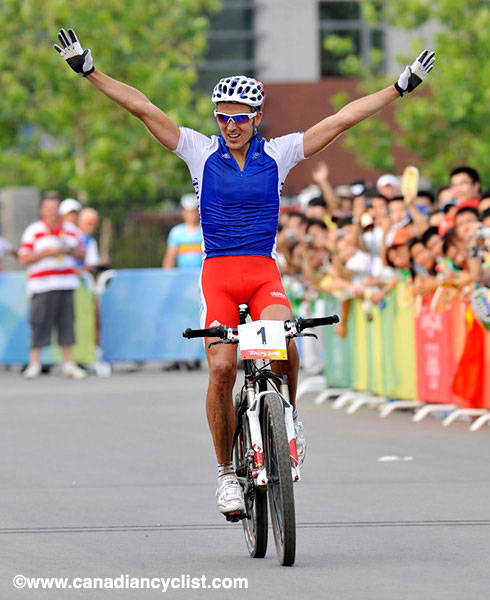 2008 Olympic Champion, Beijing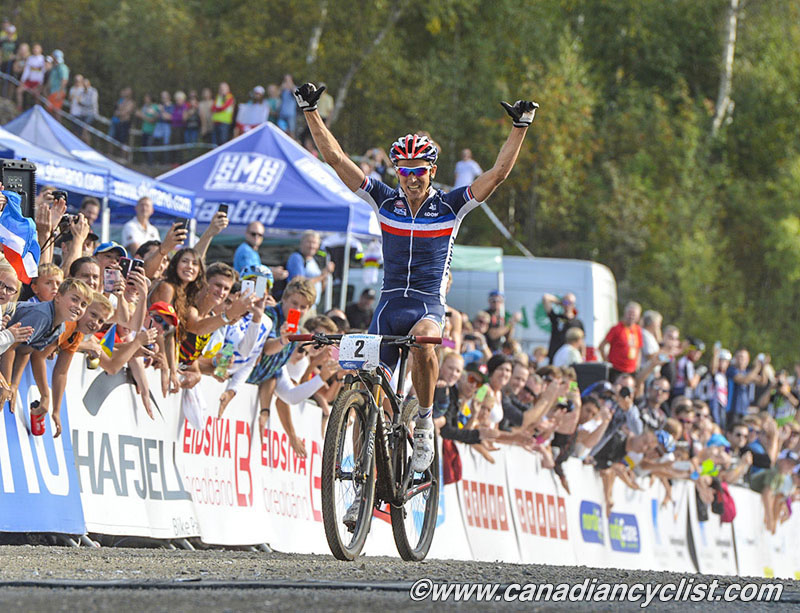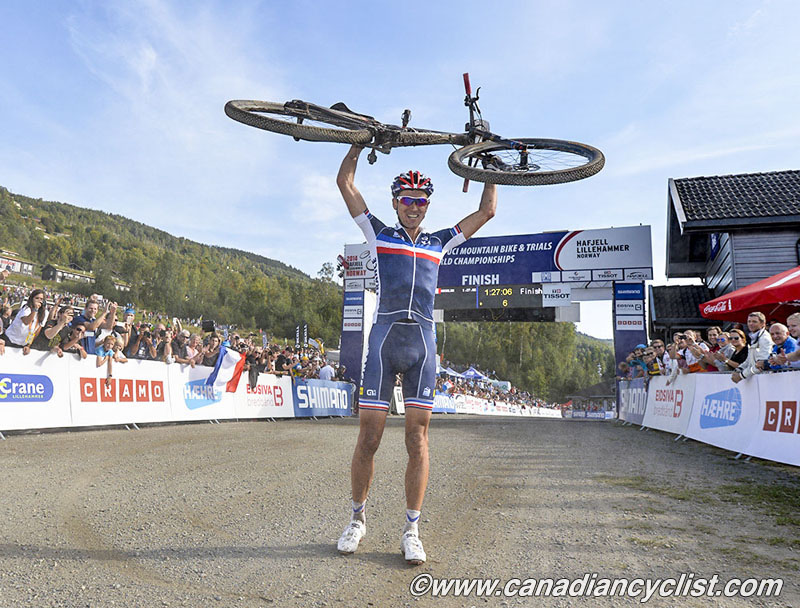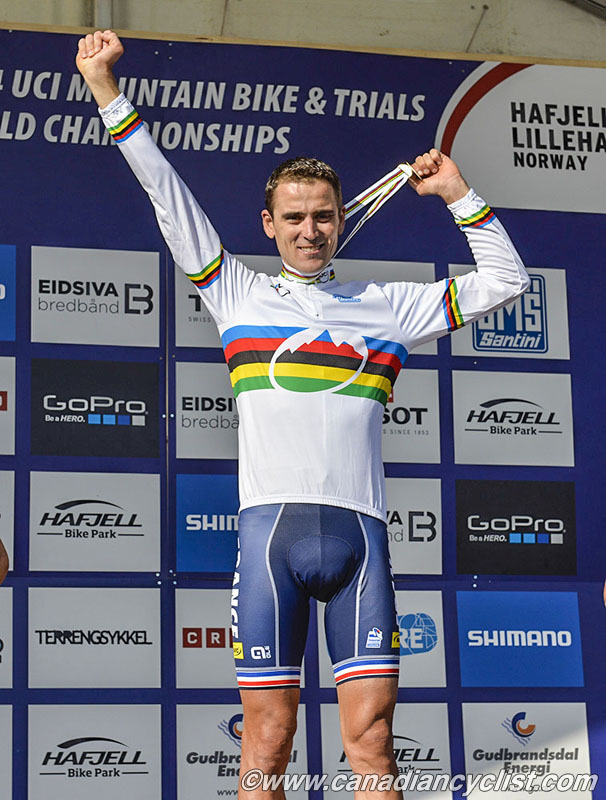 2014 World Champion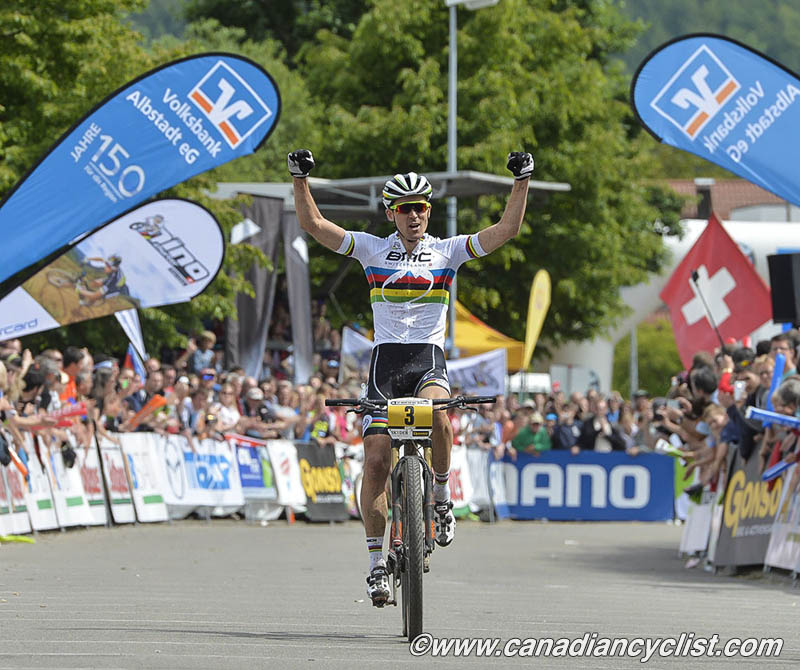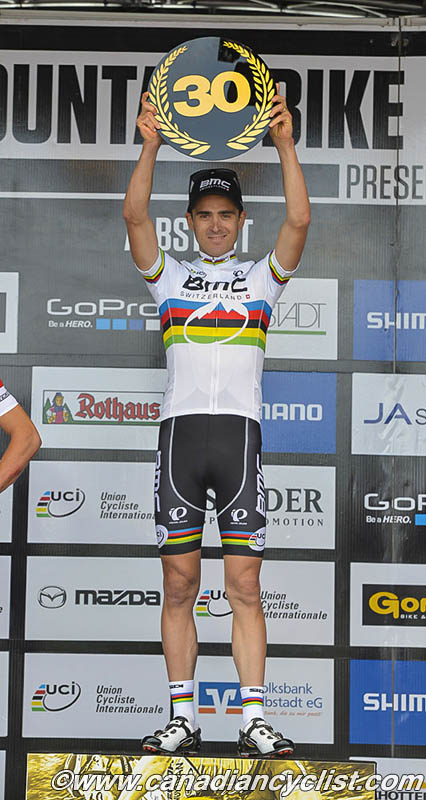 30th World Cup win, 2015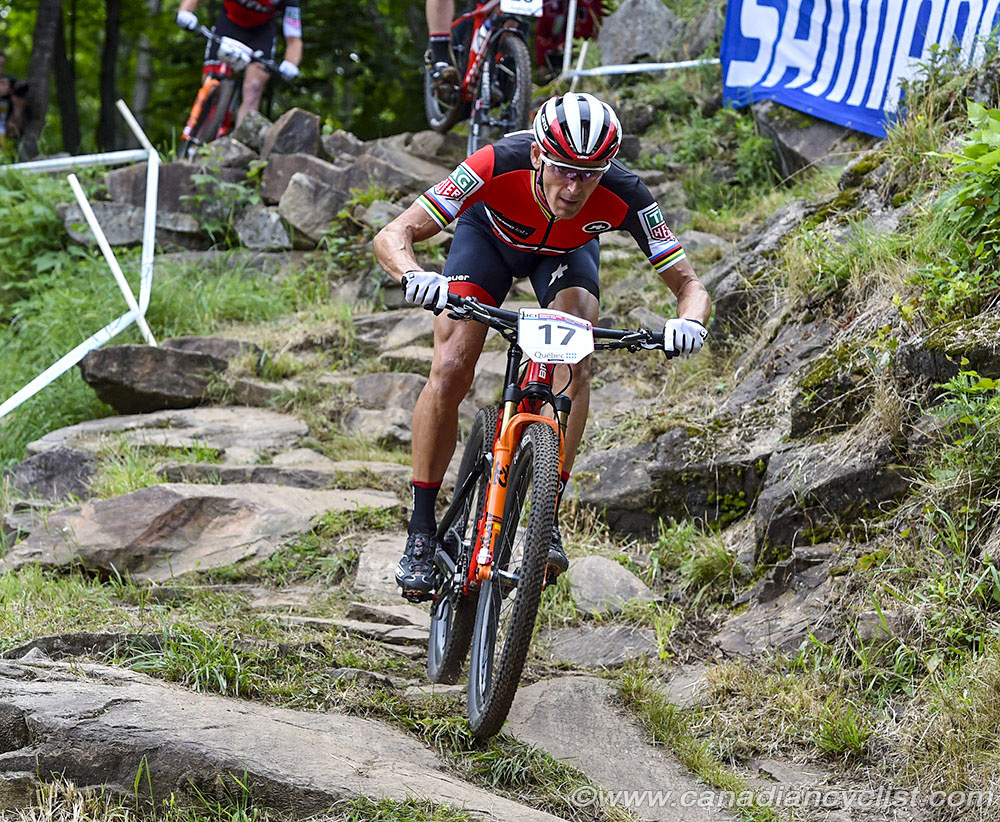 2017 Mont-Sainte-Anne
JA: It's difficult to say only one. For sure, the two Olympic gold medals are really incredible, because the first time it was a big surprise and the second time was a consecration [confirmation], and to win the biggest event in the world is always special. But also my world title in Hafjell [Norway, 2014], ten years after the first one, was also very emotional for me. It was also very special to race at home, when I won the World Cup twice in La Bresse [2012, 2016].

CC: Many successful mountain bikers have gone to the road, like Jakob Fuglsang, J-C Peraud and Cadel Evans. But you have not; were you ever tempted to race on the road? It is seen as the biggest part of the sport, so why have you always stayed with mountain biking?

JA: I'm happy to have done all my career in mountain biking, because it was not a goal for me to go on the road. Some people have said 'you have won everything in mountain bike, you need to go on the road'. But it was not for me. I like mountain biking, it is my passion; I don't have a need to go on the road. I like to train on the road but it is not the same passion for me. For me, my motivation comes from my passion. I love mountain bike and I prefer to stay in mountain bike.

CC: There have been many changes in mountain biking over your career - the courses have changed, the races have gotten shorter, going from more than two hours to 90 minutes. The technology of the bikes has changed a lot. What are your feelings about how the sport of mountain bike has changed over the years?

JA: All these changes have given me motivation to continue. It was a big challenge to adapt to the new rules, the new way of riding. That is why I keep my motivation. It was not easy for me, at over 30 years old, to have shorter races with more intensity. It is now totally different than 15 years ago. So it was a big challenge to change everything in my training to be competitive. It was a big challenge and I like that kind of thing.

In mountain bike it is never the same - that's why if you win one race, the race after can be totally different, and you will use a different bike and a different setup, have a different way of riding with different tactics ... it's not like a stadium or a swimming pool, it's always different.

CC: And the same changes to the technology - to full suspension, to 29" wheels. You have been seen as more cautious about changing your bike.

JA: I posted a photo in my social media with my bike from 1998 and the bike I use this weekend. It's really different, and it is interesting to see the evolution of the mountain bike. We were riding with hardtail, 26" wheels, no disc brakes. I came late to the 29" from 26" but I am always one of the first to try different things. I was the first rider to use a single chainring, the first to use a dropper seatpost. I was also one of the first riders to ride [Shimano] Di2 electronic shifters. I'm proud of that. As riders we try to win races, but we also work on the technology with the engineers to try new things. If we like these new technologies they will come to the commercial market.

CC: So are there any new technologies now that you see coming to the market?

JA: For sure electronics will become important for everything. For the drivetrain, the transmission and the suspension. It's difficult to know everything that will change, but for sure dropper seat posts can be improved, maybe with electronic systems.

CC: Who are the riders that you see for the future?

JA: We have a lot of young riders coming to the top. Riders like Anton Cooper [New Zealand], who is still Under-23 and is still able to be in the top-5 in Elite. My team mate Titouan Carod, Jordan Sarrou ... there are maybe five or six young riders who are able to be in the top three, and maybe one of them will be able to win this year or next year.

CC: Mont-Ste-Anne is a traditional course, not a bike park course. Some other World Cups don't use as much natural terrain and are more man-made. MSA is one of the few that is still very much natural; what is your feeling about natural versus man-made or bike park courses?

JA: I like very much tracks like Mont-Ste-Anne. It's natural, although some parts are artificial, but it looks natural. For me, it is real mountain biking; it's Olympic format but real mountain biking. I don't like when it is too much artificial; in Rio, when you see the track on TV, you think 'Okay, it is not real mountain biking, I can't do that at home on my bike, I can't find anywhere like that'. So, it's good when we have features like drops or bike park sections, but not the whole track like that.

But to win the World Cup you need to be able to win on each kind of track, so it's nice if in one round we have a really artificial track and on another a really natural track. That's why the World Cup is so interesting.

CC: Defending your World Cup title is not possible after missing two races with your injury, so what is your focus for the rest of the year?

JA: I'm totally focussed on the Worlds. I still have one month to work and improve my shape. I like the track in Cairns, and I am totally focussed on the world championships.