August 20/17 16:33 pm - Marinoni Falls Short in Hour Record Attempt

Posted by Editor on 08/20/17

Giuseppe Marinoni fell 323 metres short on Saturday at the Milton Velodrome in his attempt to beat the world record for distance covered in one hour for the 80-84 years old age group. Marinoni had previously set the 75-79 age group record five years ago in Italy of 35.728 kilometres. The current 80-84 age group record is 38.657 kilometres and Marinoni covered 38.334 kilometres. He would have had to cover 155 laps and rode just under 154 laps.
An impressive number of people turned out for the attempt; an estimated 1200 according to organizer Tony Girardin, who is the director/producer of the Marinoni movie, Marinoni: The Fire in the Frame.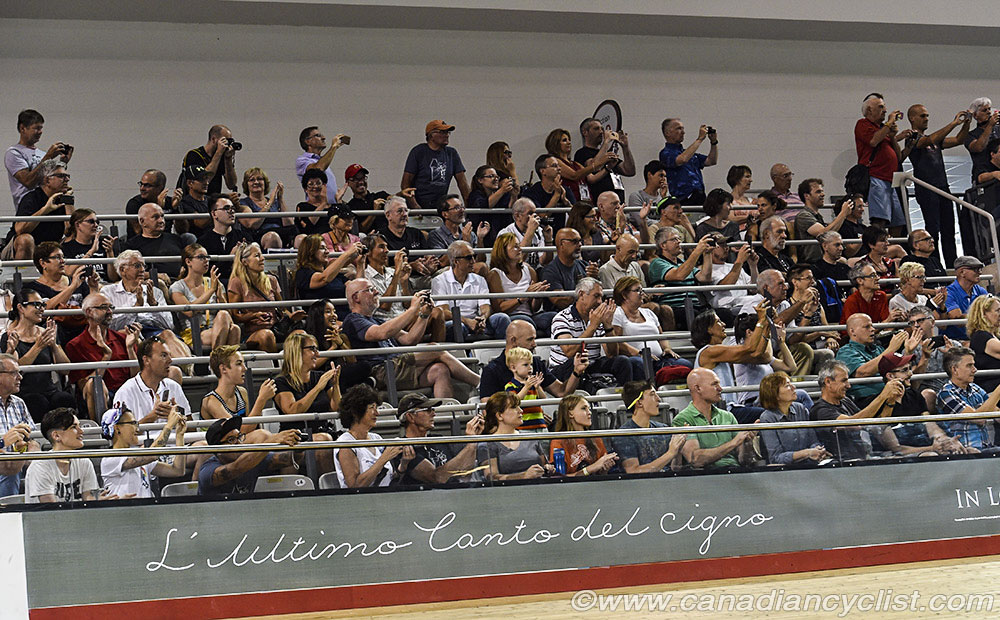 The crowd
Marinoni started out well, and was only three seconds down at the 30 minute mark. He lost most of his ground between the 40 and 50 minute marks, and then rallied in the final 10 minutes when the entire crowd was on their feet cheering for him.

He rode a historically significant bike - the one he built for Canadian cycling legend Jocelyn Lovell in 1978, which Lovell would use to win a gold medal at the Commonwealth Games that year. For this record attempt he added disc wheels and aero bars.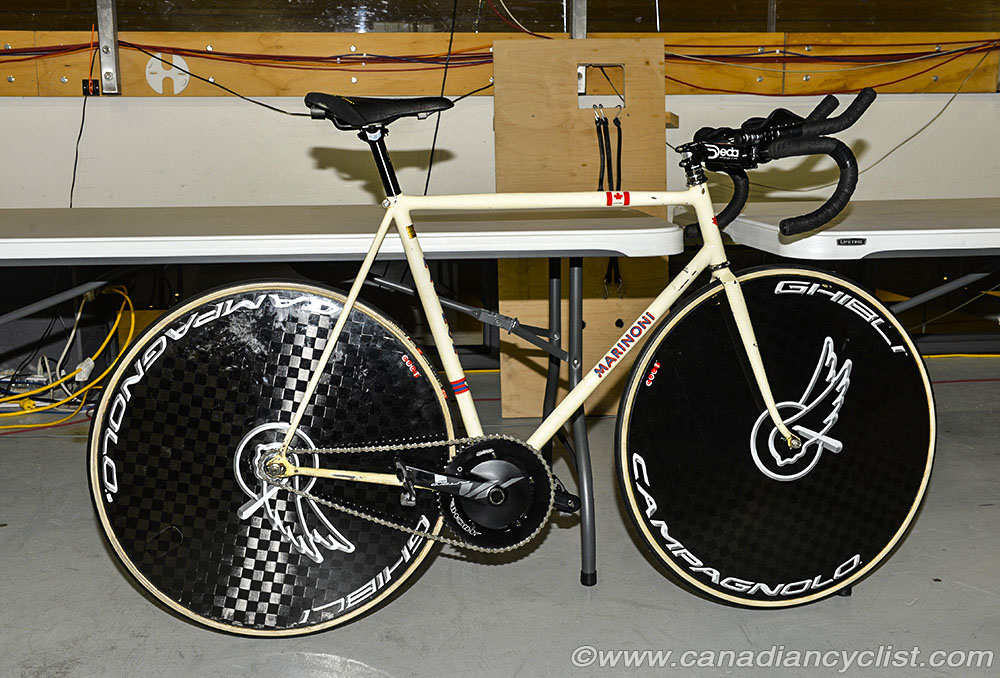 The bike that was originally built for Jocelyn Lovell
Marinoni was originally scheduled to ride 144 laps, however, the record was upped significantly on June 25th this year by Frenchman Paul Martinez (82 years old) on the new and very fast French track at Saint-Quentin en Yvelines (where the 2015 world championships were held and two world records were broken), meaning Marinoni would need to ride 155 laps to break the record.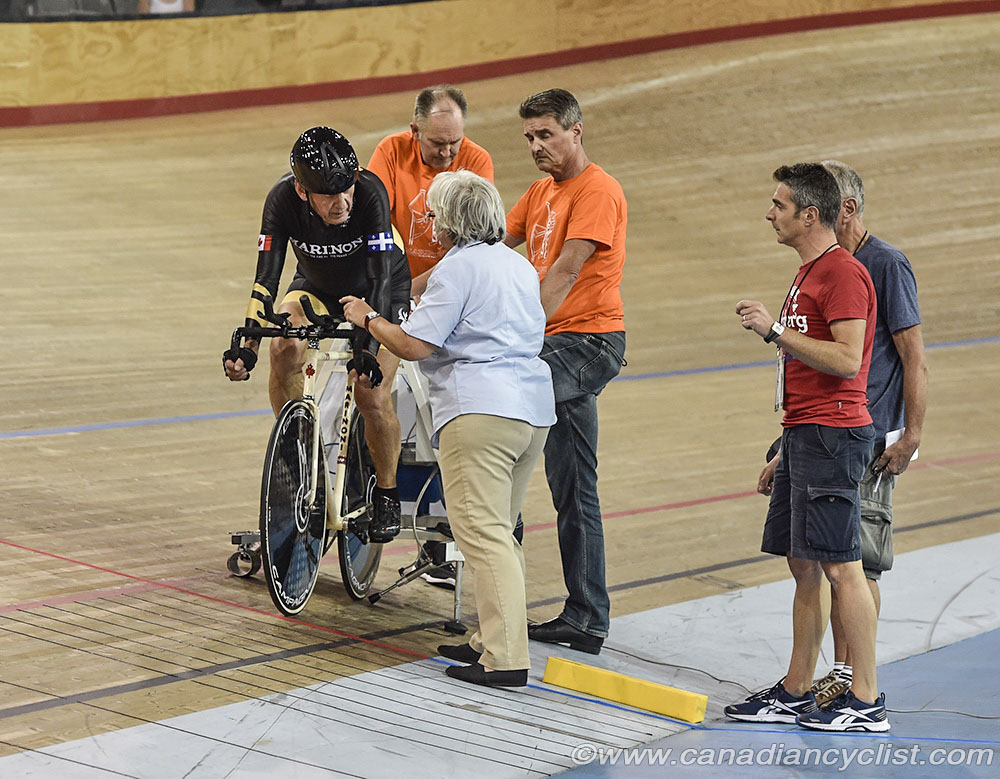 Official Louise Lalonde has final words with Marinoni before the start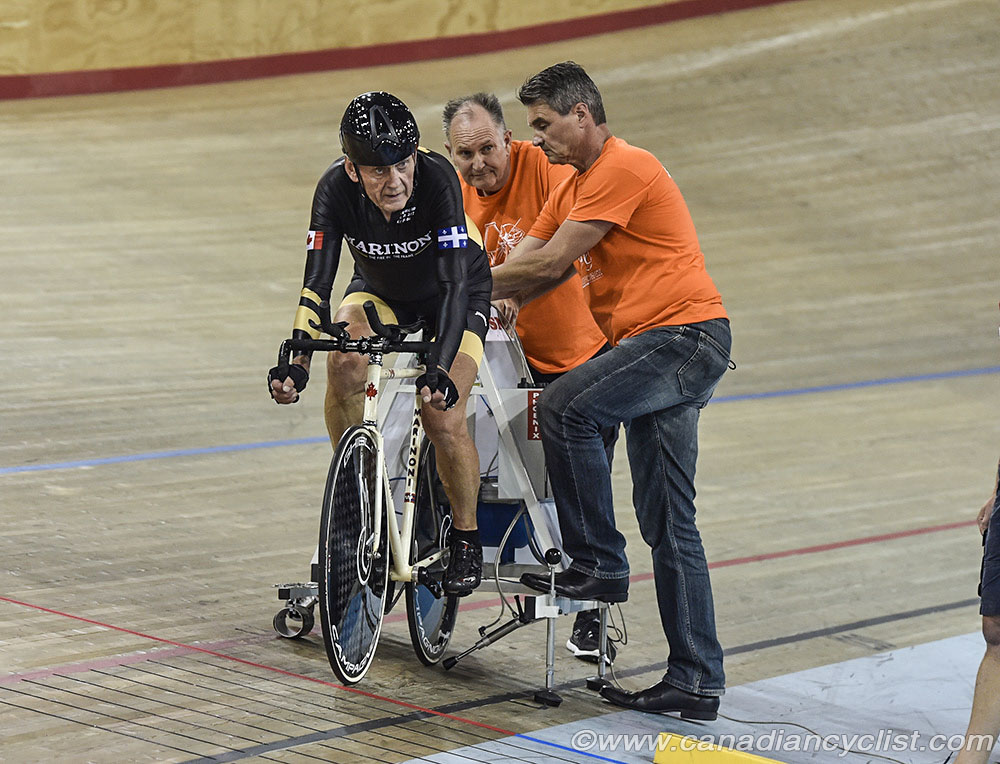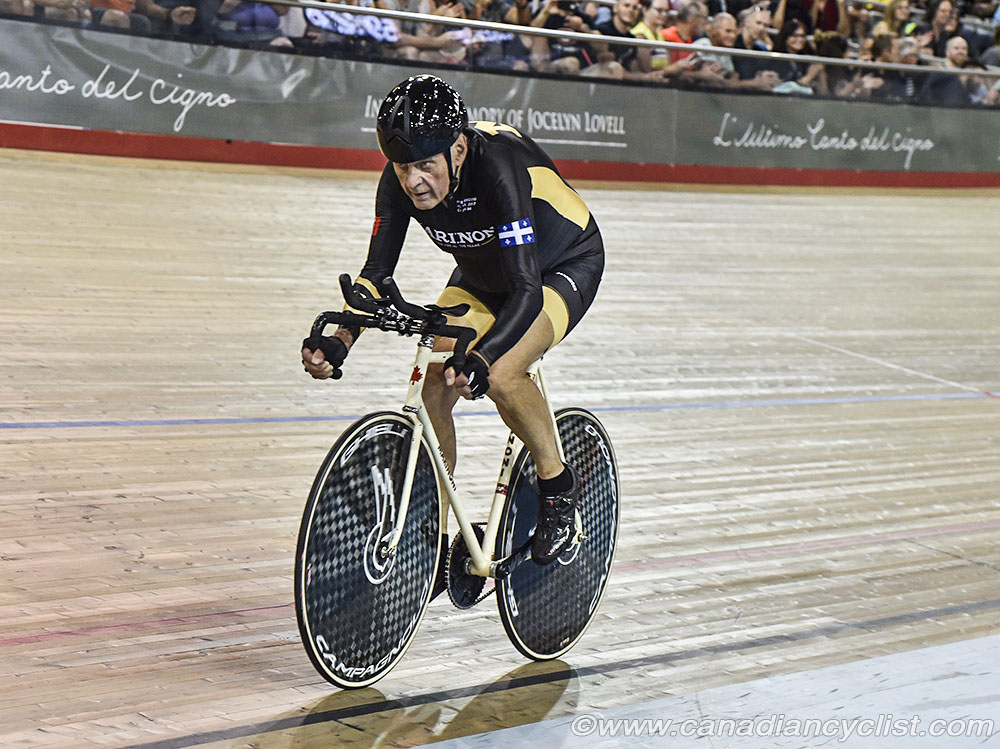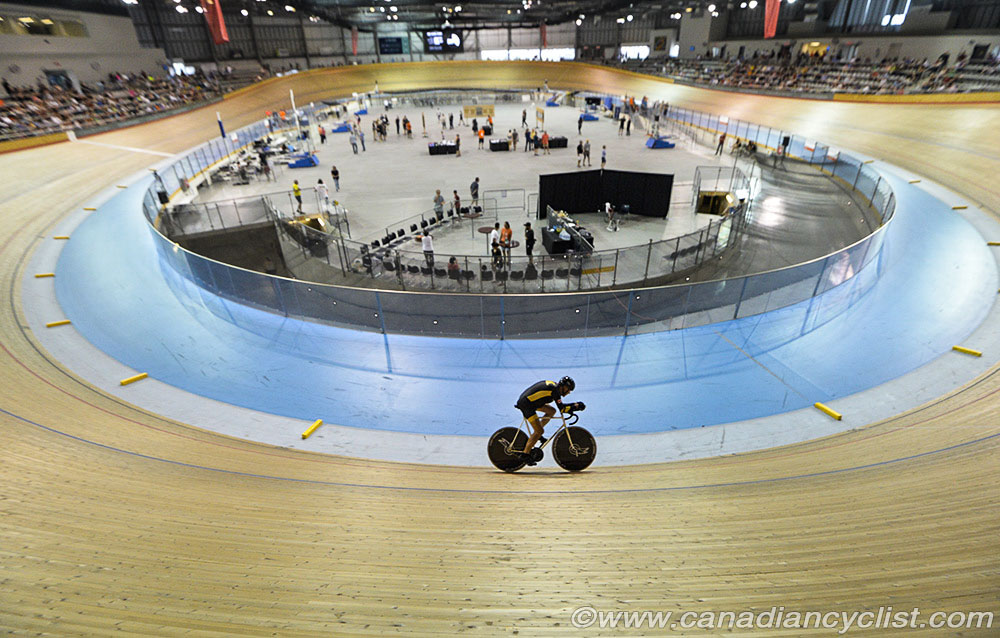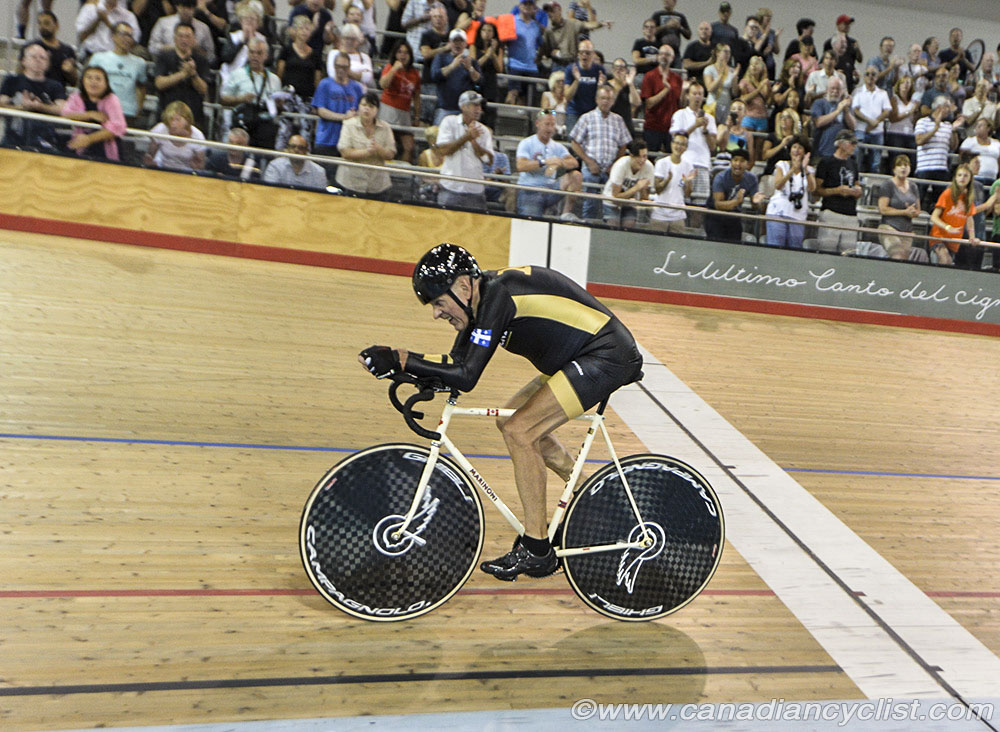 The fans on their feet in the final laps
Slide show gallery (25 photos)

At the conclusion of his ride, Mr Marinoni sat for a few minutes at the entrance to the track sipping water before waving to the crowd and then walking across the infield to go to doping control. We submitted questions through Tony Girardin, who provided the following comments from Mr Marinoni.

"He feels very good about his ride and will try again. He is not sure where yet, whether it will be Toronto [Milton] again or Mexico [Aguascaliente]. When is probably quite soon, like in the next month or two."

"He was super proud, and in the Marinoni camp at the hotel afterwards there was not one person upset that he did not beat the record. There was people here from Italy, they brought their families with them. There were people from all over North America. The former mayor of his home town in Italy was there."

"He is extremely happy about his ride and says that the main problem was that he didn't get enough track time because there is no track in Montreal anymore, which is a sour point for him. He had to go to Bromont [outdoor track] and the problem was he couldn't use his disc wheels outdoors there, so his training and gearing was thrown off. He only came to Milton three times to ride the velodrome, so the lack of experience with the setup was a big factor. With more track time he is comfortable he could have beaten the record."

"He thinks he needs to work on his endurance a bit; he should have done more rides that were more than half an hour. So, he should have done more rides that were longer and get more experience on the track."

Girardin also revealed that Marinoni almost canceled the attempt because of the yellow pads that line the edge of the track. "He was really nervous and angry, because he has never ridden with them. He has ridden with sandbags, so he said to me, 'if they put those blocks out I'm not doing the record'. That's what he said to me right before the record. So we scrambled with the UCI to get those changed. We realized that they don't have sandbags so we had to keep those on and they lowered them a bit for him. But he said they made him nervous and he rode higher on the track, which was his greatest deficiency in the ride. We did tests before and it cost him half a second a lap. So he thinks with a little bit more training and a little bit more technique then it is definitely possible [to beat the record]."

"He's heard so many good reviews about the Mexican velodrome that it is in his plans to go there, but he is not sure yet. His coach, Eric Van den Eynde, says it will be faster. But his weak point is his cardio from all the years of welding, so some people are saying it may not be good to go to Mexico. So, he's not sure yet. He thinks he can beat it in Toronto [Milton], but he's not sure if he can beat it on the day-of [an official record attempt]."

"When the record was broken by quite a bit, it was daunting, he said, but he always had an objective of breaking his record from five years ago, that's what the challenge was. He coach pointed out 'if you don't break the world record, you are setting an amazing Canadian record', but you are going almost three kilometres further than three years earlier."

Girardin also said that the organizers of the Day of the Hour on September 23rd have said that they will make a slot available for Marinoni if he wishes to try then, which is an option being considered [see Day of the Hour record Attempts at Milton Velodrome].

Slide show gallery (25 photos)