August 30/17 15:38 pm - Garneau Wins Eurobike Award for Shoe Technology

Posted by Editoress on 08/30/17

Canadian manufacturer Louis Garneau Sports has won a 2017 Eurobike Award for its new shoe technology. This proprietary patent-pending technology, called the X-Comfort Zone, will be available on five shoe models for the 2018 season.

The X-Comfort Zone allows the shoe to stretch to accommodate B - D+ foot widths. A ventilated elastomer-spandex insert is bonded to the outside of the shoe and can expand up to 5mm, achieving a dynamic, non-constricting fit that allows the foot's natural toe splay, improving power, reducing injuries and providing never-before-seen comfort.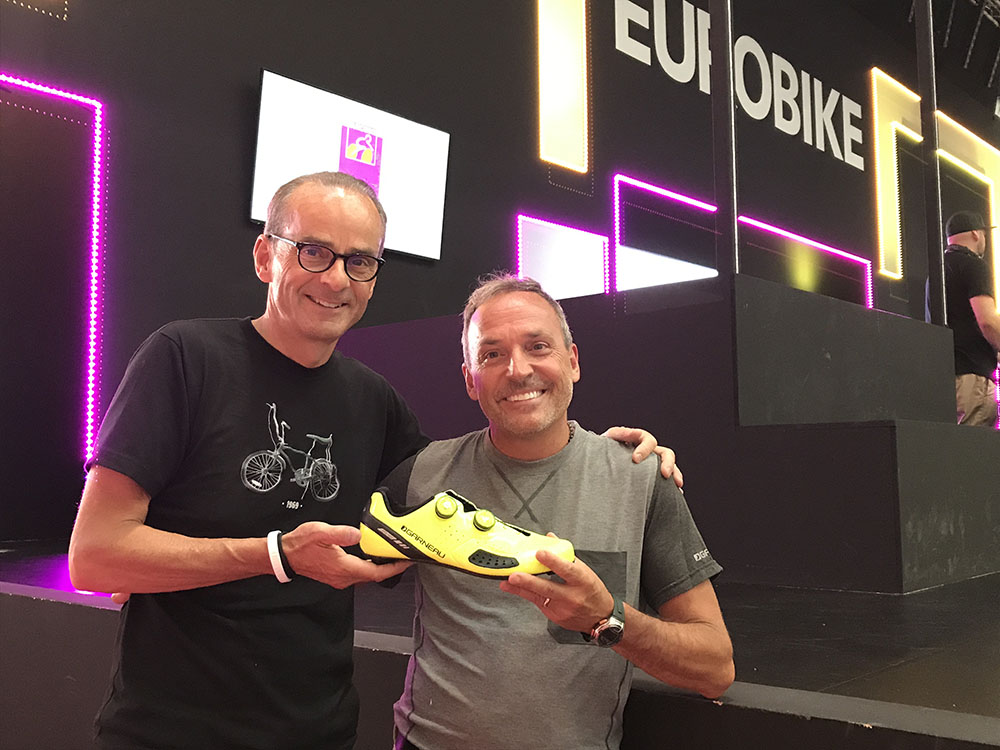 Louis Garneau (Founder and CEO) and Rene Plourde (Product Manager) with X-Comfort Technology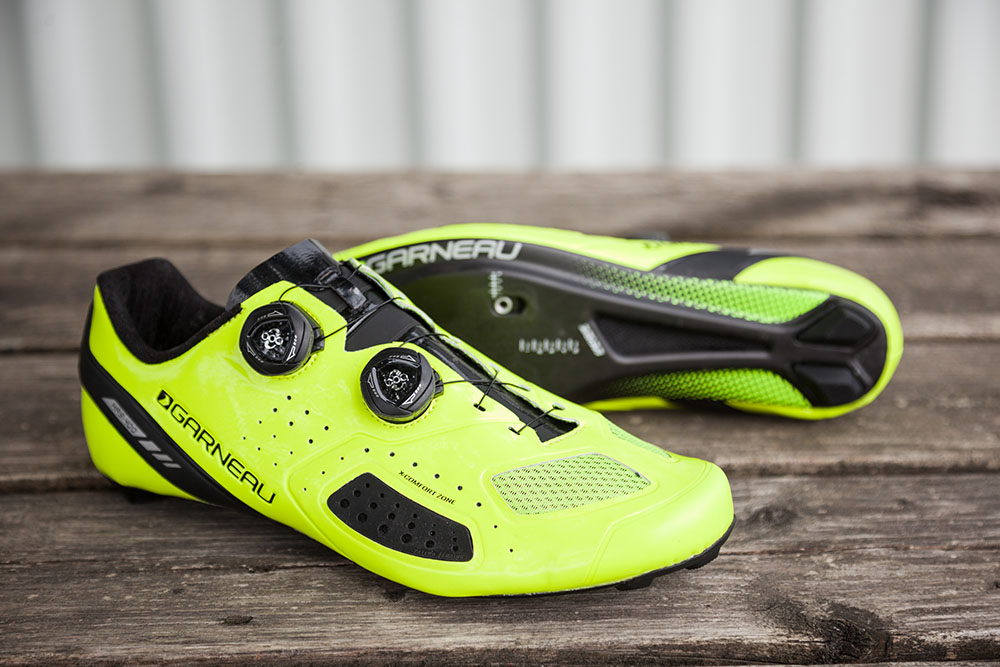 This marks the second consecutive Eurobike Award for Gar
neau. "We are constantly innovating and our shoes have been huge game changers over the years. In 2009, we invented the patented ErgoAir ventilated soles to reduce heat build-up. In 2016, we invented the Power Zone, an increased arch support system, to achieve better energy transfer. This year, we are launching the X-Comfort Zone, a technology that increases each rider's comfort by adapting to the individual foot anatomy," says Louis Garneau, founder and CEO.

For road cyclists, the technology is available on the top-level, carbon-soled Course Air Lite II, a lightweight shoe already known for its reduced stack height, ventilated Ergo Air sole and increased arch support. It also features a new lacing system, the Boa TX. Unlike other Boa-equipped shoes, the Boa TX lacing system routes its cables internally, thereby reducing pressure points. Its hidden profile is more aerodynamic and is protected from dust and dirt for a clean performance. The X-Comfort Zone self-adjusting width technology can also be found on the men's Platinum II and women's Ruby II road cycling shoes, offering improved comfort and performance at a more affordable price point.

For mountain bikers, the X-Comfort technology is available on the Granite II model for both men and women. The Granite II's upper is thermo-bonded and seamless so that it offers minimal pressure points for the rider. Its single-dial Boa closure system provides a fit that is quick to adjust and extremely lightweight.

These models will be available late 2017, early 2018.