September 2/17 19:07 pm - Gautier Wins Second Gold Medal at Para Road Worlds

Posted by Editoress on 09/2/17

Shelley Gautier of Toronto, Ontario, won her second world title at the Para-cycling Road World Championships in Pietermaritzburg, South Africa, on Saturday, bringing Canada's total medal count to six for these championships.

Gautier, who had earlier won the women's T1 category time trial, won the 24.3 kilometre road race with a time of one hour, one minute and 41 seconds, finishing a lap ahead of Toni Mould of South Africa.

The only other Canadians competing on this third day of the world championships were in the men's H3 60.7 kilometre race, where Charles Moreau of Victoriaville, Quebec, finished seventh, Alex Hyndman of Morpeth, Ontario, was tenth and Joey Desjardins of Hawksbury, Ontario, was 14th. Moreau was with the winning break until he suffered a mechanical problem.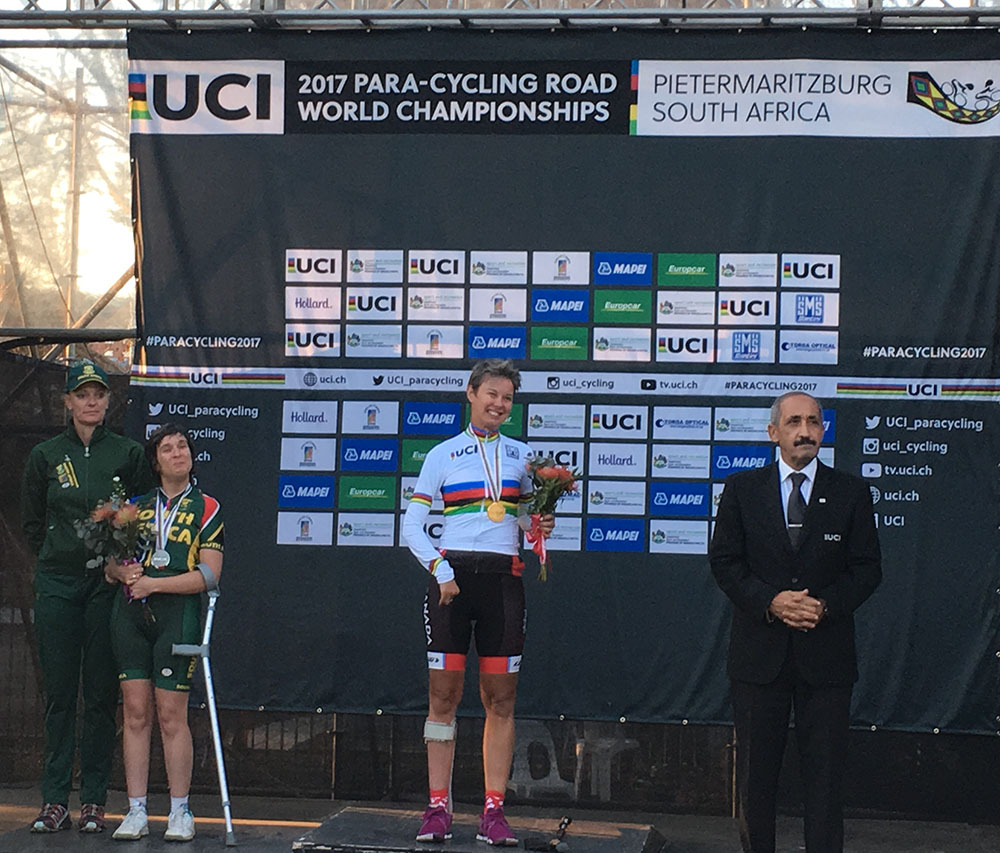 Results
Women T1 ITT, 24.3 km

1 Shelley Gautier (Canada)
1:01:41
2 Toni Mould (South Africa)
-1 lap
DNF Yulia Sibagatova (Russia)

Men H3 ITT, 60.7 km

1 David Franek (France)
1:42:19
2 Paolo Cecchetto (Italy)
at s.t.
3 Heinz Frei (Switzerland)
0:03
4 Vittorio Podesta (Italy)
1:05
5 Walter Ablinger (Austria)
1:51
6 Stuart Mc Creadie (South Africa)
1:51
7 Charles Moreau (Canada)
3:38
8 Mischa Hielkema (Netherlands)
5:53
9 Jean-Francois Deberg (Belgium)
6:04
10 Alex Hyndman (Canada)
6:36
11 Federico Mestroni (Italy)
8:28
12 David Randall (USA)
9:09
13 Ruslan Kuznetsov (Russia)
9:48
14 Joey Desjardins (Canada)
+ 10:46
15 Eduardo Ramos Pimenta (Brazil)
-2 laps
16 Riadh Tarsim (France)
-3 laps
17 Mark Mekenkamp (Netherlands)
-3 laps
18 Declan Slevin (Ireland)
-4 laps
DNF Jani Peltopuro (Finland)
DNF Rafal Szumiec (Poland)
DNF Matthew Updike (USA)