September 6/17 4:07 am - UPDATED - Canada Tenth in Team Relay at MTB Worlds

Posted by Editoress on 09/6/17

Canada started the Mountain Bike World Championships in Cairns, Australia, with a tenth place performance on Wednesday in the Team Relay. The Swiss powerhouse team immediately showed that they are as strong as ever, winning the first world title of these championships. Denmark beat defending champion France in a sprint finish for silver.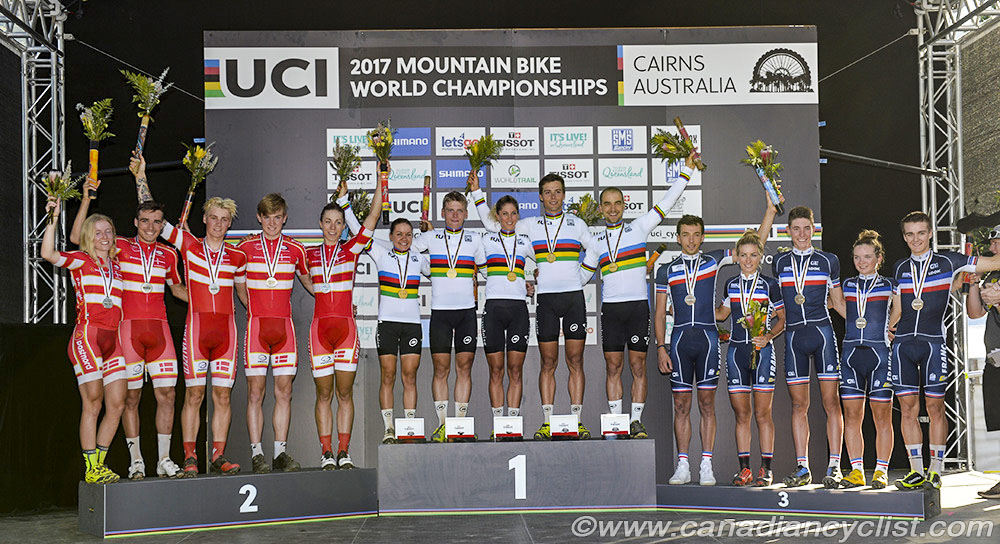 For 2017 the Team Relay made a significant change to the format, adding a fifth rider to each team. Now, each squad must include a Junior or Under-23 women, in addition to an Elite man and woman, Under-23 man and Junior man.

Sam Gaze of New Zealand jumped out to a strong lead on the first lap, but Italy took over on the second lap. It was the turn of Canada to move into the lead on Lap 3, and they extended their lead on the fourth lap to over a minute by the start of the final lap. However, Olympic and World Cup champion Nino Schurter was the final rider for Switzerland, and he powered into the lead by the halfway mark of the lap, to give Switzerland their first Team Relay title since 2010.

Switzerland began with their Under-23 man, Filippo Colombo, followed by their Junior man Joel Roth, then Under-23 woman Sina Frei, followed by Elite riders Jolanda Neff and Schurter.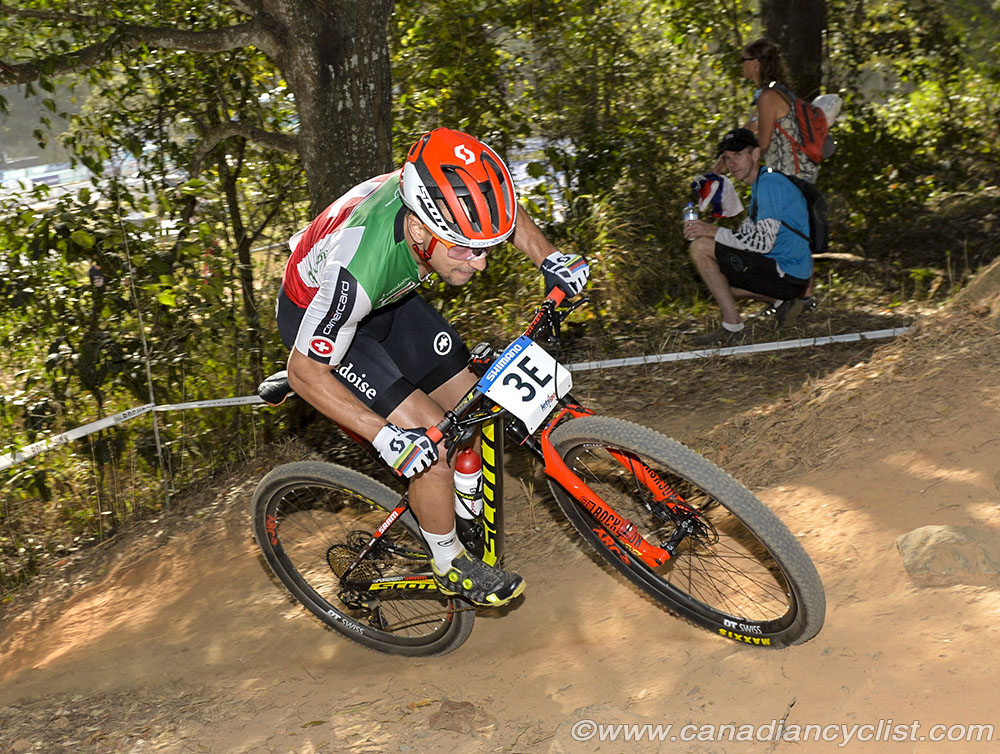 Schurter rode last for the Swiss and set fastest lap time
"The addition of a fifth rider did not change our strategy," said Schurter. "We have always gone with a fast starter, with Filippo [Colombo] doing the start for us here and myself going last. Adding this [fifth] rider makes the strong nations even stronger, because it is hard for the small nations to have a good rider in every category. So the new Team Relay is even better for us."

Canada started with Under-23 rider Peter Disera, who got caught up in traffic on the opening lap and finished 11th, 46 seconds behind New Zealand.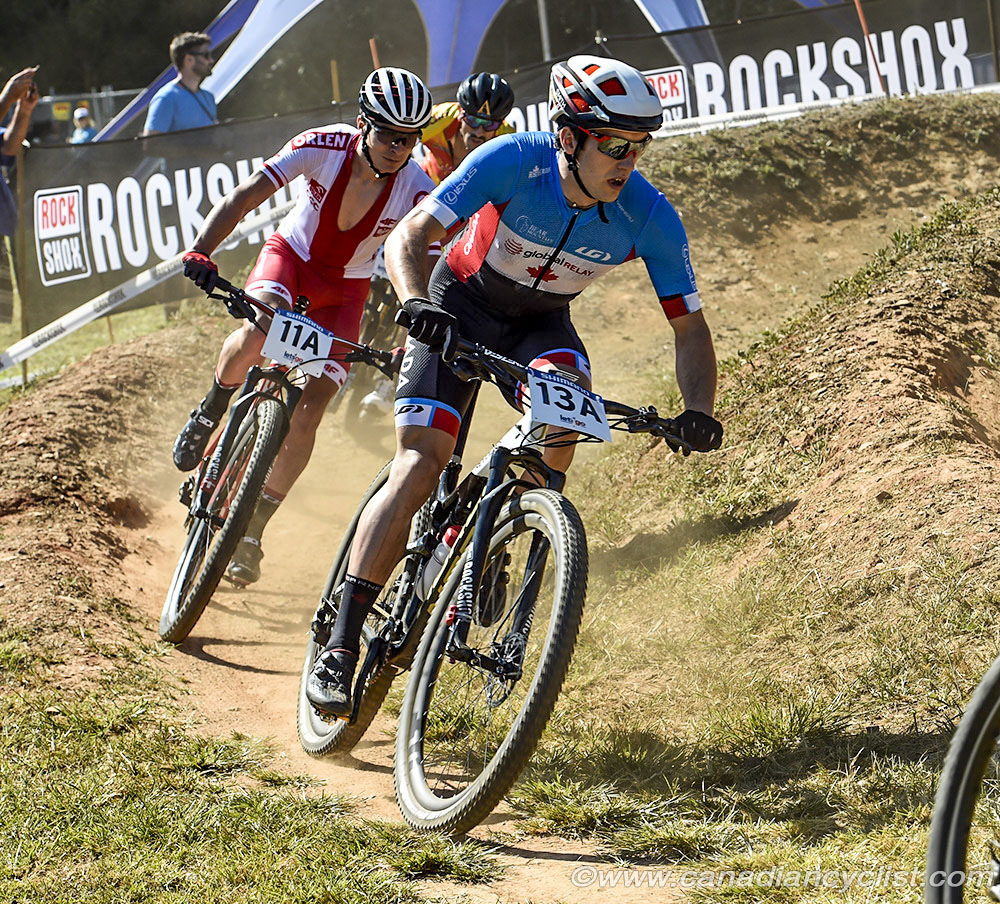 Pete Disera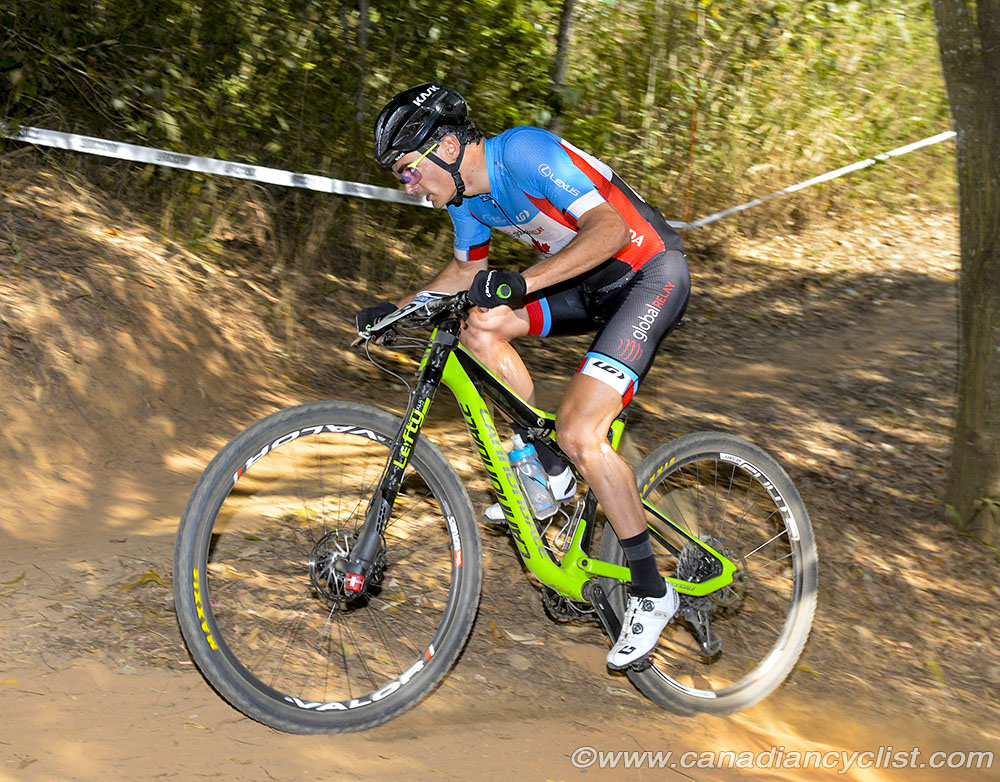 Raph Gagne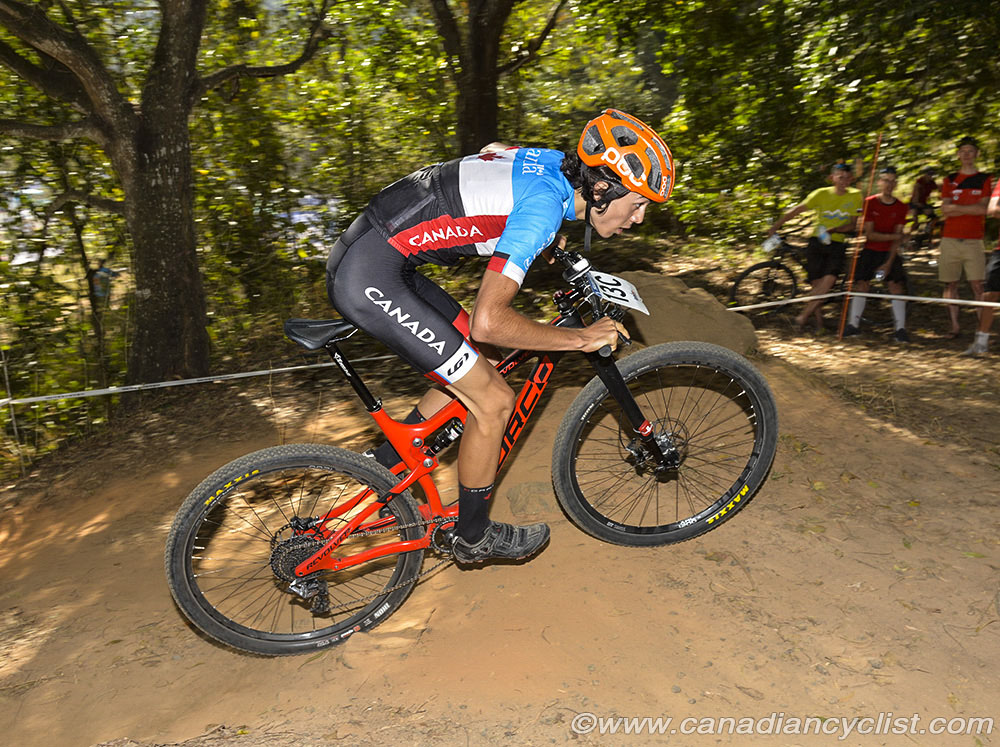 Holden Jones got Canada in to 1st place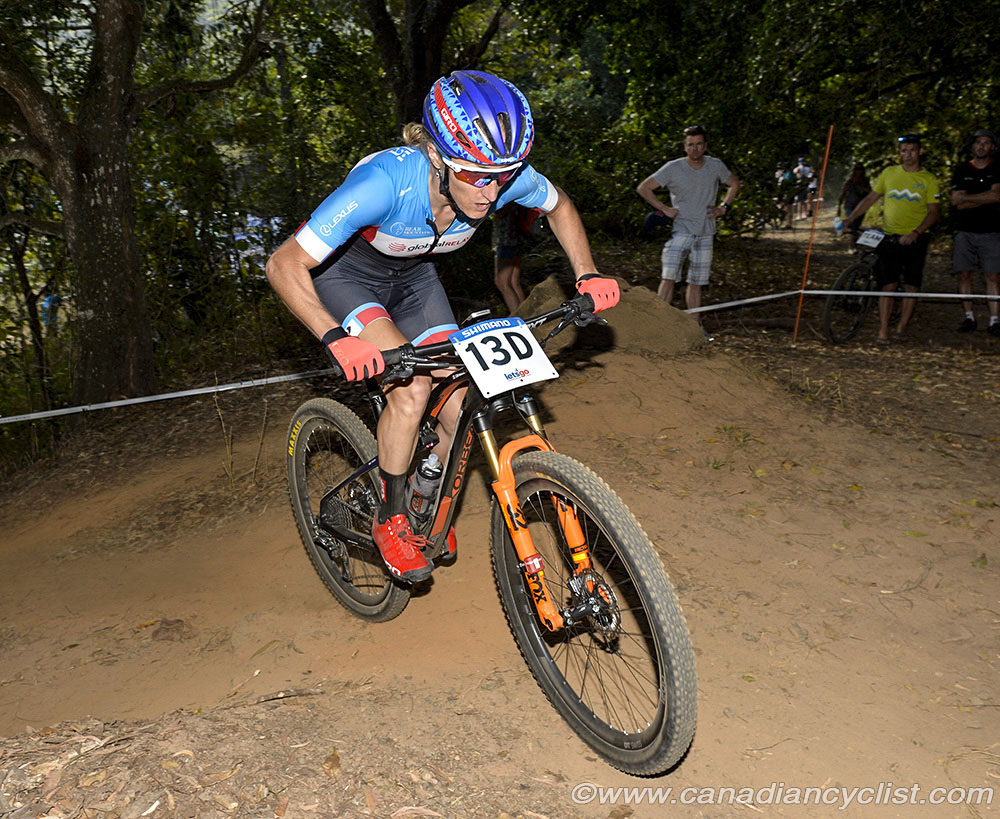 Pendrel kept Canada in top spot heading into the final lap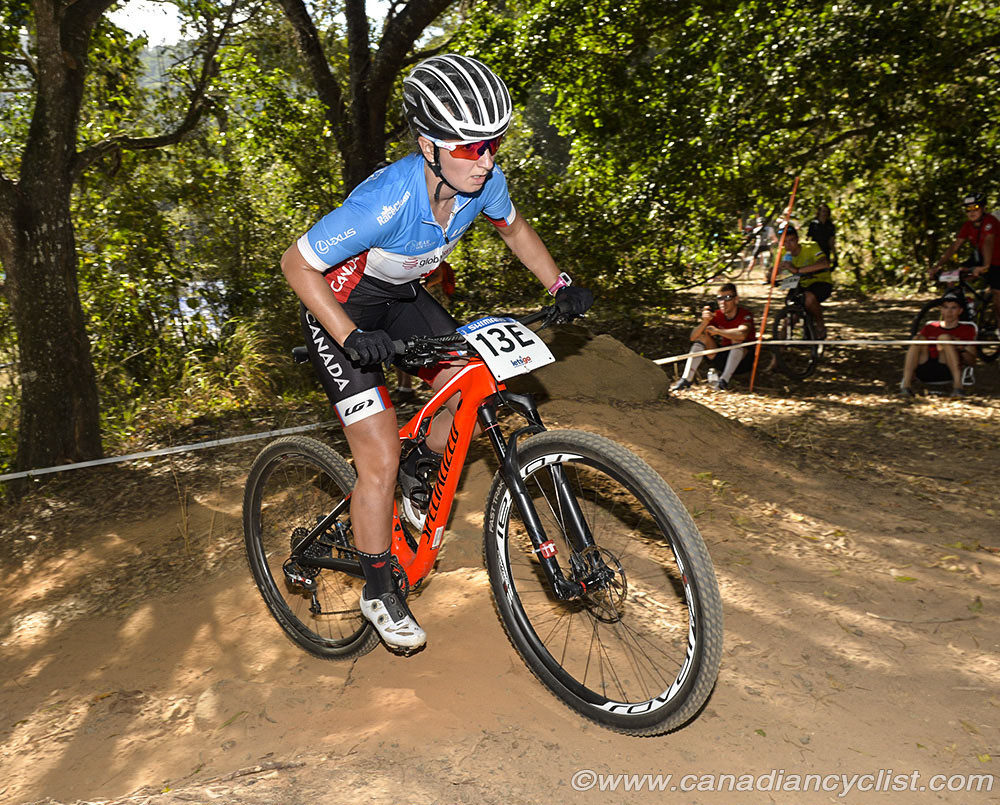 Anne Julie Tremblay started with a minute lead, but it was an impossible job to hold off the elite men chasing
Raphael Gagne, Canada's Elite man, moved up significantly on the second lap to put Canada into fifth place as he handed off to Junior man Holden Jones, who put in a blazing lap to move Canada into the lead by over a minute as he handed off to Elite woman Catharine Pendrel.

"When Holden brought us up to first I got to head out with a clear track," said Pendrel, "which was amazing. I had what felt like a solid lap; strong physically and technically. I handed off to Anne-Julie, in the toughest spot possible - leading and she had all the elite men chasing her down. I think we all had a good day out there and it is a sign of good racing to come."

Pendrel kept Canada's lead going into the final lap as she handed off to Under-23 woman Anne-Julie Tremblay, although she lost a few seconds to Jolanda Neff who moved Switzerland into second. However, Tremblay faced an impossible task, with Olympic and reigning world champion Nino Schurter leading a group of Elite and Under-23 men after her.

"I really enjoyed my experience at the Relay," said Tremblay. "It was exciting to race against the best in the world in all categories. I was a bit stressed when I saw that Canada was in first place and it was closely followed by other countries. I also felt a little small when I saw that the last riders from other countries was the best elite men. I figured I should just go as fast as I could and keep my place even if they were men. I'm pretty happy with my lap. Everything went well apart from a small crash with [Manuel] Fumic. I had no injuries [in the crash], it only slowed me down a bit."
"Our strategy first and foremost was to give each rider a chance to do a dress rehearsal on the course," explained Dan Proulx, Mountain Bike Head Coach at Cycling Canada. "Our second goal was to be top eight, but with the new format we weren't sure how it would play out, but now we know we are top-10 at this time. Raph [Gagne] had a really good ride to get us into top five and then Holden Jones had the most amazing ride; he just did a stellar job. Our last rider was Anne-Julie, and we gave her the toughest job you could imagine, with eight or ten of the best men right behind her. She rode her heart out. So, overall we were a little short on our objective goal, but it was still a phenomenal start to Worlds for us."