September 9/17 20:17 pm - Rochester Cross Day 1 results, Rochette 2nd

Posted by Editoress on 09/9/17

Rochester Cyclocross - Ellen Noble and Stephen Hyde Lead Off ProCX Season with Category 1 Victories

Opening day officially arrived for the USA Cycling Professional Cyclocross Calendar (Pro CX). The first of 43 events took place Saturday on a winding 3.5-kilometre course for elite women and men at Genesee Valley Park in Rochester, N.Y. for the 10th annual Rochester Cyclocross. Ellen Noble (Aspire Racing) took her first-ever Category 1 crown in the elite women's contest and reigning U.S. Cyclocross National Champion Stephen Hyde (Cannondale p/b Cyclocross-World.com) took the elite men's C1 win in a three-rider sprint.

Elite Women
On a sunny, fall day between the shores of the Genesee River and the New York State Barge Canal, a field of 38 elite women became a two-rider contest. Emma White (Cannondale p/b CyclocrossWorld.com) took the hole shot, and became part of small lead group just after two laps, which included Noble, Maghalie Rochette (CLIF Pro Team), and Kaitlin Keough (Cannondale p/b CyclocrossWorld.com).

A separation in this group formed on the third of the five-lap race, with Noble and Rochette stretching out a larger gap. Rochette had a slight slip on the final lap near the canal on the Double Trouble section and Noble made her winning move and finish with a 12-second gap over the Canadian.

"It feels really good to come out and win the season opener," Noble said about her first C1 win. "The main objective today was to stay calm, cool and collected. I felt super confident technically today. I felt super smooth and dailed in with all my lines. That allowed me to stay really calm. With two to go, I kind of hit it a little bit. Then I had a small gap in the woods, so I kept going. I knew where she was going slower than me, where they call it Double Trouble. I knew if I could keep the pressure on through there, I could get just a couple of seconds. And if I got a small gap, I can get a little more, and that was all I needed today."

Rochette, the reigning Canadian Elite Women's Cyclcross national champion, settled for second place. Keough, who won last season's C1 race, under her maiden name of Antonneau, finished third on Saturday, with teammate White in fourth.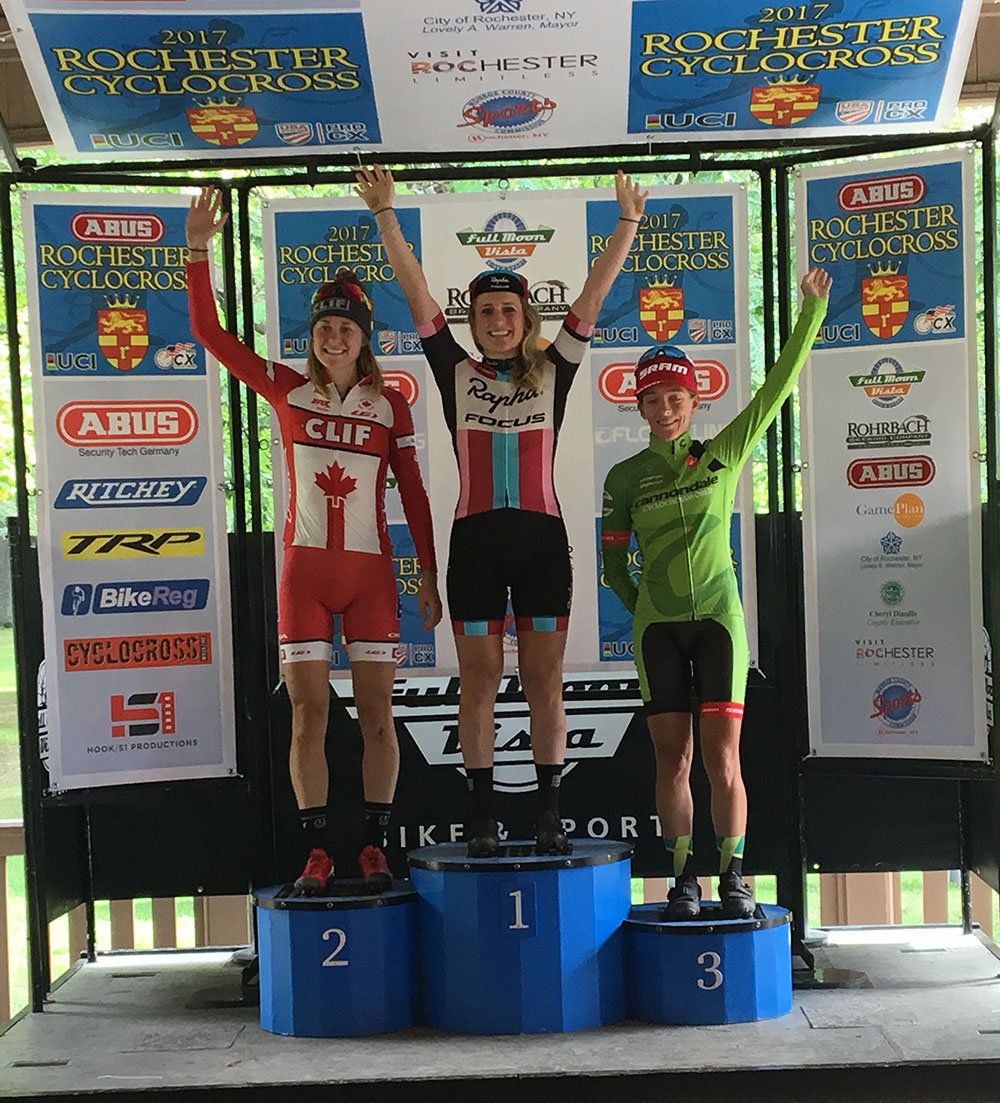 Elite Men
A field of 41 riders took the course Saturday afternoon with a hard tempo that created a lead pack of 12 on the first of eight laps. The top contenders were all in the front group, including last year's top four at Rochester Cyclocross' C1 race - winner Jeremy Powers (Aspire Racing), Jamey Driscoll (Donnelly Sports), Stephen Hyde (Cannondale p/b CyclocrossWorld.com), and Tobin Ortenblad (Santa Cruz-Donkey Label Racing), who took the hole shot.

Two more laps in Genesee Valley Park, and Hyde made a move, with Belgian rider Rob Peeters (Pauwels Sauzen-Vastgoedservic) matching the pace. Not far behind in the chase were an Aspire Racing duo of Powers and 19-year-old Spencer Petrov. Hyde and Peeters exchanged blows for several laps, and were joined by Powers and Petrov with one lap to go in the eight-lap affair. Hyde took the win ahead of Peeters, and the defending champion Powers settled for third place.

"This is a long course and you have to play your cards right. It's taken me a lot of tries to get my hand correct," said Hyde about his first win at Rochester Cyclocross. "This was a good start for me. It's a good mental kick for me, and good for the ego."

Petrov could not match the attacks on the flat section near the pits with one kilometre to go, leaving the threesome to sprint to the line. Petrov finished fourth overall, but took home the top honors for Under-23 riders.

"Today is the first UCI 'cross race in Rochester, also my birthday, so no matter what I was going to have a good day," said Petrov. "When the race started, I found myself in a decent spot. Early on there were gaps here and there, and it was really fast. I was able to make good selections when I had to go. With three to go, a gap opened up, Steven and Rob, and then it was Jeremy and me. We were all at the same level of speed. But I felt like the legs were in a good place for where we are at the start of the season, so I am happy with that. And there is only'up from here and that's the goal. I had fun today. I'm excited for the first race of the season."

Last year, Powers won both the C1 and C2 races in Rochester. "After I got a couple of laps under me, I started to have a few bike problems and those guys got a gap. I gave it a go and I think it was an exciting race. All in all for me, I am happy with the race. Of course, I would have liked to have won. Today was good racing," he added about securing a spot on the podium for third.

Report courtesy Peloton Sports
Results from Rochester Cross Day 1 in Rochester, NY
Pro Women

1 Ellen Noble (Aspire Racing)
43:06.0
2 Maghalie Rochette (CLIF Pro Team)
at 0:12
3 Kaitlin Keough (Cannondale pb CyclocrossWorld.c)
0:38
4 Emma White (Cannondale pb CyclocrossWorld.c)
1:01
5 Crystal Anthony (Maxxis Shimano Pro Cyclocross)
1:14
6 Caroline Mani (Van Dessel / Atom Composites)
1:21
7 Rebecca Fahringer (Stan's NoTubes p/b Maxxis / gof)
1:33
8 Christel Ferrier (SAS Macogep Aquisio)
1:45
9 Arley Kemmerer (Fearless Femme Racing)
2:00
10 Cassandra Maximenko (VanDessel/Atom Composite Wheels)
2:25
11 Katie Clouse (Alpha Bicycle Co. - Vista Subar)
2:37
12 Amanda Nauman (SDG - Muscle Monster)
3:16
13 Natasha Elliott (Garneau-Easton p/b Transitions)
3:21
14 Ruby West (Cannondale Cyclocrossworld.com)
s.t.
15 Kim Hurst (Vanderkitten/Niner)
3:37
16 Julie Wright (Team Averica)
3:52
17 Laurel Rathbun (Donnelly Sports)
4:00
18 Natalie Tapias (JAM / NCC)
4:04
19 Rachel Rubino (Fearless Femme Racing)
4:22
20 Brittlee Bowman (HOUSE IND/NOKIA HEALTH/SIMPLEH)
4:41
21 Regina Legge (Trek Cyclocross Collective)
4:56
22 Emily Shields
5:15
23 Julie Hunter (SEAVS/Haymarket)
5:36
24 Erin Faccone (Team Averica)
6:11
25 Gabriella Sterne (Vanderkitten Entourage Racing)
6:55
26 Alexandra Campbellforte (Vanderkitten Entourage Racing)
7:14
27 Taylor Kuyk-White (Philadelphia Bike Expo)
7:38
28 Leslie Lupien (Team Averica)
7:48
29 Rebecca Lewandowski (Rare Disease Cycling / Keswick)
8:06
30 Meghan Owens (Hands-On Cycling p/b Guerciotti)
8:18
31 Katina Walker (Park Ave. Bike p/b Borah)
9:01
32 Beatrice Le Sauteur
9:16
33 Taryn Mudge (Fearless Femme Racing)
9:48
34 Turner Ramsay (Alpha Bicycle Co. - Groove Suba)
10:08
35 Madeline Smith (KMS Cycling - Killington Mounta)
-1 lap
36 Rhys May (JAM / NCC)
-1 lap
37 Paige Williams (Fuji Cross Crew)
-1 lap
DNF Gray Patton (Freddie Fu Cycling Team)
Pro Men

1 Stephen Hyde (Cannondale P/B Cyclocrossworld )
1:02:06
2 Rob Peeters (Pauwels Sauzen - Vastgoedservic)
3 Jeremy Powers (Aspire Racing)
both s.t.
4 Spencer Petrov (Aspire Racing)
0:31
5 Boulo Matthieu (Team Pays de Dinan)
0:43
6 Tobin Ortenblad (Santa Cruz / Donkey Label Racin)
0:49
7 Kerry Werner Jr. (Kona Factory CX Team)
1:02
8 James Driscoll (Donnelly Sports)
1:11
9 Jack Kisseberth (JAM / NCC)
1:23
10 Curtis White (Cannondale p/b Cyclocrossworld.)
2:02
11 Troy Wells (Team CLIF BAR)
2:17
12 Lance Haidet (Donnelly Sports)
2:22
13 Travis Livermon (Maxxis/Shimano)
2:26
14 Jeremy Durrin (Neon Velo Cycling Team)
2:28
15 Alex Ryan (Mock Orange Bikes)
2:51
16 Scott Smith (JAM / NCC)
3:18
17 Derrick St. John (Van Dessel p/b Hyperthreads)
3:45
18 Gage Hecht (Alpha Bicycle Co. Groove Subar)
4:04
19 Brannan Fix (Alpha Bicycle Company/Groove Su)
4:41
20 Trevor O'Donnell (Lakeside Storage Cyclocross)
4:57
21 Kevin Bouchard-Hall (Wrenegade Sports/Farm to Fork F)
5:22
22 Jordan Snyder (East Ridge Outfitters/@BicycleR)
5:39
23 Dan Chabanov (HOUSE IND/NOKIA HEALTH/SIMPLEHU)
6:17
24 Michael Owens (Hands-On Cycling p/b Guerciotti)
6:40
25 Marc-Andre Daigle (Garneau Easton Cycling)
s.t.
26 Andrew Wulfkuhle (717cycling p/b RSI Panels)
6:49
27 Osmond Bakker (The Bandits)
7:07
28 Andrew Borden (X-Men)
7:14
29 Brendan Mccormack (Apex/NBX/Hyperthreads)
7:29
30 Gregg Griffo (Park Ave Bike p/b Borah Teamwea)
8:13
31 Dan Fitzgibbons (GREEN LINE VELO driven by Zipca)
-1 lap
32 Matt Clements (Rotor Bike Components)
-1 lap
33 Kale Wenczel (JAM / NCC)
-1 lap
34 Peter Mancini (Crank Studio)
-1 lap
35 Christian Ricci (Lakeside Storage Cyclocross)
-1 lap
36 Ted Willard (Absolute Value CX)
-2 laps
37 Spencer Perry (Ferretti Cycles)
-2 laps
38 Edouard Tougas
-2 laps
DNF Sylvain Jean (Mad Alchemy)
DNF Bryan Tyers (Lakeside Storage Cyclocross)
DNF Nicholas Diniz (NCCH Elite p/b MGCC)