September 18/17 14:17 pm - Canadian Juniors Finish Top-20 at Road Worlds

Posted by Editoress on 09/18/17

Canada had two Junior women finish in the top-20 on Monday, the opening day of competition at the Road World Championships in Bergen, Norway. Canadian national road champion Laurie Jussaume of Contrecoeur, Quebec, was the top Canadian finisher of the day, with a 19th place in the Junior women's time trial.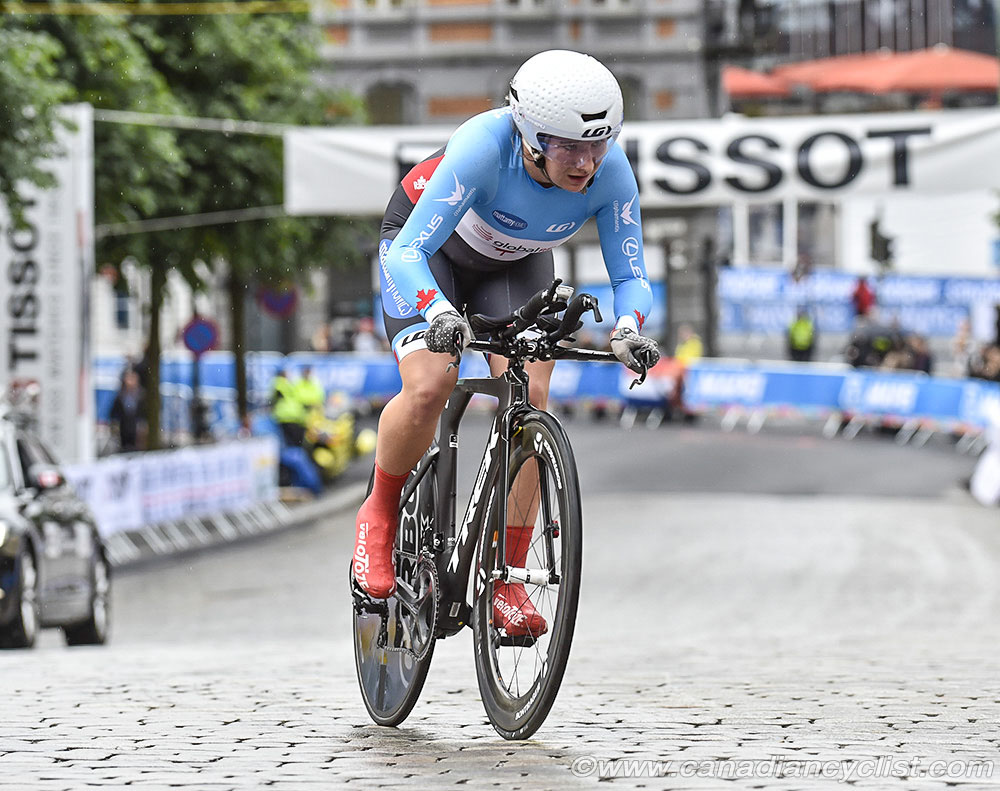 Laurie Jussaume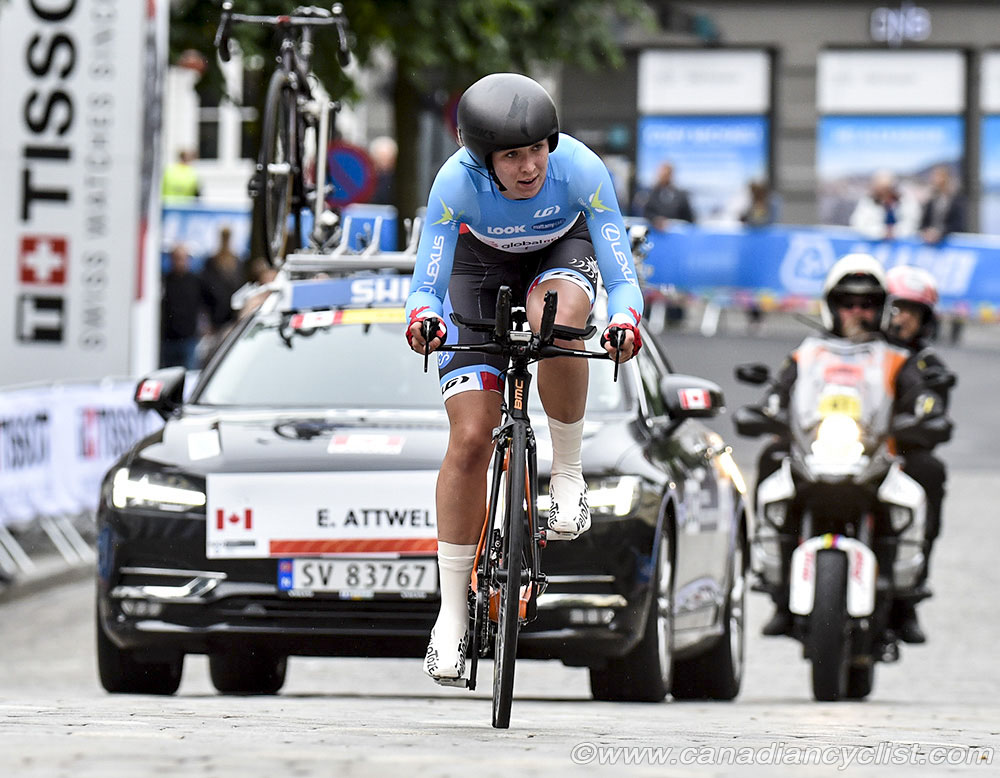 Erin Attwell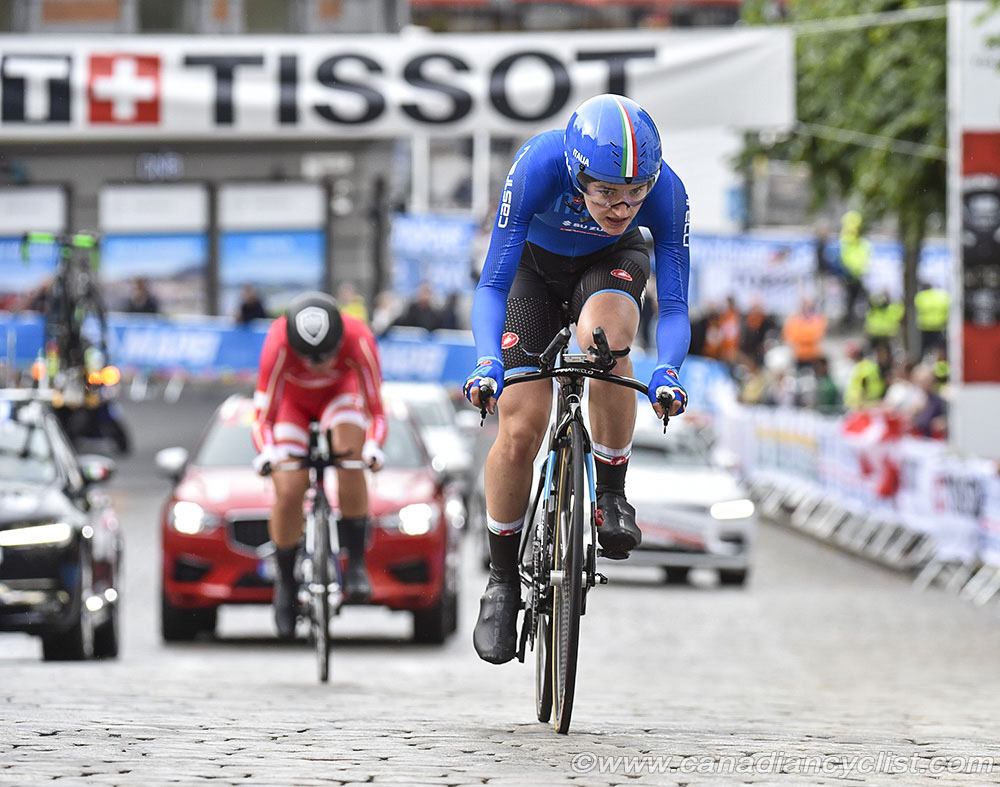 Elena Pirrone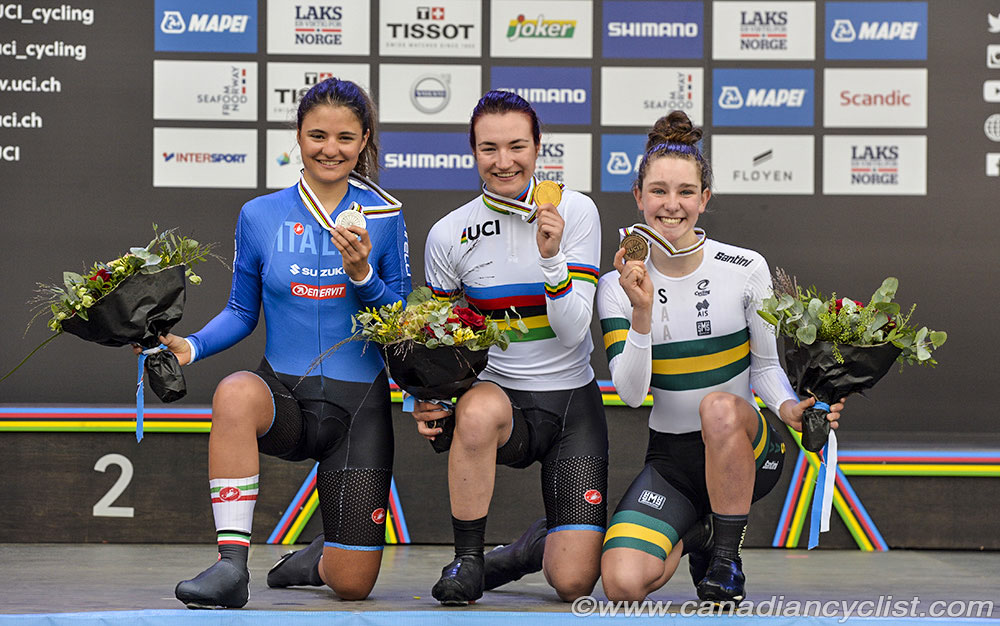 Alessia Vigilia, Elena Pirrone, Madeleine Fasnacht
Jussaume improved steadily through her 16.1 kilometre race, moving from the mid-30s at the first time split to recording the 11th fastest time for the final section. Jussaume finished two minutes and 8.42 seconds behind winner Elena Pirrone of Italy. Erin Attwell of Victoria, BC, finished just behind Jussaume in 20th place.

"This was a good test today on a really technical circuit," said Pascal Choquette, coach for the Junior women. "It was hard to negotiate some of the corners and to know exactly how deep you could dig in every section. This circuit has some features that our Junior women are not used to seeing at races in North America, like technical descents with challenging corners and cobblestone sections. The girls delivered an honest effort. We know now where they will need to pay attention during the road race, where strategy and positioning will play a big role."

In the Under-23 men's 37.2 kilometre race, Alec Cowan of Calgary, Alberta, was Canada's top finisher, in 25th place. Cowan was 49th fastest at the first split and moved up steadily all race, setting the third fastest split in the section between 25.7 kilometres and 32.8 kilometres. Cowan finished two minutes and 58.40 seconds behind winner Mikkel Bjerg of Denmark. Jack Burke,of Squamish, BC, top Canadian at the recent Tour of Alberta, suffered two crashes early in the race and had to switch to his road bike from his time trial bike.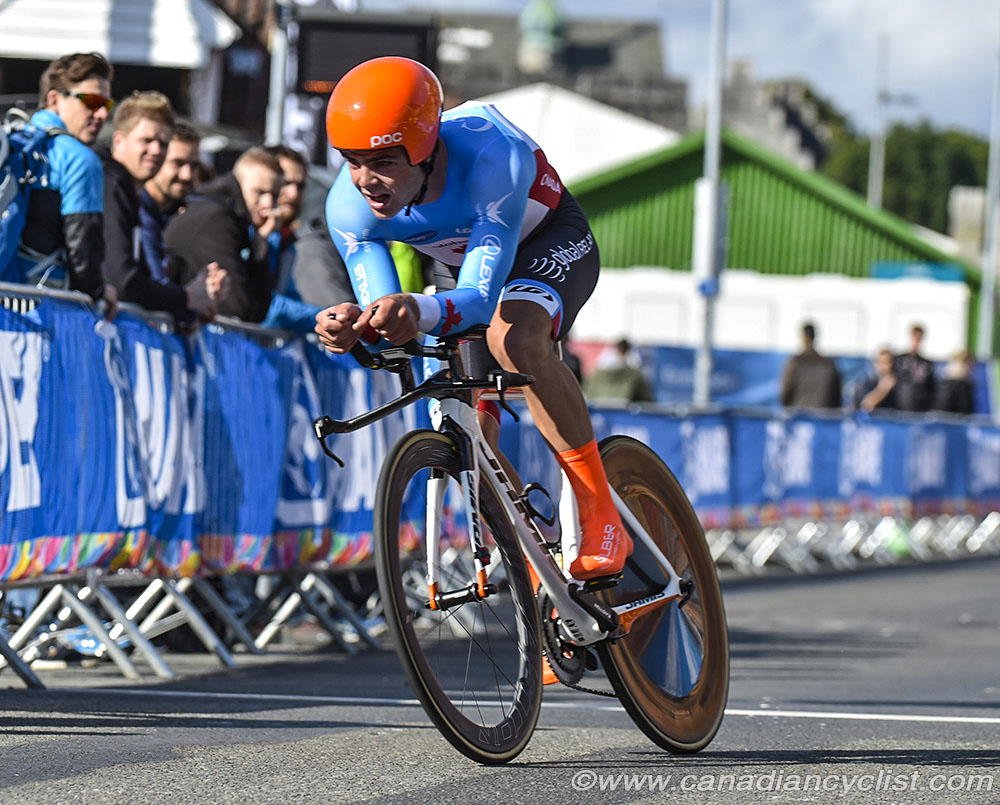 Alec Cowan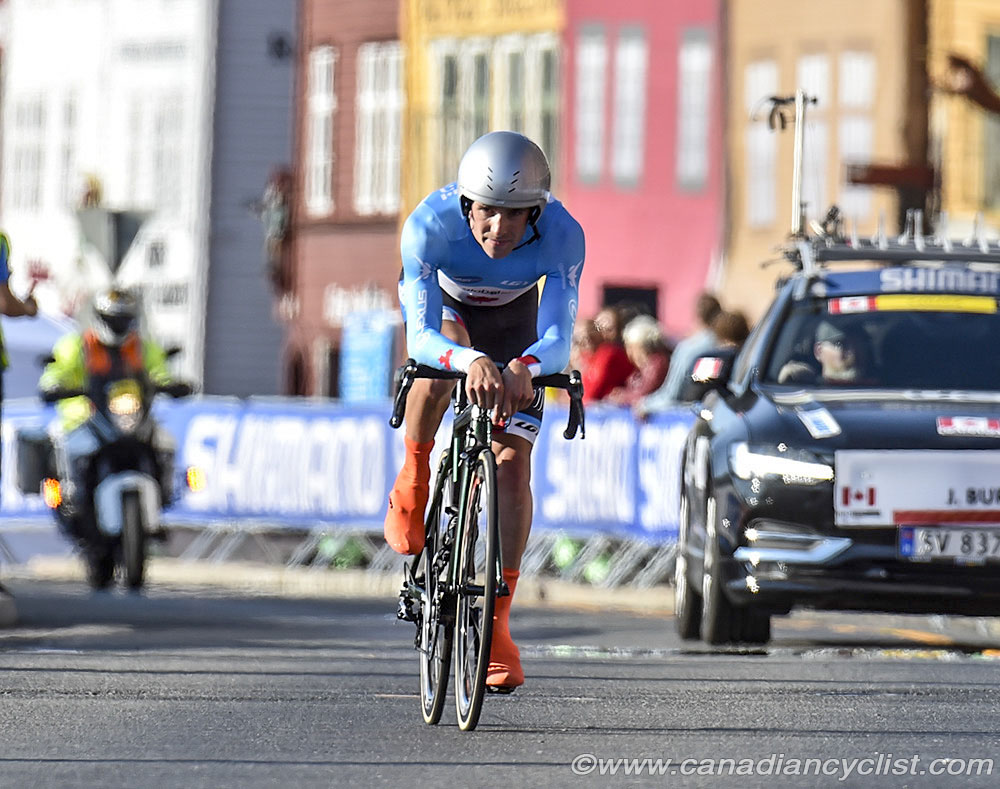 Jack Burke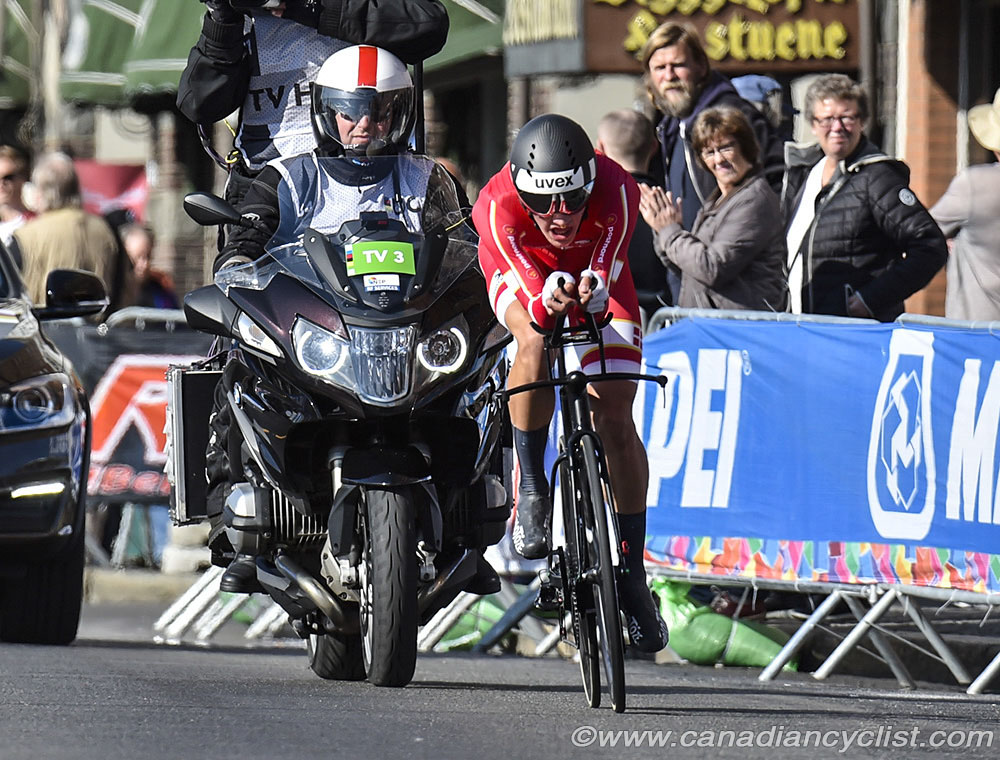 Mikkel Bjerg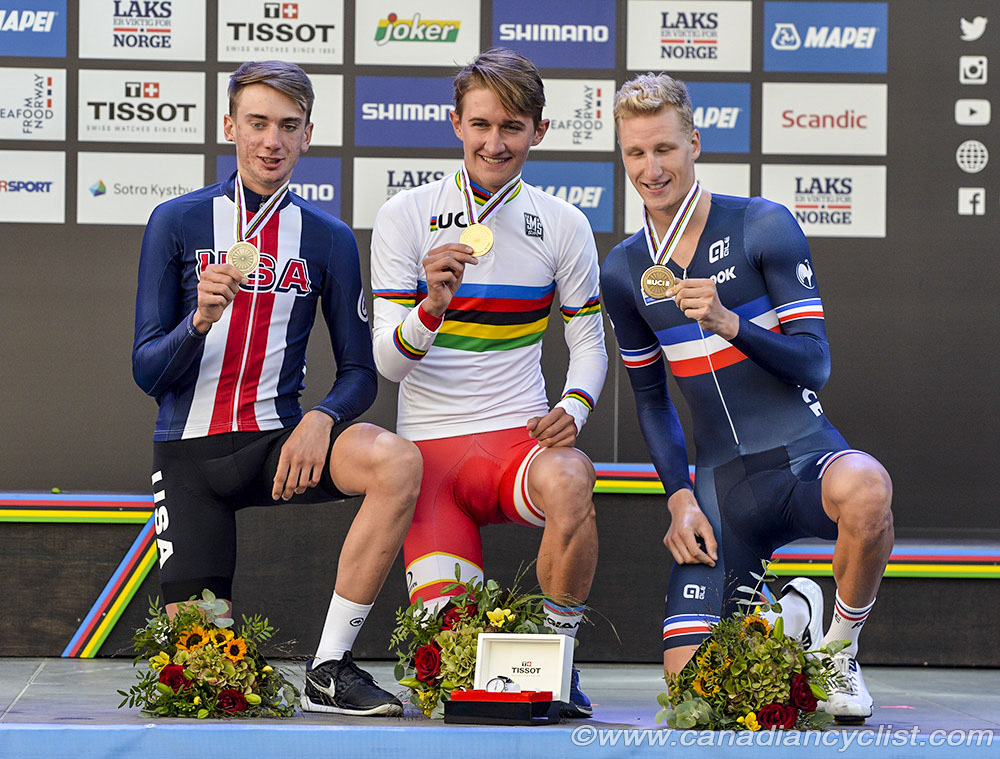 Brandon McNulty, Mikkel Bjerg, Corentin Ermenault
"My ride went okay and I paced myself well," said Cowan, "however, I didn't meet my goal of a top-10 finish. I probably should have started a little faster and kept my speed up. You learn every race."

"We had some misfortune for sure with Jack," admitted Kevin Field, Road Manager at Cycling Canada. "It was disappointing that he wasn't able to put out the best ride he was capable of. With Alex, he had a good pacing plan but, ultimately, he just needed to be going faster earlier in the race; he was too conservative."
Previous