September 27/17 9:22 am - Applications Open for Tripleshot Cycling Performance Program (B.C.)

Posted by Editor on 09/27/17

Tripleshot Cycling Club is accepting applications for its Victoria-based performance coaching program for athletes aiming for provincial and national teams for the 2018 season. Coaching will be directed by 1992 Olympian, and two-time Olympic coach Kurt Innes, and assisted by TS head youth coach Lister Farrar and TS coaches Bryson Bowers, Matt Patriquin, Brenna Pauly, Nick Friesen and Nick Patenaude.
The 2018 program plans to offer support to 4-6 Performance athletes, and 4-6 Performance Development athletes. Athletes can apply for selection as of October 1st, with an application deadline of Friday, September 29th. The program will offer coaching, a dedicated strength and spin training facility at Maria Montessori Academy (November-March), training camp and race support for targeted races, personal online training programs, as well as the supportive training group that Tripleshot youth cycling is known for.

The first year of the Tripleshot performance program saw all eight riders, Sarah Van Dam, Brenna Pauly, Casey Garrison, Megan Barnes, Carter Nieuwesteeg, Ethan Pauly, Eloi Batista, and Riley Pickrell, achieve personal bests, selection to provincial teams for national championships and Canada Games, and medals and records at national championships.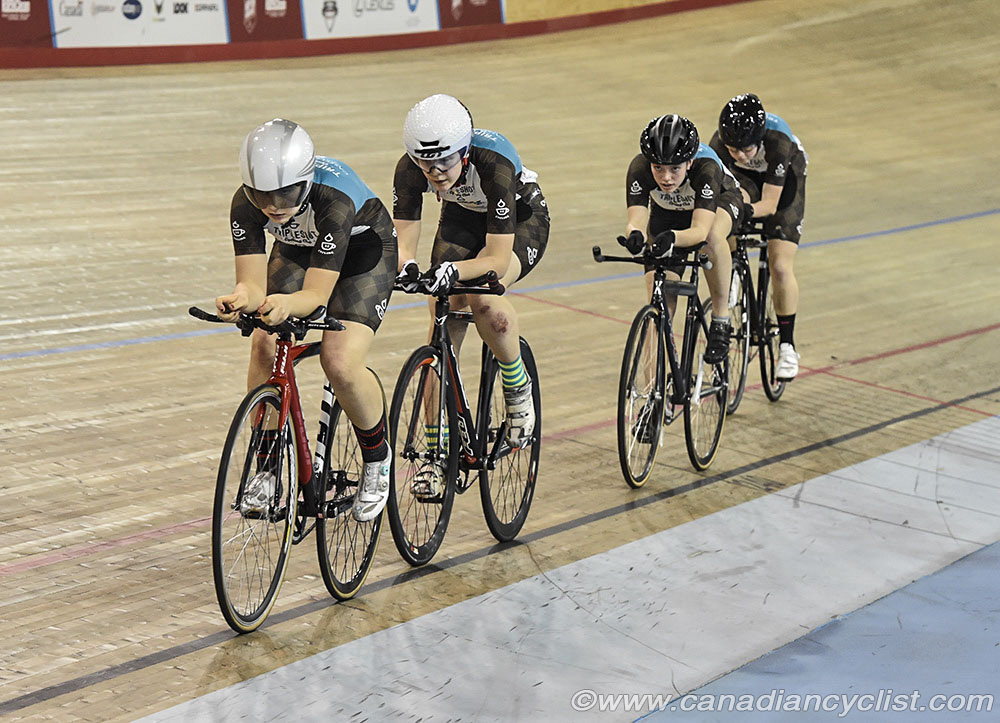 2017 Track Nationals, U17 Women Team Pursuit - Tripleshot took silver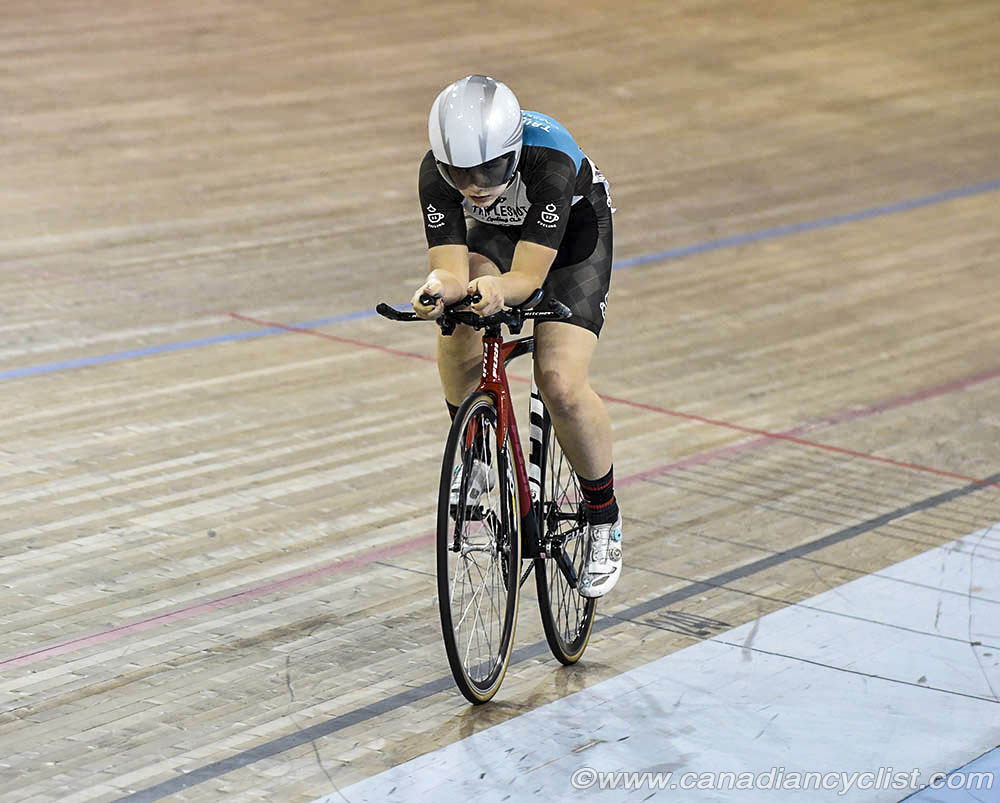 2017 Track Nationals, U17 Women Individual Pursuit, Sarah Van Dam of Tripleshot Cycling Club took gold


The Tripleshot Cycling Performance programs are designed to facilitate success both on and off the bike through careful planning around academic and sport priorities, whether riders are high school or post-secondary students. A supportive training environment is key, so riders are expected to commit to group training sessions. Training will largely be delivered within a group-based environment, to ensure a supportive peer network and a competitive atmosphere that we know are essential for the ongoing holistic development of our athletes.

Program fees will range between $200-300 per month, and will be used to pay coaches who deliver the program and cover other program related expenditures.

Individual athlete sponsors, or sponsors for the program are welcome to provide bursaries to pay or subsidize athlete fees, and can appear on rider's TS uniforms among other recognition. A subsidy is available to riders with economic constraints.

Riders accepted in the program must meet the following minimum requirements:

1. Have at least two years of racing at the provincial level in BC or higher
2. Aspire to international or professional competition
3. Live in the Greater Victoria Region
4. Commit to attending group training and support their peers in the program
5. Commit to following and documenting a personal training program
6. Commit to notifying the coach before leaving to join another program
7. Coach (with pay) at TS youth program sessions as personal schedule allows

Features of the program include:

• Performance coach Kurt Innes will direct the overall design of the Performance and Performance Development programs on a part-time basis. Kurt will provide direct individual coaching support to 4-6 performance group athletes; attend 1-2 practices per week in the Daily Training Environment on a seasonal basis, attend winter Teams of BC camps, and U17/U19 track nationals.

• Lister Farrar and other TS coaches will provide individual coaching support for 4-6 performance development athletes, attending 4-5 practices per week in the Daily Training Environment, and support to all athletes within the performance program at training camp and targeted competitions within the 2018 season.

• Personal training program with workouts specific to the athlete, but with group workouts for the majority of sessions, adjusted for the age and stage of the athlete.

• Track, road, cyclocross and mountain bike training to create a well-rounded athlete consistent with their long term goals
• Dedicated November - March strength and spin facility at program sponsor, Maria Montessori Academy, a Victoria independent school.

• Logistical and coaching support for the Teams of BC track camps in Burnaby.

• Logistical and coaching support at the National Championships, provincial championships and trials, and other important events*

• Riders accepted into the program will be asked to sign a contract where the program, sessions, and race support from the club are described, and athletes are asked to commit to their teammates by attending training sessions, report their training, and engage with the coaches regularly. Riders are provided with team kit, and must agree to wear the team kit in all sanctioned events, (except agreed provincial team entry events and composite teams in team entry events with a release.)

*athletes will be responsible for their accommodation and food costs at events; the team will work to keep these costs down by being seeking sponsorship and shared travel and accommodation

Application Form

www.tripleshotcycling.com