October 14/17 13:52 pm - Laurie Jussaume Receives Saputo Bursary

Posted by Editoress on 10/14/17

The Quebec Foundation for Athletic Excellence (FAEQ) has announced the 51 recipients of the 18th edition of the Saputo Bursary Program, who will share a total of $149,000 in bursaries. One cyclist received a bursary this year - road and track national team member Laurie Jussaume of Contrecoeur, who attends Cégep Édouard-Montpetit, was awarded a $4000 Academic and Athletic Support Bursaries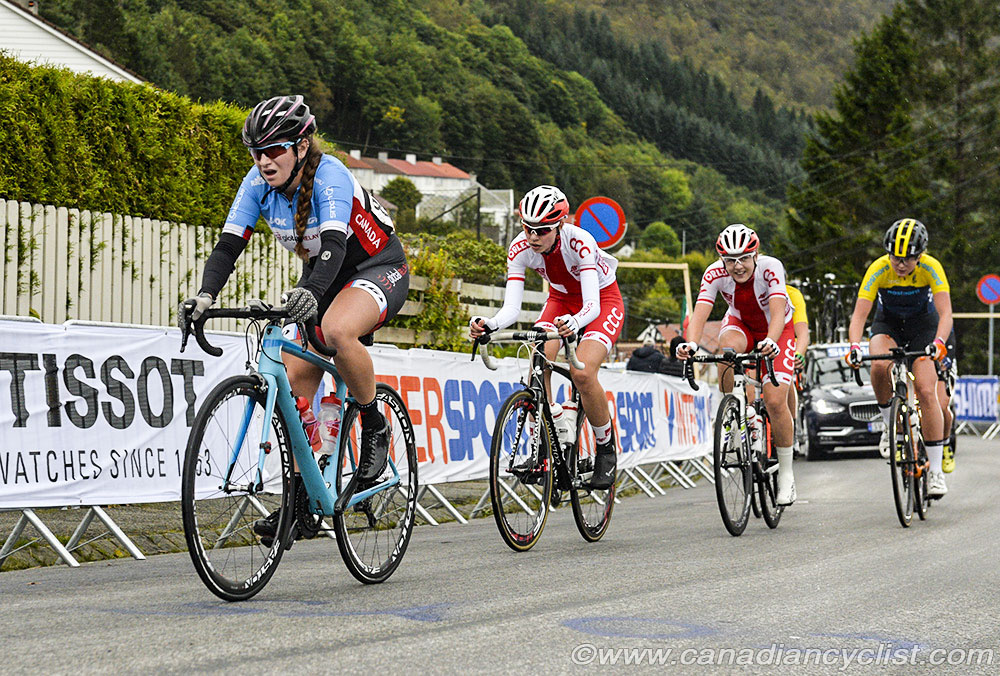 Laurie Jussaumeat the 2017 Road World Championships in Bergen Norway
Four types of bursaries were granted this year:

• 20 Academic Excellence Bursaries, to recognize outstanding academic achievements;
• 29 Academic and Athletic Support Bursaries, to encourage healthy sport/study balance;
• One Perseverance Bursary, to recognize atypical journeys and the determination to overcome obstacles;
• One Leadership Bursary, to reward athletic and academic achievements, coupled with particularly significant and inspiring community involvement.

Saputo is proud to encourage the development of established and promising student-athletes. These young athletes are the role models representing our society both locally and internationally, and greatly deserve to be supported on their quest for excellence. Saputo believes in the importance of staying active, making healthy life choices, and striving to surpass oneself.

FAEQ President Mr. Claude Chagnon declared: "We are so thankful to be able to count Saputo as one of our prestigious sponsors for so many years. Their tremendous support and commitment always exceeds expectations. Their contribution and participation at the first edition of the Bonneville 808 Challenge two weekends ago in Tremblant, allowed the Foundation to give $15,000 more in Saputo bursaries today. We are very grateful to them."

Over the past 18 years, many Saputo Bursary recipients have made their mark such as Meaghan Benfeito and Philippe Gagné in diving, Félix Auger-Aliassime in tennis, Dufour-Lapointe sisters Justine, Chloé and Maxime in freestyle skiing, Audrey Lemieux and Joëlle Numainville in cycling, Karine Sergerie in taekwondo, Martine Dugrenier and Dorothy Yeats in Olympic wrestling, just to name a few.