November 2/17 11:49 am - Dorel Bicycle Division Continues to Struggle

Posted by Editor on 11/2/17

Dorel Industries Inc. (TSX:DII.B)(TSX:DII.A) has announced results for the third quarter and nine months ended September 30, 2017. The Sports division showed continuing weakness, citing continued global weakness in the bike market, poor weather in the U.S. and the bankruptcy filing by Toys "R" Us. However, they did report improved inventory management.

Third quarter revenue was US$642.6 million, down 4.3% from US$671.3 million. Adjusted net income was US$14.5 million or US$0.44 per diluted share, compared to US$20.6 million or US$0.63 per diluted share a year ago. Reported net income was US$13.3 million or US$0.41 per diluted share, compared to US$15.9 million or US$0.49 per diluted share last year.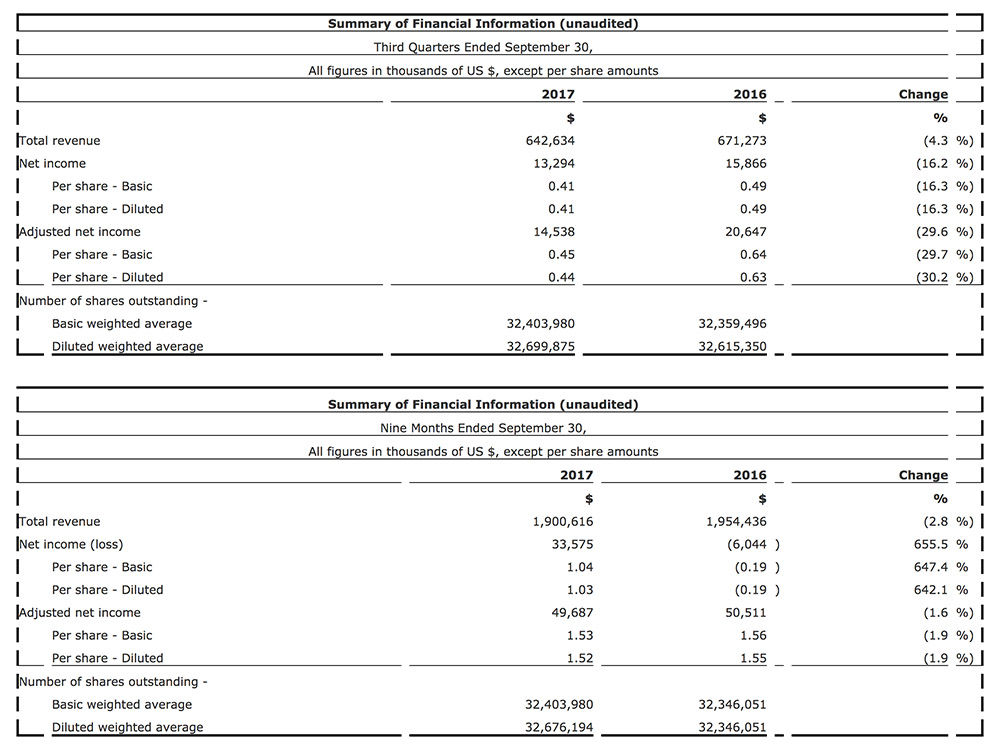 or the nine months, revenue was US$1.90 billion, a decrease of 2.8% compared to US$1.95 billion last year. Adjusted net income was US$49.7 million or US$1.52 per diluted share, compared to US$50.5 million or US$1.55 per diluted share a year ago. Reported net income year-to-date was US$33.6 million or US$1.03 per diluted share, compared to a reported net loss of US$6.0 million or US$0.19 per diluted share in 2016.

"... Results at Dorel Sports declined as the segment is caught in the on-going weakness in the global bicycle market and a very challenging North American brick and mortar environment. Although the bicycle industry environment remains difficult, we expect Dorel Sports' fourth quarter to return to solid profitability. The Toys "R" Us situation resulted in an almost month-long sales disruption in all segments, but we have agreed on business terms with them going forward," stated Dorel President & CEO, Martin Schwartz.

Third quarter revenue in the Sports division decreased US$45.2 million, or 18.0%, to US$205.5 million from US$250.7 million last year. Excluding the positive impact of foreign exchange rates, organic revenue declined by approximately 19%. Nine-month revenue decreased US$75.1 million, or 10.7%, to US$628.6 million compared to US$703.7 million a year ago. Organic revenue for the nine-month period declined by approximately 14% when removing foreign exchange fluctuations and the change in Cycling Sports Group (CSG) International's business model for which the revenue recognition transitioned from a licensing model to a distribution platform in the third quarter of 2016.

The revenue decline is attributed mainly to continued weakness in the global bicycle market, disruption in the North American retail environment and persistent inclement weather in the U.S. Pacific Cycle was affected by changing buying habits at certain major mass merchants, amidst a soft bicycle market and poor weather which began last spring, contributing to reduced consumer demand. As well, the September 2017 bankruptcy filing of Toys "R" Us halted shipments temporarily, pushing sales into the fourth quarter. Sales in CSG decreased on a continued reduction in discounted sales, as inventory management has improved significantly in 2017. CSG's closeout sales in the quarter represented 11.6% of sales volume in 2017 compared to 16.3% in the prior year's third quarter.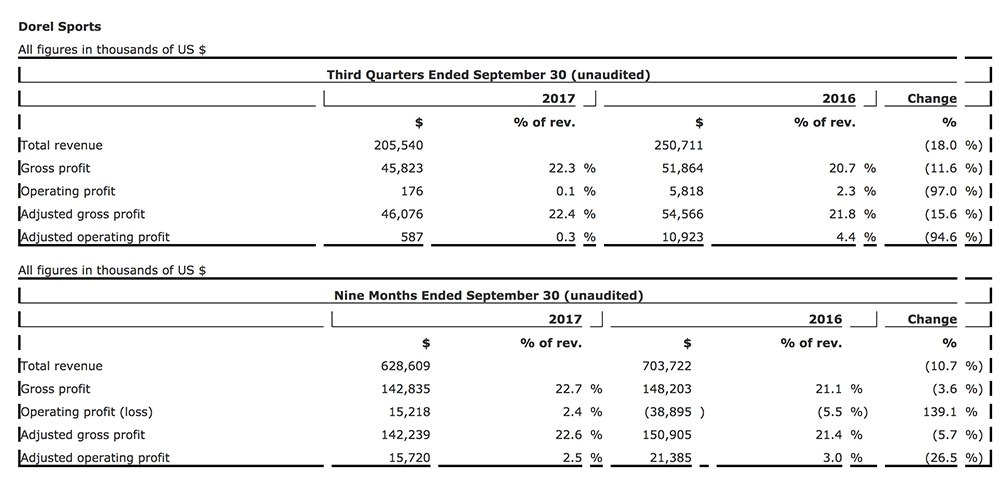 The Company is presenting adjusted financial information, excluding impairment losses, restructuring and other costs, remeasurement of forward purchase agreement liabilities and loss on early extinguishment of long-term debt as it believes this provides a more meaningful comparison of its core business performance between the periods presented. These previously announced items are detailed in the attached tables of this press release. Contained within this press release are reconciliations of non-GAAP financial measures to the most directly comparable financial measures calculated in accordance with GAAP.