November 3/17 9:06 am - Mike Woods Interview - A Breakthrough Year

Posted by Editoress on 11/3/17

Canadian road pro Mike Woods has just finished the strongest season of his short career, culminating in seventh place overall at the Vuelta a Espana, with third place on Stage 9 and ninth overall in the Points Jersey ranking. He also finished 38th overall in the Giro d'Italia (fifth Stage 8) and ninth in Liege-Bastogne-Liege, for a total of 12,818 kilometres of racing in 2017. Mike also just re-signed with the Cannondale Drapac WorldTour team (to be named Education First-Drapac p/b Cannondale in 2018). We sat down with Mike to talk about his season and career so far.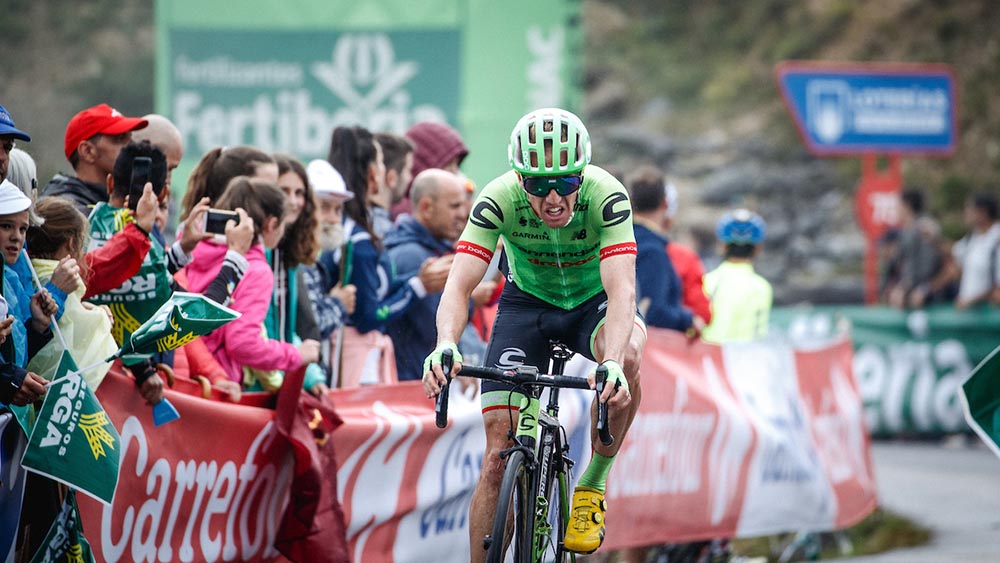 2017 Vuelta
Canadian Cyclist: It's been a strong year for you - a top-10 in a Grand Tour, and in only your second year with a WorldTour team.

Mike Woods: Yeah, it's been an incredible year. I'm really pleased with it and with how much I've progressed from the year previous. I think a lot of that has to do with a larger amount of consistency. I had a lot of injuries last season and I think had I not had those injuries I would have found myself in the place where I am this year, a year earlier.

Some of those things I couldn't control last - only one of the crashes was my fault - but the other thing is that I kind of fell apart mentally and physically over the course of the season. But that has made it that much more enjoyable and sweet, having overcome that to have the success this year.

CC: Now you came late to racing at this level - in your mid-20s - which is remarkable and, I would think, a fair bit harder because of the learning curve involved.

MW: In some ways significantly harder, and in some ways significantly easier. I think there were some things that really held me back when I started; just not having some of the innate bike handling skills that a lot of kids have because they started racing when they were 14. But, at the same time, I always rode bikes as a kid, so I had some skills.

But, that being said, there is some ageism in this sport, so getting on teams initially was difficult, because it's hard to convince a team to invest in a guy that's 26 or 27. But on the other side of things, being older gives you more perspective and makes you realize that cycling is not the be-all and end-all ... I think I'm a lot humbler than I was at 19; when you are 19 you think you know everything, and that's one of the reasons I ruined my running career.

I started cycling [professionally] in my late 20s, and now I'm 31 and I'm more open to suggestion and change, and to advice, and I think that was huge to a faster learning curve.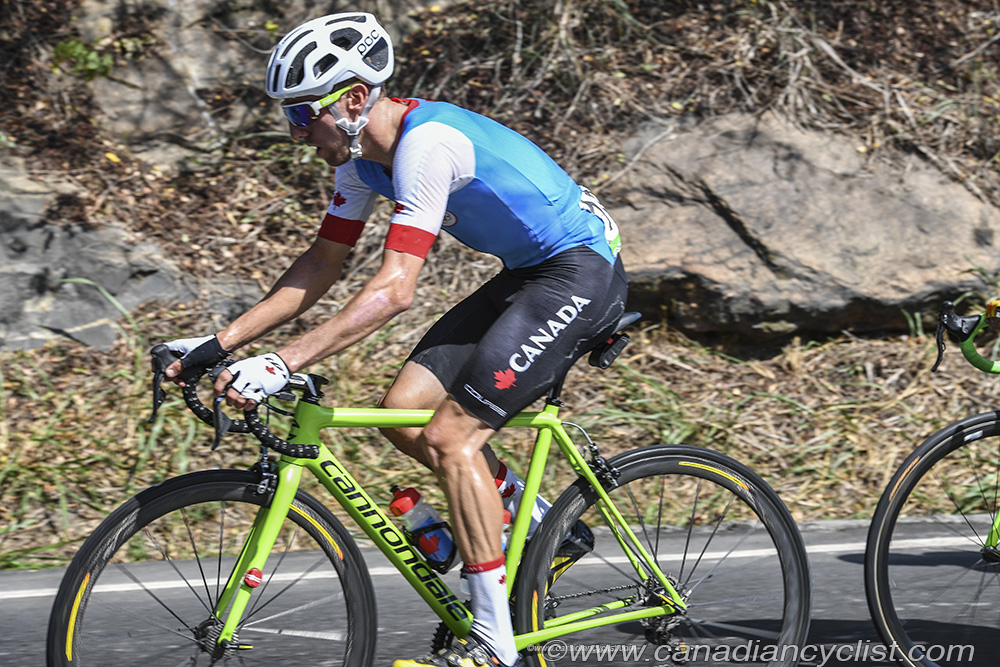 Rio Olympics
In this sport you can't have an ego; I mean you have to have self confidence but you can't have a big ego. You have to be able to listen to advice and learn from people who are better than you, and acknowledge that there are always going to be people with more knowledge of the sport. I think that was certainly a key to my success.

CC: You just signed with Cannondale for two more years - I'm assuming that after the Vuelta there were other options available, so why stay with Cannondale after the financial difficulties they have been having?

MW: I had several options on the table ... I was in a really unique situation - I received an offer from Cannondale five hours before they announced that they might fold. Prior to that [the announcement] I was tickled pink to receive the contract; it's the team I wanted to be on and I was really happy with how I had developed on the team and how much faith they had in me. It's a family-oriented team; I have a lot of good friends on the team and I really get along with the staff, and for those reasons I wanted to stay.

I didn't have too many other teams courting me; some other teams were interested, but I hadn't had a big result yet like I was going to have at the Vuelta. However, once the team announced that it was going to possibly fold, I was one of the few riders that was able to leverage my performances at that time to get bigger opportunities on bigger teams. Most of my team mates weren't in that fortunate position; they were looking at taking big pay cuts.

It was tough for a lot of riders on the team but exciting for me, because I did start to get quite a few other offers. But still after all the offers I received from other teams, I kept on going back to my agent and saying 'is there any way that Cannondale is going to survive?'. For the aforementioned reasons, the team has really believed in me and I developed quite a bit there, and I still think I have a lot of room to develop, and they believe that as well. So there will be opportunities for me moving forward, I will get more responsibilities, and I have so much fun on the team. So it was a no-brainer to stay.

CC: Your strength is seen primarily as a climber, and in the Grand Tours you need to be a pretty good time trialist ... is that something you believe you can improve, or do you see yourself as someone who can go more for stage wins, or in shorter stage races without a big emphasis on a time trial?

MW: Certainly my focus is more on races like Pais Vasco and Catalunya, and the one days, where the focus is not on a time trial. It is my Achilles Heel; I'm never going to be a Fabian Cancellara! That being said, this last Vuelta was a real eye-opening experience for me.

The final time trial [at the Vuelta - 40 kilometres, Stage 16] was extremely important, and it was the first time I came to a time trial thinking that I knew what I needed to do. I'm never going to be a world class time trialist over a 40 kilometre distance. Before, there were so many things that I had done wrong, that to look at it critically, it was just a disaster. I had so many things to improve upon that I couldn't just focus on one thing.

I'm finally getting a good feel for the bike and I'm finally understanding how to carry speed a lot better. I'm not looking at watts anymore and I'm getting the feel for pace - which I had as a runner but I never had as a cyclist. You see guys coming from a track [cycling] background and they are always great time trialists because they have a good sense of what speed they are riding at, without a computer.

I started right off the bat with a power meter and, in many ways, it was great because I was able to show that I was really strong, but it was a detriment because I became really dependent on that thing and I used it as a metric for how successful I was going to be in the time trial. In reality, it doesn't matter how many watts you put out if you win the race. And that ultimately has to be the point of a time trial - to win it or go fast - and I completely lost sight of that and was so focussed on the power that I never really performed well in time trials.

Now I'm starting to get that feel and I think that over the next couple of years there is a lot of room for improvement. I finally feel I can improve in that discipline.

CC: Let's talk about the Vuelta. Seventh overall, you were one of the few guys in the battle, with [eventual winner Chris] Froome on every mountain stage. Going into the race, did you honestly see yourself as being in the position where you were battling with the top riders at the end of those big mountain stages?

MW: Not on those big mountain stages, for sure. I always focussed on the shorter climbs, and I really felt that the way I have ridden this season - especially at races like Pais Vasco [where he was 12th overall] and even the Giro - that I can compete with the best guys in the world, period. And I knew that going into the Vuelta, and that was the real focus going in.; focus on the short three to five K climbs that are really steep and just try and get a stage win.

But I came into the Vuelta also in a really good headspace; I had no real pressure on me, I was relaxed and I did an amazing training camp - supported by B2Ten, one of my sponsors - as well as training with Alex Howes, my really great friend and great team mate. Me and my coach, Paulo Saldanha, could see that my numbers were really awesome, and my [team] director, Juan Manuel Garate, said 'let's target these stages, but don't necessarily rule out the GC'.

Every day I just got better, and then on those long climbs I was just so much stronger mentally then I have been in the past. I was a lot more relaxed and calmer then in the past, but, yeah, I surprised myself even. I'd be going up these 20K climbs and I'd see [Fabio] Aru get dropped, or I'd see [Vincenzo] Nibali suffering just as much as me. That's a huge adrenalin rush, especially if you've never been in that position before. These guys are guys you look up to and you've idealized watching from back home on a trainer, and all of a sudden you're there, and they are suffering just as much as you. That's a huge adrenalin boost that I hope I can tap into in the future.

CC: So was there any stage or moment that was a breakthrough for you?

MW: Yeah, I had a couple of ones. The first one was Stage 9; I came third on that stage. But the day before it was announced that our team was going to fold and every rider on the team was told 'you may not have a job next year'. My Director Sportif gave us this really intense speech prior to Stage 9, and then he pulled me aside prior to the start and 'Mike, you have to get a good result today. You have to do this for yourself, you have to do this for your wife, for the team, for your future family...' It was a lot of pressure!

But the whole team, all eight guys, rode the front for me. We took control of the race, rode in front of Sky, took control all day. The entire day, I was completely cognizant that it was all on me. instead of crumbling under that - which I have in the past - I excelled. I didn't win the stage, but I was very close. I think that was a turning point because I was able to step up to the pressure, and that was liberating.

The next big stage I had was going up Sierra Nevada [Stage 15], a big climb that ended up being almost 29K. I had had a really long conversation the night before with Juan Manuel Garate, my Director, and he said 'don't lose sight of how much fun you are having'. We had a conversation on how to just enjoy the process and not get caught up in putting the weight of the GC on me. Mentally, it was like a lightbulb went off. That day, instead of just focussing on how much I was suffering, I focussed on how fortunate I am to be racing my bike in front of thousands of people and getting paid to do it. And I focussed on how crazy it is that I get paid to rip around on these sweet descents and go up these really iconic climbs.

It just paid off. I was in the zone and I enjoyed every second of it. I came sixth on that stage and I had never ridden that close to a GC guy on that long of a climb. I only came apart in the last 100-200 metres; I was right there. I learned a lot about myself and it's given me a lot of excitement for the season to come.

CC: Now that you have had a chance to prove yourself, what does it mean for the next season?

MW: I'm still certainly focussed on the Ardennes Classics. Last year at Liege, I came ninth but I had some respiratory health issues through Fleche and Liege, and I was riding Liege in support for Rigo [Rigoberto Uran]. This year I think I will have a bit more free rein, especially in Fleche [Wallonne]. Those two races are big marks on my calendar. I want to win, I'm going in with the ambition if trying to win.

The other focus is trying to do the Tour. I'm not sure if I will focus solely on the GC for next year at a Grand Tour; and at the Tour I will be there to support Rigo, but the Tour is the biggest race in the world, and I want to do it. Now that I've done the Vuelta and the Giro, that's the next on the bucket list.

It looks very difficult, especially that one 65K stage that looks like a sawtooth [Stage 17], just up and down. Right off the bat, not your typical Tour de France. I'm very excited about that.

And, I'm really focussed on the Worlds next year [in Innsbruck, Austria]. I'm getting really excited about the course. Knowing what I know now, the Olympics last year was a real missed opportunity, being injured. I think that if I had been on the form I was this year, I could have done something really special at that race. And Austria looks to be a course that really suits my skill set and is going to be similar to the Olympic course, so I really want to have a special performance there.