November 5/17 12:13 pm - Nigel Ellsay Interview - Moving Up to Pro Conti

Posted by Editoress on 11/5/17

Last month, Rally Cycling announced the signing of two more Canadian riders for their men's and women's rosters for 2018 - Nigel and Gillian Ellsay. The men's team will be making the big step up to Pro Continental status, and Nigel will make that move with them, from Silber Pro Cycling.

Nigel is coming off a very strong season that saw him finish second to Svein Tuft in the time trial at the national championships, win the Mountains Jersey at Tour de Beauce, seventh overall at Cascade, 13th overall at the Tour of Utah and tenth overall in the Tour of Alberta.

We spoke with Nigel about his season and the move to Rally.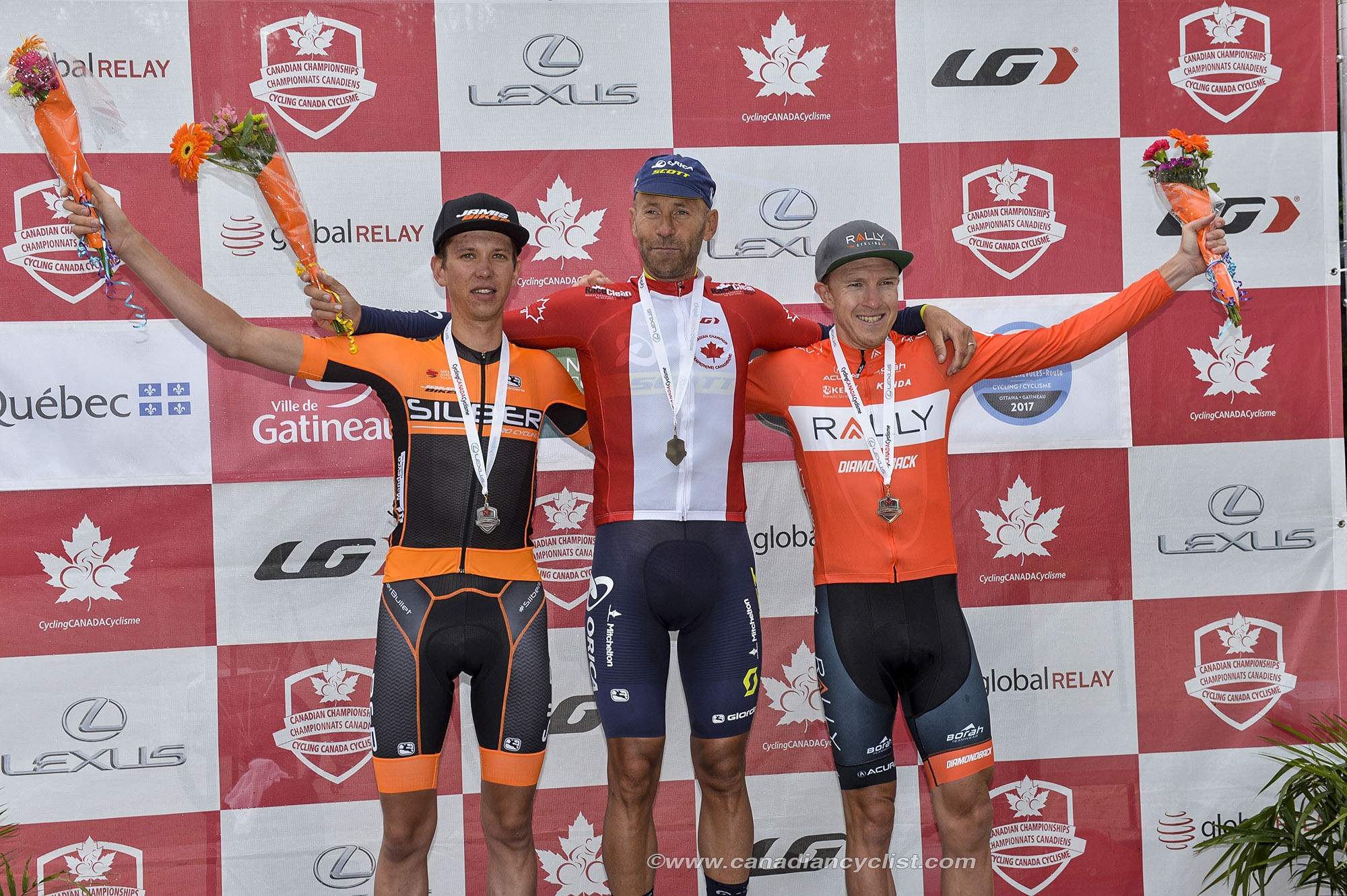 Nigel Ellsay (far left) finished 2nd to Svein Tuft in the 2017 Elite Men's National Time Trial
Canadian Cyclist: You are making some pretty significant changes for 2018 - a new team and moving up to a Pro Continental team.

Nigel Ellsay: Yes, I'm very excited. I'm very thankful for spending three years at Silber, Canada's top development team. They've helped develop me and move me on to a Professional Continental team at Rally, where I get to race with four other Canadians. It's a super good program, with great Canadian staff, and I hope to continue to grow as a rider.

CC: So how did this move to Rally come about?

NE: Jonas [Carney, Director of Rally] and I have been talking for the last couple of years, and I e-mailed him at the end of July to see what was up and let him know I was interested. We kept in contact for the next couple of months, and around GP Cycliste [mid-September] we finally put pen to paper.

CC: So is this a two year contract?

NE: It's a two year deal; it technically has to be for riders under the age of 26 that haven't signed a professional contract before. So I signed for 2018/2019.

CC: Silber is turning into a real development factory for Canadian men.

NE: Yes. The only rider they moved up this year was me, but last year there were two, arguably three, riders that moved to bigger programs, and I think every year you're going to see one or likely two riders moving on to bigger teams from Silber.

I hope that the program will continue to grow, because it's really what Cycling Canada needs. It is pretty well impossible to have a national team turning out these riders like a factory. We need to have super strong trade teams and Silber is there. There are other teams like H&R [Block], and slightly smaller teams like Smart Savvy that are also becoming these rider factories. Hopefully they can continue to establish themselves and network themselves; that's what is needed to move riders to the WorldTour level.

CC: What does Silber do to prepare you to move up to this next level - what did you get out of Silber?

NE: It's a huge array of different things. For one, being in a professional environment, so you learn how to be a professional rider. Because you are in that professional environment, you can race your bike as well as possible. Second, the equipment is top-of-the-line. Third is the staff; it is super professional, with Gord [Fraser, Director Sportif] there to help everyone and the mechanics and soigneurs.

It's also giving guys the financial support; Silber isn't a super wealthy team, but it's enough for riders to get by at a young age. Most have some other support, like Global Relay Bridge the Gap and stuff. It's that whole picture.

I think the only thing Silber is missing is - and I hope they can improve on this - is doing some races in Europe in the springtime; I think to call themselves a true development team they need to add that to their calendar. I think they are going to do that for next season.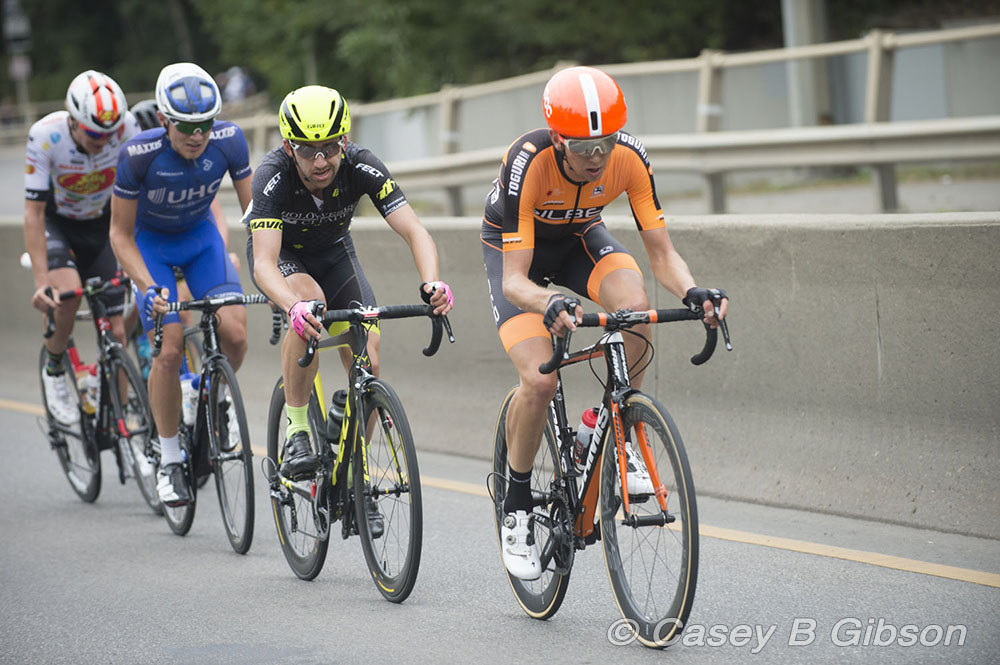 Ellsay leading the break on Stage 3 of Tour of Alberta
CC: And now you go to Rally - a team with some more experienced riders that has gone to bigger races like the Tour of California and has a European program. What are you expecting for yourself in the first season?

NE: I haven't talked too much at this point to the management about what they want my role to be on the team. I think the only race I can really put a tick beside is the time trial at Nationals again; that's a big goal for me. The rest of the time, I think, I'll be a bit more in a support role; hopefully I'll get my own opportunities once in a while.

I think Rally is one of the teams that does that - they share things around. They will ride for whomever is strongest or in the best position in a race due to circumstances. I'm not too sure what to expect, so I'm going in with an open mind. I'll be ready to work hard and do my part.

CC: Do you have any specific goals for the coming season, based on what you have done in past years?

NE: The only race I can say I have a big goal around is the time trial at the Nationals. That's one where the team will be fully behind me and I can go in there and do the best ride I can do. There may be some other races; I understand the national team is going to the Pan Am Championships, so I would have a big goal for the time trial there so that we can get another spot for Canada at the world championships if we win it. And, who knows, maybe go to Worlds.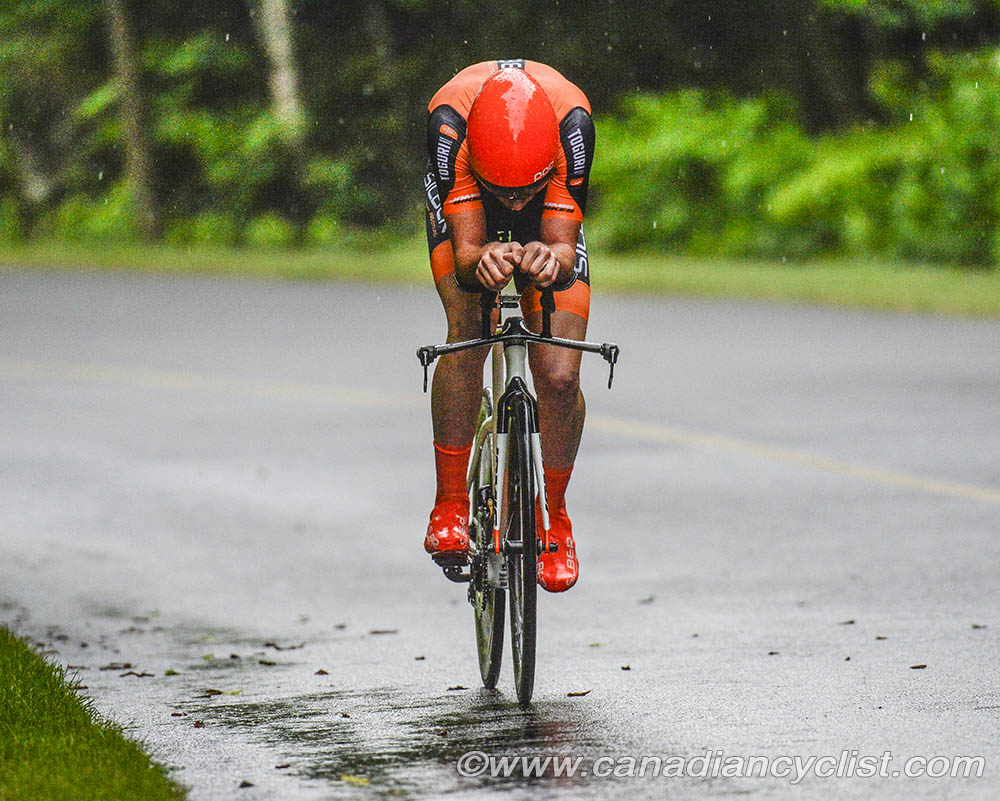 2017 Road Nationals ITT
CC: This past year was your first year as an Elite, and that is always a big jump.

NE: Yes, but we do pretty well all the same races as U23s. For North America, the only races that U23s do specifically are Canada Games and Road Worlds. So the Under-23s are always racing with the big boys in North America.

CC: When do you actually start doing stuff with the team?

NE: We do a winter camp in Winter Park, Colorado, in the second or third week of December, and the women's camp slightly overlaps. And then the team will do another camp in Oxnard [California] at the end of January, so lots of camps to start.

CC: And your sister Gillian is joining the Rally program as well - that must be unique.

NE: Definitely it's going to be interesting. The men's and women's teams don't do too much together, but it will be kind of funny riding around town twinning.

CC: Did you both know that the other was talking with Rally?

NE: We had talked a little bit before and filled each other in on our prospects. We knew a little bit, but she signed a few weeks before me, so she was giving me the gears later!