November 8/17 11:37 am - France Takes First Title of Urban Worlds

Posted by Editoress on 11/8/17

The first ever UCI Urban World Championships opened on Wednesday in Chengdu, China, a city of some 14 million people in the center of the country, known as the Panda City for its panda breeding program. The Urban Worlds bring together three separate events - Trials, Mountain Bike Eliminator and BMX Freestyle. BMX Freestyle is a brand new world championship discipline that will join the 2020 Olympics in Tokyo, while Trials and Eliminator move across from the mountain bike discipline.

The Urban Worlds opened with the Team event, won by defending champions France ahead of Germany and Switzerland. Each nation enters 3 to 5 riders from Junior and Elite men in 20" and 26", plus an Elite woman. Riders take turns trying to complete a five section obstacles course, scoring a maximum of 200 points if they take all the most difficult routes through the sections and make no mistakes.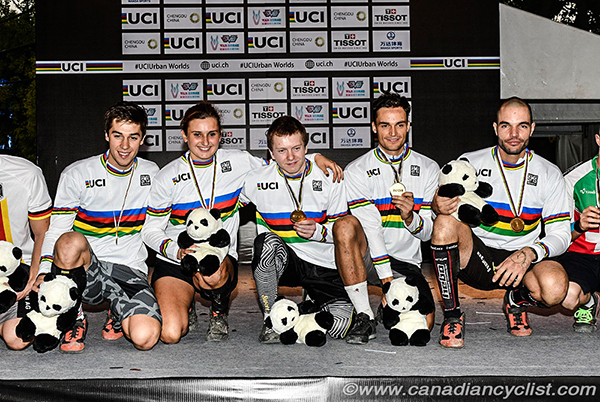 France won with 620 points for their five riders, with Vincent Hermance scoring 170 for his run. Germany and Switzerland tied at 550 points, with Germany getting the silver by virtue of their riders successfully completing more high difficulty sections.