November 23/17 14:29 pm - Ryan Anderson Interview - A Rally Homecoming

Posted by Editoress on 11/23/17

Last week, Rally Cycling announced that Ryan Anderson would be returning to their ranks after two years spent racing in Europe on the WorldTour circuit with Direct Energie. We spoke with Ryan about his time in Europe and his return to North America.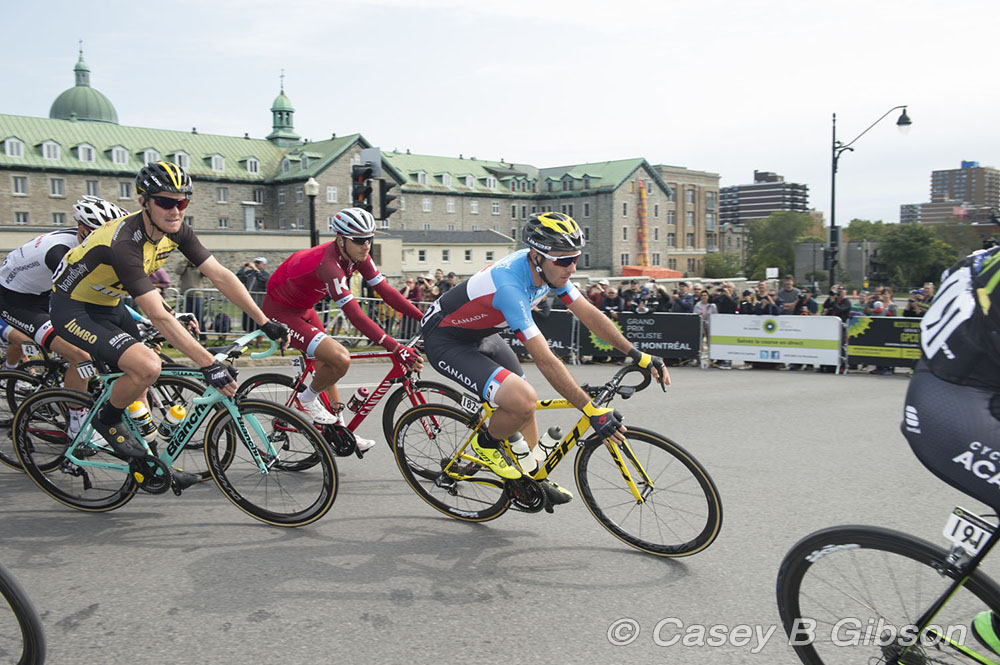 Anderson at 2017 Montreal GP
Canadian Cyclist: So, back in North America. Was this planned or had you expected to stay in Europe?

Ryan Anderson: Yes, I had two years with Direct Energie. I think I knew is was going to be doing a change this year, that I needed something fresh. Rally was one of the first teams that I reached out to, as a real possibility that I would be happy at.

CC: Rally has a strong Canadian presence and they are going Pro Continental for 2018; how much did that factor into your decision?

RA: I think the whole vision of Rally moving to Pro Conti was a big draw for me. I was at Rally when it was Kelly Benefits Strategy ... I think this is my third time back at the team since 2008. Charles [Aaron], who owns the team, is a good boss, and when he says he's going to do something he has always done it. So, I believe in the dream the team has, and I think it's a good fit for both of us, for me to come back into the team. I think we are both benefiting from it.

CC: After being in Europe for a couple of seasons, what do you think you are bringing to Rally?

RA: I think, personally, I have way more depth now. I've done all of the big cobble classics and a Grand Tour [Vuelta a Espana]. So, I've picked up a lot of race experience over those two years. In the Classics program I had a leader in Sylvain Chavanel, so I was learning from him constantly, and the races I did with Thomas Voeckler ... he's won a lot of big races ... and you learn things from these guys, watching them in the big races. I think I have that experience that I can bring with me, and hopefully bring some leadership into Rally.

CC: That was my next question - you are coming back to Rally as a European vet, so what do you see as your role with the team?

RA: I think if you look at the team, we have Danny Pate - he has a tone of experience, way more than me. But I maybe have a bit of a different experience, so I hope that between the two of us, I can share that experience with some of the younger guys on the team. If we go to Europe with Rob [Britton] in good conditions then I hope to be able to help him excel a bit more in Europe. I have a fair number of WorldTour race days now, and you start to see more patterns in the races, and I hope I can help the team more on the road.

CC: You are a pretty good all-round rider; you can sprint and also get over the hills. So what are some of the races that you might see yourself being the rider that the team would look to?

RA: I still have my own personal ambitions as well. I hope to get over some more hills this year! Things are changing that way [in races]; if you can climb better you are going to create more opportunities. I need to get back on track - last year [2017] I had a big crash in the Spring and it really set me back; I had a really hard time getting back on top of things, so I had by far my worst career year this past year.

2017, from a sport perspective, was by far my worst year. So, I have to put that behind me and get a fresh start. In some smaller, hillier races I think I can do some good results next year.

Rally has been racing more aggressively and I came from a French team that raced very aggressively as well, so I feel I can complement that style at Rally.

CC: Any particular races?

RA: I haven't really picked a target of races yet. We have an outline of what the schedule looks like, but when I do my first camp with the team in December we will talk in more detail. I don't have one race that stands out, I want to start the season strong and then be good for later in the season. I think with the Worlds in Austria, we have a unique opportunity as a country, and I would like to be part of that. So, I have objectives from the beginning to the end.

CC: Do you have any idea how much time you will spend in Europe versus North America?

RA: I think it will be a bit of a mix; I believe I'll start the season in Europe and then come back because of races like [Tour of] California. I don't know exactly what the program will look like at this point, but I'm not too concerned about that. It will depend on what the team objectives are; maybe if Rob [Britton] is targeting Utah or another specific race then I will be there to support him. I'm pretty open to what the team wants to do.

It's different from the last time I was on the team, when I was just chasing results. Now I feel I can go back and, while I still want to get results, I want to really contribute to the team more in a broader sense.