February 3/18 17:28 pm - Canadians Finish Top-25 at Cyclo-cross Worlds

Posted by Editoress on 02/3/18

Canada had top-25 finishes in all three races on the first day of competition at the 2018 UCI Cyclo-cross World Championships on Saturday, in Valkenburg, Netherlands. Canadian Junior Men's champion Tyler Clark of King City, Ontario, had the top Canadian result of the day in 19th place.

Days of rain turned the circuit into a muddy mess, with almost every rider crashing at least once. The rain that had been falling all week held off for race day, which was almost worse, since it turned sections of the mud into the consistency of peanut butter, with the riders having to slog through energy sapping run sections. There were many run sections, with riders crashing constantly on descents and off-camber sections. Once you were gapped, it was pretty much impossible to regain your position, because the physical demands were too much. Riders were getting bike changes at every opportunity, because otherwise drivetrains jammed up.

Clark had a strong start in the Junior men's race, the first one of the Championships. For the first half of the race he held onto a top-10 position, before fading slightly in the third of four laps. A crash in the final lap dropped him further back to finish 19th, two minutes and 24 seconds behind winner Ben Tulett of Great Britain. Connor Martin of Kelowna, BC, was 29th, Dylan Kerr of Horseshoe Valley, Ontario, was 43rd and Paul Mysko on Barrie, Ontario, was 62nd.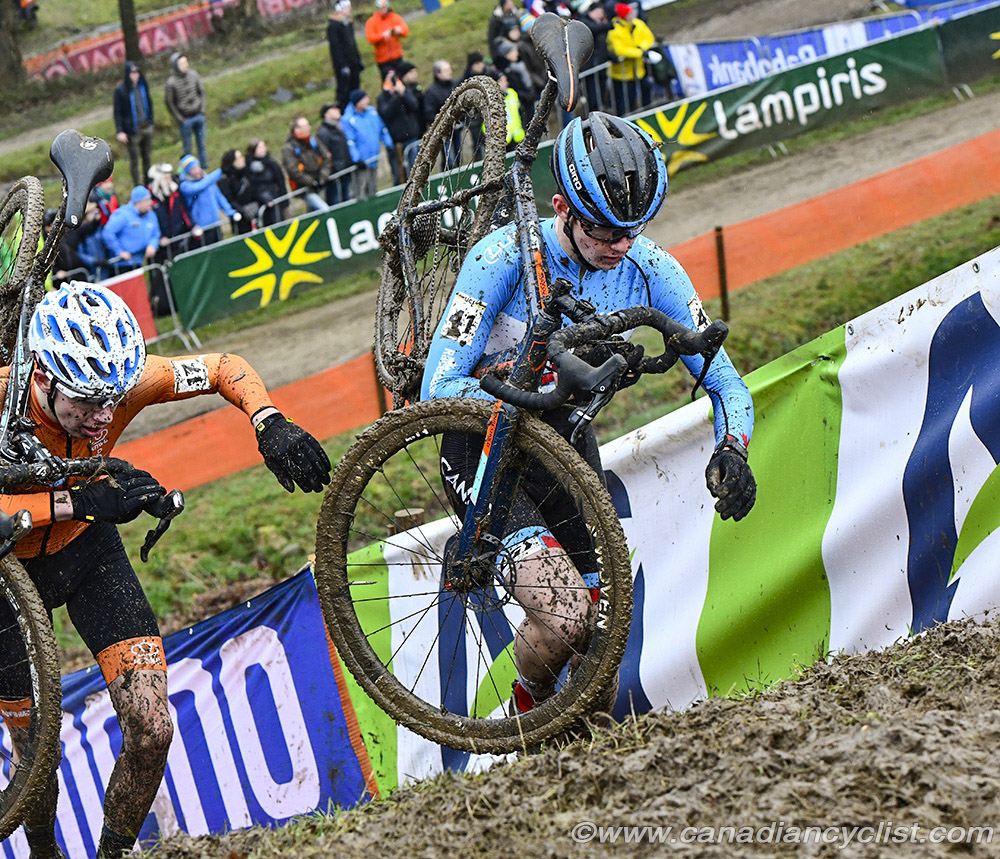 Tyler Clark
In the New Under-23 Women's category, Canadian champion Ruby West of Dundas, Ontario, finished just outside the top-20, in 21st place, five minutes and 31 seconds behind winner Evie Richards of Great Britain. Right behind her was Magdeleine Vallieres Mill of Sherbrooke, Quebec, with Siobhan Kelly of London, Ontario, finishing 40th.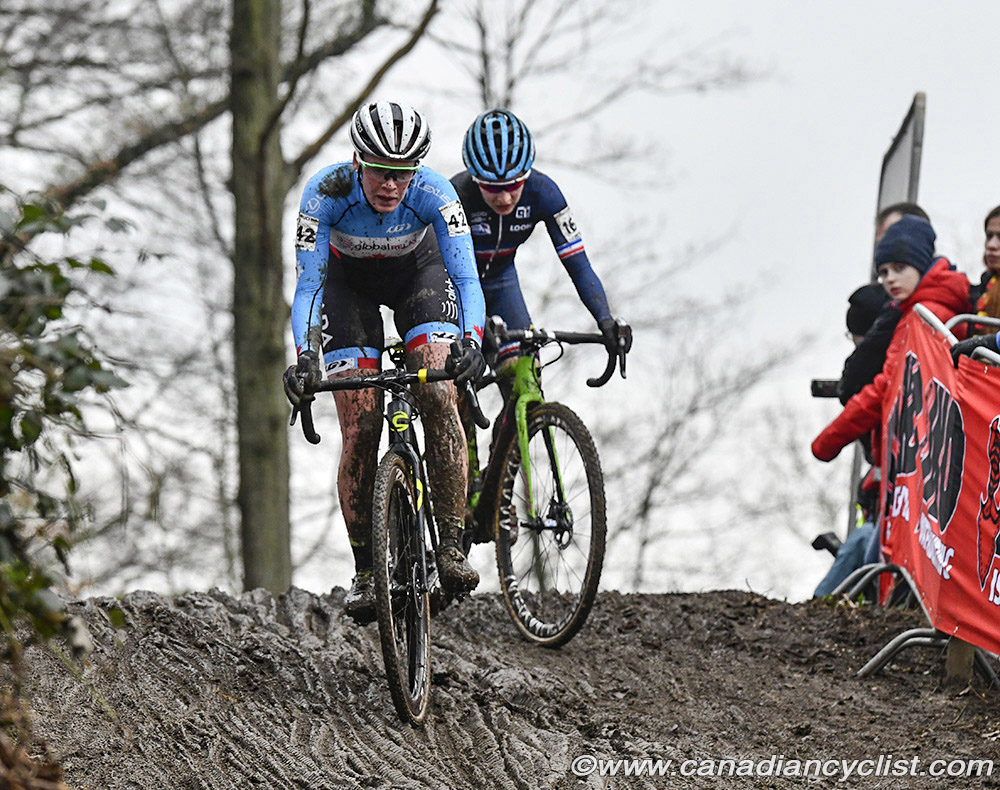 Ruby West
The day concluded with the Elite Women's competition. Maghalie Rochette of St-Jerome, Quebec, fifth at the world championships last year, had a strong top-10 start and maintained her position through the first lap and a half before falling back to eventually finish 22nd, four minutes and 27 seconds behind repeat winner Sanne Cant of Belgium. Canadian champion Christel Ferrier Bruneau of Granby, Quebec, was 29th and Mical Dyck of Cumberland, BC, was 31st.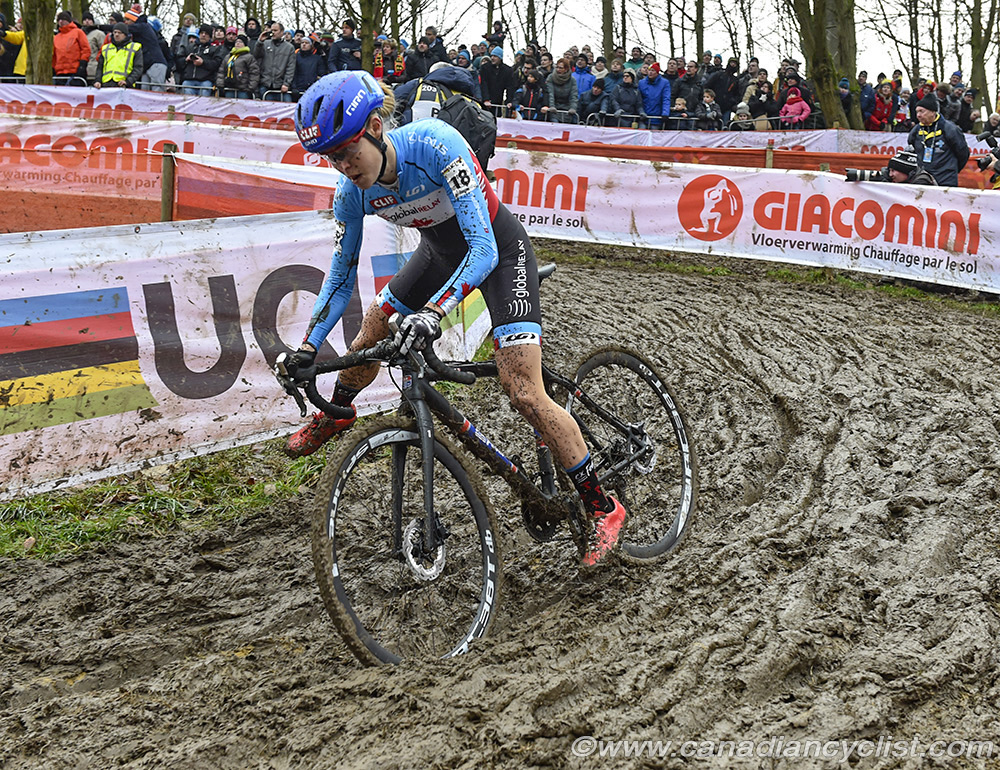 Maghalie Rochette
"What a race it was," said Rochette. "I had a great start and things were looking good. I knew I was ready, fit and excited. I did a mistake early on and lost a few spots and after that, I think I was maybe trying too much. I was riding poorly and making many many mistakes. On days like today, you are almost racing the course more than other people, and you really need to be smooth and limit the mistakes and I didn't do that very well today."

"So, for sure I am a little bit disappointed with my ride and my result, but at the same time, I'm proud of the preparation I did and the effort I put out there today. I know there will be many more World Championships in my future and I already look forward to the next one. It is always a privilege to race those big events and I always make sure I prepare the best way I can. I know I did that. The only thing to do now is to learn from my mistakes and celebrate a great year with the people that support me through the thick and thin; my family and my team!"
Results
Elite Women
U23 Women
Junior Men