February 5/18 10:28 am - Fourth Annual Hydrocut Hustle Returns to Waterloo

Posted by Editoress on 02/5/18

King Street Cycles presents the Hyrdrocut Hustle

Enjoy the cycling trails of Waterloo, great food, and warm up at the region's premier Fat Bike event

Maybe you can't afford a car and it is your only means of transportation; or you are trying to live a more sustainable lifestyle by getting some exercise and reducing your carbon footprint.

To many people, a bicycle is a means of transportation. But that doesn't change the fact that it is also a fun activity that can challenge you amidst a scenic country backdrop you simply can't enjoy while sitting behind a steering wheel. On February 25th, bike enthusiasts from far and wide will converge on Waterloo for the fourth annual Hydrocut Hustle, a fatbike ride through a rustic winter landscape on some of the best off-road trails in southern Ontario.

'The meaty tires of a fatbike makes cycling a 12-month activity, no matter the weather,' says Minto Schneider, CEO of the Waterloo Region Tourism Marketing Corporation. 'Getting out on the trails, the snow crunching under your wheels, wildlife watching from the cover of the brush, breathing in the cool air make for an experience unlike any other.
continues below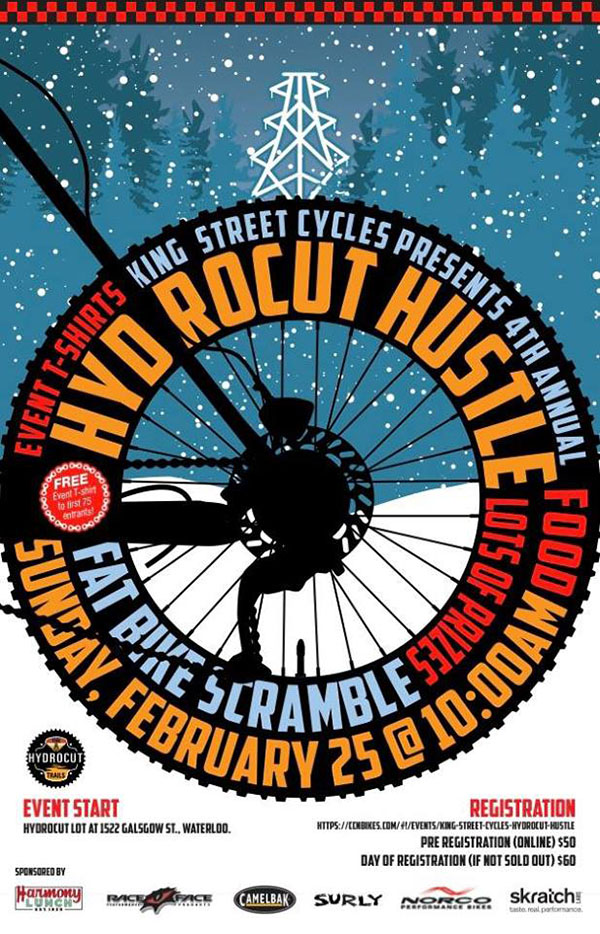 Hosted by King Street Cycles, the Hydrocut Hustle is a 15-kilometre ride ' five laps around a three-kilometre off-road loop ' designed for bicycles with tires at least 3.8 inches wide. Designed to be fun for everyone, the day includes The Harmony Lunch cooking up some great food and Scratch Labs Hydration and Nutrition onsite with healthy, all-natural samples.

Only bikes that meet the requirements will be able to register as a competitor, however, guests are encouraged to come out on any bike they please to enjoy all aspects of the event.

"As more people think about living more healthy lives, bicycling is growing in popularity," says Minto. "Taking that activity off road is a great way to see the countryside around Waterloo from a different perspective while challenging yourself with a more difficult, but enjoyable, ride".

Registration for the Hydrocut Hustle is now open in-store (www.kingstreetcycles.com) and online . Online and in-store registration is $50.00 with a free event T-shirt for the first 75 registrants. Day of registration is $60.00.

For more information about the Waterloo region, please visit www.explorewaterlooregion.com, or connect with Waterloo Tourism on social media;
Facebook
Twitter @ExploreWR.


Press release