February 18/18 11:45 am - Franck Durivaux Interview - Begin at the Beginning to Build the Sprint Program

Posted by Editor on 02/18/18

Franck Durivaux joined Cycling Canada six months ago as an assistant coach for the Sprint program and will now lead the Canadian sprint team as the head coach into the 2018 UCI Track World Championships in Apeldoorn, Netherlands, at the end of February.

Durivaux comes to the Canadian program from France, where he was a member of their powerful track program in the early 2000s, before turning to coaching. As a member of the French team he won a Team Sprint gold medal at a Track World Cup in 2002. As a coach with France, his riders swept the men's sprint events (Team Sprint, Keirin, Sprint and Kilo) at the world championships in France, in 2015.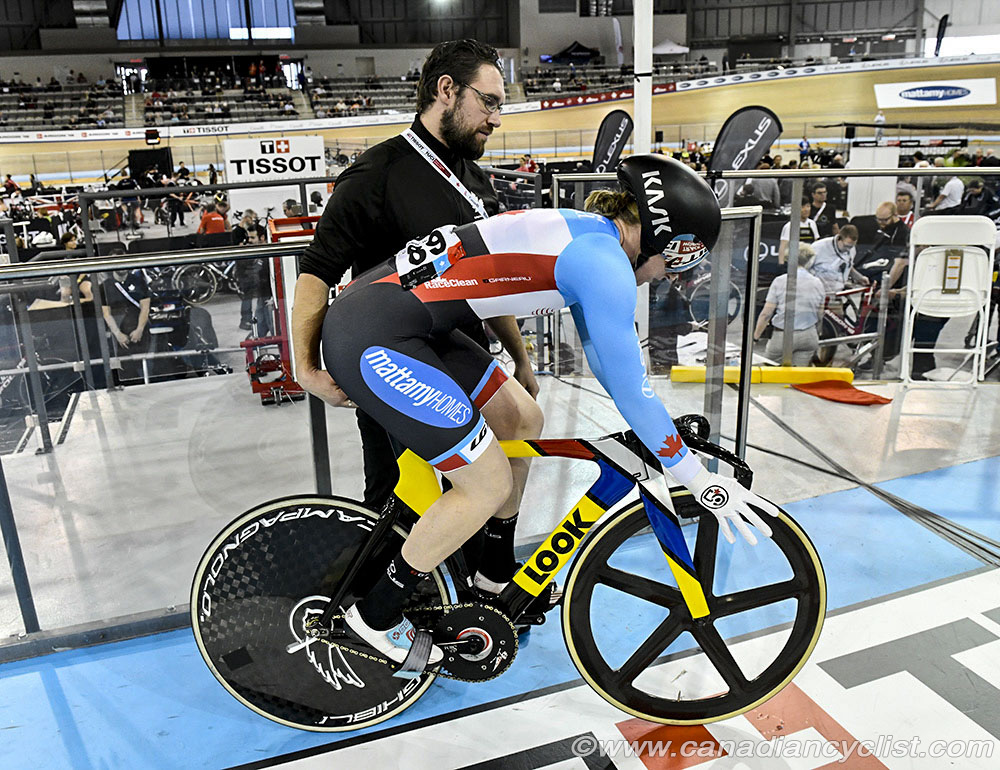 Franck Durivaux with Amelia Walsh at the Milton World Cup
with Hugo Barrette
"I was with the French national team between 2001 and 2006 before becoming a coach. I started as assistant coach with the [French] national team before becoming head sprint coach in 2014, as we began the qualification process for Rio. In 2016 I made a transition to become development coach, although I was still working with Francois Pervis [6x world champion and Olympic bronze medalist]."

"I came to Canada in August of 2017 as the Assistant Coach, and my first major project was Junior Track Worlds. When we came back from that project I learned that Erin [Hartwell, national sprint head coach at the time] had left for Trinidad and I became the head coach."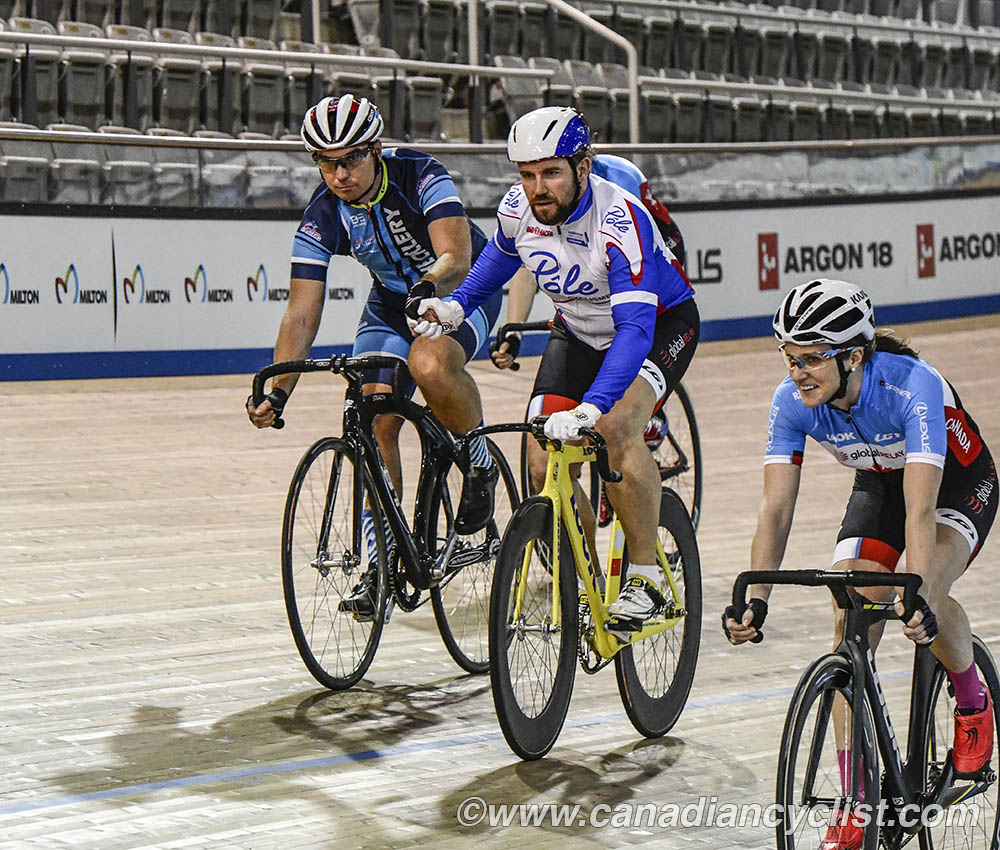 Madison practice, Durivaux in white
Durivaux admits that the Canadian sprint program is in its early stages, and has suffered recent setbacks with retirements and crashes, but is optimistic about the future.

"When I arrived we had a good group of athletes but then we had a lot of crashes, so we had to start working for the next season not the current one for a lot of the athletes. For the current season we had to work for Hugo [Barrette], Amelia [Walsh] and Stefan [Ritter]. Stefan had a bad crash in June, so we needed a special preparation program for him. But he came back very quick and by the end of November he was back to the same form he had in June before the crash, so I decided to put him in competition. We really need points for next season and right now we only have one rider, Hugo. Stefan is a really good guy, really coachable, it's really nice to work with him."

"With Hugo, it's more that he knows exactly what he wants, he is already a really top level sprinter. I think we are on the same page for what we need at the top level and he knows what he is able to do. But, he's a sprinter ... he can change every day! But it's really nice to work with this group of riders."

"We have a lot of young and new riders who are new in the program, so we need to begin at the beginning. They are really new on the bike. It is a big difference from France, because, for example, a guy like Bauge or Pervis has been on the bike since 2001, and were already at the Olympics by 2004. And a woman like Tegan [Cochrane] has only been on the bike for two years, so we have to work more on the track because they don't have the background that another cyclist would have. Amelia [Walsh] is a little different because she comes from BMX, but that is not really the same sport, the same mentality. Sprint is more about strength with a lot of repetitions every day; so quite different and probably less fun."

"But it means that I can begin with the basics, so if we need to change something we can do it more easily with this group. That's different from Hugo, because he is already a world-class rider. They have already had very good improvement since September at the national championships. Since then they have had a lot of competition at the World Cup and in Europe, and they are all doing PBs [personal bests]. It's a new group but we can do a lot of things."

Unlike previous years, when Canada could field a women's sprint team in all events, this Worlds will see only one woman sprinter - Amelia Walsh. [see Amelia Walsh Interview - From BMX to Track]

"Because of the points situation, the only woman who can go to Worlds is Amelia. She had some good results at earlier World Cups and Kate's [O'Brien] points from last year. So the goal now is to prepare Amelia for the world championships. We don't have the points for the Keirin and missed the 500m [time trial] by five points, so she will only do the Sprint. But it could be a good thing to just focus on the one event. After that she will do all three events at the Commonwealth Games. For Amelia, it's her first season getting a lot of experience. Now we are working on the tactical side of things, and then after the Commonwealth Games we will work on the physical side to prepare for the next season and the Olympic qualification period."

On the men's side, both Hugo Barrette and Stefan Ritter will attend Worlds, but there will be no Team Sprint squad.

"We are still working on the Team Sprint, but first of all I think we need to work on developing the individual guys before having a better Team Sprint. Every guy should be faster on the 200 metres, on the Kilo before we can be better for the Team Sprint. We work on the Team Sprint in training; they start together and work together on the exchanges, but the first thing is to develop the individual physical abilities before we can have a better Team Sprint."

"Stefan and Hugo will be at the world championships; Stefan will be in the Kilo and the Sprint, and Hugo in the Sprint and the Keirin. We are not competitive for the Team Sprint at this time. But we will have a team in that for the Commonwealth Games, and I think we will be ready for the Olympic qualification period when it starts."

The Olympic qualification looms over every decision as the next two seasons begin, with every country in a battle to secure the points necessary for a high enough nation ranking that will secure Olympic spots in each event for 2020.

"We don't know yet exactly what the criteria will be for Olympic qualification, but for Rio it was easier to qualify through the Team Sprint, because when you qualified for that you automatically had two spots for the individual events. But my strategy will be to see if the team has qualified after the first year [through the Team Sprint], and if not then we will change to focus on the individual riders and events. We have a very young group, and the problem is that there is a very competitive field in Team Sprint, with a lot of very fast teams. The team has made very big improvements, so we will try for the first year, but if it is not possible, then we will change to focus on individual riders."

And what about moving to Canada after being in the pressure cooker of France?

"I wasn't in Canada much for the first very cold December because of all the races I had to go to, so it was okay! But when I came back to Canada after the Christmas break it was good, because I saw all the snow in front of my house, I like it. Life here is more quiet [then in France] and I am very close to the velodrome. Right now I am waiting for my family, who will arrive in March just after the world championships; my wife and my two kids will be here. But I can really focus on my job and spend a lot of time with the athletes."