February 24/18 12:08 pm - Jay Lamoureux Interview - 100% Committed to Tokyo

Posted by Editoress on 02/24/18

Victoria's Jay Lamoureux is a member of Canada's men's endurance track program, as well as racing with Team RaceClean on the road. On the road, his results include finishing third at Nationals in the Under-23 road race (2014), while on the track he won two silver medals (Team and Individual Pursuit) at the Pan Am Track Championships in 2016 and gold in the TP/silver in the IP at the 2017 edition. Lamoureux was part of the World Cup silver medal-winning Team Pursuit squad at the Milton event last December and the gold medal-winning squad in 2016.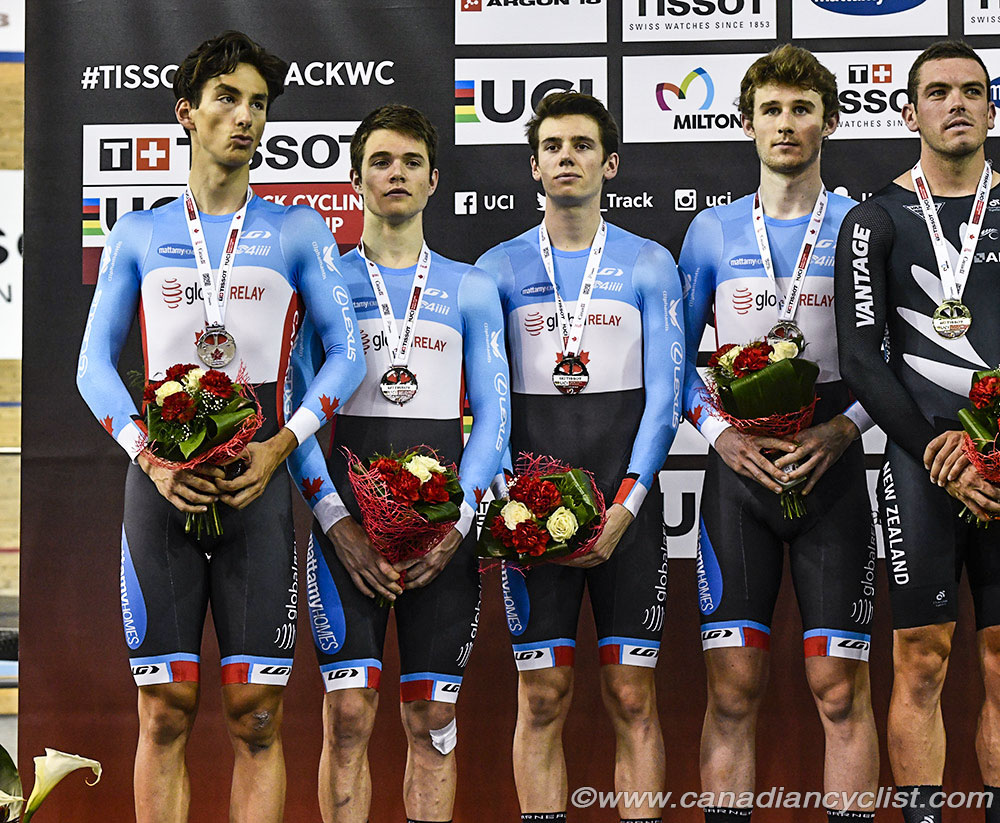 Milton Track World Cup, Men Team Pursuit podium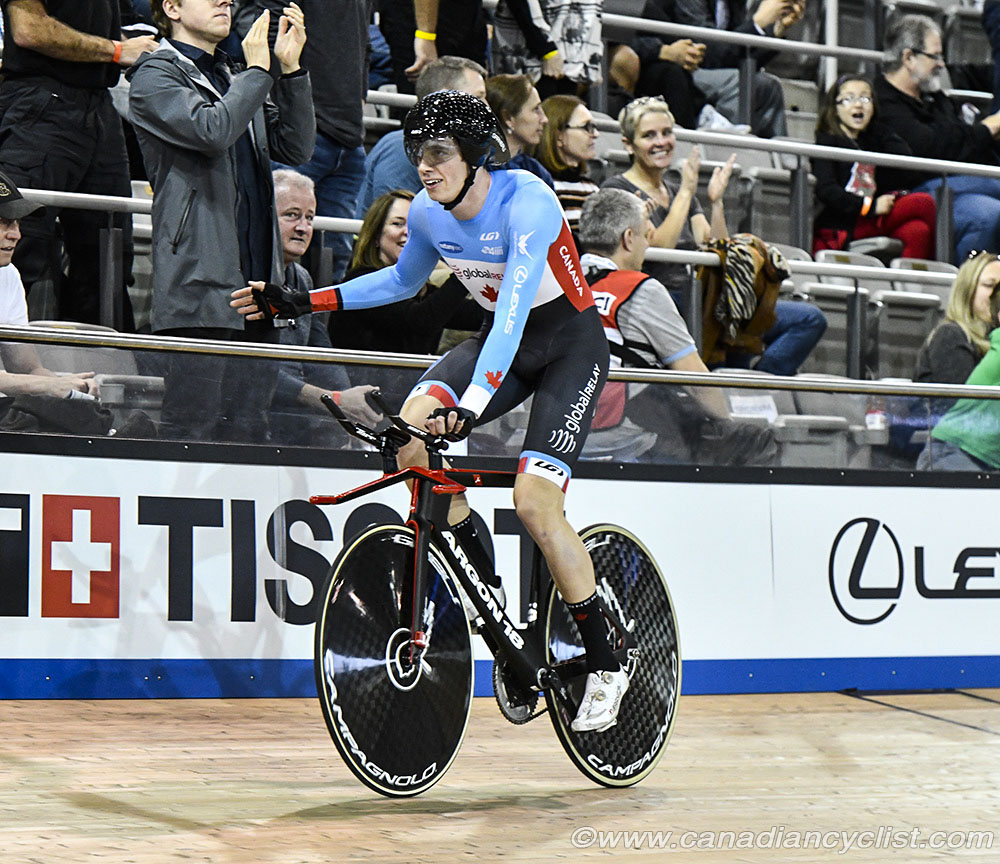 Milton Track World Cup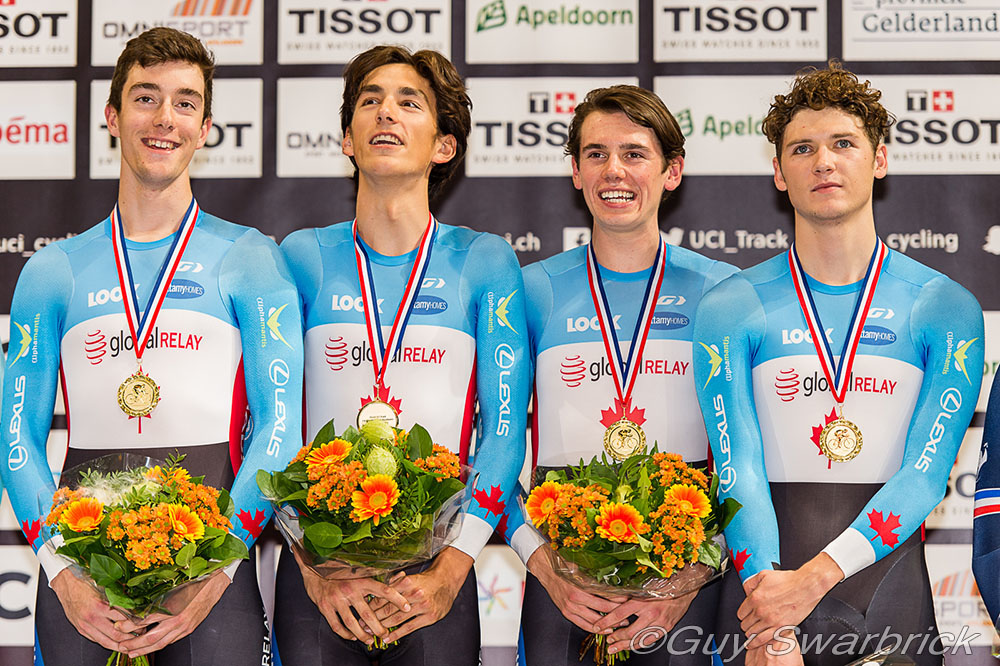 World Cup win, Apeldoorn 2016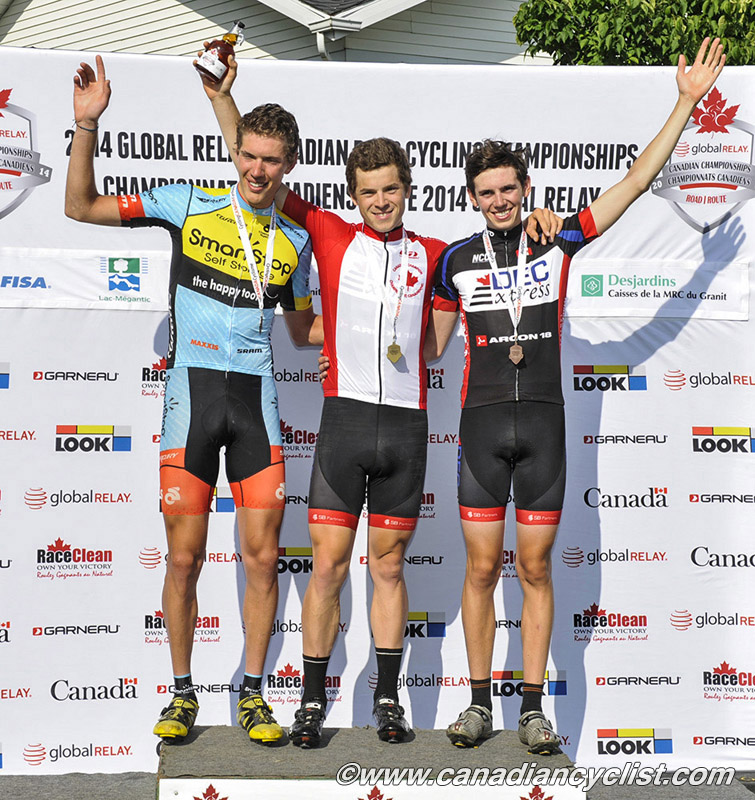 2014 U23 podium (far right)
"I've always been athletic my whole life, and I always watched the Tour de France when I was young and I aspired to be a cyclist. How I started out was that my dad and I would go on cycling-camping trips when I was 10-12 years old. We would load up panniers and a B.O.B. trailer and head out to the Gulf Islands and camp for a couple of days, and then ride back. We did a trip into the B.C. Interior as well. That hooked me on being outside and enjoying cycling."

"Cycling was a secondary sport to running; I was a cross-country runner with a bit of track running. I had some overuse injuries and I decided to take up cycling as a cross-training sport. I was really fortunate with who I knew in the cycling community; Lister Farrar and Tripleshot Cycling really started me off on the right foot. I had a lot of fun and did a lot of cyclo-cross and then I started road racing, did a few races in the States and it snowballed from there."

Lamoureux continued to receive support from the local community as he developed as a cyclist.

"Along with Lister, I also got to work with Kurt Innes; he's with CSI [Canadian Sport Institute Pacific] - and I started working with CSI more and more. Kurt had a program called FastTrack, which is on the velodrome in Victoria and I started going there once a week, just coming out of Junior. Then, Jeff Ain, he ran the NextGen CSI program for cyclists, and he identified me as a cyclist with potential on the track, so I went to Nationals a couple of times and made the time standard for the Pursuit, then got onto the national team program. This is my second year with the national team. My first race was in Hong Kong at the World Cup [2016]."

While interested in all types of cycling, for now Lamoureux is focussing his efforts on the track.

"I love growing as a cyclist. I want to do more road and I want to do more mountain biking, but at the moment I am 100% committed to going to the Olympics on the track."

"I have to go with my goals, which is the Olympics and track is the avenue to get there. So, at the moment I'm a trackie, but I don't identify completely as a trackie; I'd like to be a road cyclist as well. I love to ride outside in nature."

While the main focus is the Team Pursuit, Lamoureux does admit to wanting to do some individual events.

"I think I'm pretty good at the Individual Pursuit, but it's not always the most enjoyable race to participate in! I'd really like to do the Points Race, I find it more fascinating and a more fun event. Maybe get into the Omnium, but it's going to be pretty tough, since the next couple of years is Olympic qualifying."

At 22, Lamoureux is finishing his time in Under-23, and is one of the more experienced members of the NextGen squad, so Tokyo has added urgency for him.

"I would say it is definitely more important to me than it is to some of the younger guys, so I'm going to give it 110% to get there. But every Olympics should have the same importance to everyone in the team."

"I've been to four World Cups and raced three of them [once as an alternate]. You have to have raced a World Cup to understand the atmosphere and not overthink it, so experience is important. Milton was really special, the crowd made it electric. It was especially special to set a Canadian record on home soil [in the Team Pursuit], and to get the velodrome record for Milton."

A little over two years out from Tokyo, and heading into the qualifying period later this year, Lamoureux is cautiously optimistic for Canada's chances.

"I think we are making a lot of steps in the right direction, but I also think we have lots of improvements to make, and I have a lot of hope for the program heading to 2020."