March 9/18 10:02 am - Dorel Reports Q4 & 2017 Year-End Results - Improved Bicycle Division

Posted by Editoress on 03/9/18

Dorel Industries Inc. (TSX:DII.B) (TSX:DII.A) announced on Thursday results for the fourth quarter and year ended December 30, 2017. Revenue for the fourth quarter was US$677.1 million, up 4.4% from US$648.7 million a year ago. Adjusted net income was US$20.4 million or US$0.62 per diluted share compared to US$7.7 million or US$0.24 per diluted share in the fourth quarter of 2016. Reported net loss for the quarter was US$3.0 million or US$0.09 per diluted share compared to US$5.6 million or US$0.17 per diluted share a year ago.

Revenue for 2017 was US$2.58 billion, compared to US$2.60 billion the previous year. Adjusted net income for the year rose 20.3% to US$70.1 million or US$2.15 per diluted share, compared to US$58.3 million or US$1.79 per diluted share in 2016. Reported net income was US$30.6 million or US$0.94 per diluted share, compared to a reported net loss of US$11.6 million or US$0.36 per diluted share the previous year.

"Dorel's businesses performed quite well during the fourth quarter and we are encouraged with the advancements made, setting the stage for a positive 2018," commented Dorel President & CEO, Martin Schwartz. "Dorel Home posted excellent revenue and operating profit, with record on-line sales continuing to drive the segment. Dorel Juvenile is being transformed into a consumer-centric organization through a market-led business with a heavy emphasis on new products. We have the strongest product pipeline in years featuring exciting, innovative products planned to launch over the next 18 months. Dorel Juvenile has also made important progress in e-commerce, with each of its geographic markets projecting growth through 2018. Dorel Sports bounced back from a difficult third quarter despite continuing industry-wide weakness in the global bicycle market. Similar to Dorel Juvenile, Dorel Sports has developed an exciting line-up of new products to be launched through 2018," concluded Mr. Schwartz.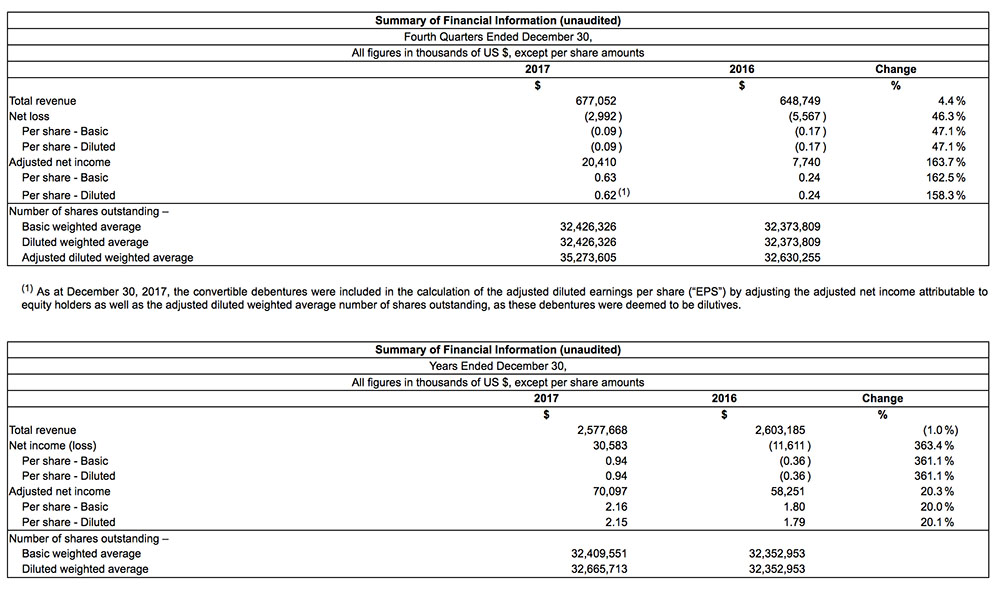 The Company is presenting adjusted financial information, excluding impairment losses, restructuring and other costs, remeasurement of forward purchase agreement liabilities and loss on early extinguishment of long-term debt, as it believes this provides a more meaningful comparison of its core business performance between the periods presented. These previously announced items are detailed in the attached tables of this press release. Contained within this press release are reconciliations of non-GAAP financial measures to the most directly comparable financial measures calculated in accordance with GAAP.

Sports

Despite a continued weak global bike market, Dorel Sports grew its fourth quarter top line thanks to strong performances in CSG's International business and at Caloi. The segment's revenue improved considerably from the third quarter despite the continuing challenging global bicycle market, particularly in North America. Sales in CSG decreased slightly due to the competitive environment and a generally soft industry globally at independent bicycle dealers.

Several new model year '18 products were launched, including the revitalized Synapse, Trail and Kids platforms, which are all core pillars of the Cannondale product offering. Sales of these units increased over 50% in the fourth quarter, compared to prior year. Parts and accessories sales also increased as did sales of the new line of Mongoose scooters.

Caloi improved its top line due to the on-going stabilization of the Brazilian economy, combined with the success of new product launches of the Caloi and Cannondale brands in Brazil. Inventory remains in a healthy position, finishing the fourth quarter with the lowest level in two years.

Fourth quarter operating profit increased US$4.6 million to US$9.6 million and when excluding restructuring and other costs, adjusted operating profit declined by US$0.9 million to US$9.3 million. For the year, operating profit was US$24.8 million compared to an operating loss a year ago of US$33.9 million. Excluding impairment losses, restructuring and other costs, adjusted operating profit declined by US$6.6 million, or 20.8%, to US$25.0 million. The change in adjusted operating profit for the fourth quarter when compared to 2016 is explained by increased selling expenses offset by improved adjusted gross profit which increased by 30 basis points to 21.7%. For the year, the change in adjusted operating profit is explained by lower revenue, partly offset by improved adjusted gross profit which increased by 100 basis points to 22.4%. This is due to continued inventory management improvement in terms of product mix and pricing actions in key markets.

"Driven by new, innovative products across all price points, Dorel Sports is expected to deliver higher sales and better operating profit in 2018. This improvement is expected in all three of our principal channels: mass market, independent bike dealers and sporting goods. While there are less e-commerce sales opportunities within Dorel Sports' product categories, our focus on compelling on-line content is driving consumer awareness to our brands. As with Dorel Juvenile, the first quarter of 2017 was strong for Dorel Sports, therefore the improved operating profit is expected in the second quarter onward," stated Dorel President & CEO, Martin Schwartz.