March 23/18 11:14 am - Luc Arseneau to Take Up New Role with Acadian Games

Posted by Editoress on 03/23/18

New Brunswick native Luc Arseneau is leaving Cycling Canada to lend a strong hand to the Acadian Games. After almost two decades working for Cycling Canada and the Atlantic provinces as a coach, mentor and program manager at many levels, Arseneau will put his knowledge and expertise to work for the Société des Jeux de l'Acadie, a multisport Games organisation that remains close to his heart.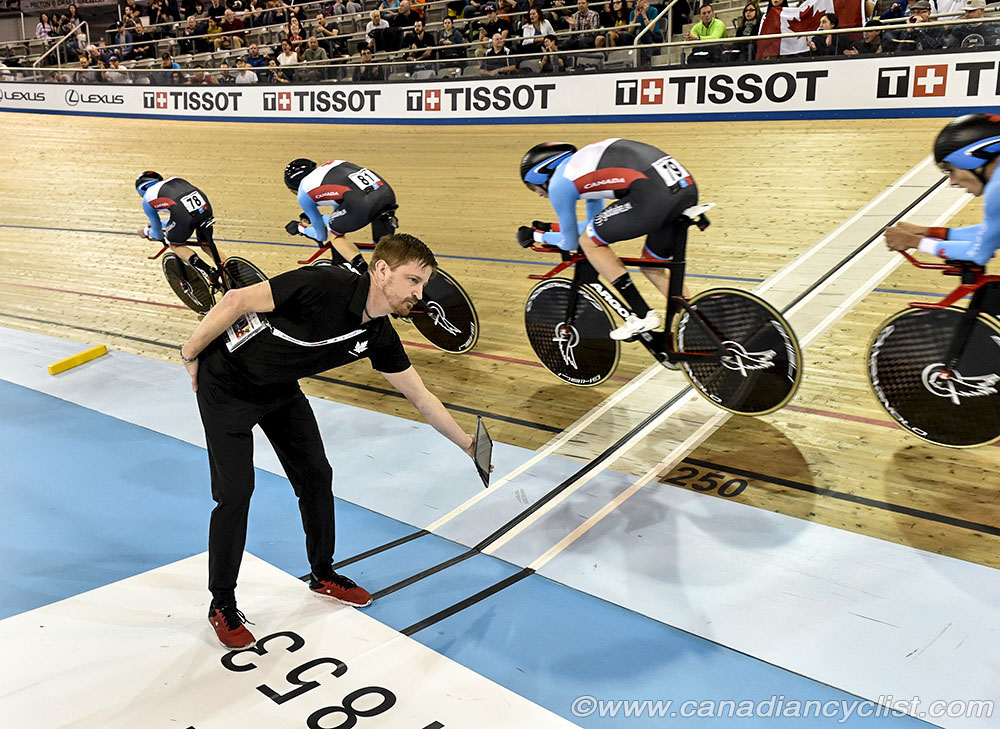 Arseneau working with the Men's Team Pursuit squad at the Milton World Cup
Luc's latest work at Cycling Canada was as the NextGen Men's Track Endurance Coach. Thanks to Arseneau and former head coach Ian Melvin, the men's team pursuit program has improved dramatically, from riding times of 4:14 in 2014 to below four minutes, winning a UCI Track World Cup, and qualifying eighth at the most recent Track World Championships.

"I've been blessed to have the opportunity to turn my boyhood passion to my profession for so many years," said Arsenau. "I've had the satisfaction to work and win medals at many World Championships and Major Games as well as to build a solid structure in the Atlantic provinces; I'm very proud of that. But the last few years as a NextGen coach was quite an experience. Seeing this small program go under the famous 4 minutes barrier, winning World Cups, and major European stage races makes it hard not to be extremely proud of this group. I put the emphasis on the word 'group' here, as that's what it really is. From riders, to staff, and supporters, it was a very satisfying journey for us all."

"It is unfortunate to see Luc go but I know that for him, this is the best move he can make," said Kris Westwood, High Performance Director for Cycling Canada. "He has dedicated many years of his long coaching career to us, and we are grateful that he has been able to put in the hard yards for us when we needed him. We all would like to wish him the best as he takes on his new role."

Cycling Canada will be launching a hiring process soon for a new Men's NextGen Track Endurance Coach to support the work of Head Coach Jono Hailstone.