March 26/18 14:08 pm - Commonwealth Games Profile - Adam Jamieson

Posted by Editoress on 03/26/18

Adam Jamieson will attend his first Commonwealth Games at Gold Coast as a member of the men's squad that will race on the track and the road. This will be his second major Games, after representing Canada at the 2015 Pan Am Games in Toronto.

The 22 year old has been involved in cycling for half his life: "I started off as a downhill skier. I grew up in Horseshoe Valley and would head down to the ski hill every night. I joined the race program and started to be quite competitive. Then dry land training started and I hopped on my mountain bike. I got invited out to the Wednesday night mountain bike series at Hardwood Ski and Bike, and I just dove straight in."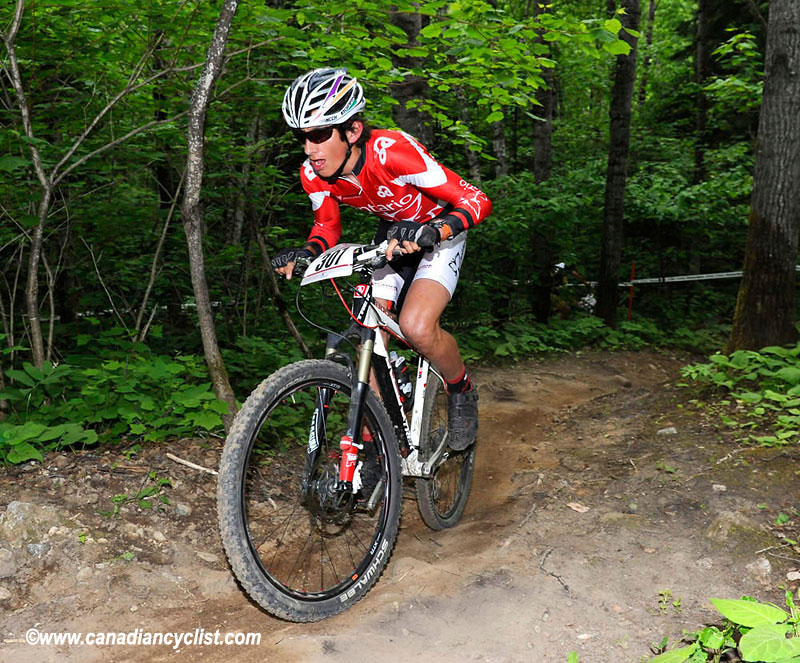 2012 MTB Nationals, U17
"We have a really good mountain bike community up in Horseshoe Valley; a lot of really talented athletes coming out of there. I had some really good training partners with Peter Disera and Will Elliott. I would have been 11 at the time this started, in 2007."

Within a year he was also riding on the road.

"There was a coach at Hardwood that invited me out to the weekly road ride and I dove straight in. I had my mom's '90s Gardin road bike with downtube shifters, and I raced on that for my first few bike races. I didn't really get competitive on the road until I raced Rimouski [Tour de la Relève] in 2011. I loved it; they put on such a good race and did such a good job [he finished tenth overall]."

At that point, he moved into a more structured program at the NCCH.

"I joined the National Cycling Centre in Hamilton [NCCH] the next year [2012]. I really believed in their program and they were doing a really good job lifting kids through the system. Rick Lee [NCCH coach] started taking me to the velodrome in Bromont when I was 16 and we started team pursuiting right away, and I have stuck on Team Pursuit ever since."

From there, he joined the national team NextGen program, which included the RaceClean road team, in 2015 as an Under-23. The 2015 season was focussed around the Pan Am Games on home soil, where he was part of the team that won the bronze medal in the Team Pursuit.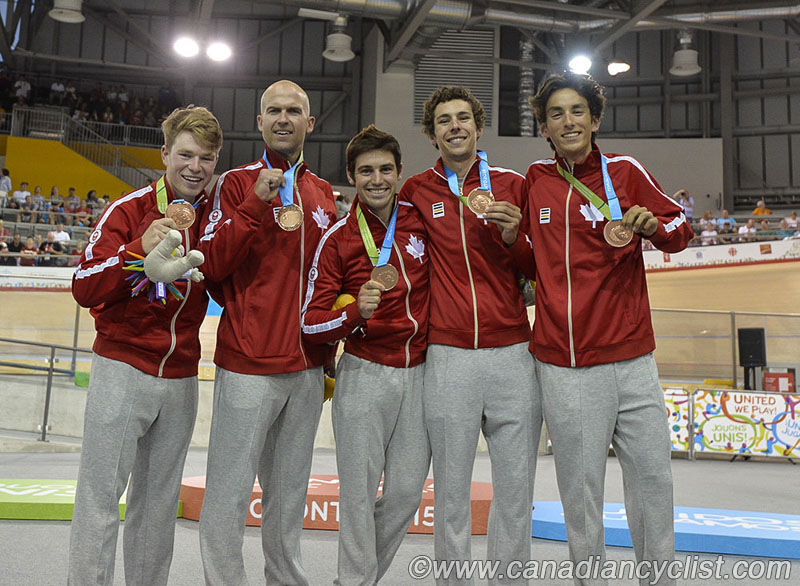 2015 Pan Am Games Bronze medal

"The Games at home was really a special experience. I've learned that there is nothing like a home crowd; especially coming back to Milton for the World Cup [last December]. The community, the environment, the way we support our athletes is special. Racing at home is really big and I think there is more pressure then international racing."

2017 Track Nationals
In 2016, he had a number of strong results, including 11th in the Youth classification at the Tour of Alberta, sixth at the GP des Marbriers (UCI 1.2) and second in the Youth Classification at the Tour de Sud (UCI 2.2). This led to an invitation for 2017 to join the Irish-based An Post Chain Reaction, Sean Kelly's professional team. With them he raced nearly 4500 kilometres in Europe, in more than 20 UCI-level events, including finishing fourth in the Challenge du prince - Trophée Princier (UCI 1.2). For 2018, he is back in Canada on the road with one of the top teams - Silber.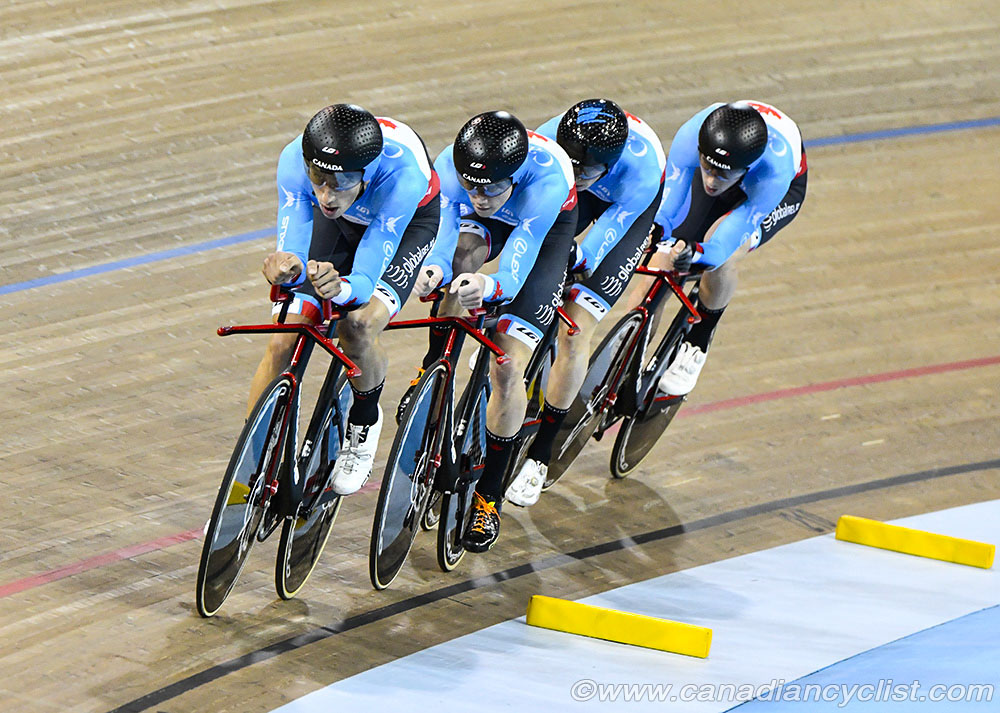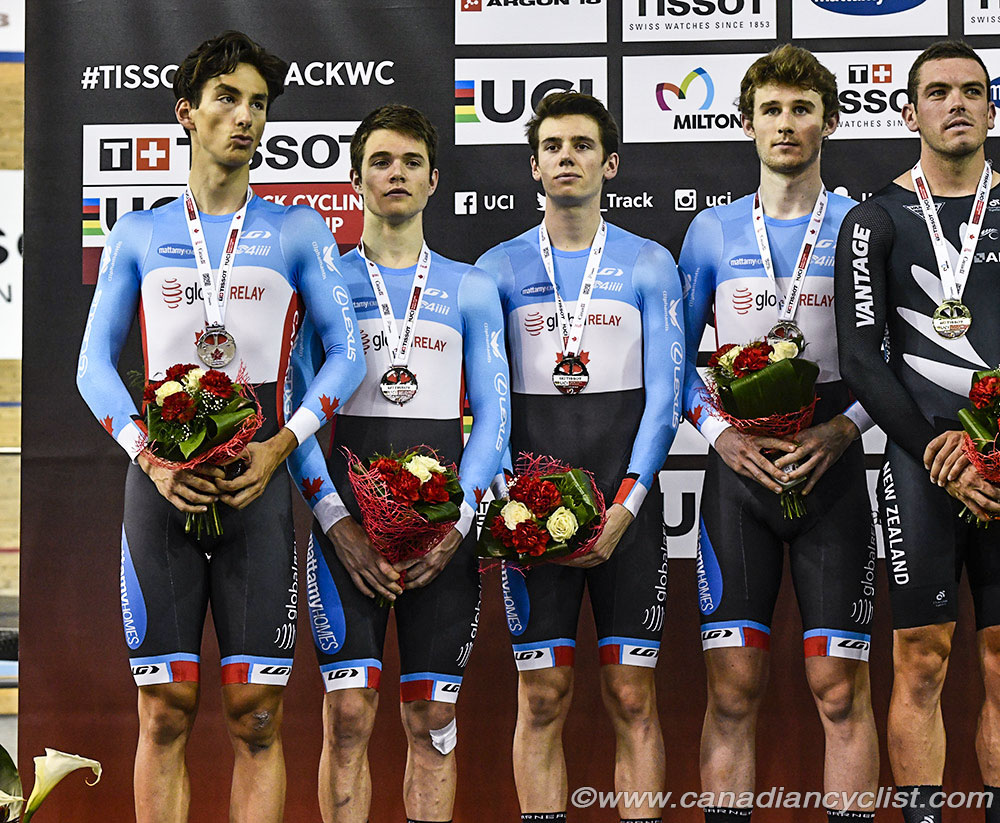 2017 Milton Track World Cup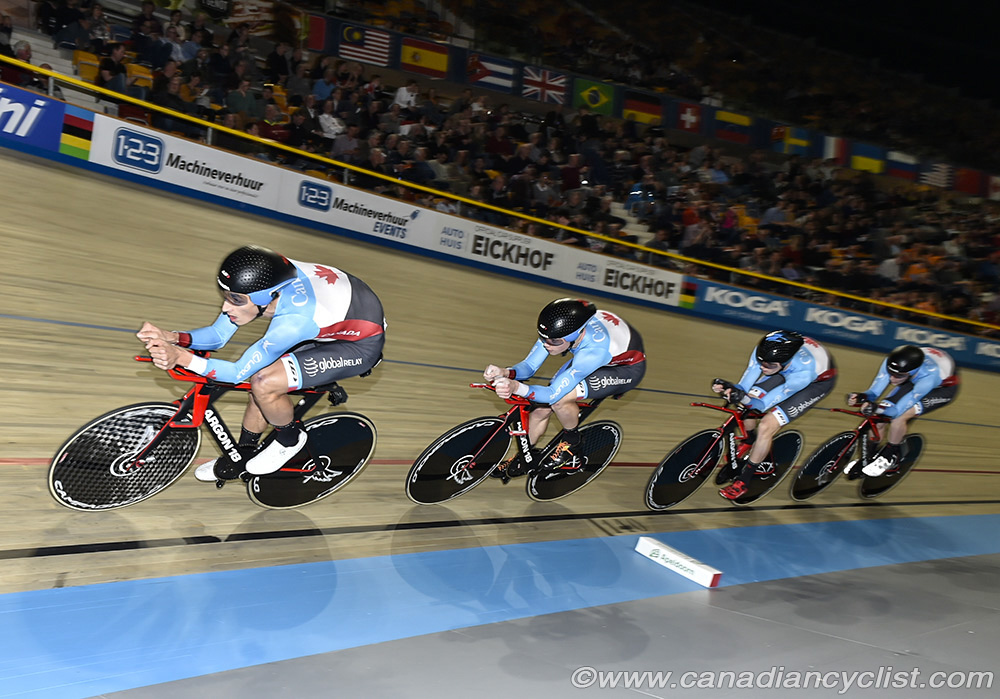 2018 Track Worlds

Adam doesn't consider himself a track rider who does some road or vice-versa: "I'm a bike racer. I wouldn't put a title on it; I love my time road racing and I've had some good luck there, but I've stepped over more to the track right now, I've put my whole heart into it and committed to it fully. My goal is 2020, so at the moment I'm a track racer. But I'm going to be racing on the road with Silber this year and I definitely still have some big goals on the road."

After winning a silver medal in the Team Pursuit at the World Cup last December on their home track in Milton, the team had a breakthrough ride at the 2018 Track World Championships, cracking the top-8 to move to the second round of racing, which he believes bodes well for the Commonwealth Games.

"Definitely we are confident going into the Team Pursuit after top-8 at Worlds. I think maybe Track Worlds wasn't ideal and there are spots where we can lift ourselves. We've been focussing on that and the program as a whole, I think it's heading in a great direction.

Now, the focus is the Commonwealth Games and, beyond that, the 2020 Olympics in Tokyo.

"Commonwealth Games is our last big event before the Olympic qualification period begins. Of course, we hold ourselves to really high standards and have high expectations, but the pressure doesn't really start to settle in until Olympic qualifications start, because that's everybody's big goal."