March 27/18 13:24 pm - Commonwealth Games Profile - Patrice St-Louis Pivin

Posted by Editoress on 03/27/18

Patrice St-Louis Pivin will attend his first Commonwealth Games at Gold Coast as a member of the sprint squad that will race on the track. This will be his first major Games. The 26 year old St-Louis Pivin is from Sherbrooke, Quebec.

Patrice has had a very quick transition to cycling, and to the national team.

"About two and a half years ago I met Yannick Morin [former national team rider] and he introduced me to cycling. Before that I did Crossfit and Bobsleigh. I didn't really like bobsleigh, so I wanted to try a different sport, and I tried cycling and fell in love with it when I rode in Bromont [velodrome]. That's was it, I fell in love with cycling and decided to commit to it."

"At that time I had a full time job, but I met Hugo [Barrette] and we tried riding together; it was one week after he won a silver medal in Hong Kong [World Cup, in 2016]. I didn't know at all what track cycling was, I didn't even know who Chris Hoy was! [laughs]. It happened really fast; I'm going to celebrate two years of cycling at the Commonwealth Games."

By the end of 2016 he had already been identified as an athlete with promise, and was chosen through the RBC Training Ground to receive additional assistance such as funding, resources, coaching and/or mentorship through the COF [Canadian Olympic Foundation] and RBC.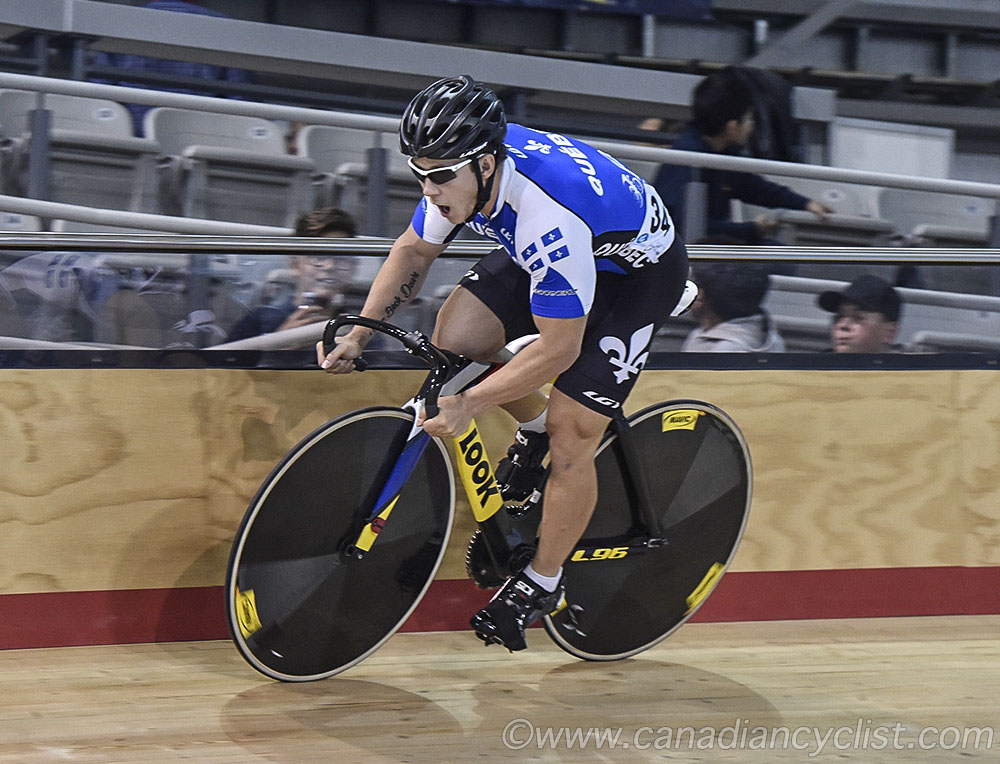 2016 Track Nationals in Milton
His first international competition was at the Pan Am Track Championships in October of 2016, when the Team Sprint squad won a bronze medal. In 2017, he did his first World Cup in Cali, Colombia, where the Team Sprint squad finished ninth. From there, he went to the Worlds in Hong Kong, where the Canadian team was 15th in the Team Sprint. The Canadian squad did not qualify for the 2017-18 World Cup season or the 2018 Worlds, after missing much of the early World Cup season due to an injury to team mate Stefan Ritter.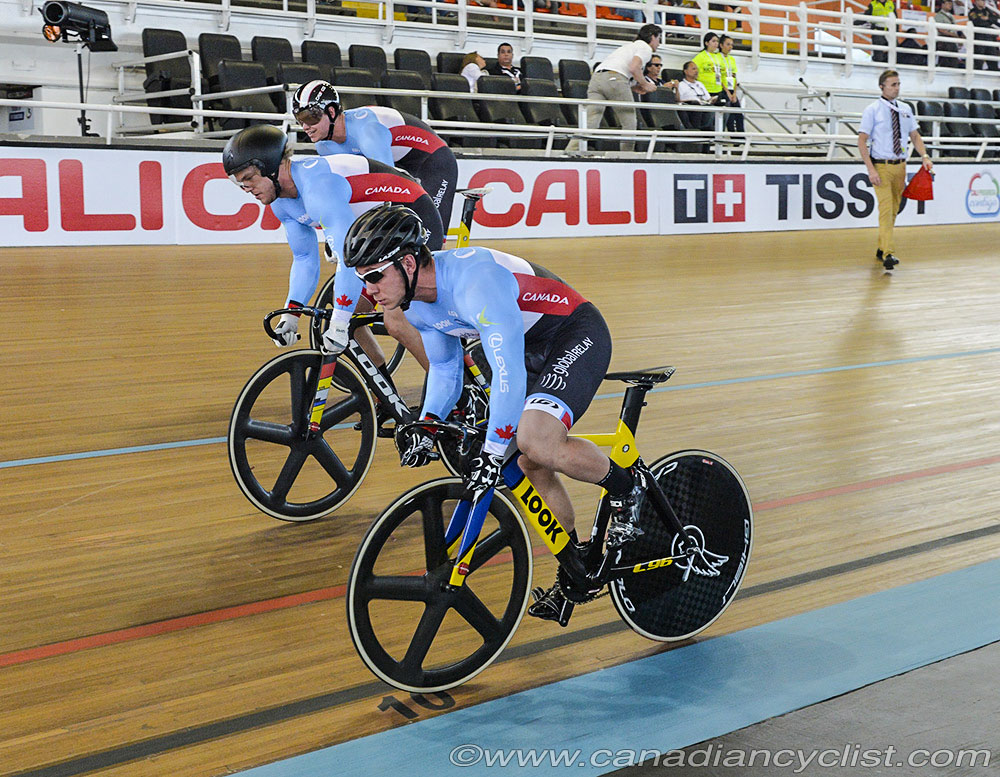 Track World Cup Cali Colombia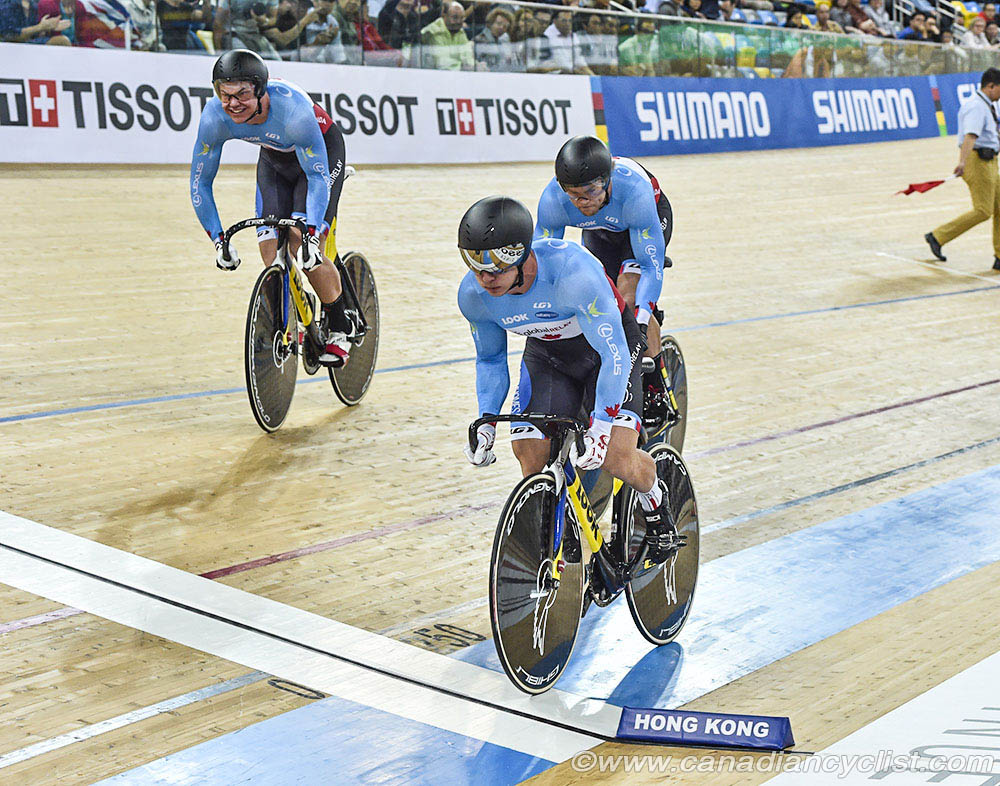 Track World Championships, Hong Kong

At the national championships, Pivin already has national titles in the Team Sprint for 2016 and 2017, plus a bronze in the Sprint (2016) and bronze in the Keirin (2017)

"It's really good to have a full program of athletes who can push each other; Hugo and Stefan [Ritter] are both very fast, but when they push each other they are way faster, and it's like that for everybody."

"In Brisbane I will do Sprint, Keirin and Team Sprint. I started with the Team Sprint; I'm strong and I have a lot of power, and it's easier to transfer this at the beginning to the Team Sprint. I have a lot to still learn in the Sprint and Keirin. Sprint is my favourite for sure. I'm a guy with lots of acceleration; I don't have a lot of endurance, so the Keirin is not as good for me."