April 14/18 8:56 am - Foreman-Mackey 17th in Commonwealth Games Road Race

Posted by Editoress on 04/14/18

Cycling at the Commonwealth Games concluded on Saturday with the road races for women and men, at Currumbin Beach, south of Gold Coast. Annie Foreman-Mackey was the top Canadian finisher for the day, in 17th place in the women's 112.2 kilometre competition.

The women rode six laps of the 18.7 kilometre circuit around Currumbin Beach. The course featured two climbs per lap and gusty wind discouraged breakaways.

Canada had five starters, with Foreman-Mackey joined by Allison Beveridge, Ariane Bonhomme, Kinley Gibson and Steph Roorda. Gibson and Bonhomme were among the one-third of the field that did not finish; victims of the high pace of racing.

Foreman-Mackey stayed with the lead group until it split with a lap remaining, and came in fourth in the second group, finishing one minute and 14 seconds behind the leaders. Roorda finished 25th and Beveridge 29th. Chloe Hosking won for the host nation in a sprint finish ahead of Georgia Williams of New Zealand and Danielle Rowe of Wales.

"It was a pretty tough day out there for everyone," admitted Foreman-Mackey. "We came to the Games with a focus on the track, so this was longer than what we've been training for. It's the first road race of the season for me, so it's always a bit of a tough one. It was Australia's race to lose and they performed very well. I was yo-yoing a bit off the [lead] group on the climbs, but I just tried to not give up."

Kimberley Ashton of Jersey was the only rider to attempt a break, gaining approximately a minute and a half before the Australian led peloton reeled her in after two laps at the front.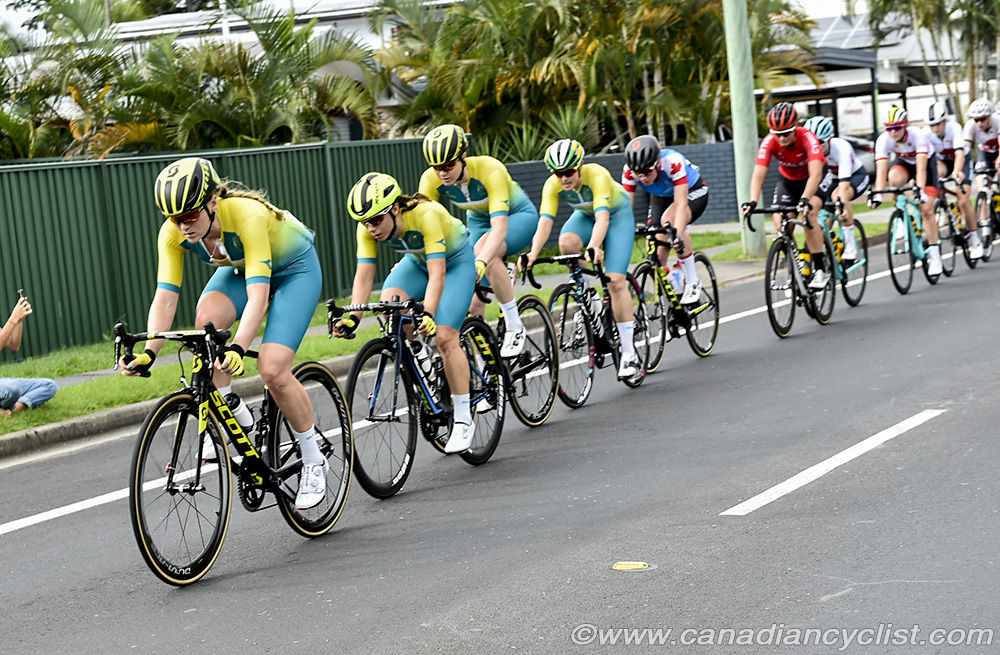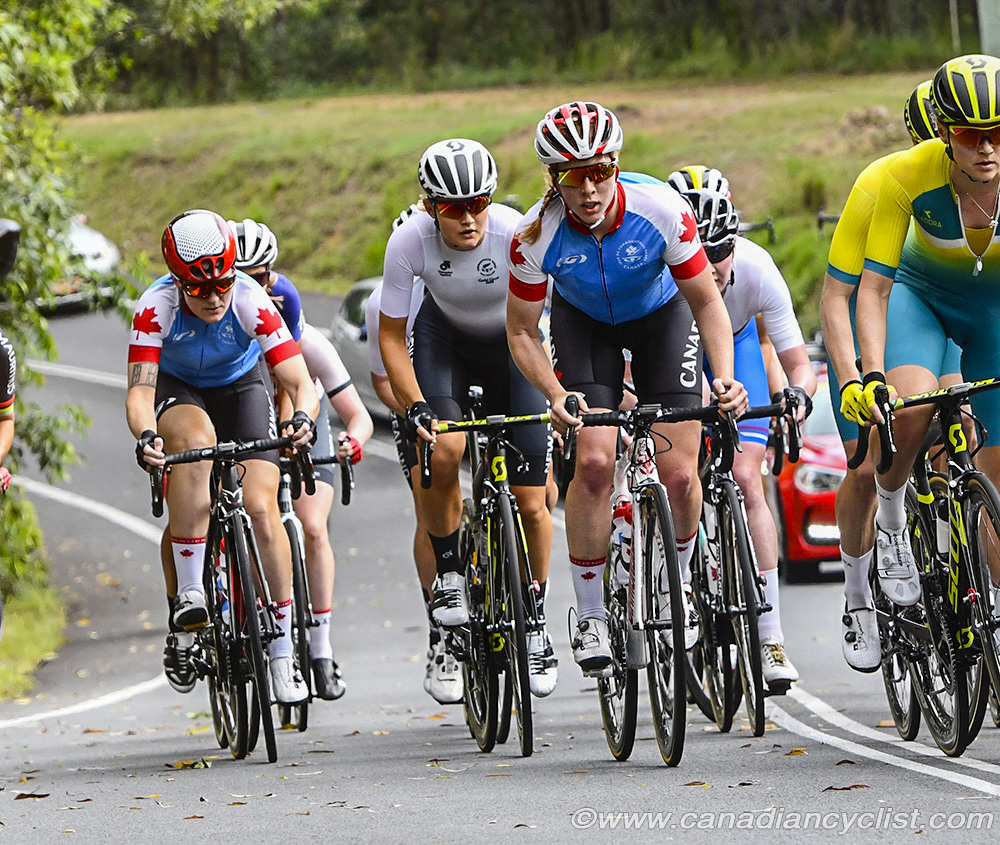 Allison Beveridge and Steph Roorda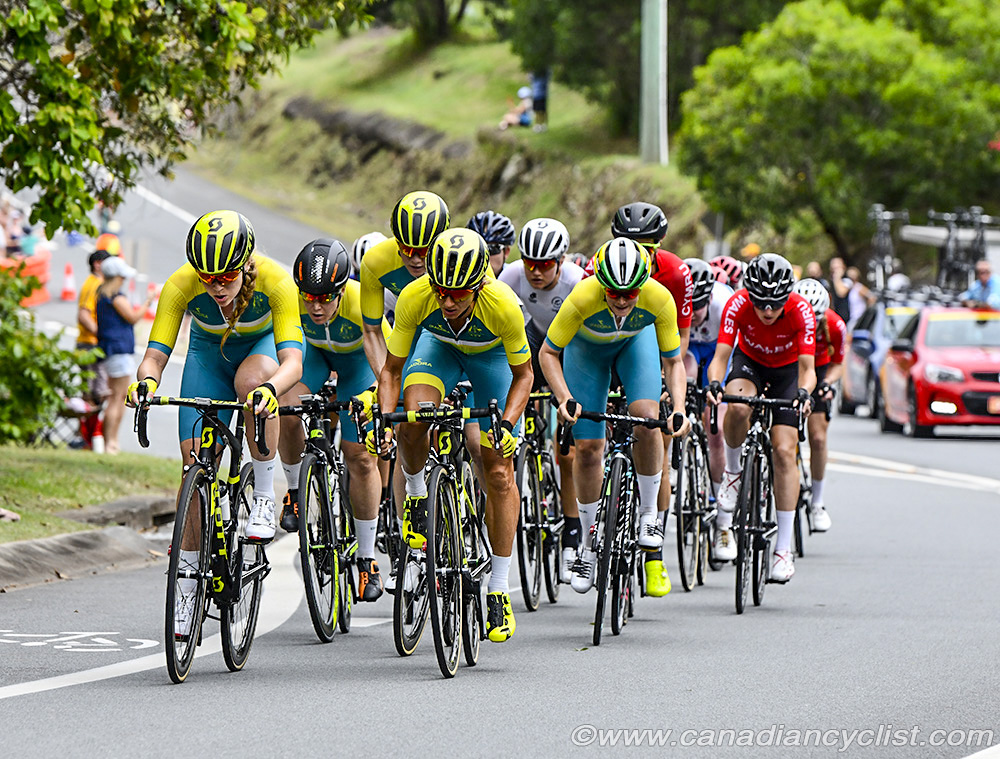 Australians set a high tempo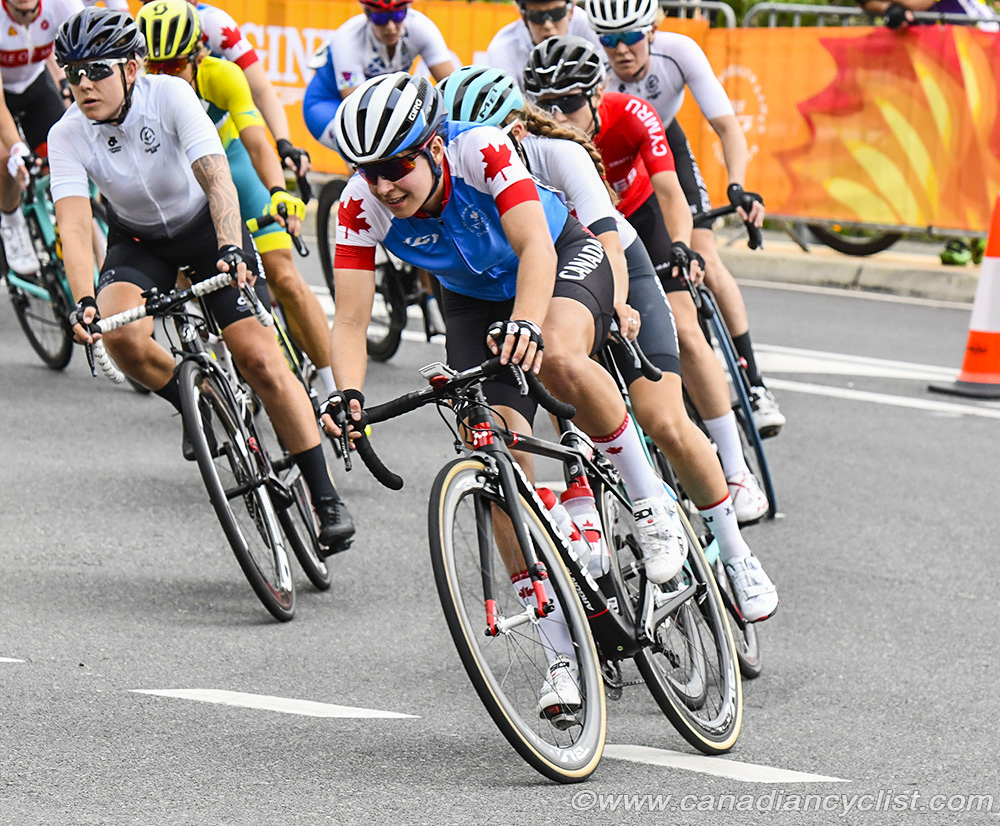 Annie Foreman-Mackey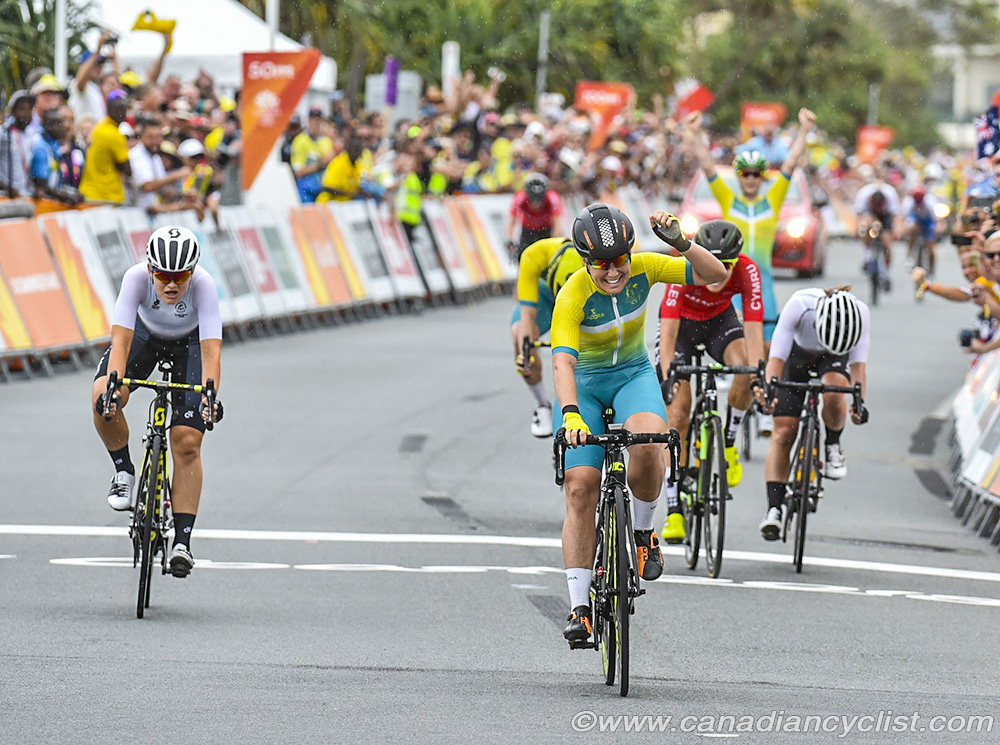 Chloe Hosking wins
From that point on, it was a race of attrition, with the field whittled down on each climb as the Australians set a high tempo. By the final lap it was down to 13 riders at the front, including four Australians, three New Zealanders, two each from England and Wales, and one each from Scotland and Cyprus.

Hosking came up the right side from 150 metres out after a leadout from team mate Tiffany Cromwell, with Williams on her wheel, and Rowe to her left, win by a bike length.

"It was just pure relief," said Hosking. "It's so special to have won on home soil. I wish all six of the girls could have 'Commonwealth Games winner' on their CV. I really couldn't have won without them. Lots of people say road cycling at the Commonwealth Games is not a big deal, but you know what? I'm Commonwealth champion and it's a big fucking deal."

The men's nine lap, 168.3 kilometre race, began with immediate attacks, which split the field. Michael Foley was the only Canadian rider to survive the attacks and finish the race, ending up 48th in his first international road race. Less than half the field finished the race. Steele von Hoffe made it a double win for Australia, taking the sprint ahead of Jonathan Mould of Wales and Clint Hendricks of South Africa.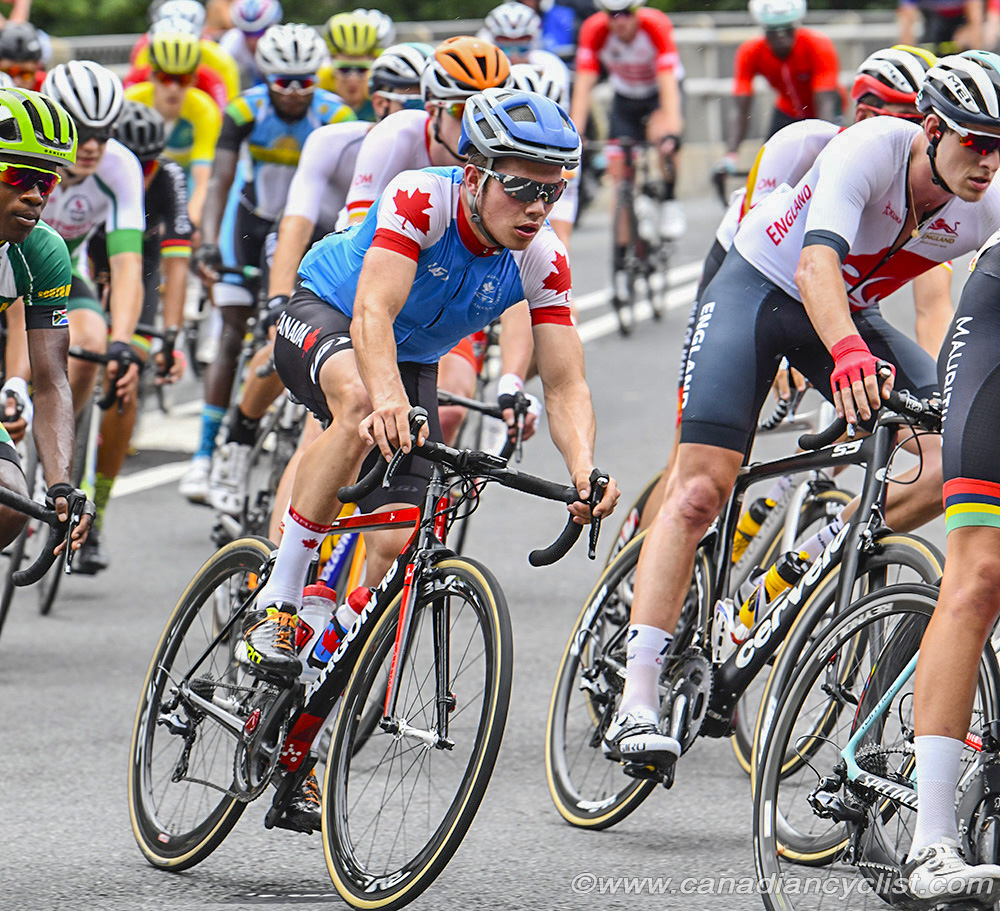 Michael Foley
"I was dropped on the fourth lap," said Foley, "and I just kept racing; there's no point in sitting up. I kept racing and luckily it let up a bit [at the front] and I was able to get back to the front group. It was hard but not too hard, so I was able to stay with them until the second last lap on the hill when I got cramps in both legs and I had to let them go. I caught them at the bottom, but by the second climb I was cooked. So at that point I was just willing myself to finish."

"I just stayed to stay near the front, and every time we got to a descent I just got on the wheel of a good rider, and I was pretty lucky and didn't have any issues. It was nice to finish, but because I finished, I think I could have done a lot better if I had the road training in my legs. It was a really good experience at the Games and now I'm even more motivated to keep pushing."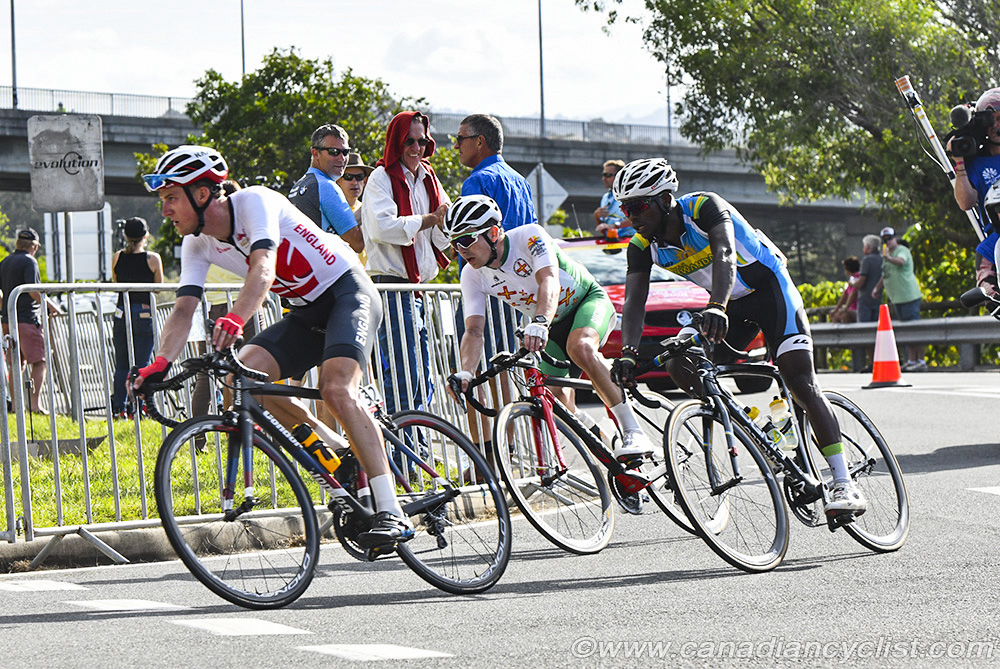 Luke Rowe of Wales, who came to the Games straight from Paris-Roubaix, was the first to attack on the opening lap, but was quickly brought back. A subsequent attack by Thomas Stewart (England) with James McLaughlin (Guernsey) and Joseph Areruya (Rwanda) did get away, followed by a chase group of six. The leaders managed to stretch their lead to nearly four minutes by Lap 6, with the chasers slowly closing in on them. However, the Australian and New Zealand teams decided this was far enough, and began reeling them in, eventually catching the final two riders - Stewart and McLaughlin - on the last lap.

Jack Bauer (New Zealand) tried an attack, but was quickly brought back, setting the stage for a sprint finish. Shane Archbold (New Zealand) started the sprint from a long way out into a head wind, with von Hoff on the wheel of team mate Cameron Meyer, the time trial winner earlier in the Games. Von Hoff came by on the left, taking the lead in the final 100 metres to win by a bike length.

Remarkably, von Hoff broke six vertebrae in a racing crash in Melbourne in February, but refused to give up his dream for the Gold Coast 2018 Commonwealth Games.
Steele von Hoff wins
"Six days after the crash I started training again on a recumbent," he said. "I just wanted to get my legs spinning. "And then I thought, 'I have seven weeks until the Games so I'd better start training'."

"I don't think I've absorbed it yet, but I will later on tonight. It wasn't looking good [in the last lap], it was me and Cam and the entire New Zealand team. I thought we couldn't do it but we just had to hang in tough, and it just so happened to be that we pulled it off."

Kris Westwood, Team Manager for Cycling at the Games, summarized the Canadian cycling performances for the Games, which included three bronze medals: "Overall, I would have to say that these were a pretty successful Games for us, in terms of the objectives we came in with. We were really trying to test our systems around jetlag and heat management, but also see if we could push our track athletes through an extra month after the end of the regular track season. They were running on fumes, but delivered some pretty good results."

"We also had a couple of great revelations - Lauriane Genest with her fourth place in the women's sprint; she really turned a lot of heads here. And then Haley Smith finishing on the podium in the women's mountain bike was a fantastic result to see; a real validation of her career pathway. She's been steadily moving up the ranks, and we had flagged her as a potential Games medalist."

"The timing of these Games is a little awkward for our athletes; it's a difficult time of year to be ready for, so I think they did a good job in preparing without compromising the major objectives they have later in the season."

"For the road events we didn't really have any targets; we were just going to see how the athletes would do. And it was important for athletes like Michael Foley - guys who are going to be part of our program for a long time - to get that Games experience under their belt. So now we can start focussing and planning for Tokyo 2020."