May 19/18 12:06 pm - Fincham 21st in Under-23 World Cup XCO

Posted by Editoress on 05/19/18

Canadian national champion Sean Fincham was the top Canadian on Saturday in the Under-23 men's race at Round 2 of the UCI Mountain Bike World Cup in Albstadt, Germany. Fincham, riding for the national team, rode up through the field to finish 21st after starting on the fifth row of the starting grid.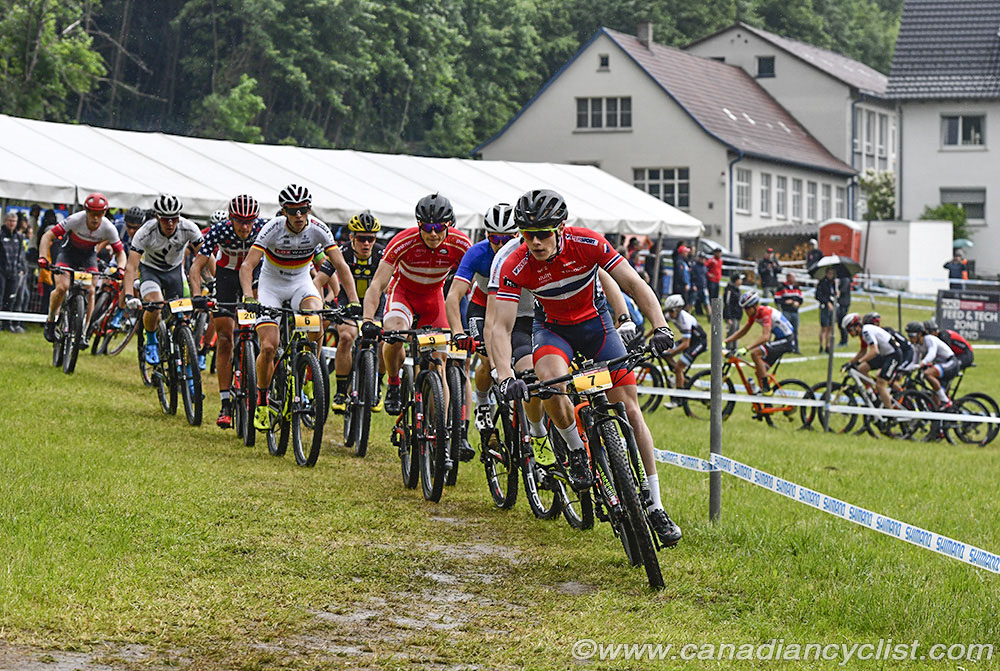 The start was very wet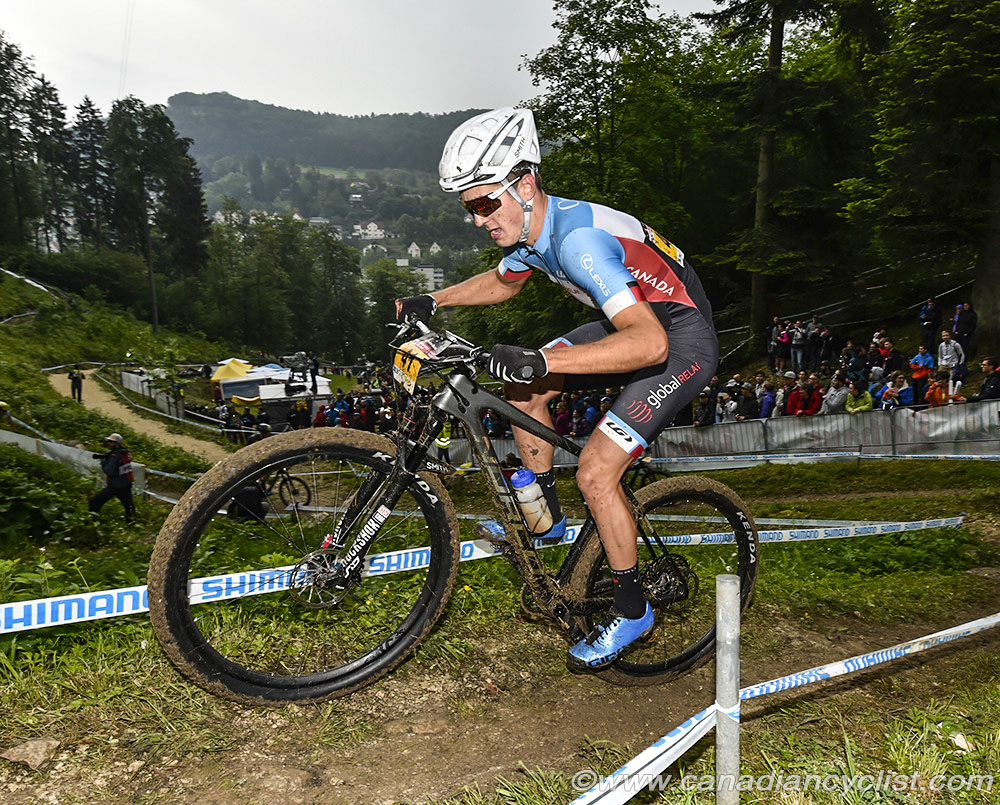 Sean Fincham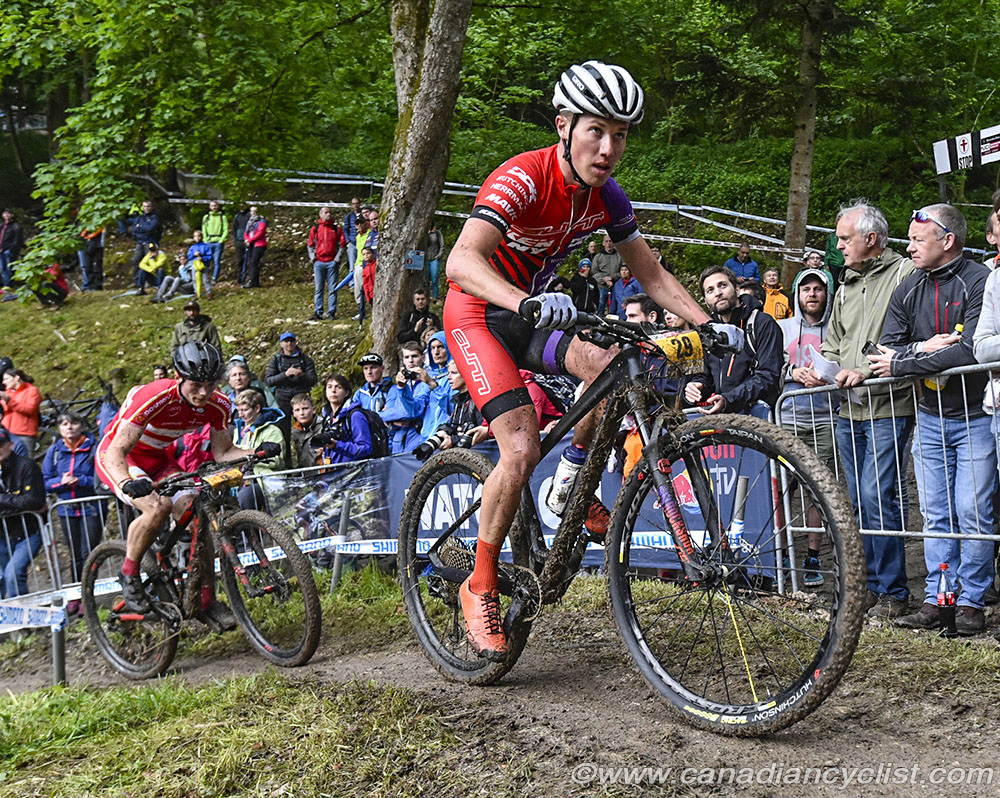 Joshua Dubau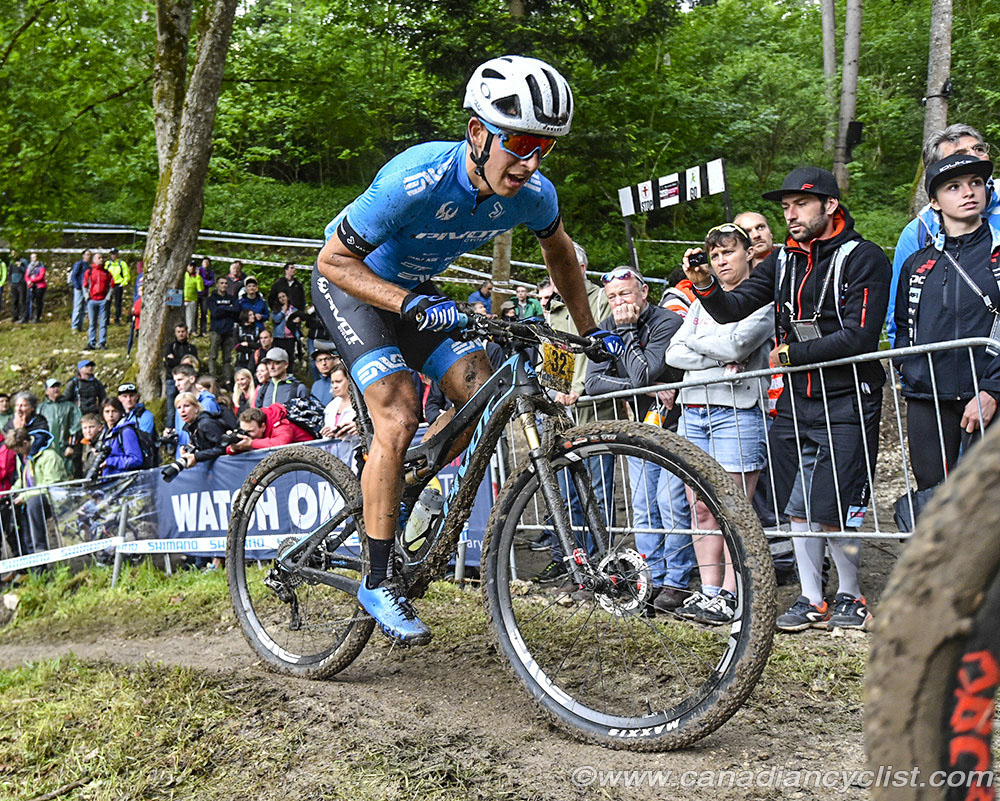 Marc Andre Fortier
On and off rain through the week has made the steep and technical circuit muddy and slippery, with rain starting up again just before the race began. Round 1 winner Petter Fagerhaug of Norway led out of the start loop, but then fell back as others surged to the front, led by Joshua Dubau of France.

Dubau was initially joined by countryman Antoine Philipp (Veloroc BMC) and Jonas Lindberg of Denmark, but rode them off his wheel by the second lap to win by 41 seconds, with Philipp taking second and Lindberg third. Fagerhaug recovered to finish fourth and retain the overall leader's jersey.

Fincham came out of the start loop in 44th place, but then had two very strong laps to move into the top-20. He continued to advance over the next two laps, moving as high as 16th, before fading slightly in the last lap.

"The start was really hectic, with a couple of crashes, and I don't think I moved up at all." said Fincham. "I started picking people off once we got into the laps and just worked on moving up on the climbs. The last two laps I started to struggle a bit, and the last lap I was barely holding on. I'm pretty stoked; I knew this was possible, and I feel i can do better once I get some points [and move up on the start grid]."



Marc Andre Fortier (Pivot-OTE) also had a strong race, finishing 24th, followed by his team mate Raphael Auclair in 30th and Quinton Disera (Norco Factory) in 31st.

In other Canadian results, Gunnar Holmgren (Canadian National) rode up through the field from 120th on the start line to finish 63rd, with Felix Belhumeur (Pivot-OTE) 76th and Brody Sanderson 114th.

Fincham has moved into 30th (from 41st) after Albstadt, so should have a better start spot for Nove Mesto, next weekend. Fortier is 36th in the rankings, followed by Disera in 37th.