August 10/18 10:16 am - Silber to Lose Title Sponsor at End of Season

Posted by Editoress on 08/10/18

Scott McFarlane, General Manager of the UCI Continental men's road team Silber Pro Cycling, announced this week that long time team benefactor Arthur Silber will cease sponsoring the team that bears his name at the end of this season. The team is in the process of looking for a new sponsor. Scott posted a tribute to Arthur Silber for his support over the years:

Arthur Silber recently informed members of Silber Pro Cycling's management that he would cease sponsoring the team at the end of 2018. My first reaction - and it was overwhelming - was to thank him for his magnificent generosity. For those who don't know, in 2012 Arthur sponsored our club team, Medique p/b Silber Investments. In 2014 that team took out a Continental license from the UCI and Arthur became the title sponsor of what has since been called Silber Pro Cycling. He has been the title sponsor of the team for the last five years.

I wanted to thank Arthur personally because he's a good friend and I want people to understand the broader impact of his generosity. After the demise of Spidertech in 2012, Canada sent only one rider to the U23 World Championships over the following two years. In 2015 Canada qualified to send four U23 riders to Worlds, three of those selected were from Silber and all four now race for Professional Continental teams. It was largely Silber Pro Cycling's success at UCI races that garnered the points required to qualify more riders for Worlds.

Here's another way to say the same thing: Arthur's sponsorship enabled our team to become the focal point of the country's development program that begins at the club level with provincial cycling bodies and is overseen by Cycling Canada. Our riders-mostly U23-represented Canada at the World Championships 18 times from 2014-2017. Silber riders have also provided Team Canada with KOM jerseys and animated the World Tour races in Montreal and Quebec each year. The point is that Arthur's generosity should be understood beyond being the title sponsor of one of Canada's most successful teams ever. Silber's success and the documentation of the daily lives of our riders raised the visibility of the adventure we call cycling across North America.
Silber's Ryan Roth, GPCQ KoM winner 2015
We are now poised to extend our impact. We're actively looking for a new title sponsor as we compete at the Tour of Utah before heading to the Colorado Classic. New and loyal support for the team is in place. We recently came to new agreements with a major industry partner and a university research program which are contingent on us being able to field the team in 2019. And we're excited about the direction of rebranding that is ongoing with potential title and presenting sponsors.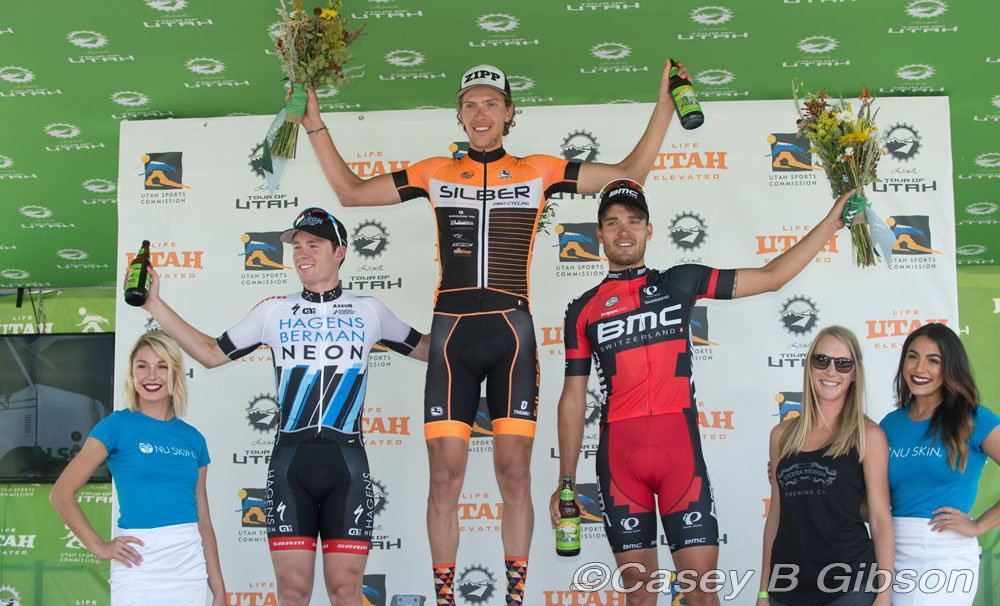 Kris Dahl atop the Tour of Utah podium in 2016
Today we raced stage 1 of the Tour of Utah. As I followed the race in the caravan, I was thinking of recent conversations I have had about branding with people working at the highest level of the sport and industry. In 2016, Silber's Kris Dahl won Stage 1 on the same finishing circuits in Cedar City. This year, the peloton was climbing 15% grades as it battled for 15 miles through Parowan Canyon toward the ski resort town of Brian Head. It was boiling hot in the thin air and some of our riders were really suffering as they worked their way through thin-treed forests scarred by past fires, floods and pests. Cycling is tough, but it's such an adventure, and it's what we do.

On behalf of Gord Fraser and all the riders and staff who have worked with the team, I want to thank Arthur for sharing his love of cycling. We wore his name over our hearts with pride. On behalf of our management team,including Michael Wolfe of Mandevco Properties and Harold Stotland of J. Hamelin Industries, I want to thank Arthur for sharing his commitment to the sport. But most of all, I want to thank Arthur for sharing both incredible cycling adventures with his many, many friends; and his passion for the sport with the country by giving bike racing a focal point: Silber Pro Cycling. The task now is for others to come forward and leave their marks on the sport.