August 12/18 19:03 pm - Batty Third at MSA World Cup

Posted by Editoress on 08/12/18

Canadian champion Emily Batty (Trek Factory) flew the Canadian colours at home on Sunday, with a third place finish in the Elite women's cross-country Mountain Bike World Cup in Mont-Ste-Anne, Quebec. It was Batty's fourth podium in six races, and moved her up from eighth to fourth in the standings with one race remaining in the series.
"I love racing here," said Batty. "The energy from the Canadian fans is so empowering. I didn't have a good first lap, so it was just a matter of trying to get by as many people as I could; climbing the climbs as hard as I could, and not make mistakes in the singletrack. I was giving everything I could to catch Annika, but I just came up a little bit short. I'm really proud to get Canada in the top three spots."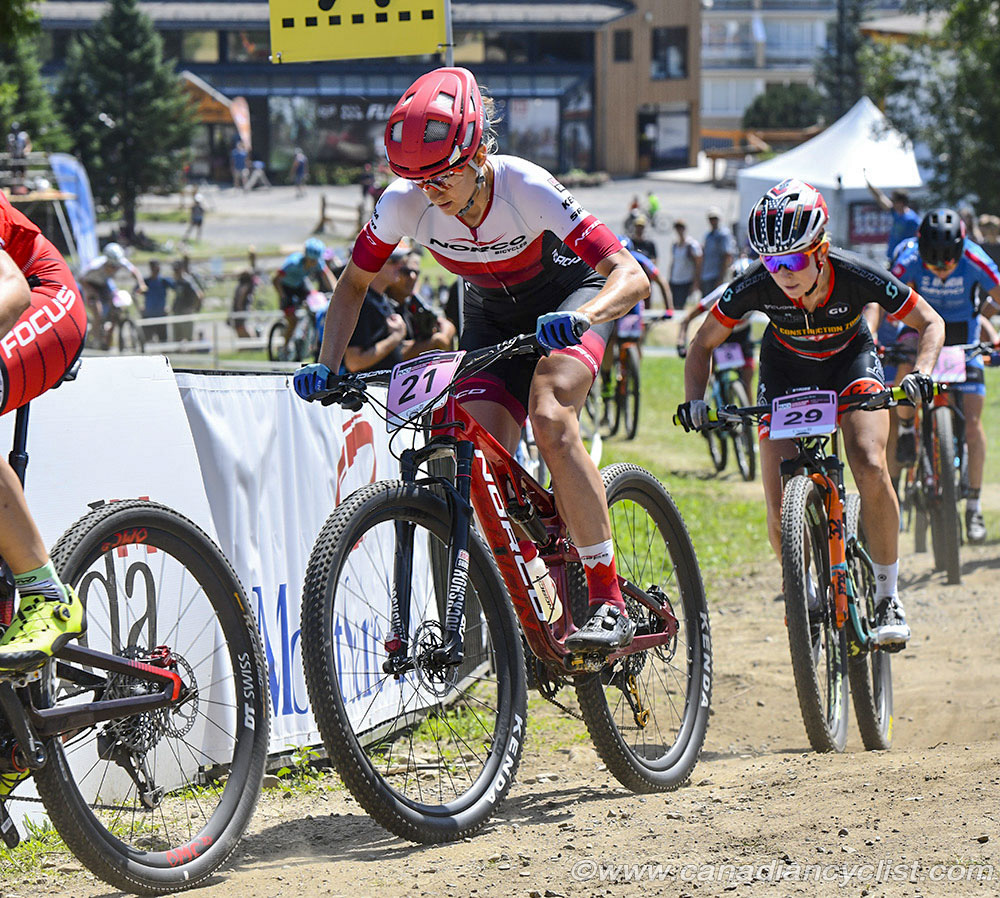 Haley Smith
Batty was joined in the top-10 by Haley Smith (Norco Factory), who finished eighth, her best finish ever at a World Cup, in what is proving to be a breakthrough season. Four-time Mont-Ste-Anne winner Catharine Pendrel (Clif Pro Team) was 16th in her first race back from suffering a broken arm in June.





In other Canadian results, Canadian Under-23 men's champion Sean Fincham (Forward Racing Norco) finished tenth in the Under-23 men's race, while Raphael Gagne (Silverback OMX) was the top Canadian in the Elite men, finishing 25th.

Mont-Ste-Anne is a classic venue, with riders facing roots, rocks, steep climbs, rough descents and, in this edition, punishing heat. It has been around since the start of the World Cup in 1991, and is considered one of the most prestigious to win. After a one kilometre start loop, riders raced five laps (U23 women), six laps (U23 men and Elite women) or seven laps (Elite men) of the 4.1 kilometre circuit.

Elite Women

World champion Jolanda Neff (Kross Racing) took her second World Cup win of the season with a dominating performance. With her win, Neff solidified her lead in the overall standings with one race remaining.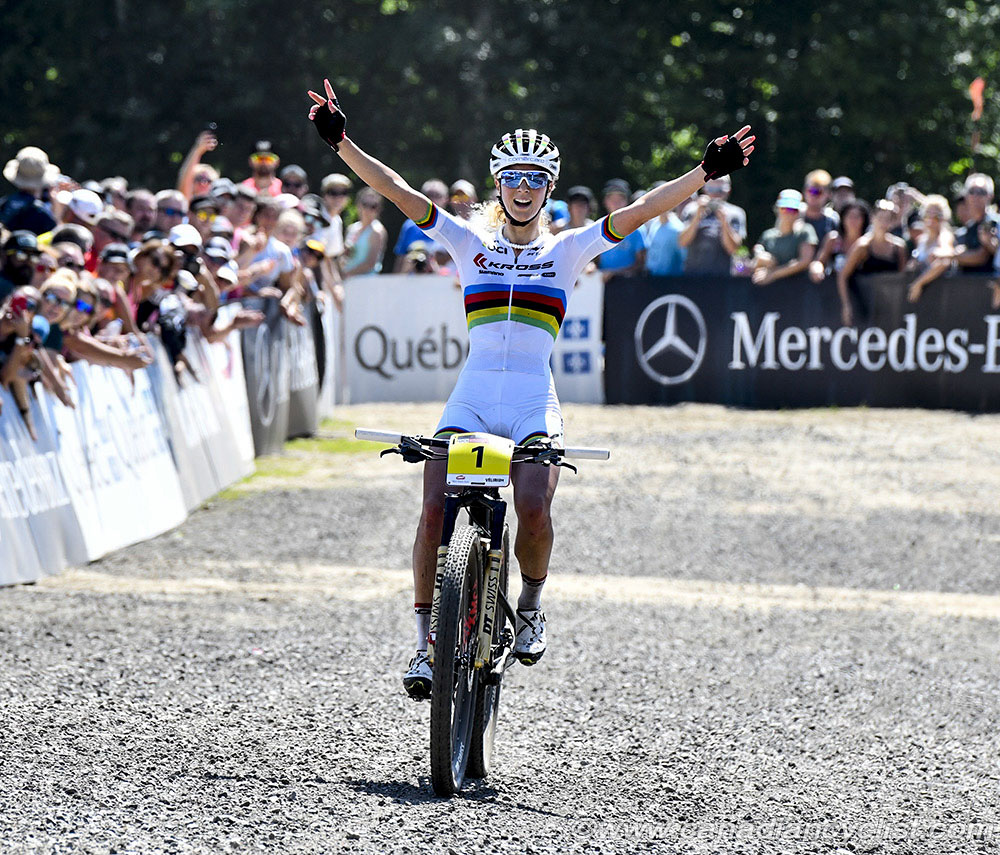 Jolanda Neff
Neff took an early lead and never looked back, increasing her time gap every lap and setting the fastest lap splits for every lap but one. It was her third win at Mont-Ste-Anne, tying her with Canada's Marie-Helene Premont, and one win behind Catharine Pendrel.

Behind Neff, Specialized team mates Annika Langvad and Kate Courtney rode together for the first three laps before Langvad dropped her American team mate. Batty caught and dropped Courtney on Lap 5, and the fading American champion eventually dropped to sixth. Batty was slowly reeling Langvad in, but ran out of laps.

"I've been dreaming of this win for a long time," said Neff. "This is my 11th [World Cup] win ... I was so close earlier this year in Nove Mesto, Val di Sole and Vallnord, and I've been working so hard for this. Today was so hard; in the third lap I felt like I was stunned because it was so hot. I had to keep telling myself to slow down because the heat was so extreme. The last three laps were just about managing my speed to keep a gap."

In the overall standings, Neff now has 1600 points, followed by Langvad at 1458. Maja Wloszczowska (Kross Racing) remains in third at 1077, but Batty jumps from eighth to fourth, only seven points behind Wloszczowska. Smith jumps from 20th to 17th and Pendrel, despite missing two rounds, is 21st.


Elite Men

The Elite men's race saw multiple lead changes, as leading contenders crashed or suffered mechanicals. In the end, it was Mathias Flueckiger (Thomus RN Racing) that prevailed, taking his first ever World Cup victory. World champion and World Cup leader Nino Schurter (Scott-SRAM) wrapped up the overall title with one race remaining in the Series, despite finishing seventh after breaking his chain while in the lead.

A large group of riders headed out from the start loop at the front, which was gradually whittled down over the first couple of laps to just Schurter and New Zealand champion Anton Cooper (Trek Factory). The pair rode together until Schurter broke his chain on Lap 4, leaving Cooper alone at the front. He was joined by Flueckiger, Gerhard Kerschbaumer (Torpado Gabogas) and Titouan Carod (BMC) by the end of the lap.

Kerschbaumer crashed on the sixth lap, and Carod lost contact, leaving just Cooper and Flueckiger at the front. Coming down the rocky Beatrice descent, Cooper crashed hard, losing his bike off the side of the hill and having to scramble down to retrieve it. Flueckiger safely navigated the final lap to take his first win, with Kerschbaumer recovering to finish just in front of Carod.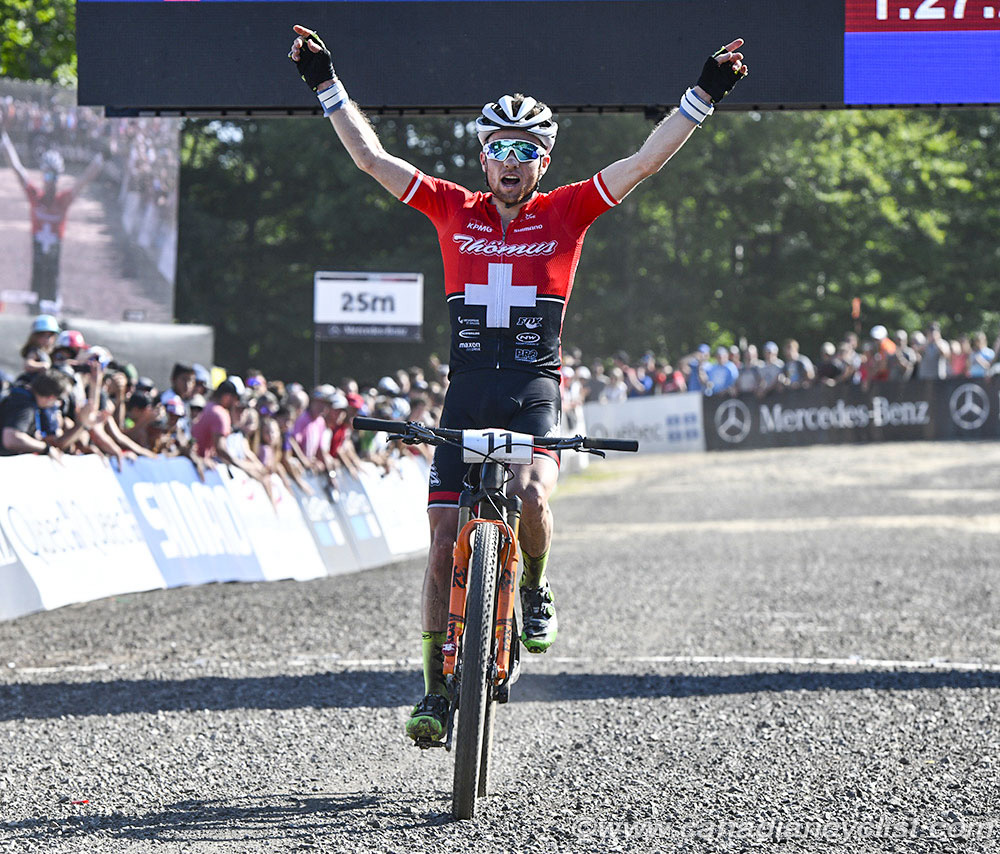 "I'm so happy to win, because I've had bad luck before at World Cups," said Flueckiger. "In my career I've had many podiums and been close many times, but today everything came together. I felt good on Friday after getting third in the short track, but it's a really hard track here and the other guys were strong. In 2010 I won the Under-23 world championship here, so this track is really special for me."

"It was super stressful from the beginning," admitted Schurter. "I had not the best start and it took some time to get to the front. When I was finally at the front I felt pretty good and then I broke my chain and my chances were over. But I'm happy with my performance, and that's racing."

In the overall standings, Schurter has an insurmountable lead with 1546 points, 466 more than second place Mathieu van der Poel (Corendon-Circus), who did not race at Mont-Ste-Anne. It is a record sixth World Cup title for Schurter.
Mont-Sainte-Anne World Cup: U23 XC results
Mont-Sainte-Anne World Cup: Elite Women XC results
Mont-Sainte-Anne World Cup: Elite Men XC results