September 20/18 12:14 pm - Rochette wins RenoCross, Van den Ham 4th

Posted by Editoress on 09/20/18

Elite women and men raced under the lights on the 2-km course of RenoCross in Reno, Nevada. The second C1 contest of the season, the inaugural RenoCross coincided with the venue and dates for Interbike, the largest U.S. bicycle industry trade show. Held at Rancho San Rafael Regional Park, the course featured heavy grass, barriers, a banked turn, a flyover and a sandpit.

The top points in the Category 1 races for the USA Cycling Professional Cyclocross Calendar (ProCX) went to a few familiar faces and many new faces on the podium at RenoCross. Maghalie Rochette (CXFever p/b Specialized) led from start to finish to claim her third ProCX victory. 2017 U23 ProCX champion Lance Haidet (Donnelly Sports) sprinted to the line ahead of Jamey Driscoll (Pivot Maxxis p/b Stans DNA Cycling) for the Elite Men's trophy.

Women's Elite C1 Race
Rochette took the holeshot for the Elite Women and quickly established a gap to her competitors after a bobble by Katerina Nash (CLIF Pro Team) at the start. Rochette put her head down and rode flawlessly to victory.

Rochette had not planned to lead from start to finish. "I know Katerina really, really well and I know she's a fighter, I know she's strong and I know that she's one of the best riders in the world. I was expecting a really tough battle against her, and I knew that I had to bring my A game if I wanted to have a chance against her," she said. "I think something happened to her at the start and that's how I got away."

Nash tripped on the barrier right after the start. "So that was not only very embarrassing because it was right in front of everybody but definitely not a good start to a race. I went way back and I had to work my way up. I think I tried a little too hard and just had to settle in a manageable pace," she said. Nash made her way through the field and was chasing solo after one lap, but saw her gap to Rochette grow each lap.

Behind, Sofia Gomez Villafane (Pivot/Maxxis pb Stans/DNA Cycling), Crystal Anthony (LIV Cycling) and Samantha Runnels (Squid Squad) organized into a chase group to try to reel Nash back. Inside of three laps to go, Clara Honsinger (Portland, Ore./Team S&M Pro CX) made her way into the chase group. That was the impetus for Gomez Villafane to attack.

"I think when we made it into four, I wanted to split it, and then I just wanted to go a little bit faster, see if we could catch Katerina, the race had just started and I didn't want to settle already for third," said Gomez Villafane. "I ended just just riding off the front. I rode my own race, pedaled my little butt out on the flats and got to recover on the turns."

With two laps to go, Rochette had a 44-second lead of Nash with Gomez Villafane in third, closing in on Nash. Anthony, Honsinger and Runnels were together further back.

Rochette would claim the win at RenoCross in a time of 44:30. Nash would finish one minute and three seconds back in second place. Gomez Villafane grabbed her first ProCX podium on 2018 in third place. Honsinger outsprinted Anthony to take fourth.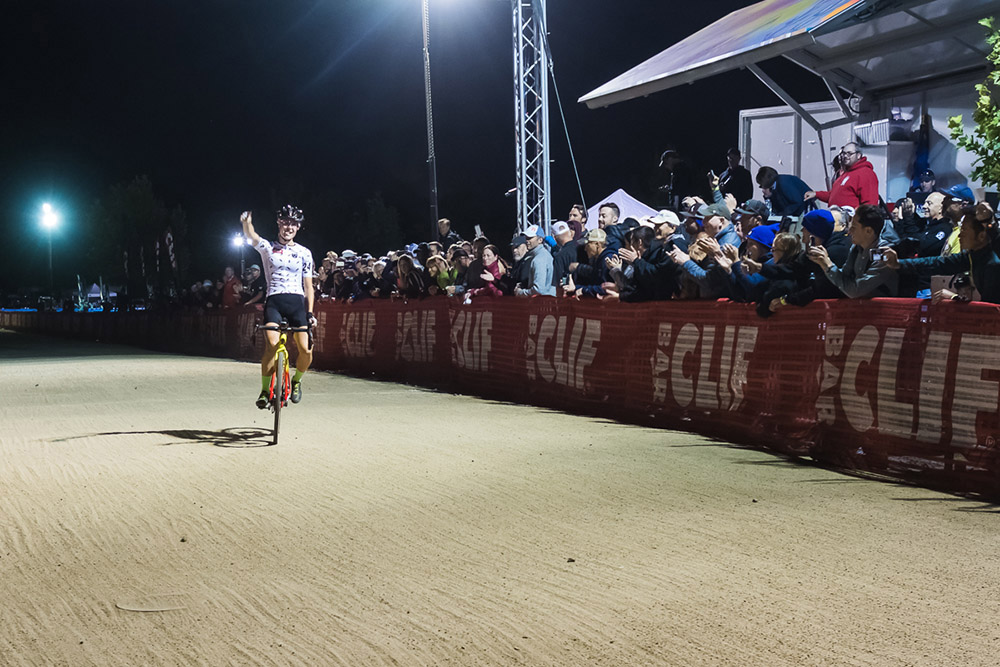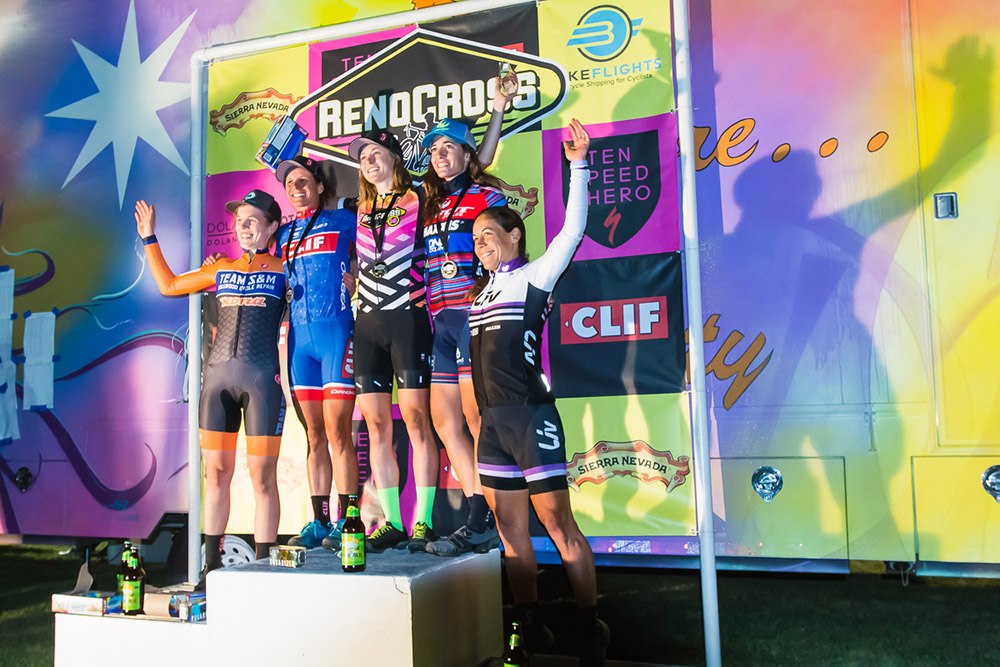 Rochette said that her third win gave her confidence for the rest of the cyclocross season. "I'm happy about the start of my season and it helps me to know that my training is on the right path. I'm happy about it, I'm excited."

Nash, who resides in Truckee, Calif., only 32-miles from Reno was happy to race at home. "There are tons of spectators, it had a really good feel to it. This is my cycling community, I've done everything, little events, big events, everything around here. It always fun to see a successful event. I think these guys did a really job and I had a lot of friends out here," she said.

Men's Elite C1 Race
The dynamics of the Elite Men's race were completely different to close out the day. A lead group of ten riders which included Haidet, Driscoll, 2017 ProCX champion Tobin Ortenblad (Donkey Label Racing) and Cody Kaiser (LangeTwins / Specialized) who claimed the holeshot, established itself in the first lap. The front group also included Bjorn Selander (Donkey Label / Bingham Built), Troy Wells (TEAM CLIF BAR Cycling), Geoff Kabush (Yeti Maxxis Shimano), Stephan Davoust (Giant Bicycles), Michael van den Ham (Garneau-Easton Cycling), Anthony Clark (Squid Squad) and Allen Krughoff (Chocolove Specialized).

Almost each rider took a turn at the front, stringing out the group but only forcing a re-shuffling for the first six laps of the nine-lap race. The conditions and the altitude at over 4800 feet played a part in the dynamics of the race.

Driscoll explained, "It reminded me of doing any big altitude mountain bike race, you're going around at 80 percent speed but everyone is still pinned. It's kind of weird, it's happening in slow motion almost. The attacks were less vicious."

"All day, it would get strung out when guys would go hard on the front, and then the slow grass and the headwind would just neutralize it. It was sort of a yo-yo all day. When everyone would swarm, it would definitely get stressful, the fight for position was pretty gnarly sometimes. There were a couple of rubbing of wheels, and I think a couple of guys went down which is a bummer. Definitely had to pay attention all day, " said Haidet.

With three laps to go, Krughoff and Clark went down in a crash.

"Bjorn was moving up and as he passing Allen, I think it was just a weird dynamic, dark and light, riding shadows and basically they tangled bars," Driscoll explained. "Allen went down, right smack in front of me so I went from second wheel to eighth so definitely took a bit to get back up to the lead group."

With one lap to go, the front group was down to six riders and Driscoll made his move. "I knew that if people were fading off - it's always exciting to have that and have less people to fight for the win," he said. "I took the lead a little early but I didn't start going full gas until maybe after the barriers, because I figured that people were less poppy, and if I was suffering, everyone else was also. Lance was the only one to stick to my wheel, he was in good position to have the legs and lungs to do it."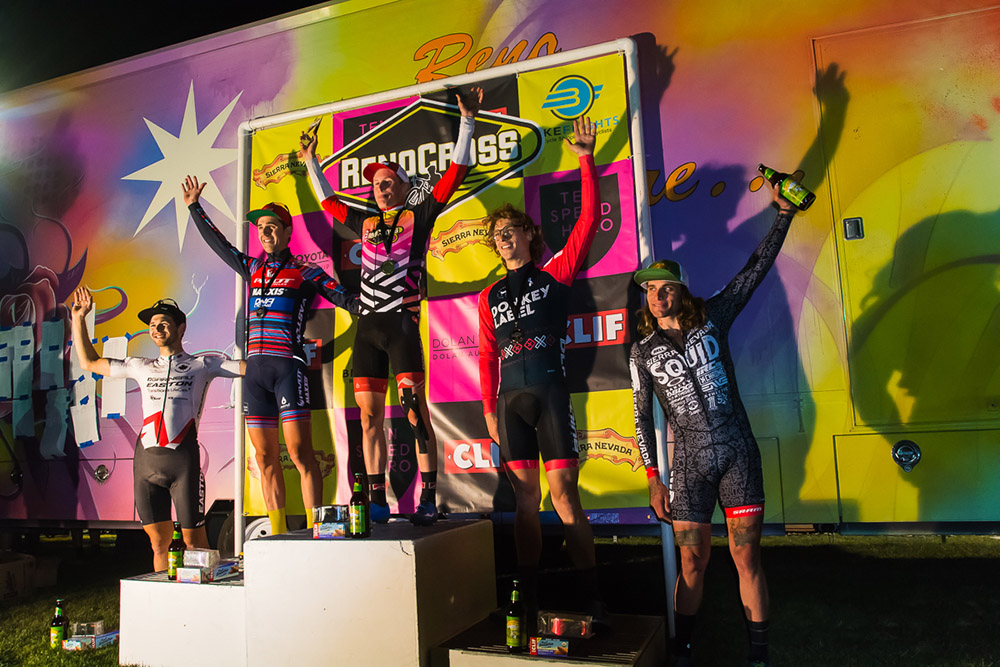 Haidet added, "When it came to it, Jamey and I got a little gap, and I knew that I was riding the last section of the course pretty well, gave it from there to the finish and had just enough. It was good."

"First 'Cross win of the year. First C1 win ever. It feels awesome, I'm quite happy," said Haidet who would claim the win at RenoCross in a time of 1:00:35. Driscoll would finish two seconds behind in second place.

Selander, who had chased back onto the lead group after a crash on the first lap, had been maintaining his position and tried to stay with Driscoll and Haidet on the final lap. He commented, "Almost everyone kind of fell apart, Driscoll drilled it, and Lance also. Those guys were riding really strong. I almost made contact with them right before the finish on the backstretch, but when you're going full gap and altitude is little, not affecting me too much but it definitely affected a little bit. And then I just held on to the finish."

"I'm happy. I haven't podiumed for a long time. Stoked, really stoked," said Selander who took third, crossing the line four seconds from the winner. Van den Ham would take fourth and Clark, fifth.
Report by Lyne Lamoureux, Peloton Sports


Results