September 22/18 6:59 am - Garneau Announced as Jersey Provider for 2018/2019 PanAm Cyclo-Cross Championships

Posted by Editoress on 09/22/18

CykelHaus Race Promotions has announced that Garneau will be the Official Cycling Apparel Provider of the Pan American Cyclo-cross Championships for the 2018 and 2019 seasons.

This year marks the first time that Canada will host the championships, while introducing the first-ever Masters Pan-American Championships for racers aged 35 and above. CykelHaus and Silver Goose Cyclo-Cross Director, John Hauser commented: "It's a great way to draw racers of all ages to the event, whether Elite or Masters. The chance to win a Pan-Am jersey will make for exciting competition for all ages."

Garneau's design team updated the Pan-American Cycling Confederation (COPACI) design, bringing it forward to their long-sleeve Equipe jersey with a traditional white for the Elites and a new blue colourway for the Masters jerseys. Both jerseys are awarded to Championship winners, while a black colourway is introduced for retail merchandise.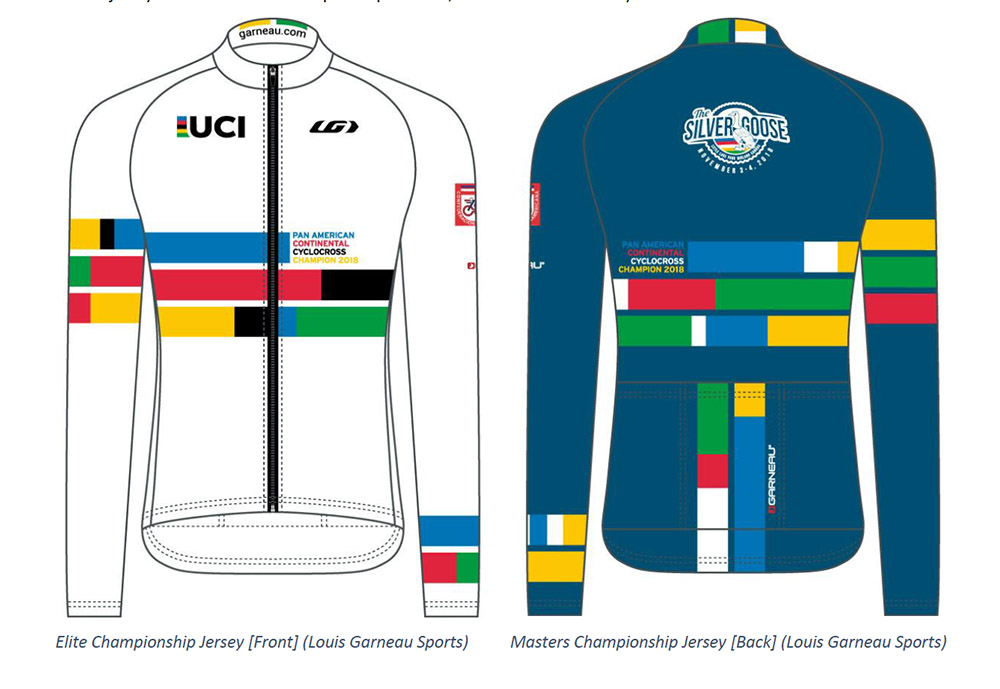 A selection of retail products including short and long-sleeved jerseys, bib-shorts, a cycling cap and the Pro Light Jacket and Cool Vest will be available on the Silver Goose registration site for pre-sale, as well as on-site during the event.

"At Garneau, cyclo-cross has always had a special place in our hearts. We are very proud to be part of this inaugural Pan-American cross event in Canada," says Michael Britten, Sales Director at Garneau.

The Pan-American Cyclo-Cross Championships are open to racers from the 44 nations of the Pan-American Cycling Confederation (COPACI) spanning the countries from the Arctic Circle to Tierra del Fuego. Chairman of the Pan-American Cyclo-Cross Commission, Brook Watts noted: "The announcement is further proof of the continued globalization of our sport as the Championships begin to draw interest and host bids from other nations."

Josh Peacock, Competition Coordinator for Cycling Canada, adds to the significance of this event coming to Canada, noting: "Cyclo-Cross continues to be one of our country's most sought-after racing disciplines. Welcoming the Pan-American Cyclo-Cross Championships to Canada will be a testament to the strong level of organization and competition that our country has become known for in recent years."

A full weekend of racing is scheduled, including the Silver Goose UCI C2 race and the Masters Pan-American Championships on Saturday. On Sunday, racing continues with the Elite Pan-American categories as well as other categories.

For complete event details, merchandise pre-sale ink, registration, technical guide, hotel info and sponsors, please see the event website - www.silvergoosecx.ca