September 24/18 8:23 am - Boilard Fifth in Junior Women's ITT at Road Worlds

Posted by Editoress on 09/24/18

Canada had a strong start to the Road World Championships in Innsbruck, Austria, on Monday, with Canadian national Junior women's champion Simone Boilard finishing fifth, 6.17 seconds out of the bronze medal. Canada's other entrant in the race, Magdeleine Vallieres Mill, did not fare as well, crashing early in the race, but finishing despite what turned out to be a broken thumb.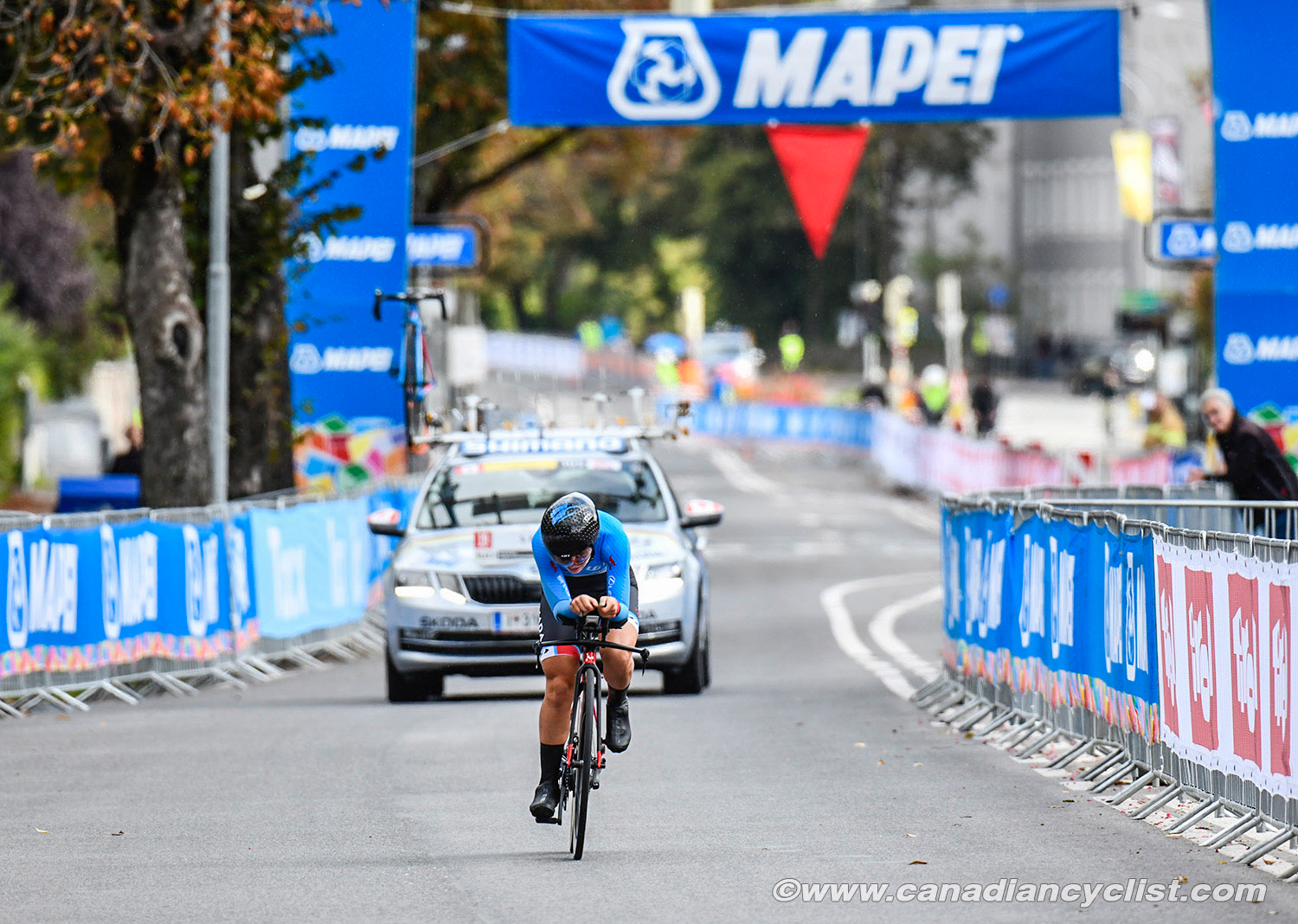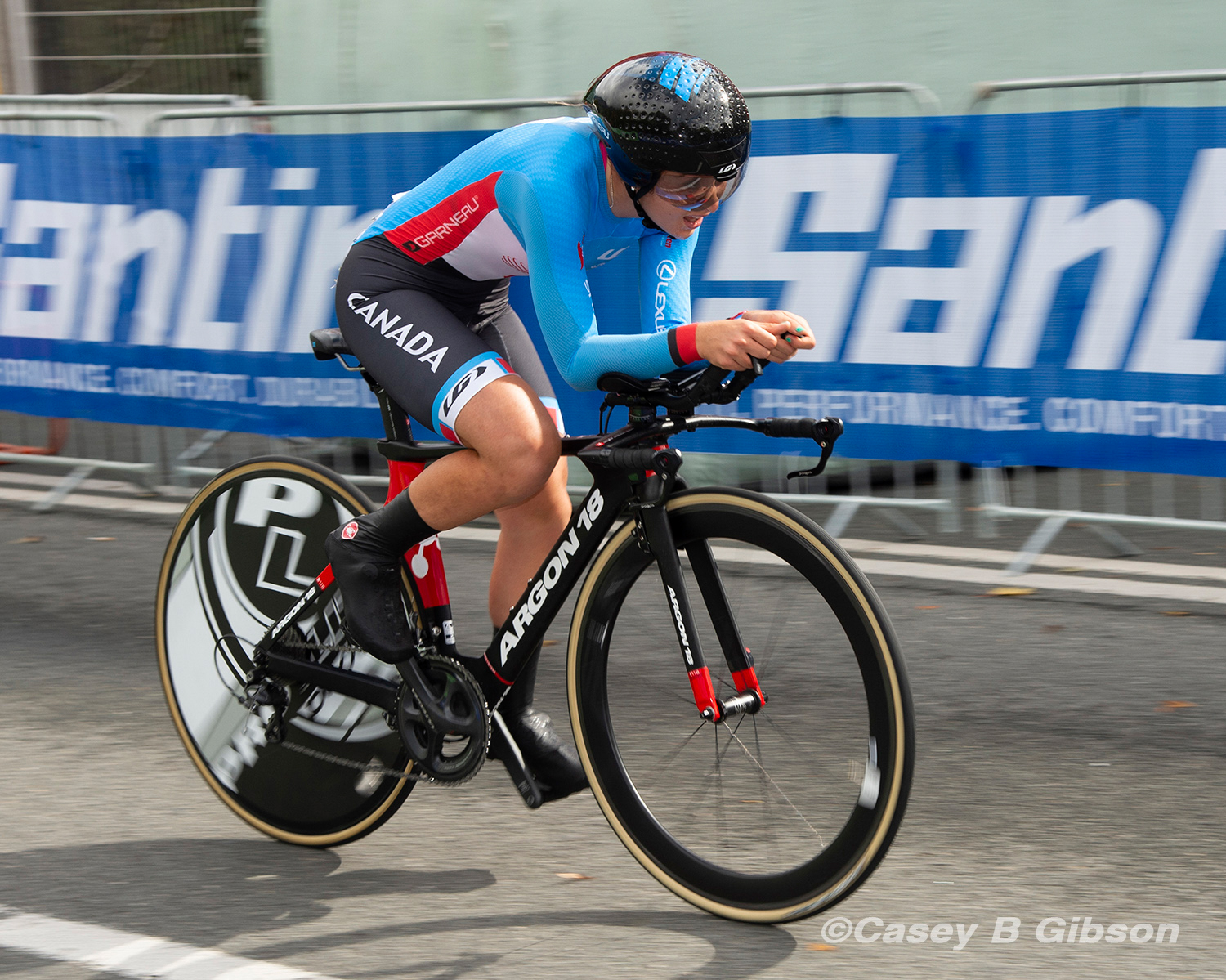 "Coming to Worlds I didn't know what to expect," said Boilard. "I didn't have a chance to compare myself to the other girls, so I really focussed on being on top of myself. Today I was feeling super good. I think I did too many technical mistakes and started way too slow, but I was able to finish really, really strong. So I'm happy with fifth place, but I'm sure I can do even better."

"There was a big tailwind today, and it was going stronger and stronger at the end of the course. I had to keep a very high cadence and it was hard to spin my legs that fast! I'm really confident now going into the road race, because I already know where I could have taken the seven seconds [to bronze] - I'm a little disappointed about those seven seconds - but I'm confident I can be a good contender for the next race."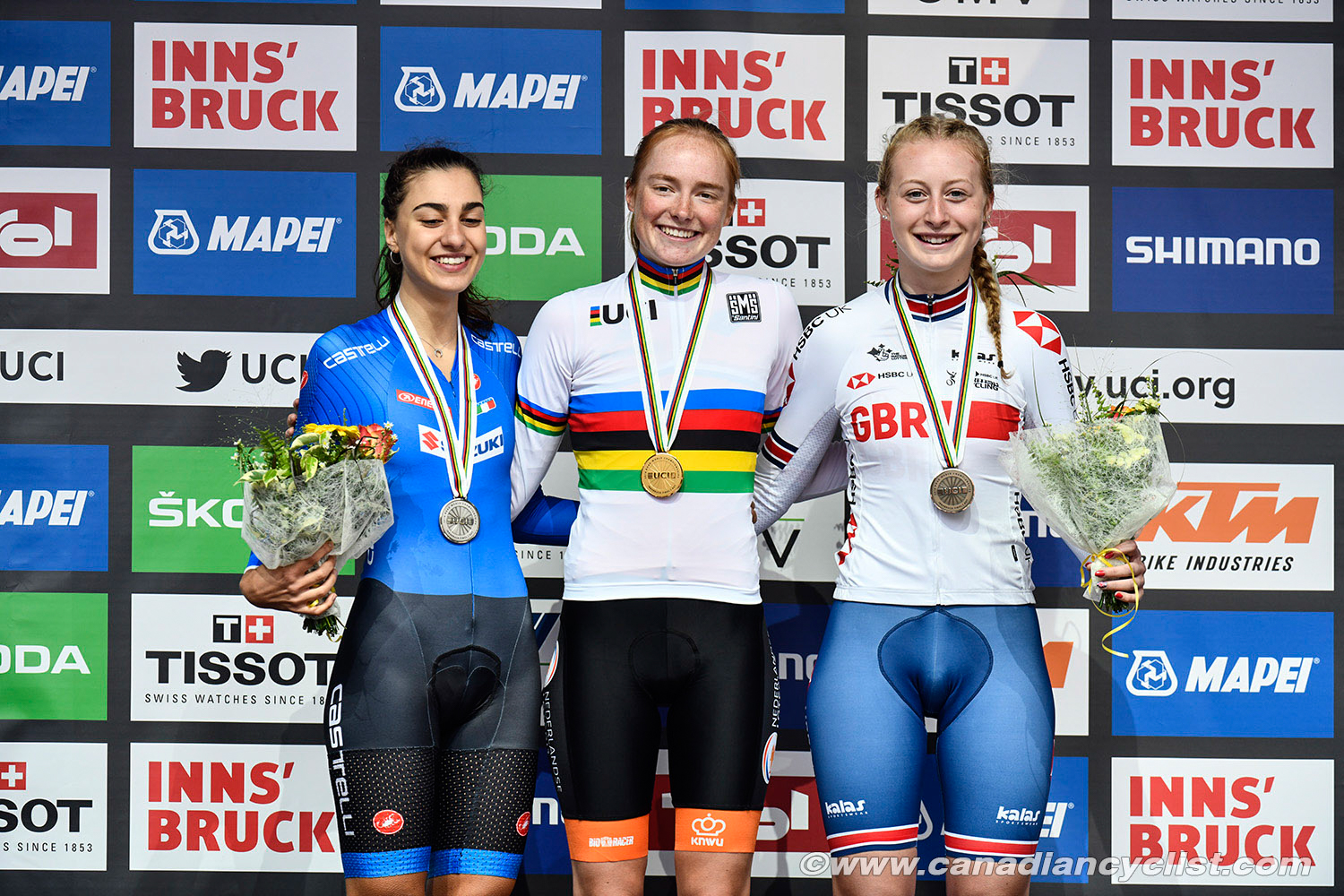 Podium: Camilla Alessio, Rozemarijn Ammerlaan, Elynor Backstedt
Dutch rider Rozemarijn Ammerlaan took the win ahead of Italy's Camilla Alessio at 7s and Britain's Elynor Backstedt at 18s.
In the Under-23 men's race, Nick Zukowsky was the top Canadian finisher, in 21st place, 1:20.33 behind winner Mikkel Bjerg of Denmark. Canadian time trial champion Adam Roberge finished in 40th place.
U23 Photo Gallery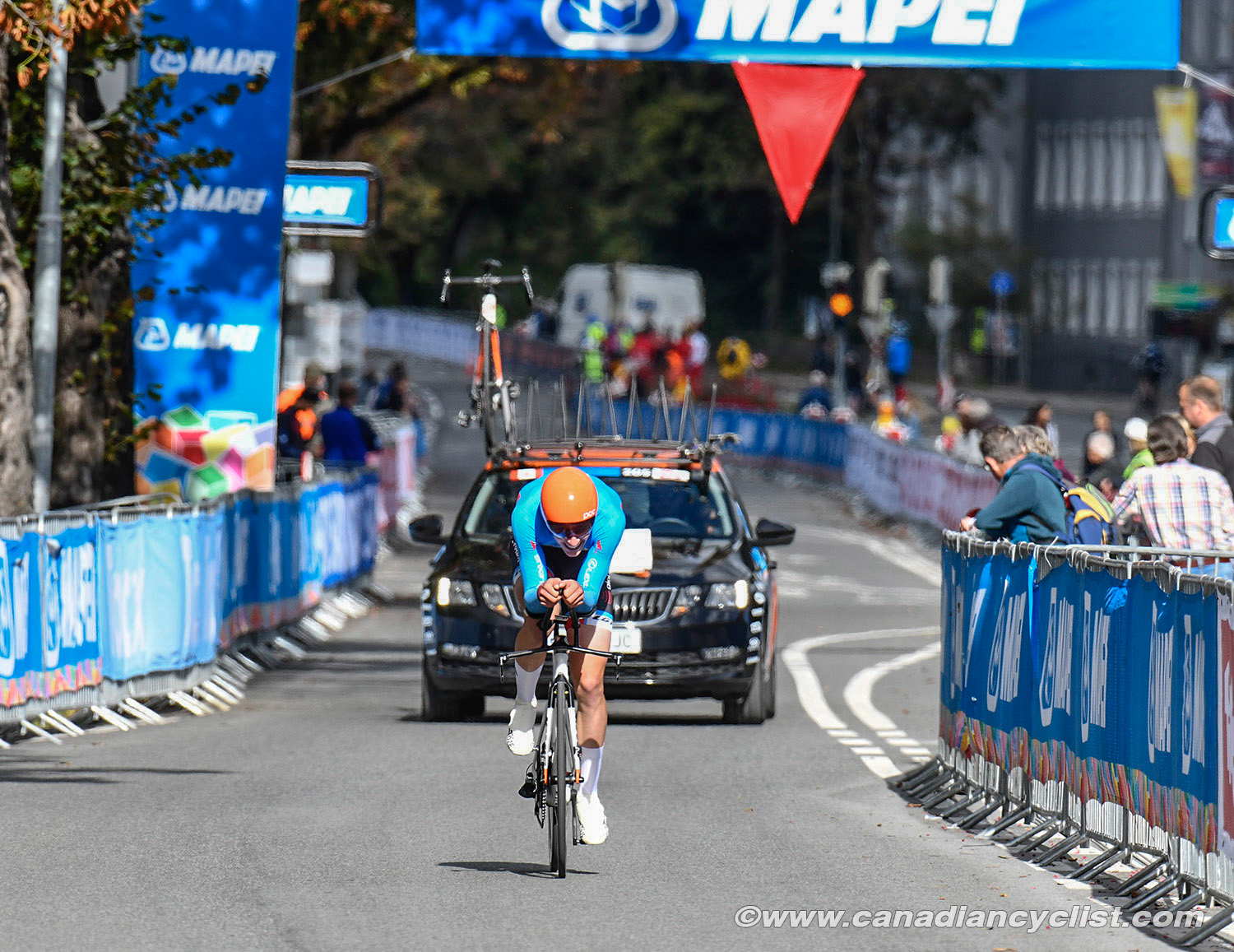 Nick Zukowsky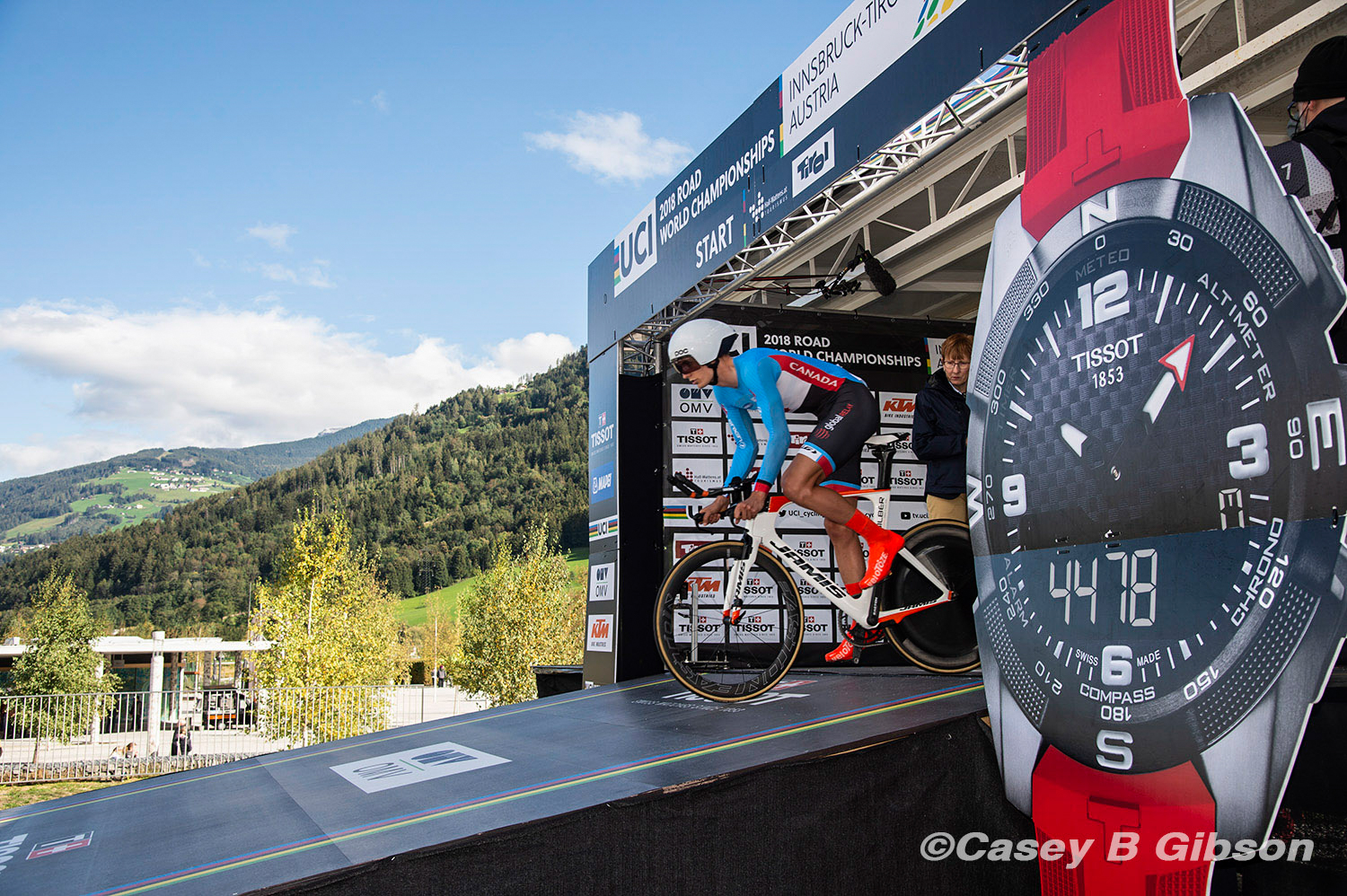 Adam Roberge starts



Results
| | | |
| --- | --- | --- |
| Junior Women, 19.8km | Time | Gap |
| 1 Rozemarijn Ammerlaan (Netherlands) | 27:02.95 | 0:00 |
| 2 Camilla Alessio (Italy) | 27:09.75 | 0:06.80 |
| 3 Elynor Backstedt (Great Britain) | 27:20.89 | 0:17.94 |
| 4 Georgi Pfeiffer (Great Britain) | 27:24.84 | 0:21.89 |
| 5 Simone Boilard (Canada) | 27:27.06 | 0:24.11 |
| 6 Vittoria Guazzini (Italy) | 27:27.59 | 0:24.64 |
| 7 Aigul Gareeva (Russia) | 27:27.61 | 0:24.66 |
| 8 Marie le Net (France) | 27:28.64 | 0:25.69 |
| 9 Marta Jaskulska (Poland) | 27:31.19 | 0:28.24 |
| 10 Hannah Ludwig (Germany) | 27:31.88 | 0:28.93 |
| 11 Britt Knaven (Netherlands) | 27:39.92 | 0:36.97 |
| 12 Olha Kulynych (Ukraine) | 27:52.30 | 0:49.35 |
| 13 Mie Saabye (Denmark) | 27:55.35 | 0:52.4 |
| 14 Catalina Anais Soto Campos (Chile) | 28:03.36 | 1:00.41 |
| 15 Sarah Gigante (Australia) | 28:07.45 | 1:04.50 |
| 16 Anya Louw (Australia) | 28:10.83 | 1:07.88 |
| 17 Jade Wiel (France) | 28:12.60 | 1:09.65 |
| 18 Shari Bossuyt (Belgium) | 28:13.37 | 1:10.42 |
| 19 Lara Gillespie (Ireland) | 28:15.41 | 1:12.46 |
| 20 Tetyana Yaschenko (Ukraine) | 28:24.17 | 1:21.22 |
| 21 Giorgia Bariani (Italy) | 28:24.73 | 1:21.78 |
| 22 Dorothea Heitzmann (Germany) | 28:27.69 | 1:24.74 |
| 23 Martine Gjos (Norway) | 28:31.23 | 1:28.28 |
| 24 Akvile Gedraityte (Lithuania) | 28:33.72 | 1:30.77 |
| 25 Abigail Youngwerth (USA) | 28:34.15 | 1:31.20 |
| 26 Alina Abramenko (Belarus) | 28:34.86 | 1:31.91 |
| 27 Svetlana Pachshenko (Kazakhstan) | 28:38.34 | 1:35.39 |
| 28 Desiet Tekeste (Eritrea) | 28:39.41 | 1:36.46 |
| 29 Marketa Hajkova (Czech Republic) | 28:49.87 | 1:46.92 |
| 30 Mette Egtoft Jensen (Denmark) | 28:54.09 | 1:51.14 |
| 31 Noemi Ruegg (Switzerland) | 29:00.66 | 1:57.71 |
| 32 Vita Movrin (Slovenia) | 29:12.13 | 2:09.18 |
| 33 Anastasiya Kolesava (Belarus) | 29:13.32 | 2:10.37 |
| 34 Anzhela Solovyeva (Kazakhstan) | 29:17.41 | 2:14.46 |
| 35 Silje Mathisen (Norway) | 29:24.91 | 2:21.96 |
| 36 Lina Svarinska (Latvia) | 29:28.15 | 2:25.20 |
| 37 Nika Jancic (Slovenia) | 29:34.19 | 2:31.24 |
| 38 Marina Kurnossova (Kazakhstan) | 29:47.11 | 2:44.16 |
| 39 Lorena de la Fuente Alcalde (Spain) | 29:47.96 | 2:45.01 |
| 40 Veronika Jandova (Czech Republic) | 29:50.25 | 2:47.30 |
| 41 Jasmine Soh (USA) | 29:54.35 | 2:51.40 |
| 42 Petra Machalkova (Slovakia) | 29:54.52 | 2:51.57 |
| 43 Ariana Gilabert Vilaplana (Spain) | 30:00.59 | 2:57.64 |
| 44 Radka Paulechova (Slovakia) | 30:07.49 | 3:04.54 |
| 45 Daniela Leitane (Latvia) | 30:09.63 | 3:06.68 |
| 46 Magdeleine Vallieres Mill (Canada) | 30:13.04 | 3:10.09 |
Road World Championships: U23 Men ITT results