September 28/18 14:00 pm - Katerberg Joins Team Sunweb Development Squad - REVISED

Posted by Editoress on 09/28/18

Team Sunweb are pleased to welcome Ben Katerberg (CAN), Edo Maas (NED) and Ludvig Anton Wacker (DEN) to their Development program for the upcoming two seasons. Nils Eekhoff (NED) sees his contract with the team extended for an additional two years.

18-year-old Ben Katerberg joins the team after racing on the Canadian and European scene over the past few years. He impressed with a double national title win at the junior Canadian championships this year as well as second places in the time trials at both the Tour de Gironde and Tour de L'Abitibi.

Katerberg said: "I'm really excited to join the team, take my development to the next level and really utilize the resources that the team has to offer, which are unreal. It is very exciting to become a part of such a high caliber team that emphasizes development. Team Sunweb's Development program is a unique opportunity that I am extremely grateful to be a part of in 2019 and I'm really looking forward to this new adventure."

Team Sunweb coach Sebastian Deckert said: "We are looking forward to adding Canada's powerhouse Ben Katerberg to our Development program. Ben used several races in Canada and Europe to show his potential as a bike rider and we believe that he will fit perfectly to our group of riders. He is thirsty to learn and grow, which is exactly what we are looking for when adding riders to our Development program. It will be a big step for him to race and live in Europe but we believe that Ben is ready for this challenge and the team will support him in every way."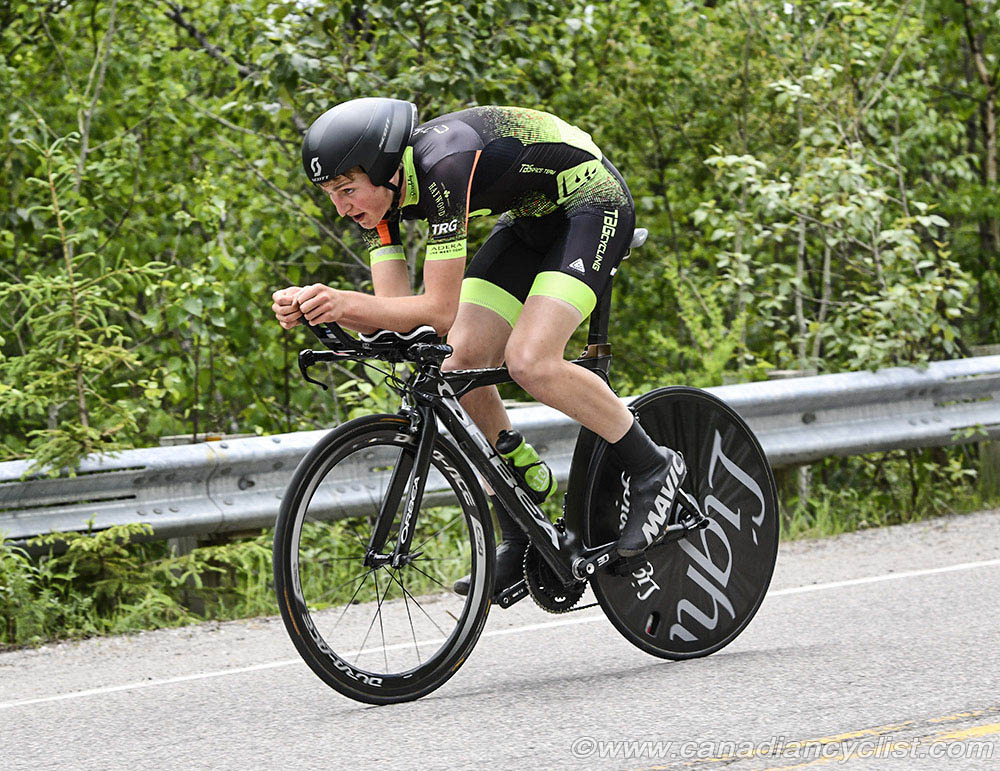 We spoke with Ben here at the Worlds about his signing:

How did you come to the attention of a WorldTour team? "I think it was partially my experience in Europe this Spring, putting myself on the map there, and then after a good Nationals [he won both the TT and RR], they were impressed with my results. I really, really excited that they want to put some resources into me and see where my development goes in the next few years."

Do you have an idea what you program will be with the team? "I think I'll learn a lot more in the next week or so at the team days. So I'm looking forward to making a plan and see where my racing takes me in the next little while.

So you will spend more time in Europe? "Absolutely. I'll be fully in Europe and that's all I know at this point. Where in Europe is still up to the calendar and the coaches. It's going to be crazy exciting; it's a new adventure I'm really looking forward to starting in 2019."
Lesley Tomlinson, from TaG Cycling, whom Ben Katerberg has raced for leading up to his signing with Sunweb, commented:

"We got him to France and arranged a situation for him there. Built a team around him for Abitibi and paid his way to these events and situations."

"I consider this one of our greatest achievements as a development squad and in our support for Canadian Cycling. Our efforts have been to fill in and support where National team cannot or has not in a few rough years. It was being in France this spring that got him noticed."

"I just want to make sure the hundreds of clients and the main supporters of the TaG Development program feel that they were a part of this success.We have been waiting to be able to announce this for 2 months."