January 18/19 9:24 am - Double Silver for Canada on Opening Day of Track World Cup #5

Posted by Editoress on 01/18/19

Team Canada had a strong start to the fifth round of the UCI Track World Cup on Friday in Cambridge, New Zealand, winning silver medals in both the men's and women's Team Pursuit. The men set a new national record for the fourth time this World Cup season.

The women's competition saw Canada set the fastest time in the first round, with a 4:15.579 for 4000 metres - less than one second off the national record set at the Rio Olympic Games in 2016. In the gold medal final, the Canadian squad of Allison Beveridge, Ariane Bonhomme, Annie Foreman-Mackey and Georgia Simmerling went up against host New Zealand, with neither team able to match Canada's previous time. The New Zealand team won with a time of 4:16.028, with Canada finishing 1.242 seconds back.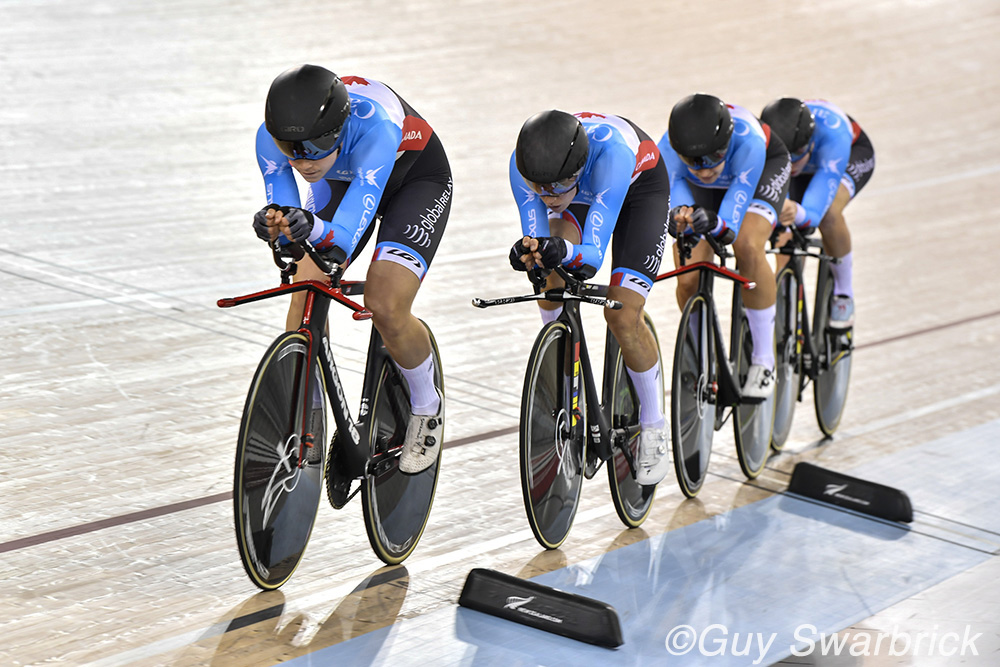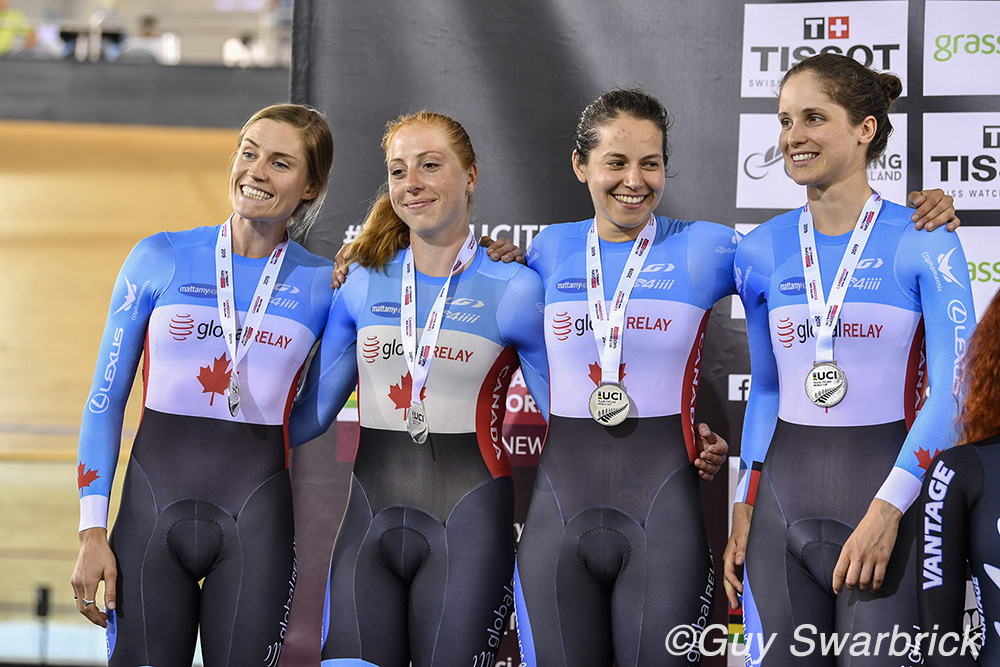 "While we weren't quite able to top the Kiwis in the final," said Craig Griffin, women's endurance coach, "I'm extremely pleased with the team's performances today. Everyone has worked really hard the last few months and it's beginning to pay dividends. I think the 4:15 ridden in Round 1 is about a second off the national record set in Rio and the fastest time ridden by any team this World Cup season. A great team effort. Along with the men, we have some nice momentum heading into our final prep for Track Worlds."

Canada's men's squad has shown remarkable improvement all season, breaking the Canadian record twice at the Milton World Cup, then again last month in Berlin (3:54.682), and now in New Zealand in the first round, with a time of 3:52.420 - less than three seconds off the current world record. The squad of Vincent de Haitre, Derek Gee, Adam Jamieson and Jay Lamoureux set the new record, with Aidan Caves replacing de Haitre for the gold medal race against New Zealand. Canada was not able to mtch its first round time in the final (3:53.156), however, the New Zealand squad was unstoppable before the home crowd, finishing only 0.355 seconds off the current world record.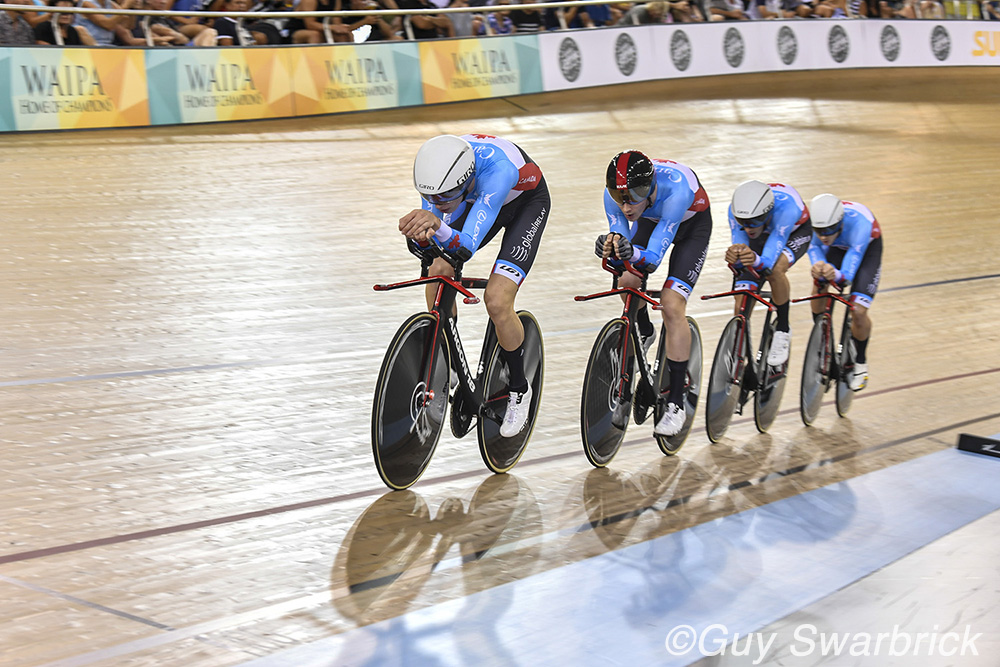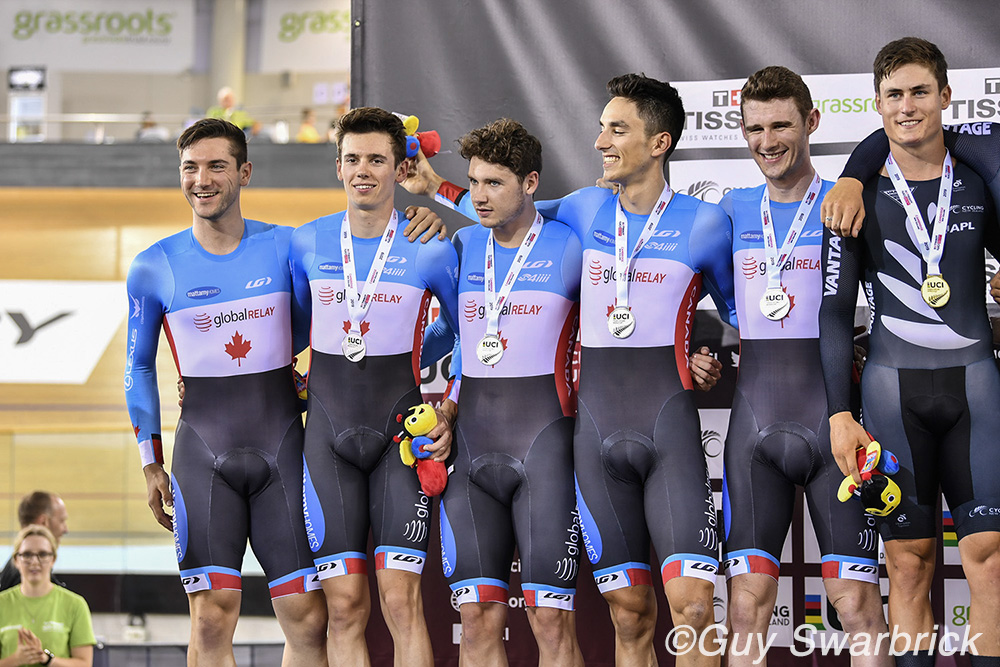 "The Cambridge World Cup Team Pursuit was a great event for us," said de Haitre. "Having all of our riders here was a good opportunity to showcase that we can put together fast rides with different lineups. Canada is becoming a consistent contender for the podium. On a personal note, I couldn't be more pleased with the event. Being part of the Canadian Record ride was incredibly rewarding and reassuring that my transition into track cycling is moving in the right direction. In the nine months since I first met with Cycling Canada, Jono Hailstone has coached me to two Canadian Records. So, I guess you can say that I'm excited to see what the next year and a half has in store."
"Today was a big step forward for the Men's Team Pursuit programme," said Jono Hailstone, men's endurance coach. "The boys continued their steady progression from Milton (3:56) to Berlin (3:54) to Cambridge (3:52), and showed that they are becoming genuine contenders on the world stage. It was really pleasing to 'blood' a new rider at the international level, with Vince de Haitre riding the first round, and shows that we have great depth in the MTP [Men's Team Pursuit] programme, with six riders going 3:54 or faster this season. We also gained crucial points towards Olympic qualifying and set things up for a really good final block leading into the world championships in Poland."

The only other Canadians competing on Friday were the women's Team Sprint squad of Lauriane Genest and Amelia Walsh, who were 11th in qualifying with a time of 34.213 seconds and did not advance to the next round.

Canada's women's Madison team suffered a blow in training when Steph Roorda crashed, breaking her collarbone. Designated alternate Kinley Gibson will step in to join Allison Beveridge for the competition on Sunday.

Results