February 27/19 19:24 pm - Track Worlds: Canadian Men To Race for Bronze

Posted by Editoress on 02/27/19

Team Canada qualified for medal ride on the first day of competition at the 2019 UCI Track World Championships on Wednesday in Pruszkow, Poland. The men's Team Pursuit squad will race for the bronze medal on Thursday, after setting the third fastest time in qualifying competition.

The Canadian men's team has had an exceptional season leading up to the world championships, breaking the national record multiple times, and becoming only the fifth nation in history to set a time below three minutes and 53 seconds.

In the first qualifying ride, the Canadian squad of Michael Foley, Derek Gee, Adam Jamieson and Jay Lamoureux ranked fifth, which allowed them to move on to the next round of eight teams. Their time of 3:54.670 in the next round was two seconds faster than their first ride, and proved to be the third fastest of the day, setting them up to race against Denmark for the bronze medal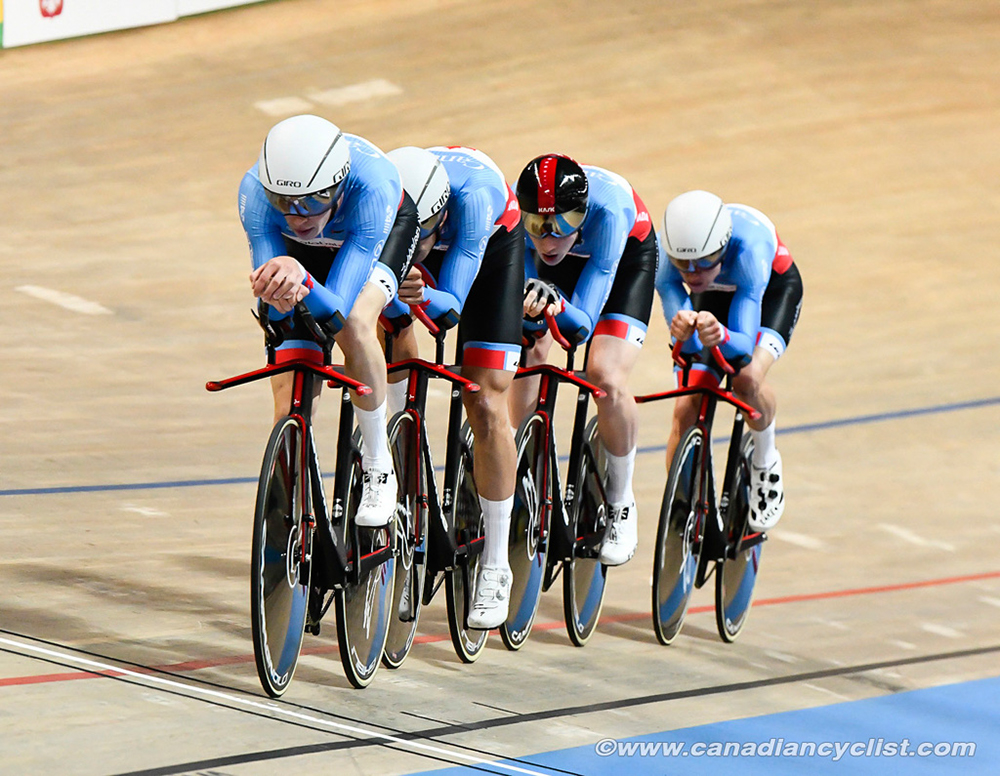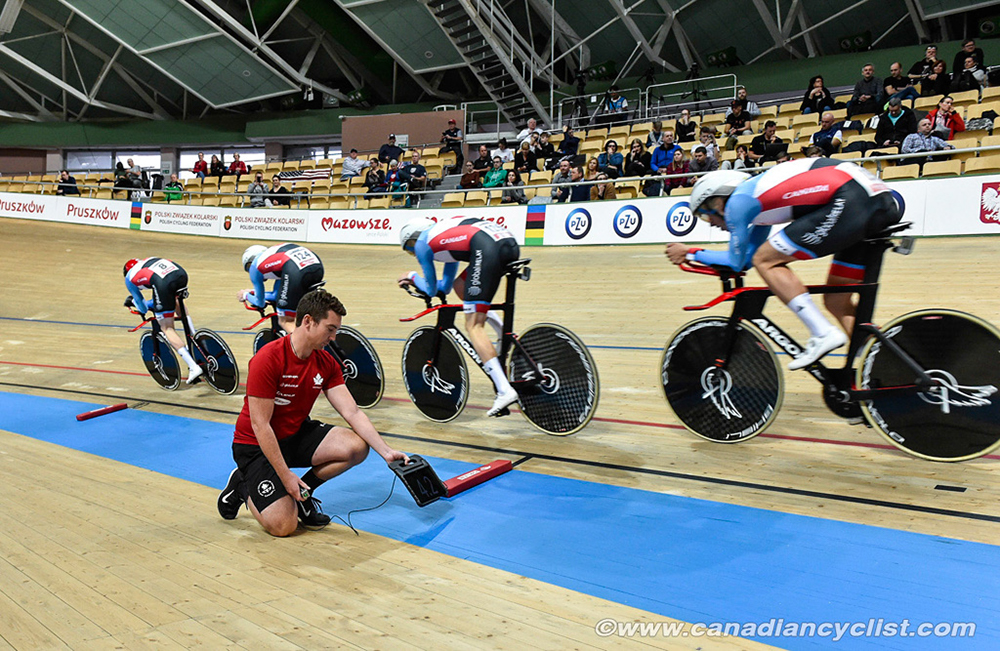 Men Team Pursuit Qualifying photos
Men Team Pursuit Round 1 photos
"It's pretty special," said Jono Hailstone, national coach. "If you had asked me before the competition if we could make the bronze medal final, I would have said we might have an outside chance, but to end up qualifying third is beyond expectations. The boys definitely tidied up a few minor things from qualifying that they did better in the next round. The world champs is the big show; it's the one time every year that every team lines up on the same day with their A Team; this outweighs any World Cups or national records. Denmark is a very aggressive team that goes out hard and fast, so we'll have to adapt our strategy a bit, but based on what we saw tonight, I think we have a shot at a medal."

"It's unreal," admitted Lamoureux. "We worked so fricking hard this season to go faster, and it's so incredible when it all pays off like this. We knew in the second race that we were up against a slightly slower team [Poland], so we went out harder, and we were catching them at the perfect time, just before the finish line. We definitely have to credit Jono and his processes; we've put in a lot more aerobic conditioning this season and it's definitely paid off."

In the women's Team Pursuit, the Canadian team of Allison Beveridge, Ariane Bonhomme, Annie Foreman-Mackey and Georgia Simmerling set a time of 4:20.650 for fifth place. On Thursday, they will race again, hoping to qualify for the bronze medal final.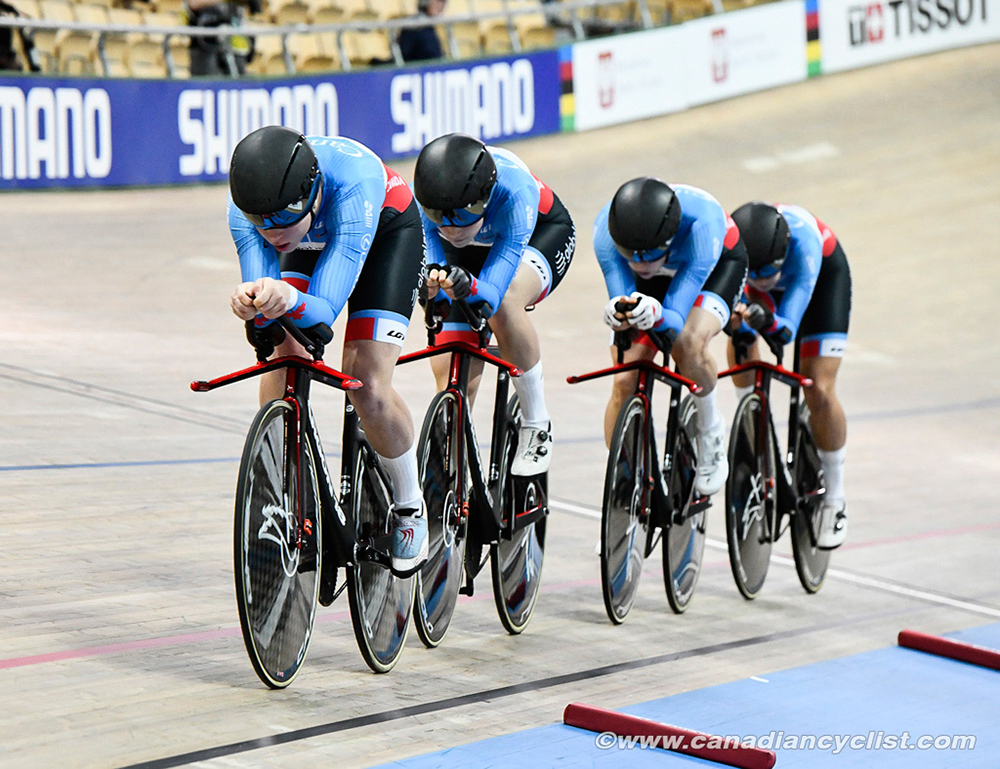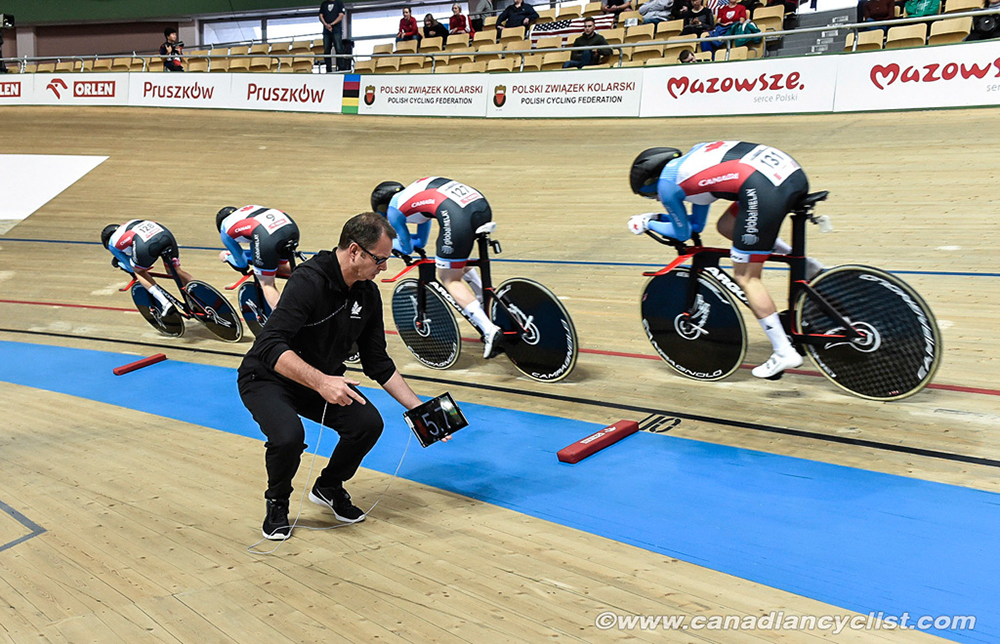 Women Team Pursuit Qualifying photos
"We're disappointed with our qualifying ride," admitted Craig Griffin, national coach. "The girls weren't able to finish the back half of the race as well as we hoped. However, we'll be able to reset tomorrow and put together the ride we're capable of. to get through to the medal round."

The first title of the championships was awarded in the 10 kilometre women's Scratch Race, with Great Britain's Elinor Barker defeating defending champion Kirsten Wild of the Netherlands and Jolien D'Hoore of Belgium. Shortly after an attack was brought back with less than a kilometre to go in the race, a crash in the middle of the field took down almost half the riders. Barker, Wild and D'Hoore all escaped the crash, with Barker beating Wild at the line by less than a bike length.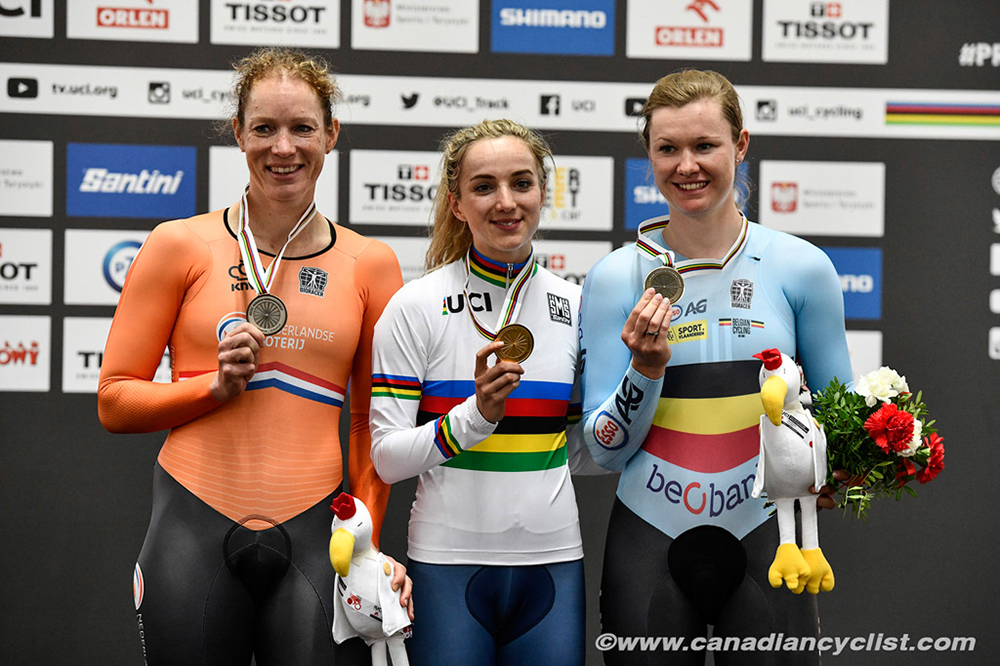 Women Scratch Race Photo Gallery
The other two titles awarded were for the women's and men's Team Sprint. In the women's competition, Australia did not competed last year, and defending champions Germany were missing Kristina Vogel, who had retired after injury. Australia duo of Kaarle McCulloch and Stephanie Morton proved to be the dominant team, breaking their national record twice and in the final beating last year's bronze medalists from the Russian Federation, Daria Shmeleva and Anastasia Voynova. Germany won the bronze medal.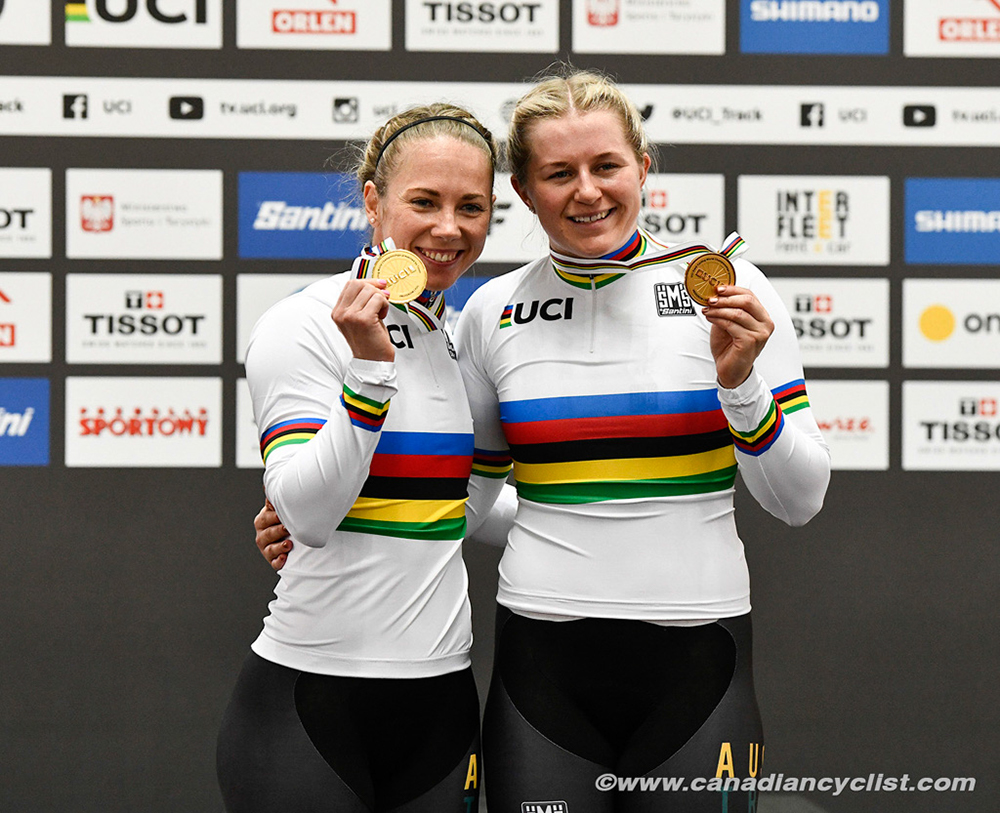 Women Team Sprint Final Photo Gallery
"I am speechless, and it takes a lot for that to happen," said Morton. "It is pretty surreal, we had pretty high expectations tonight, and we have absolutely exceeded them."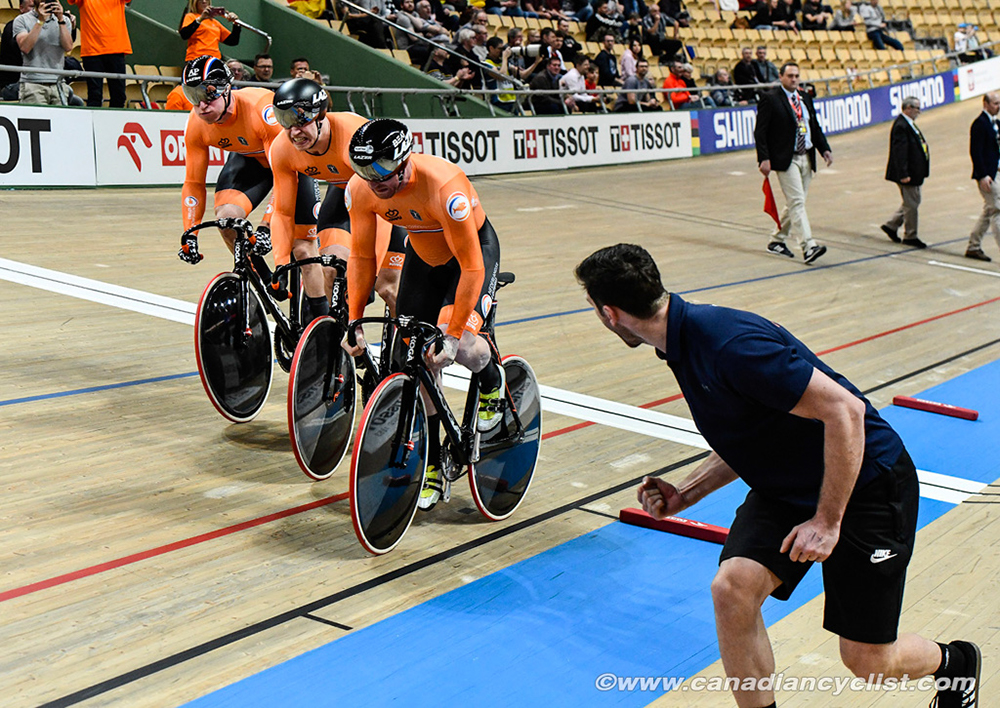 Men Team Sprint Final Photo Gallery

The defending champion Netherlands team has dominated the men's Team Sprint throughout the World Cup season, and they did not disappoint, winning the title with a stellar time of 41.923 seconds, less than a tenth of a second off the world record. The Dutch team of Jeffrey Hoogland, Harrie Lavreysen and Roy van den Berg rode the gold medal final, with Matthijs Buchli replacing Hoogland in the earlier round. France took silver and Russia won the bronze medal.
Track World Championships: Day 1 results