March 2/19 22:08 pm - Foreman-Mackey 6th at Track Worlds

Posted by Editoress on 03/2/19

Annie Foreman-Mackey had the top Canadian result on Day 4 of the UCI Track World Championships in Pruszkow, Poland, finishing sixth in the women's Individual Pursuit competition.

Four different nations won world titles on Saturday. Australia and the Netherlands each added a fifth title to their tally, while New Zealand and the Russian Federation won their first world titles. After 16 events in four days, eight nations have won gold medals, while 16 nations have appeared on the podium.

The women's Individual Pursuit saw Australia's Ashlee Ankudinoff defeat defending champion Lisa Brennauer of Germany decisively, by nearly three and a half seconds. It is the second title for Ankudinoff, who was part of Australia's gold medal Team Pursuit squad two days ago. Lisa Klein of Germany took bronze.

"I've been wanting this world title for a few years now," admitted Ankudinoff. "I've been a bridesmaid a couple of times, but to win here in Poland after winning the Team Pursuit caps off a perfect championship for me. I rode a perfect ride, and I'm happy to collect the rainbow jersey."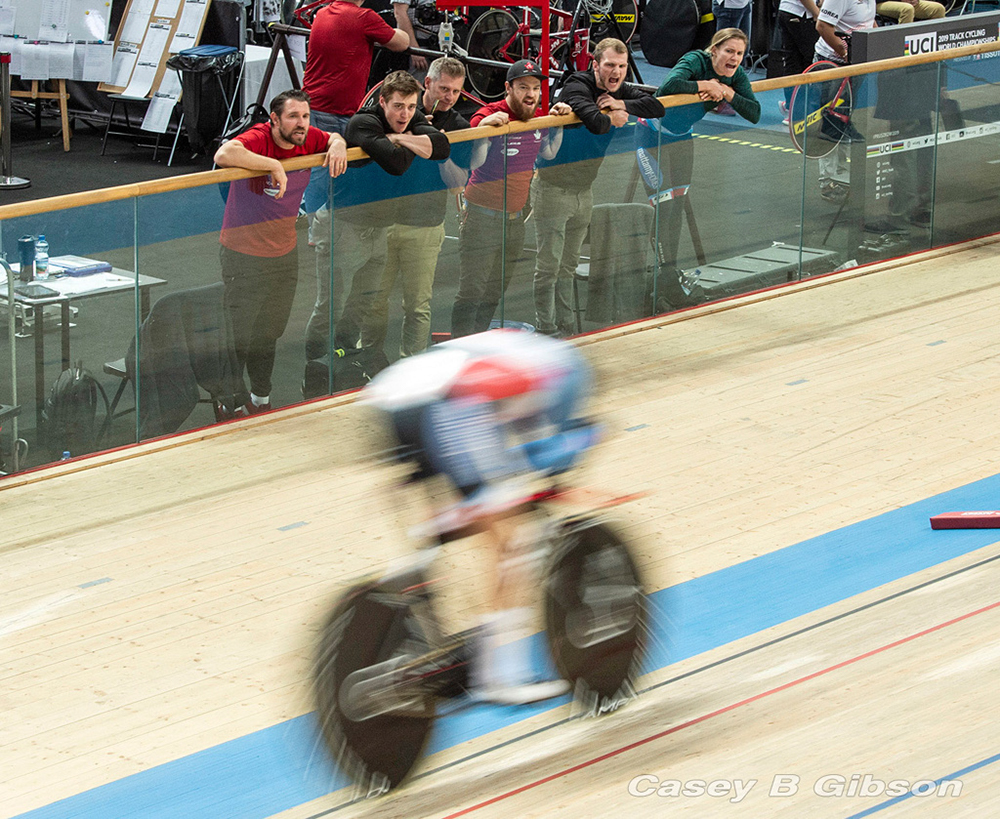 Team Canada cheers on Annie Foreman-Mackey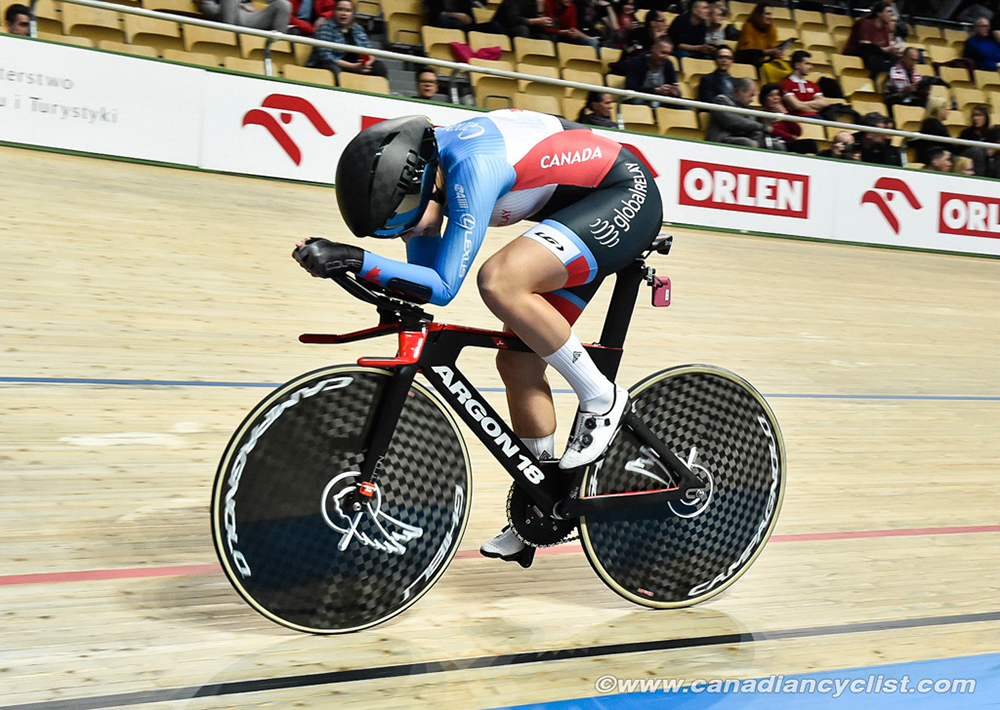 Foreman-Mackey set a personal best in the 3000 metre race against the clock, with a time of 3:30.864, which put her in sixth place.

"My time was a PB [Personal Best], but I'm still pretty disappointed," said Foreman-Mackey. "I felt that I had a lot more in me, and it didn't quite translate on race day. I think overall for the women's Team Pursuit program this was a disappointing Worlds, so I think we have some reflecting to do, and see what we can change, moving forward."

Canadian champion Derek Gee represented Canada in the men's four event Omnium, eventually finishing 15th overall. After struggling in the first three events, Gee entered the final Points Race in 20th place. He seemed to find his form there, lapping the field and eventually moving up five spots in the final standings.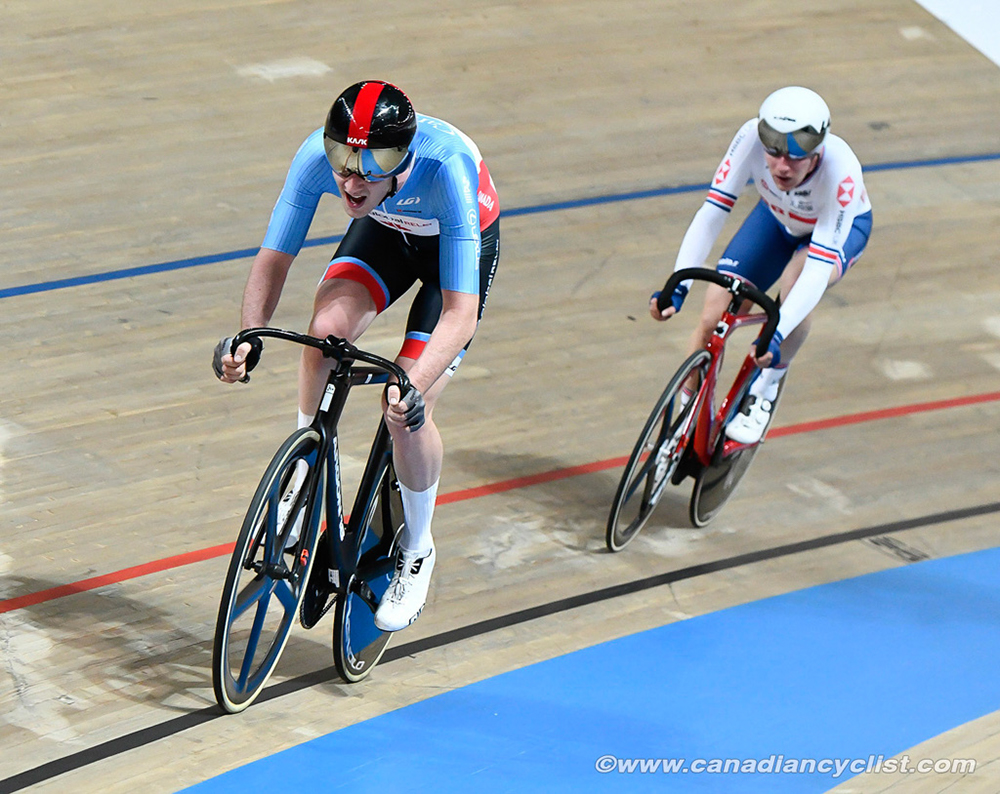 "It was tough," said Gee, "I haven't done an Omnium in a while, and trying to get the legs back at the world championships ... they were crazy hard races, every one. I was sitting pretty low going into the Points Race and I had nothing to lose, so I gave it a swing."

Campbell Stewart of New Zealand had a come-from-behind victory in the Omnium. Trailing Ethan Hayter (Great Britain) with less than half of the final Points Race remaining, Stewart managed to lapped the field to jump into the lead. Benjamin Thomas of France, the 2017 Omnium world champion, also moved ahead of Hayter, to take the silver medal.

"It's awesome, I can't believe it," said Stewart. "I just tried to always stay at the front, and that just paid off. Then I had a chance to attack and it worked out."

Allison Beveridge and Kinley Gibson represented Canada in the women's Madison. The race was marred by numerous crashes, with Gibson going down after hitting another rider who had crashed in her path. The team had to abandon after Gibson could not continue in the race. Except for contusions and bruises, Gibson was cleared by medical staff.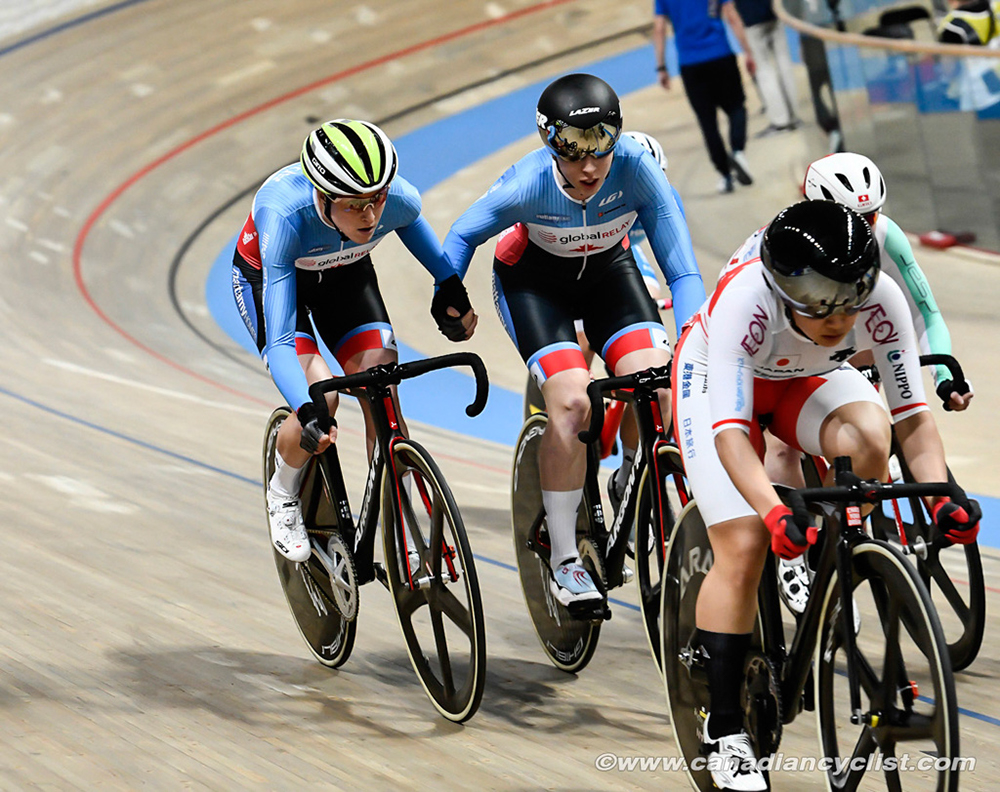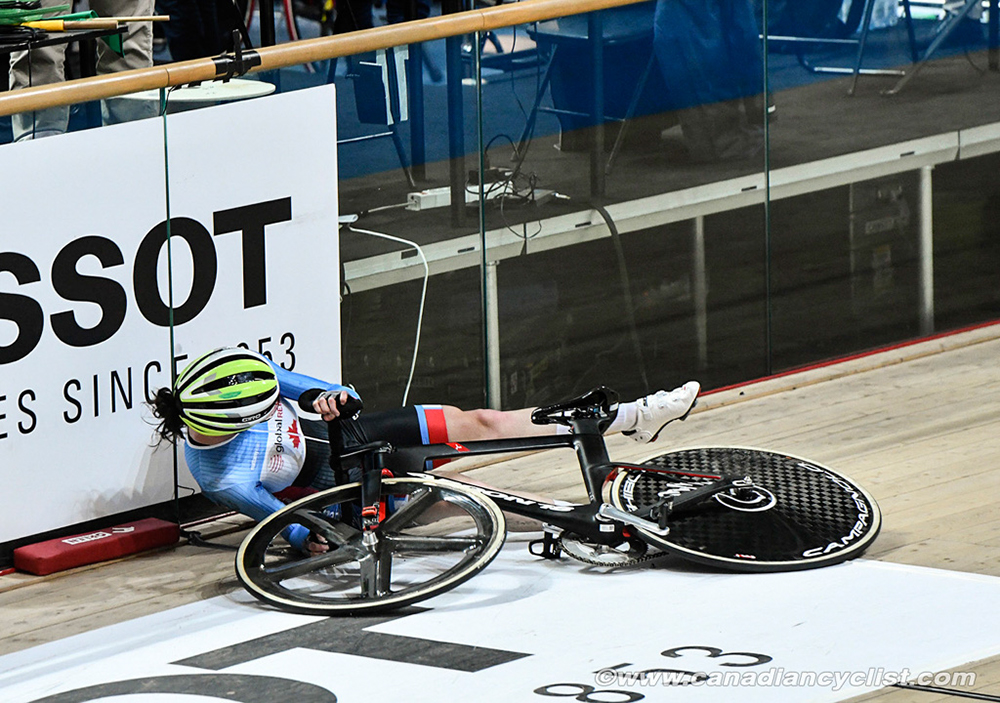 The Netherlands won their fifth world title of the championships in the Madison, with Omnium champion Kirsten Wild joined by Amy Pieters. It was a battle right to the end, with the Dutch team only beating the Australian team (Georgia Baker and Amy Cure) by two points. Denmark (Amalie Dideriksen/Julie Leth) took the bronze medal.

"It was pretty unbelievable," said Wild. "There were a lot of crashes but we didn't see them because we stayed at the front. Madison requires everything - sprint, peloton skills; it's fast and a team event, so you have to win together."

In the men's sprint competition, Hugo Barrette qualified 19th with a time of 9.884, and went on to win his 1/16th final race. In the next round, he lost a close battle against Mateusz Rudyk of Poland and was knocked out of the competition. Joel Archambault, racing at his first world championships, rode a qualifying time of 10.020, and did not advance.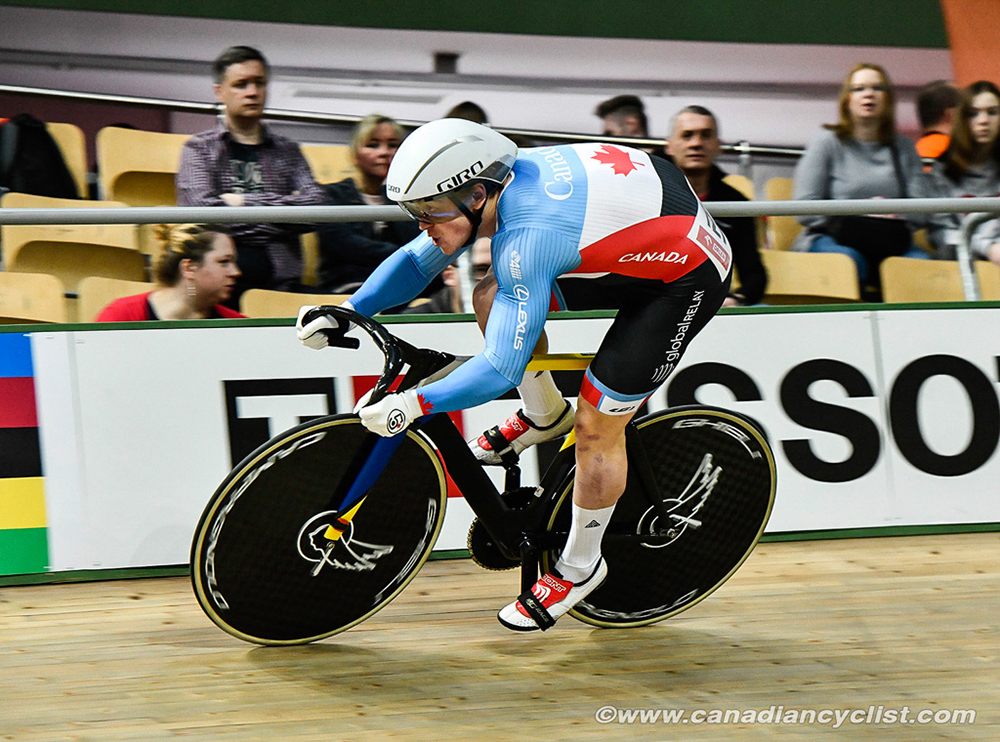 Joel Archambault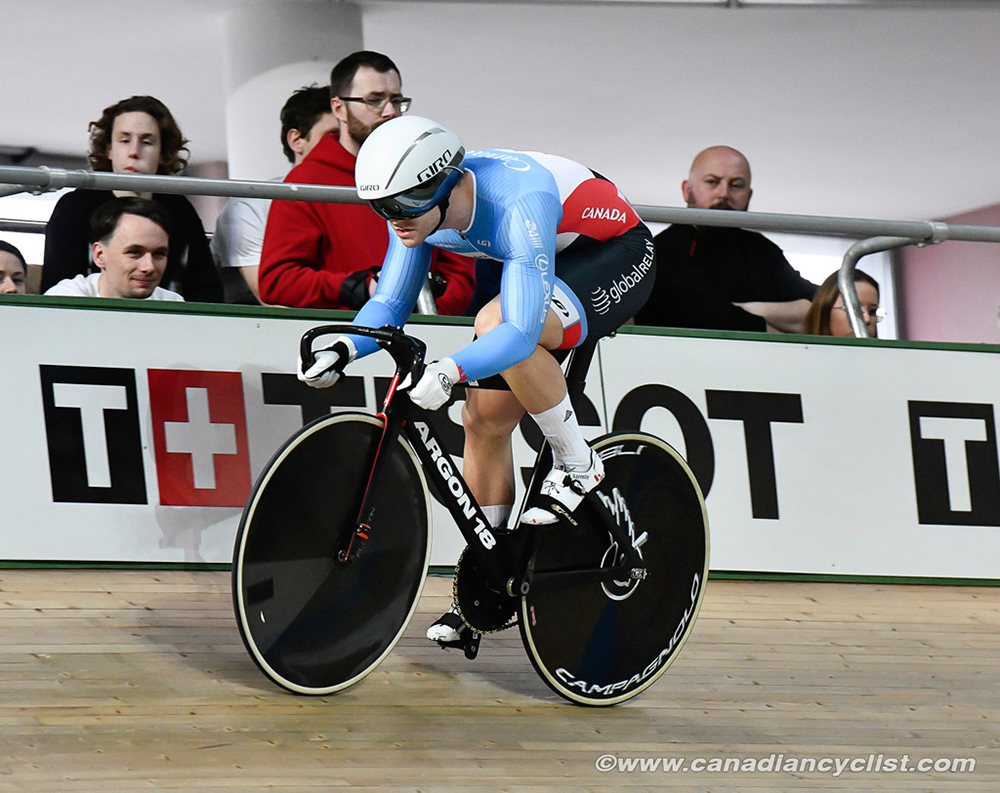 Hugo Barrette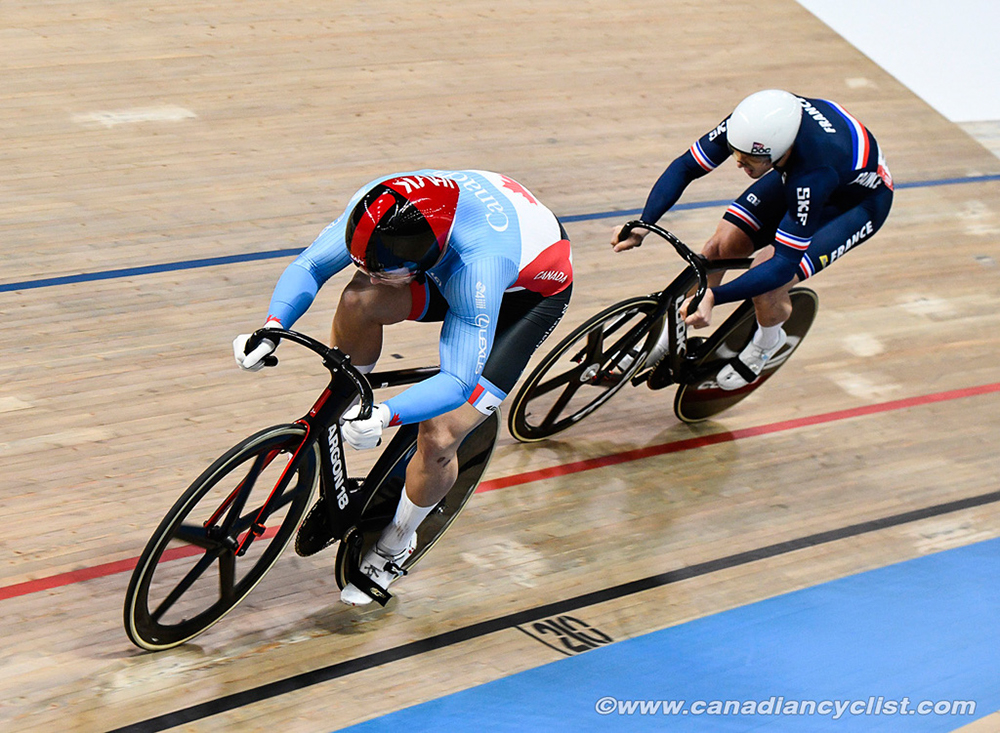 Hugo Barrette (Canada) defeated Quentin Caleyron (France) in 1/16 final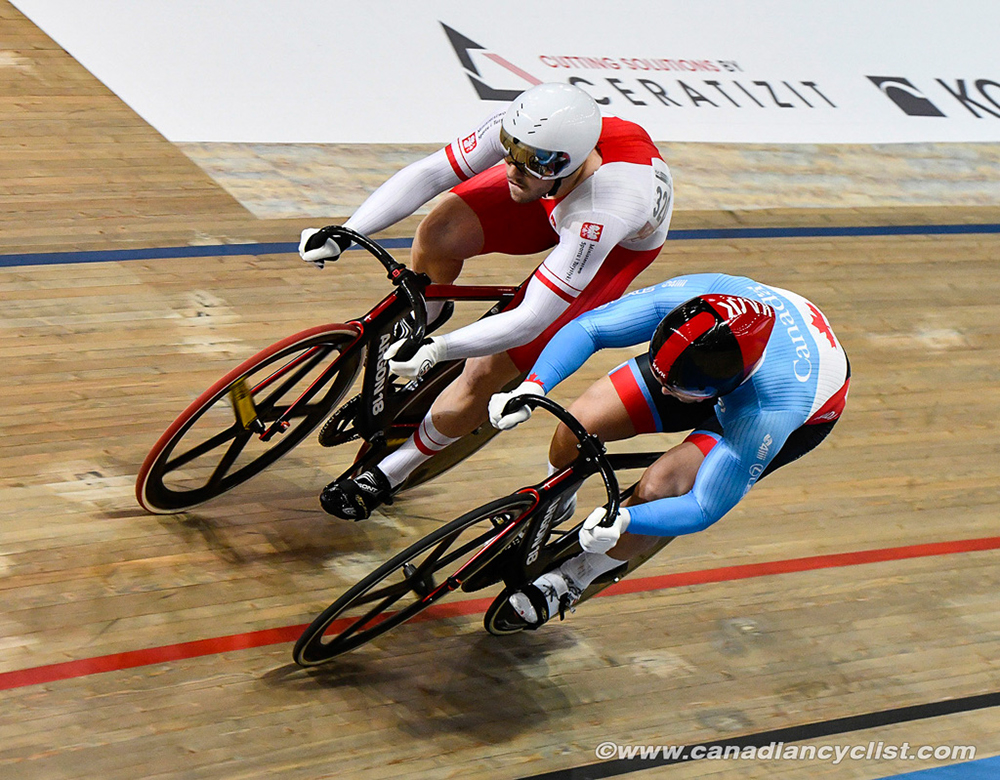 Mateusz Rudyk (Poland) defeated Hugo Barrette in 1/8 FInal
Daria Shmeleva brought Russia its first world title in the women's 500 metre time trial, moving up from the silver medal she won last year. Olena Starikova of the Ukraine took silver and Kaarle McCulloch of Australia won bronze. Canada did not have an entrant.
Track World Championships: Day 4 results
Track Worlds: Beveridge 8th in Women's Omnium
Canada Finishes Fourth in Team Pursuits at Track Worlds
Track Worlds: Canadian Men To Race for Bronze