March 14/19 11:41 am - Dorel Reports Disappointing Results for Bike Division in Q4

Posted by Editoress on 03/14/19

Dorel Industries has reported its fourth quarter and year end results, with the Sports division affected by lower than expected consumer demand, particularly in the mass market Pacific Cycle segment. During the year, Dorel sold off Sombrio and Sugoi. The company says that they are expecting stronger results in 2019 from the Cycling Sports Group (CSG) - Cannondale - and e-bike sector.

Dorel statement (selected portions):

Dorel Industries Inc. (TSX: DII.B, DII.A) announced on Thursday results for the fourth quarter and year ended December 30, 2018. Revenue for the fourth quarter was US$683.5 million, up 1.0% from US$677.1 million a year ago. Reported net loss for the quarter was US$443.9 million or US$13.68 per diluted share compared to US$6.1 million or US$0.19 per diluted share a year ago.

Revenue for 2018 was US$2.62 billion, compared to US$2.58 billion the previous year. Reported net loss was US$444.3 million or US$13.70 per diluted share, compared to a reported net income of US$27.4 million or US$0.84 per diluted share the previous year.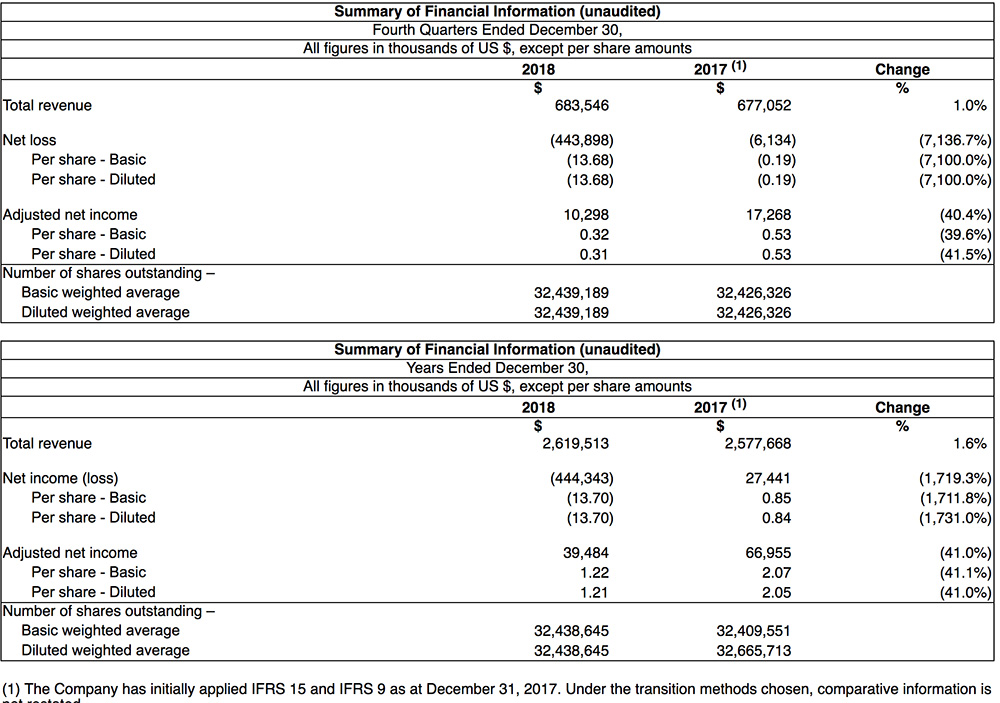 "Dorel Home has again performed well and continues to benefit from our market-leading innovations in e-commerce. At the same time, we were disappointed by fourth quarter earnings at Dorel Juvenile and Dorel Sports. Both segments were affected by lower than expected industry-wide consumer demand over the holiday season and the on-going changes in the consumer products industry. We are in the process of actively addressing these realities," stated Dorel President & CEO, Martin Schwartz.

Like all consumer products companies, Dorel is not immune to the impacts of a changing retail landscape and evolving consumer habits. Traditional brick and mortar stores - stores that existed as recently as 2018 - are shuttering as the buying patterns of consumers evolve.

We have recognized these new realities of retail require Dorel to be efficient, innovative, and nimble to maintain alignment with consumers. Dorel has been taking important steps to ensure that we can be competitive for the long-term and the online success of Dorel Home is indicative of this. Each of these new realities impact our business lines in different ways and require a unique approach to ensure the long-term success of each.

Building on the success of the innovations at Dorel Home, Dorel is in the process of launching a comprehensive global restructuring program. As part of the restructuring program, Dorel is undertaking a comprehensive review of our global footprint, including the assets within each business segment.

In addition to optimizing our global footprint, the restructuring program will also include assessing our business processes and related enabling technologies and identifying long-term cost savings and other efficiencies.

The implementation of the restructuring program will be on-going throughout 2019 with resultant benefits expected to begin later this year and extending into future years, leading to improved performance, cost savings and enhanced long-term returns for shareholders. Dorel will provide periodic updates to the market.

Dorel Sports

Fourth quarter revenue declined by US$4.1 million, or 1.7%, to US$232.7 million from US$236.8 million last year but grew by approximately 2.6% after excluding the negative impact of varying foreign exchange rates year-over-year and the divestments of the SUGOI and Sombrio brands in the second quarter of 2018. Cycling Sports Group (CSG) posted double-digit organic revenue growth and significant operating profit improvement, mainly from growth in Europe and in the U.S. sporting goods channel due to innovation in model-year 2019 products. In Brazil, Caloi also delivered double-digit sales and operating profit growth in Brazilian Reals, driven by a stronger mix of products, success with their 29-inch mountain bikes as well as with the Cannondale line. However, at Pacific Cycle, revenue and gross profit both dropped due to weaker than expected mass channel holiday POS on bikes and interactive battery powered ride-ons, as well as by retailer inventory reductions.

For the year, Dorel Sports' revenue increased by US$17.6 million, or 2.0%, to US$883.0 million and by approximately 3.4%, after excluding foreign exchange rate fluctuations year-over-year, as well as the divestments of SUGOI and Sombrio.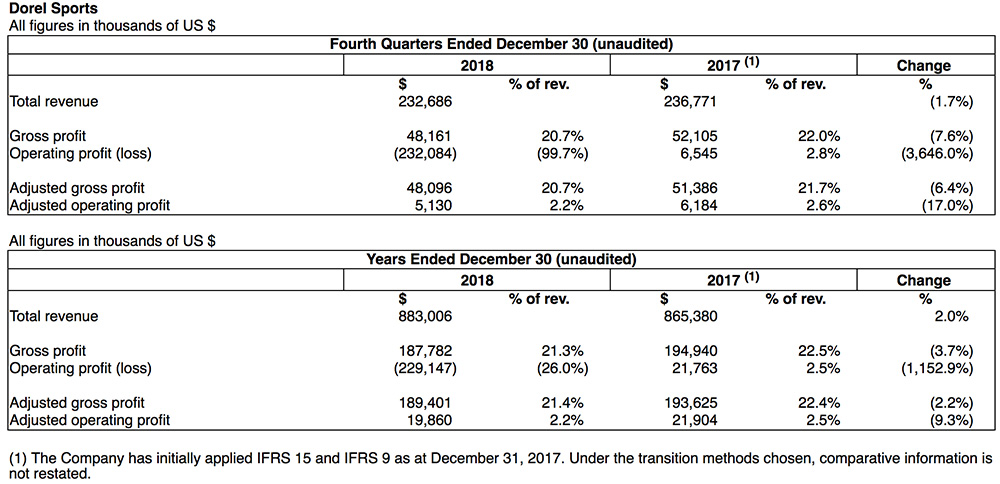 Fourth quarter operating loss was US$232.1 million compared with an operating profit of US$6.5 million in 2017. Adjusted operating profit decreased US$1.1 million, or 17.0%, to US$5.1 million from US$6.2 million when excluding impairment losses on goodwill, intangible assets and property, plant and equipment, restructuring and other costs. Removing the impact of the 2017 fourth quarter impairment loss on trade accounts receivable from Toys"R"Us U.S. of US$3.1 million, the comparative fourth quarter adjusted operating profit was US$9.3 million a year ago. The miss in the quarter was primarily due to the slowdown in bicycle sales across the board at Pacific Cycle as well as by the unexpected fourth quarter impairment loss on trade accounts receivable of US$2.1 million as Evans Cycles entered administration in the UK.

For the year, the operating loss was US$229.1 million compared to an operating profit of US$21.8 million in 2017. Excluding impairment losses on goodwill, intangible assets and property, plant and equipment, restructuring and other costs, adjusted operating profit decreased by $2.0 million, or 9.3%, to US$19.9 million. When excluding the impairment loss on trade accounts receivable from Toys"R"Us U.S. of US$6.6 million in the first quarter of 2018 and of US$3.1 million in the fourth quarter of 2017, year-to-date adjusted operating profit improved to US$26.5 million from US$25.0 million last year.

We expect to see a rebound in profits for Dorel Sports in 2019 with segment revenue forecasted to grow in the mid-single digits driven by price increases related to tariffs passed on to consumers at Pacific Cycle and volume and market share growth in CSG and Caloi.

Dorel Sports expects improved adjusted operating profit at CSG and Caloi throughout 2019. CSG growth will be driven by recent restructuring efforts and new product innovations particularly in the expanding e-bike category. At Caloi, we project increased sales with its expansion into the OPP segment and OEM manufacturing for retail and bike share programs.

Revenue and adjusted operating profit improvement at Pacific Cycle is expected mostly in the second half, based on the rapidly growing e-commerce channel, new customer distribution points and an expanded product line. This includes a broadened line of electric ride-ons and entering adjacent categories, such as scooters.
Dorel Bike Division Improves in Third Quarter
Dorel Reports Improvement in Cycling Division for Q2
Dorel Reports Q4 & 2017 Year-End Results - Improved Bicycle Division