April 23/19 10:45 am - Sandra Walter - Still Racing, Still Getting Better

Posted by Editoress on 04/23/19

With little fanfare, Sandra Walter has becoming the longest serving member of Canada's national mountain bike team; quite possibly, the longest tenure of any discipline on the national team. A member of the LIV squad - Giant's women-specific brand - Sandra first represented Canada at the 1998 mountain bike world championships in Mont-Ste-Anne, Quebec. She shows no sign of slowing down, and had the best season of her career last year, with a top-15 finish on the World Cup circuit, and is currently ranked 37th in the world after finishing third at the Bear Mountain Canada Cup and ninth at the Pan American Championships in the last month.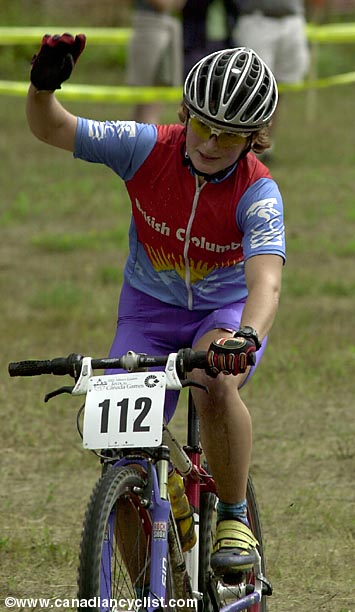 Canada Summer Games 2001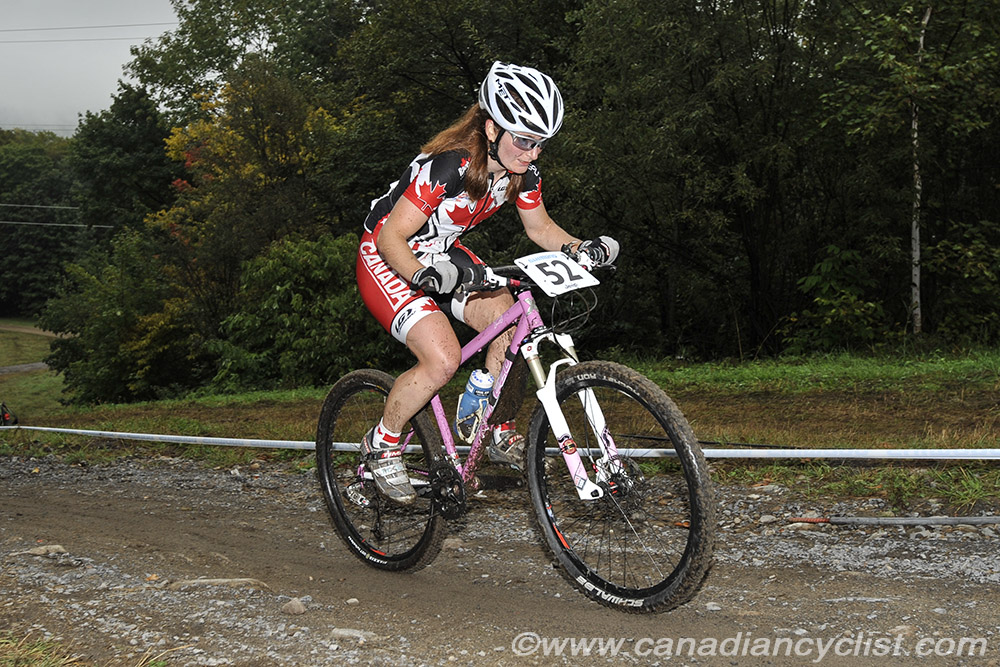 2010 MTB Worlds MSA

While Sandra continues to ride for LIV, she has stepped up to the global program from strictly domestic sponsorship.

"It is a new team; this is LIV Racing, which is the global aspect of LIV. Since 2013 I've been sponsored by LIV Canada, so this is obviously much bigger. So, I am still getting support from LIV Canada, which is really awesome, but I am getting additional support and resources from LIV global."

However, she is likely to be wearing Canadian team colours on the international stage.

"LIV Racing is not a UCI trade team, it is a multi-discipline program with a group of awesome female cyclists; Marathon, Road, ultra-endurance, as well as XCO. I'm the only World Cup racer with them. So, I'm still hoping to travel with Team Canada for World Cups, because the support they offer is pretty much pro team support. Of course, with Team Canada you have to qualify on a project-by-project basis, so it's not guaranteed, but I'm hoping I will."

She agrees that she has flown under the radar a lot for much of her career, behind Canadian names such as Alison Sydor, Marie-Hélène Premont, Catharine Pendrel and Emily Batty.

"I've just been chipping away in the background for 20 years! All that work is really starting to come through. I think a lot of it is commitment and learning, and growth as an athlete. I would like to credit it a lot of it to my coach [Keith Wilson, Catharine Pendrel's husband]. He's pretty ingenious and loves coaching, and he is involved in coaching forums and all the stuff I'm not interested in; I love riding my bike and he's a technical guy."

Sandra says Keith has shaken up her training regime.

"He coaches outside the box and is interested in taking risks, and at this point in my career I'm all about taking risks, because I've pretty much done everything in terms of how much training I've done. We have had to come up with new things in order to get my body to adapt and improve."

"Nothing's really crazy and revolutionary, but instead of always doing the same thing, year in and year out, we try different stuff. For example, we started working on getting me be able to handle a really consistent load, and once the body has adapted to that, I've been doing much bigger days; I've been doing six, seven, almost eight hour rides a few times But this means you also have to rest hard as well. So it is a bit different in the structure of my training."

Last year, the UCI introduced Short Track to the World Cup program, with the top-40 Elite riders (women and men) competing on the Friday before the XCO on Sunday. Sandra admitted that she was surprised to make the cut, but it was an indication of her strong season, finishing 23rd overall for the World Cup season.

"The Short Track was definitely a new addition last year, and it was unexpected that I was going to be doing them, especially at the beginning of the season. But then I had that standout performance at Albstadt, the second World Cup of the season, and all of a sudden the next weekend, I found out in the afternoon that I was going to be doing the Short Track in Nove Mesto."

This year, Sandra is looking to build on her top-20 results from 2018, with some strong results already.

"It's really hard not to focus on results, but you don't really have control over the number. So it's all about making process goals and controlling the things you can control, and hoping you can have some good results. But I think with my preparation this winter - I've had a really great off-season and definitely stepped it up in terms of hours. So, I'm hoping that it pays off."

"It was a pretty big racing block, with the two races in California, then Bear Mountain, Mexico [Pan American Championships], then straight to Sea Otter. After that, I go back home to build some volume and fitness for the World Cups."

This year, for the third time, Mont-Ste-Anne will play host to the world championships, and Sandra has made it one of her key goals for the season.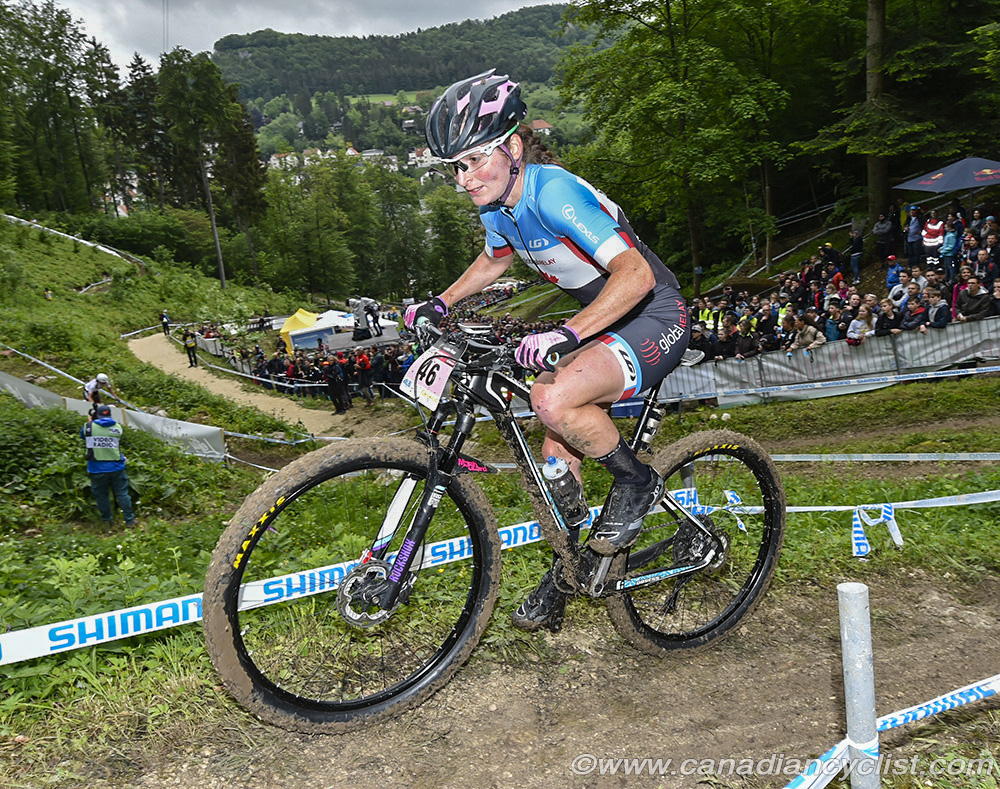 2018 MTB World Cup Albstadt
"I'd love to represent Canada for a third time at a world championships in Mont-Ste-Anne! That was where I did my first world championships, as a Junior in 1998, so I have a challenge to see if anyone else will have done all three world championships in Mont-Ste-Anne, but I might be the only one. I'm pretty confident that as long as my season goes well and I'm healthy, that I plan to be there. I'm really excited about that."

Longer term, there are next year's Olympics to think about. The first two countries in the rankings will receive three spots, and Canada is in a battle for one of those places.

"For Canadian women, qualifying for the Olympics is always super competitive. We have such strong riders; we have a tradition of excellence with our women's program, which is awesome, but makes it that much harder to qualify for me and everyone else. It is definitely one of the big goals I have had my whole career to represent Canada at the Olympics; it would be a dream. But the only thing I can do is just keep working hard, and go one step at a time."

"It would be amazing if we could qualify three athletes; last Olympics, women only had [a maximum of] two spots, and I was the alternate, so ... yeah, it would be really nice to be on the team."

This is the 21st year of Sandra's career on the international mountain bike stage - so does she how keep motivated?

"I think for me it's always been about just loving the sport. It's not about money - this is the first year I've actually had a contract with a little bit of money coming in! I've been lucky to have a ton of support, from my parents and all my friends and training partners to keep doing this."

"I've just been really stubborn too. When everybody's been talking about saving for retirement, I've chosen to not think about that part and just live in the moment. When people ask me how long I am going to keep doing it ... I'm just having such an awesome time and I can't imagine doing anything else, there is nothing I would rather be doing, and I'm getting the opportunity to do it."

"That's sort of the problem, isn't it? If my results were declining, and I wasn't racing as well, performing as well, then it probably wouldn't be as fun - but it would still be fun. I realized last season, with it being so good - 'wow, it's even more fun now!' So, for me, it's about, 'how fast can I get?', 'what is my potential?' And that is what keeps me going, rather than results or financial benefit; it's about wanting to know what my potential is."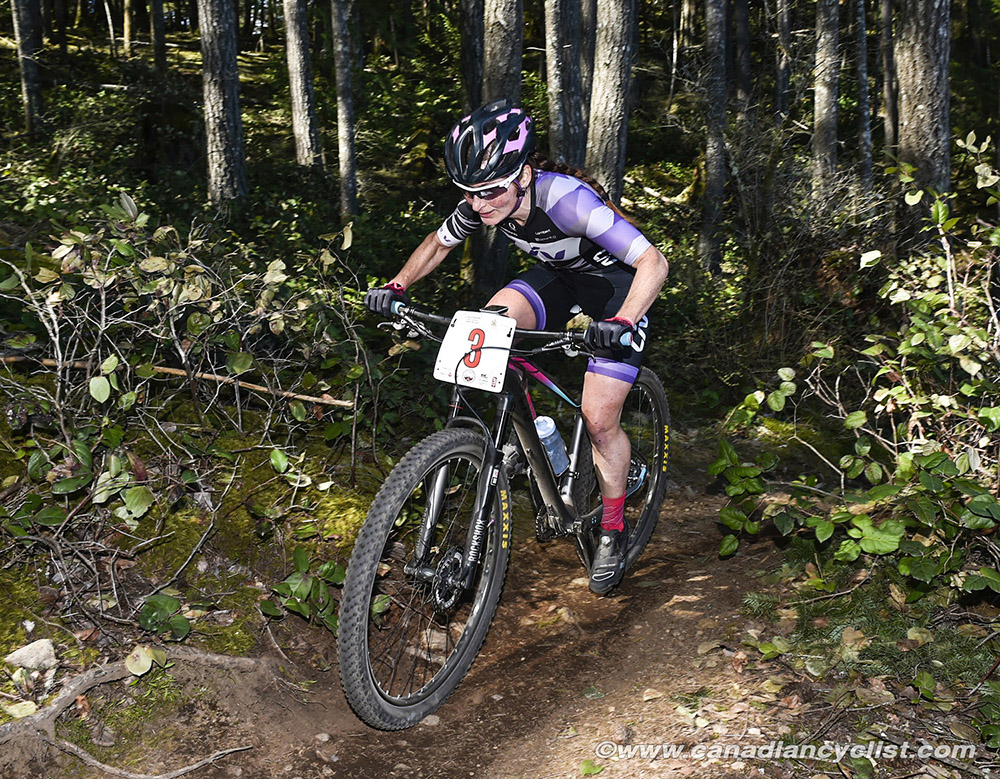 2019 Bear Mtn Canada Cup