April 24/19 13:56 pm - Cascades Renews Bursary Program with FAEQ

Posted by Editoress on 04/24/19

Mr. Mario Plourde, President and Chief Executive Officer of Cascades, has confirmed the renewal of the partnership between Cascades and the Athlete Foundation of Excellence (FAEQ) for a period of three years. This new investment by the company will total $300,000 and will extend the Cascades Bursary Program from 2020 to 2022.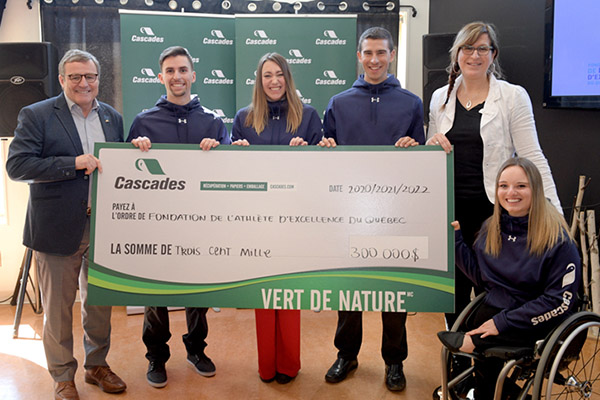 The announcement was made as part of the 15th edition of the Cascades Fellowship Program at the FAEQ, held at Marie-Victorin Park in Kingsey Falls. Mr. Plourde and the FAEQ rewarded the academic and athletic efforts of 22 recipients, aged 15 to 28, who shared a total of $84,000.

Two cyclists were among the bursary recipients - mountain biker Marc-André Fortier and road rider Anne-Pascale Ouellet.

Since its inception in 2005, the program has been a real success. Many of the recipients have distinguished themselves on national, international and Olympic sports scenes, including being crowned Canadian, Pan American, Commonwealth, World and even Olympic champions.

In 2019, individual scholarships of $2,000 or $4,000 were awarded in four categories: ten for academic excellence highlighting brilliant academic results (including $2000 for Anne-Pascale Ouellet), ten for academic and sporting success supporting the combination of sport and studies (including $4000 for Marc-André Fortier), one for perseverance in the face of a difficult situation and one collegiate recruitment award for encouraging the pursuit of studies and sports careers in a Quebec CEGEP.