April 30/19 10:02 am - Trek Factory Racing Partners with HeadCheck

Posted by Editoress on 04/30/19

The Trek Factory Racing ('TFR') off-road program has partnered with Canadian company HeadCheck Health Inc. ('HeadCheck'), an innovator in concussion management software and services. The TFR cross country, enduro, and downhill teams will all utilize HeadCheck to improve the identification, documentation, assessment and management of concussions. Canadian Emily Batty is a member of the XCO team. The team wants to have the maximum number of precautions in place to protect the health of their athletes should an accident occur.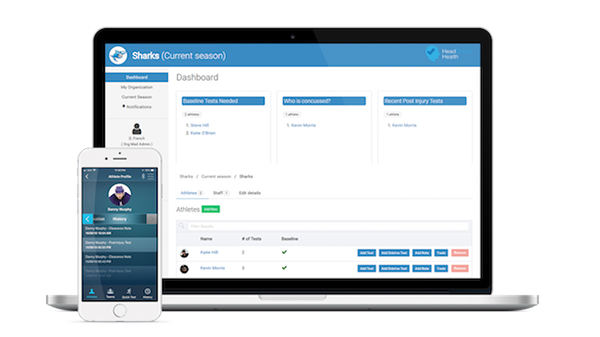 "This is about taking care of our athletes, pure and simple," said Trek Sports Marketing Director Tim Vanderjeugd. "Anytime we can give our programs the tools to help better identify and manage concussion in support of the long-term health of our riders, we are all in."

HeadCheck brings organizations the latest, most innovative technology backed by evidence-based science to help them better manage their concussion policy. HeadCheck's mobile and web-based software is adapted to an organization's policy, personnel and resources and is currently deployed by professional and amateur teams in over 15 sports such as football, rugby, hockey, soccer, and more.

"We are excited to be working with a forward-thinking organization such as TFR," said HeadCheck CEO Harrison Brown. "We know they take health and safety very seriously and explore all avenues to take care of their riders."

TFR's on-site team staff for all three off-road programs will be operating HeadCheck at competitions. Per team policy, all riders underwent a baseline concussion assessment in February, which can be used as a comparison for post-injury assessments. Documentation of tests will be available to medical professionals to assist in their clinical judgement of whether to remove riders from competition, and to help ensure their safe return upon recovery. In addition, riders will be able to track and self-report any symptoms from their mobile devices to help complete the circle of care.

About HeadCheck Health, Inc.
HeadCheck has developed innovative software and services for sports organizations, teams, clinics, and individual practitioners to improve their concussion identification, assessment and management capabilities. The software can be customized to fit the requirements of any concussion policy or protocol. Over 400 teams and organizations deploy HeadCheck as their primary tool for concussion management, including the CJHL, BC Hockey, UBC, Edmonton Oil Kings, BC Rugby, Eastern Washington University, Rugby Ontario, Trek Factory Racing, Shawnigan Lake School, Rugby Quebec and more. For more information visit www.headcheckhealth.com.