May 17/19 7:59 am - Albstadt Preview - Canada Has 25 Riders Attending

Posted by Editoress on 05/17/19

The 29th season of the Cross-country World Cup gets underway this weekend in Albstadt, Germany, site of next year's world championships. Racing begins Friday evening with the new Short Track (XCC) introduced last year, followed by the traditional cross-country (XCO) on Saturday and Sunday.

Canada has a large contingent of riders - 25 in total, including two for the UCI Junior Series - which is definitely one of the biggest ever for a European World Cup, and the fifth highest among the nations attending.

The XCC will feature a 1200 metre course encompassing the starting straight on asphalt, and then a section of grass track, followed by a gravel pump track, before the paved finish. The number of laps will be decided after the first couple of laps, based on lap times so that it comes in at approximately 25 minutes. The top 40 riders on UCI ranking for men and women will race, with half the points of the XCO on offer.

Mathieu van der Poel (Corendon Circus) and Annika Langvad (Specialized) are the favourites, after dominating their respective series last season. World champion Nino Schurter (Scott-SRAM) didn't win a XCC last year but finished second overall. In the women's race, also looked to world champion Kate Courtney (Scott-SRAM) to do well after a strong start to this season. Canada has two riders in the men's - national champion Peter Disera (Norco Factory) and Continental Raphael Gagne (Team Canada) - and five in the women's - Emily Batty (Trek Factory), Haley Smith (Norco Factory), Catharine Pendrel (Team Canada), Sandra Walter (Team Canada) and Cindy Montambault (Team Canada).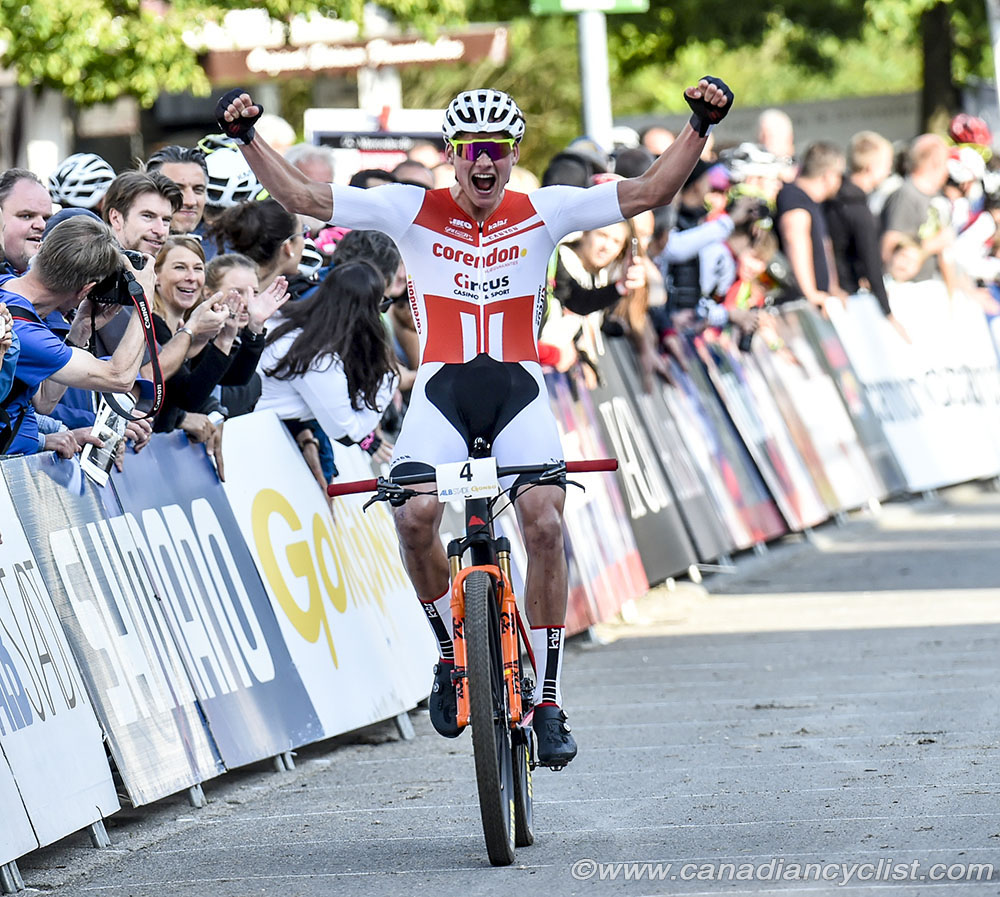 Mathieu van der Poel winning XCC in 2018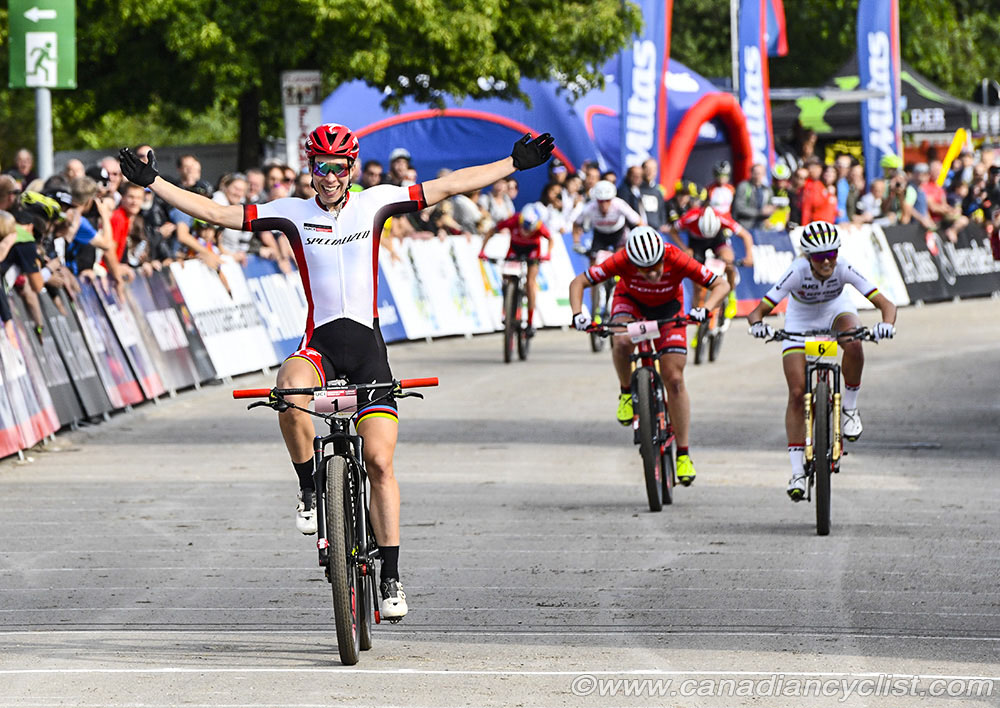 Annika Langvad
The XCO course is renown for its steep climbs and technical sections, however, there have been complaints by riders that it has been 'dumbed down', after crashes last year; particularly on one drop. Organizers added gravel to a number of sections, which is expected to make the course faster, and the aforementioned drop was reworked so that it is no longer as difficult. Organizers say that the changes were for safety reasons - Albstadt does get particularly treacherous in the wet, it is true - and that they were delayed getting the gravel placed due to late snow cover. The changes are expected to make the course faster - which could mean more laps - plus the leaders may not spread out as much.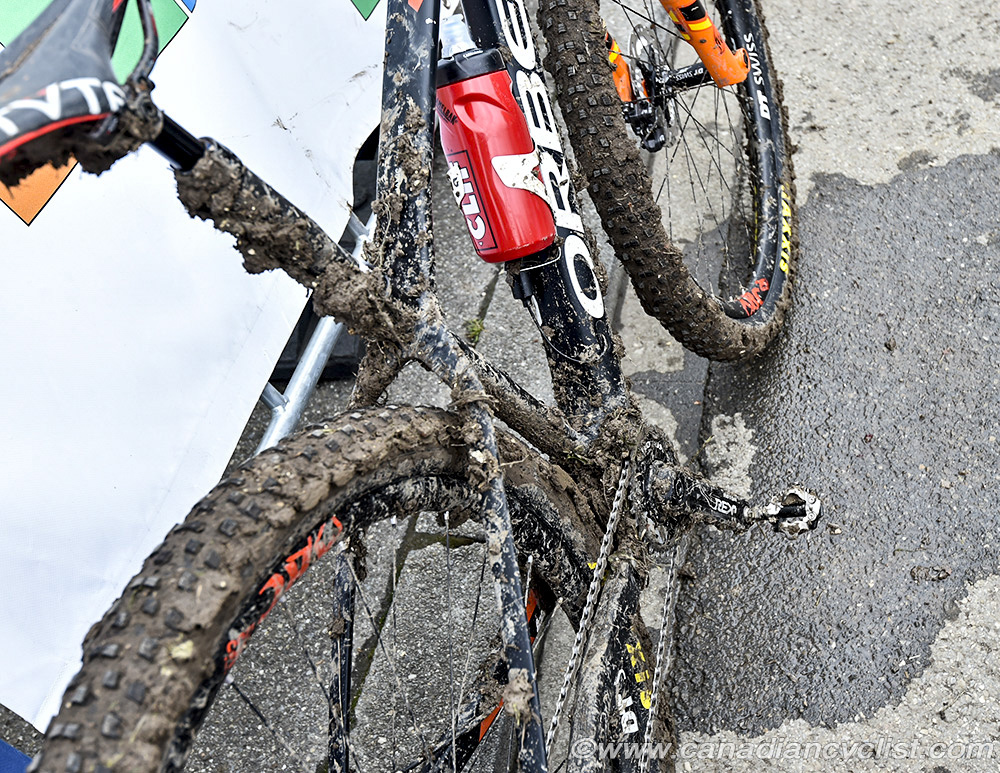 In 2018 the wet conditions were hard on bikes AND riders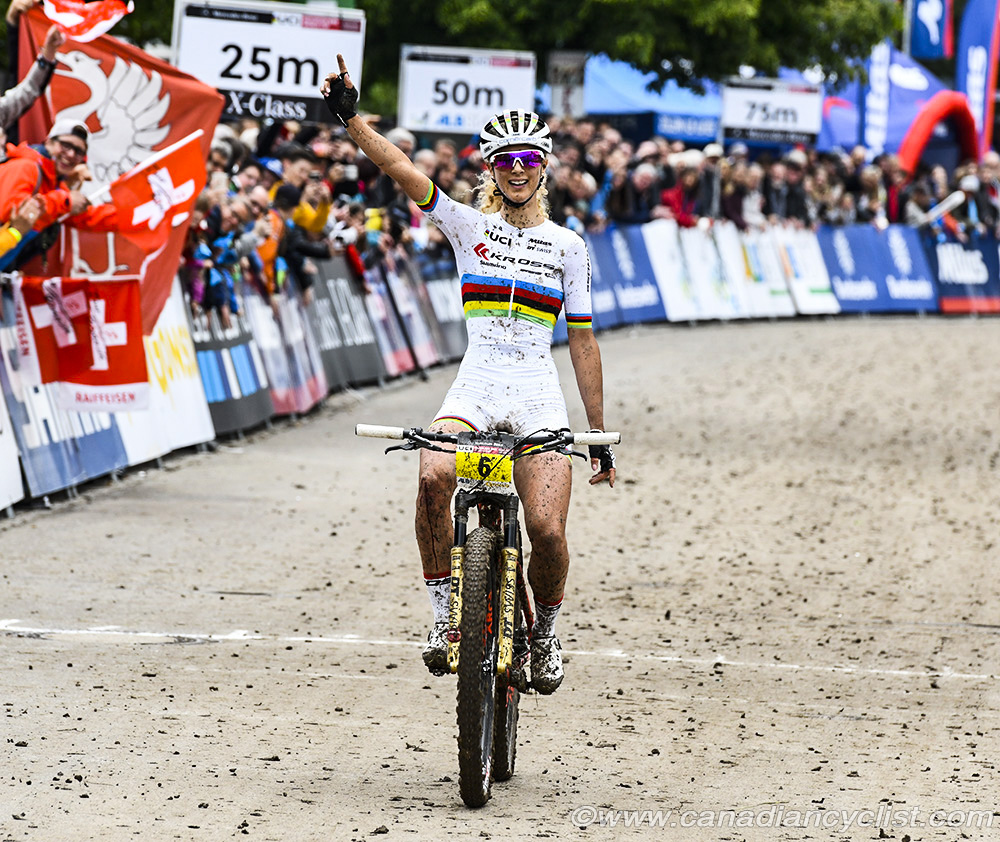 Jolanda Neff winning after a very muddy race in 2018
Since this is the first World Cup of the season, it is difficult to know who is really going well. In the women, Langvad has strong form, as evidenced by her Cape Epic win and numerous podium results in the Road World Cup this Spring. Also riding extremely well is Courtney, as well as Anne Tauber (CST Sandd Bafang) and, of course, Jolanda Neff (Trek Factory).

Canada has seven Elite women on the start line - the five who are doing the XCC, plus Jenn Jackson (AWI Racing) and Rebecca Beaumont. Smith already has multiple wins this year, and Batty and Pendrel are both proven World Cup performers.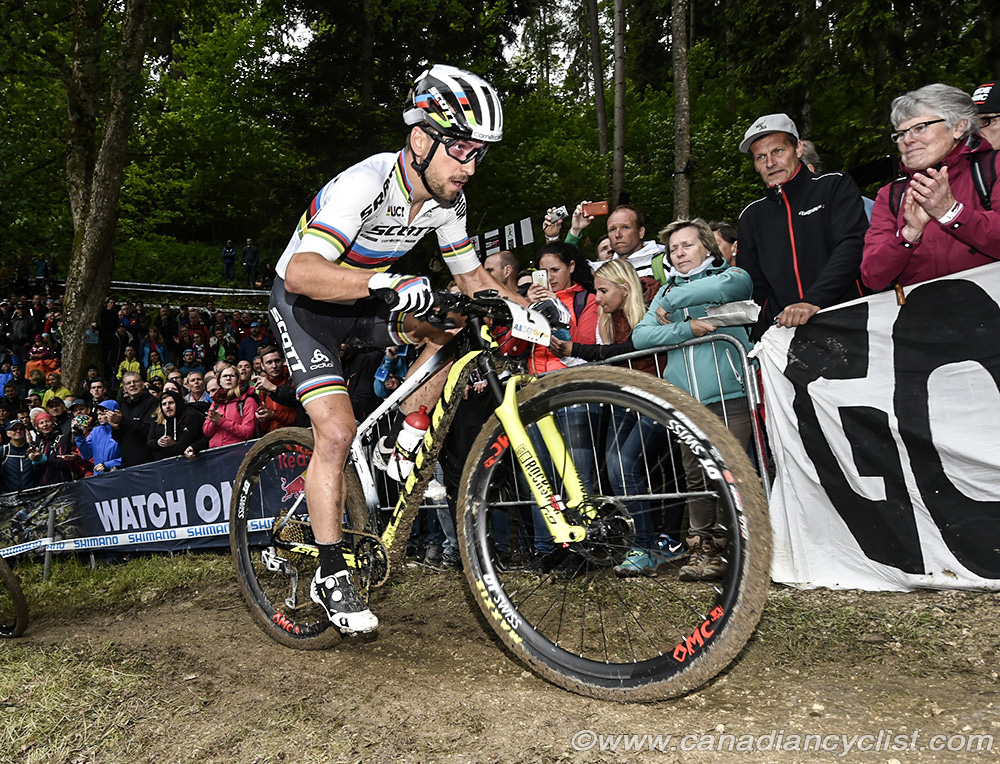 Nino Schurter 2018
In the men's field, Schurter has won at Albstadt the past three years, although he admits it is not his favourite course. Van der Poel is coming off an incredible Cyclo-cross season and won the Amstel Gold WorldTour race this Spring - he is still looking for his first Mountain Bike World Cup win. Other names to watch include Gerhard Kerschbaumer (Torpado Ursus) and Henrique Avancini (Cannondale Factory).

Canada has five Elite men - Gagne and Disera, plus Leandre Bouchard (Pivot-OTE), Marc-Andre Fortier (Pivot-OTE) and Andrew L'Esperance (Norco Factory). All four have been on the podium this year in North America, and will be looking for good results to move them up in the start order for the following races.

In the Under-23 category, Canada has five women and six men entered:

U23 Women
Laurie Arsenault (Team Canada)
Mackenzie Myatt (Team Canada)
Sophianne Samson
Juliette Tetreault (Ride with Rendall)
Marianne Theberge (Team Canada)

U23 Men
Raphael Auclair (Pivot-OTE)
Quinton Disera (Norco Factory)
Sean Fincham (Norco Factory)
Gunnar Holmgren (Team Canada)
Tyler Orschel
Victor Verreault

Finally, two Canadian Juniors have made the trip to Albstadt to compete in the UCI Junior Series event - the two winners of the same event at Bear Mountain: Emilly Johnston (Pendrel Racing) and Carter Woods (Rocky Mountain Factory).
Race Schedule
Fri, May 17th
XCC Short Track Women – 17:30PM Local 11:30 ET Canada
XCC Short Track Men – 18:15 PM Local 12:15 ET Canada

Saturday, May 18th

XCO Junior Men - 9:15AM Local 3:15AM ET Canada
XCO Junior Women - 10:45AM Local 4:45AM ET Canada
XCO U23 Men - 14:30 Local 8:30AM ET Canada


Sunday May 19th

XCO U23 Women - 9:00AM Local 3AM ET Canada

XCO Elite Women – 11:20AM Local 5:20AM ET Canada

XCO Elite Men – 14:35PM Local 8:35AM ET Canada

Only the Short Track (XCC) and Elite Men's and Women's races will be broadcast