May 19/19 17:27 pm - Haley Smith Finishes 9th at Albstadt World Cup

Posted by Editoress on 05/19/19

Canadian mountain bikers Haley Smith (Norco Factory) and Peter Disera (Norco Factory) each had career best performances on Sunday at the opening round of the World Cup in Albstadt, Germany. Smith cracked the top ten, finishing ninth in a world-class field of women. Disera took nineteenth in the elite men's competition. Earlier in the day, Laurie Arsenault finished 12th in the Under-23 women's race.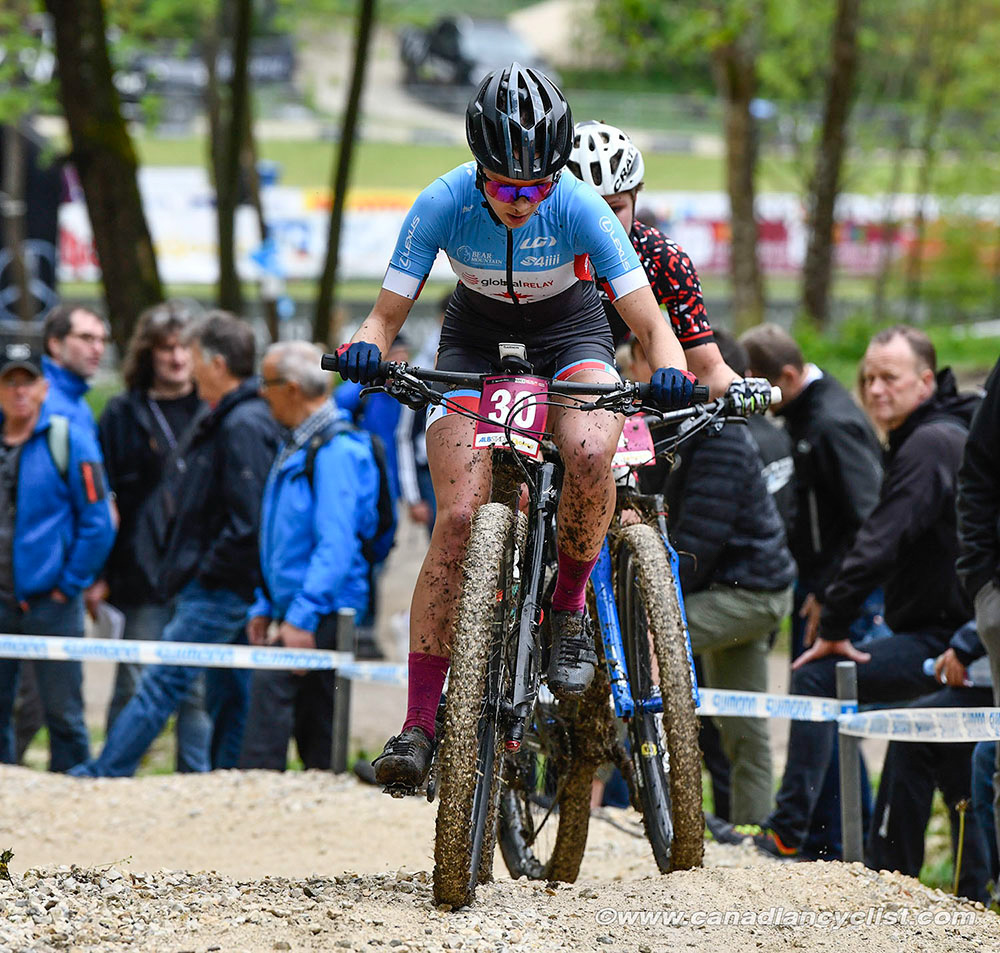 Laurie Arsenault
The women's race saw Jolanda Neff (Trek Factory) and world champion Kate Courtney (Scott-SRAM) drop the field early in the start loop, but by the end of the loop, it was all Courtney. The American, already in the World Cup leader's jersey after winning the Short Track on Friday, was untouchable, setting the fastest splits every lap as she rode away from the field, despite a crash. Neff dropped back to third with Anne Tauber (CST Sandd Bafang) moving into second, until she crashed on the third lap. Her team mate, Yana Belomoina moved ahead of Tauber into third, and was making time on Neff in second, but ran out of laps. Courtney's wins in both the XCC and XCO - the first of her career - solidified her lead in the standings, with 375 points to Neff's 300 and Tauber's 200.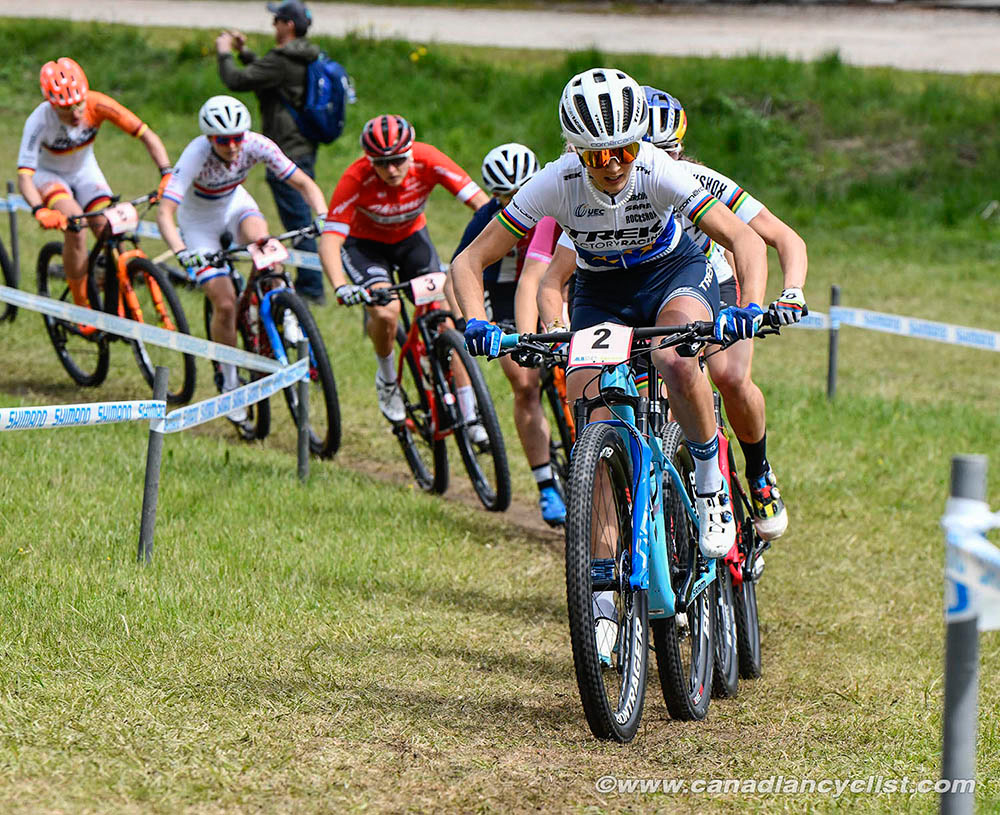 Jolanda Neff in the lead at the start
"To win means everything," said Courtney. "Last year at the Worlds was a surprise and a sign that I could maybe make it to the top, but anyone can deliver at each of these races. So I'm happy to start the season with a strong ride. It was all about riding within myself and staying focussed and calm."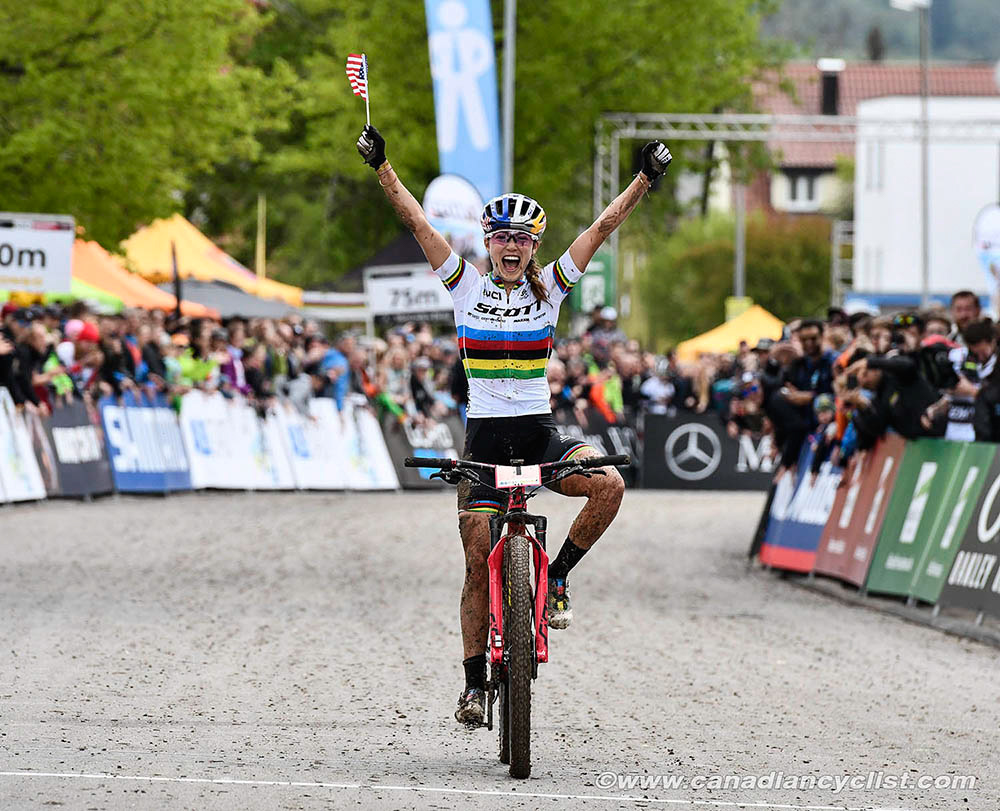 Kate Courtney taking her first World Cup win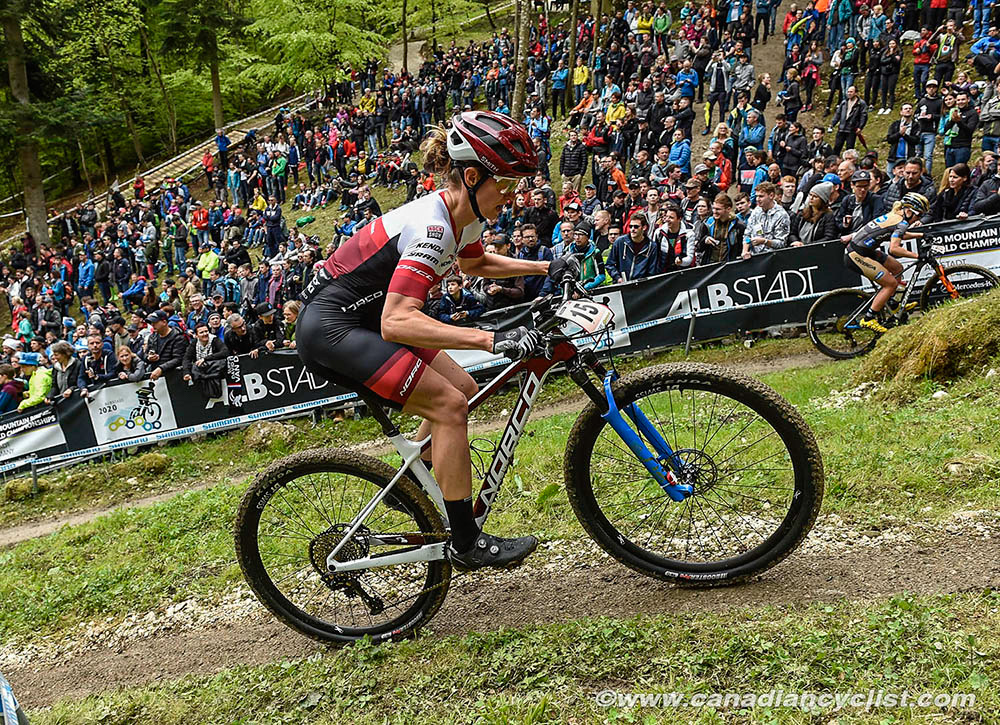 Haley Smith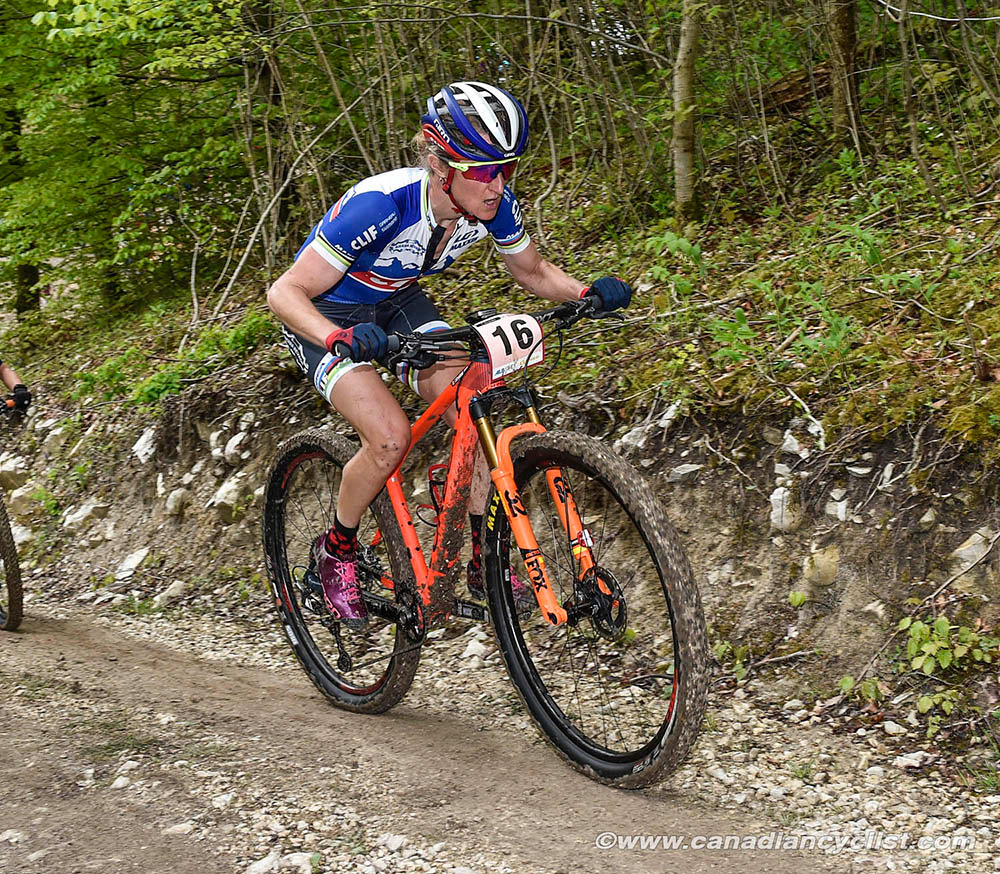 Catharine Pendrel
Smith moved into the top-15 of the women's field early in the race, and was joined by fellow Canadian Catharine Pendrel (Team Canada/Clif Pro) by the halfway mark. The duo rode together in a chase group until the final lap, when Smith was able to drop the group to take her first top-10 World Cup result. Pendrel hung on for 12th place. Emily Batty (Trek Factory) was 28th, and Jenn Jackson (AWI Racing) and Sandra Walter (Team Canada) finished just out of the top-30, in 31st and 32nd, respectively. Smith is 13th in the World Cup standings after the short track and cross-country, with 128 points. Pendrel has 112, in 15th place.

"I have so many demons at Albstadt," said Smith. "I've DNF'd, and I was 50th last year. So, my goal today was to just beat the course and ride for myself, and I'm really proud that I did that. I knew I just had to be patient and ride to my own pace, because Albstadt is a race of attrition. I stayed calm and just picked people off the whole race. Catharine drove the group, and took us from 15th-16th into the top ten, and I was lucky enough to jump on the train."

The men's race began with light rain, that turned into a deluge for nearly 30 minutes mid-race, before the sun came out for the final lap and a half. World champion Nino Schurter (Scott-SRAM) and his usual rival, short track winner Mathieu van der Poel (Corendon Circus) took the lead on the start loop, but van der Poel then began to struggle for the next lap and a half. Schurter was joined at the front by Mathias Flueckiger (Thomus RN Swiss Bike), Jordan Sarrou (Absolute-Absalon), Florian Vogel (KMC-Ekoi-Orbea) and Henrique Avancini (Cannondale Factory), but the group was quickly whittled down to Schurter, Flueckiger and Sarrou by Lap 3. A lap later, and Flueckiger was off on his own in front, while the others struggled in the slippery mud. Van der Poel was recovering quickly, moving up to third behind Sarrou while Schurter was uncharacteristically falling back to eventually finish sixth. Flueckiger rolled in for the second World Cup win of his career, while van der Poel caught Sarrou in the final half lap to take second. Van der Poel keeps the World Cup jersey with 325 points, followed by Flueckiger with 305, and Schurter at 210.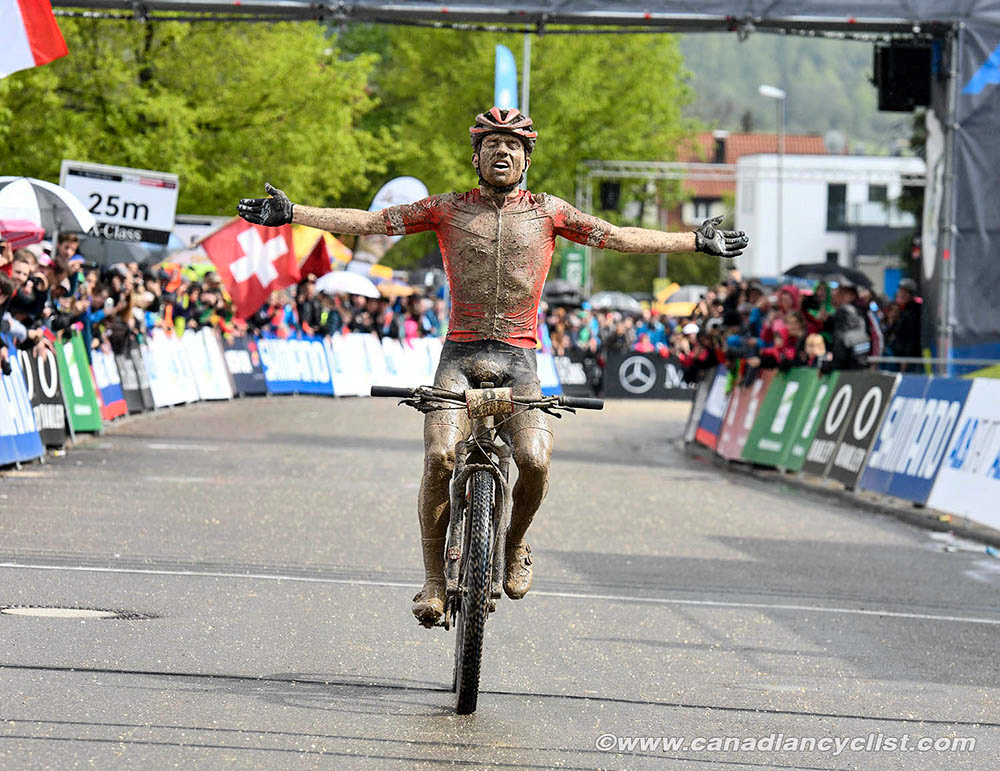 Mathias Flueckiger wins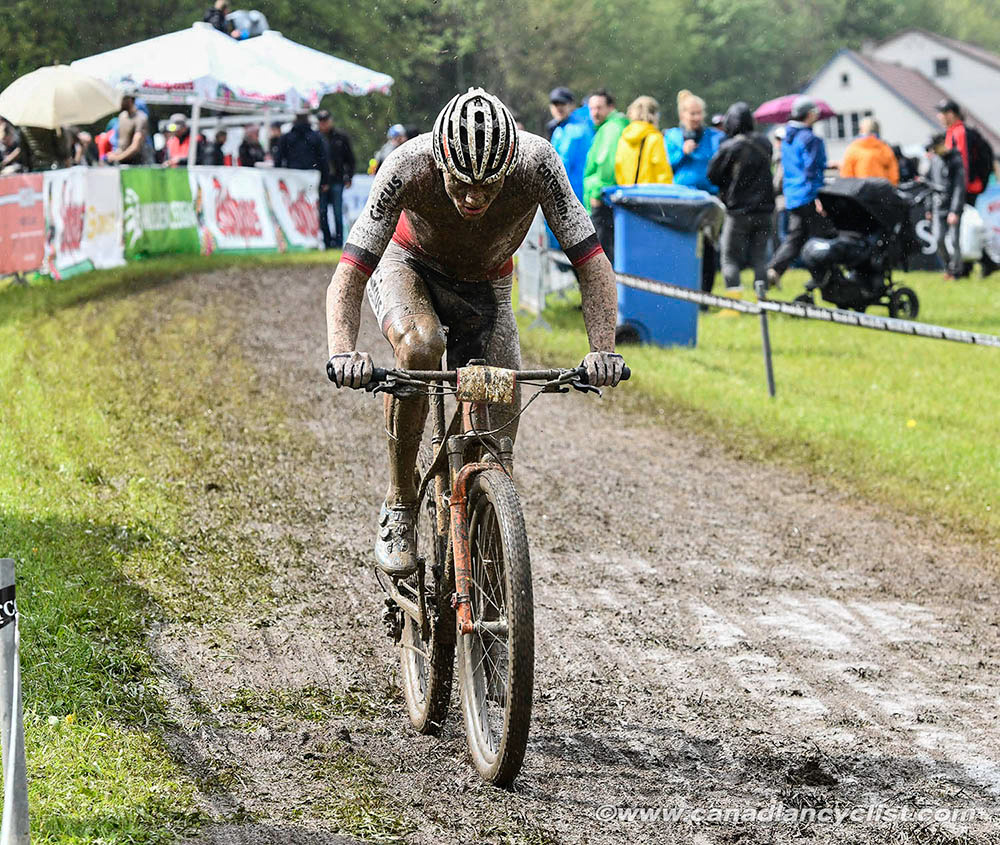 Mathieu van der Poel chasing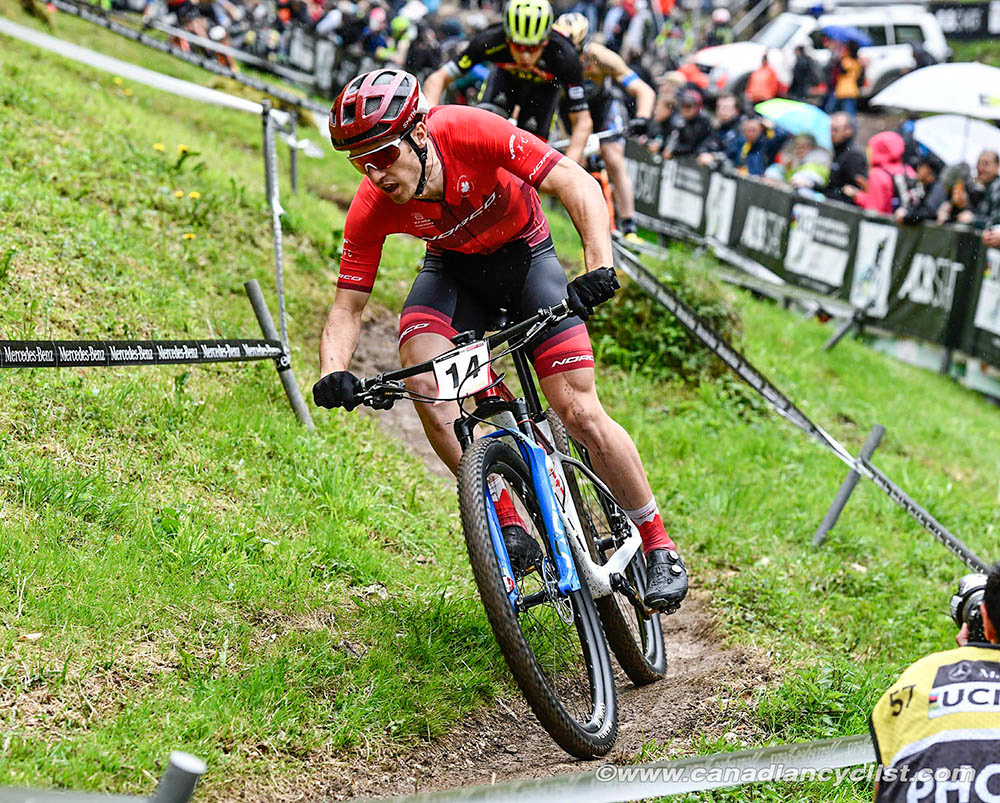 Peter Disera
"I just rode my own race," said Flueckiger. "I never had to go over my limit, just on the limit. And then I was in the lead and I had wings! I was just in a tunnel and riding to the finish line; in those conditions you just have to ride your own race."

"It was one of the most fun World Cups I've done so far," said van der Poel. "I said to my team that I was hoping for rain, so I was glad when it started pouring. It was a little bit stupid to follow Nino at the beginning and I blew the engine a little bit. It took me a few laps to get back on my pace. I got better and better, but unfortunately it was for second place."

Disera had a good start, and was riding in the top-10 for the first lap and a half. The pace began to tell, and he faded in the last two laps. Andrew L'Esperance (Norco Factory) finished just outside the top-50, in 54th place. Disera is 19th in the overall World Cup rankings, with 97 points.

"After the short track on Friday I landed myself a second row start," said Disera. "So before I knew it, I was top-10. It wasn't a great physical performance, and I had to fight hard mentally to stay in it. It was a tough day all round, and when the skies opened up it got real wild out there."
Albstadt World Cup XC: Elite and U23 Women's XC results
World Cup Albstadt: Elite Men's results
Fincham Takes Tenth in U23 World Cup
Woods Second at Albstadt Junior Race