June 19/19 18:48 pm - Zukowsky Second on Opening Stage of Beauce

Posted by Editoress on 06/19/19

The opening stage of the 34th edition of the Tour de Beauce saw six riders hold off a fast closing peloton. Tyler Magner (Rally Cycling) won the stage and dons the Yellow jersey, beating Canada's Nick Zukowsky (Floyd's Pro Cycling) by a tire's width as both threw their bikes across the finish line after 177 kilometres of racing. Bruno Langlois (Brunei Continental) was fourth and Adam Jamieson (Team Canada) sixth, with Jamieson donning the Polka Dot climber's jersey.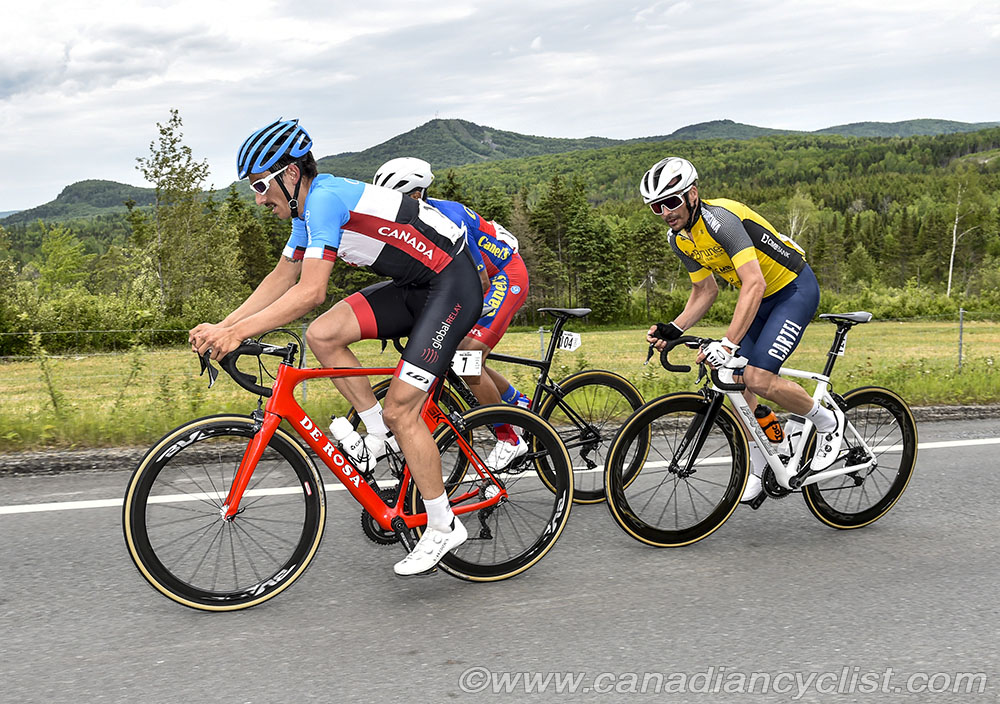 The break: l to r: Adam Jamieson (Team Canada), Ignacio De Jesus Prado Juarez (Canel's - Specialized) , Bruno Langlois (Brunei Continental Cycling Team)
Magner and Zukowsky, along with Brendan Rhim (Arapahoe/Hincapie) bridged up to an early three rider breakaway at the 100 kilometre mark. The original break contained Jamieson, Langlois and Ignacio Prado (Canels Specialized), and went clear 30 kilometres into the stage. They quickly opened a commanding gap that stretched to six minutes before Arapahoe/Hincapie went to the front on the KoM climb and splintered the field.

Twenty riders initially went clear of the field in the chase, which knocked two minutes of the lead very quickly. All but Magner, Zukowsky and Rhim drifted back to the bunch, with the three remaining chasers catching the leaders within ten kilometres.

The six were working smoothly together and still had a three minute gap with 25 kilometres to go, but the bunch was chasing and the lead began shrinking. Jamieson was having problems with his cogset, and he and Prado fell off the pace with five kilometres to go. The gap was shrinking to just over a minute as they entered the final kilometre, but the break would stay away.

At 400 metres to go, the riders made a right onto an uphill finishing straight. Magner and Zukowsky battled side by side all the way to the line, with both throwing their bikes. Rhim took third just behind them. After time bonuses are factored in, Magner leads Zukowsky by four seconds, with Rhim a further two seconds in arrears. Prado took the Sprint jersey and Jamieson the Polka Dot climber's jersey.

The first hour was very hard until it calmed down after the break went," said Magner. "But then Arapahoe did a really big effort on the KoM and blew the race apart. The three of us bridged across to the break after that; I think the three of us had different interests. Nick [Zukowsky] was thinking about GC while Brendan [Rhim] and I were thinking more about the stage. Nick was really coming up on me in the end, so I had to dig pretty hard."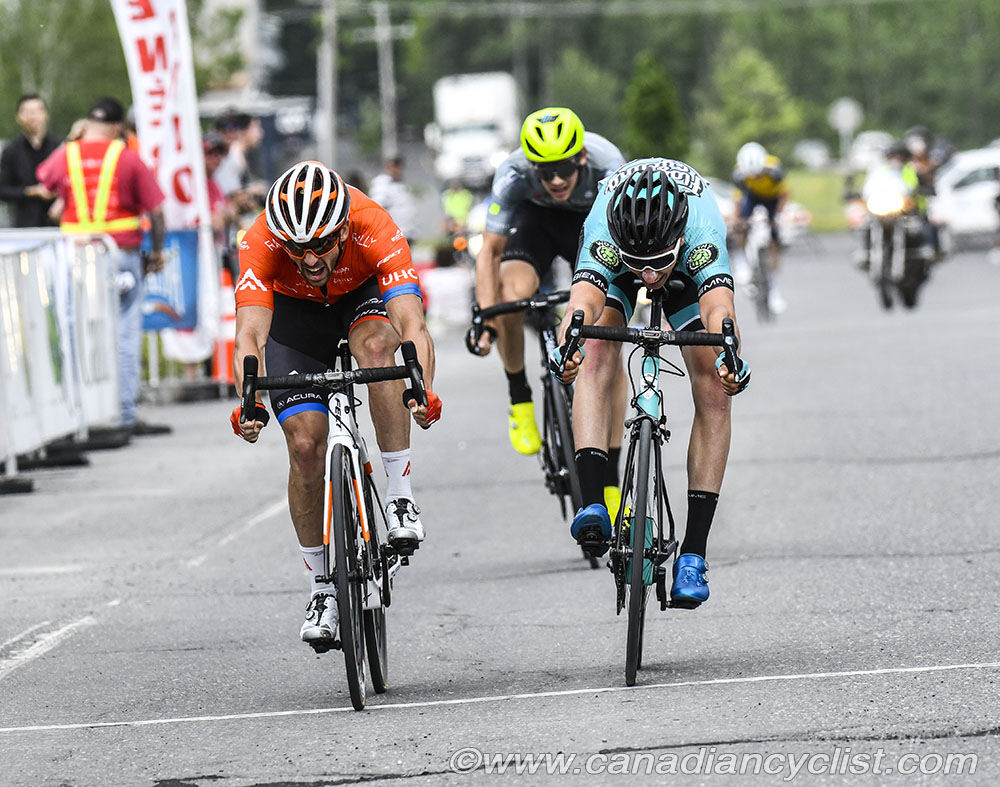 Tyler Magner (Rally UHC Cycling) takes the win over Nicolas Zukowsky (Floyd's Pro Cycling Team)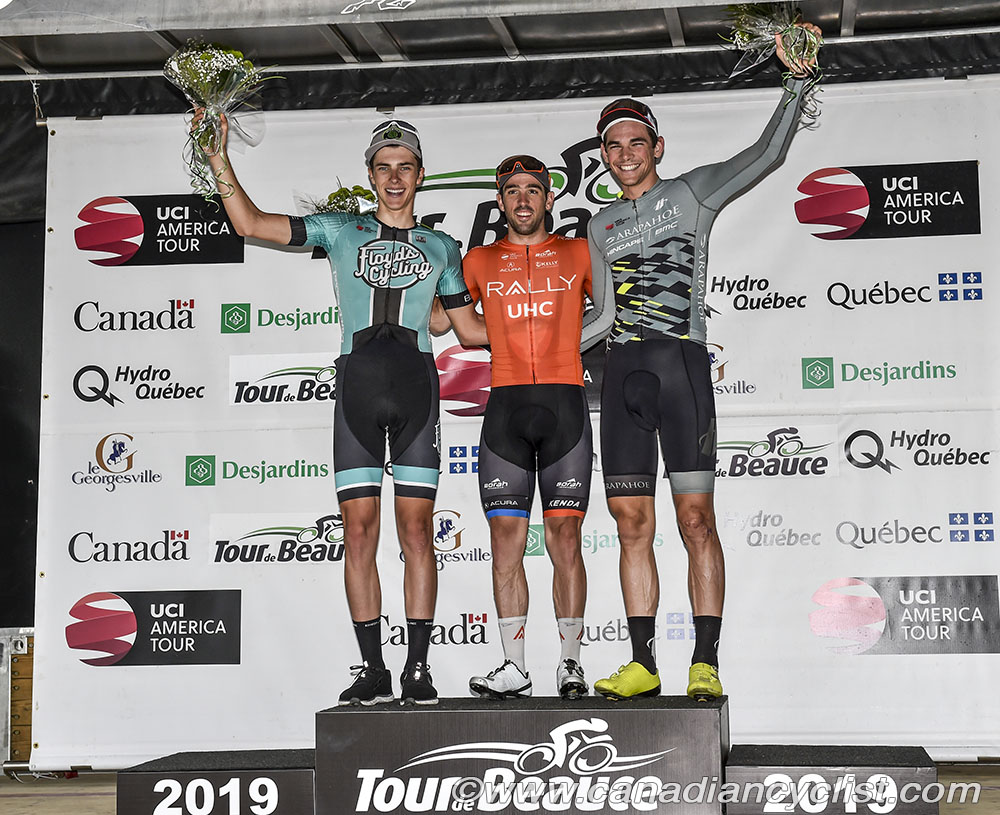 Stage podium: l to r - Nicolas Zukowsky (Floyd's Pro Cycling Team), Tyler Magner (Rally UHC Cycling), Brendan Rhim (Arapahoe/Hincapie p/b BMC)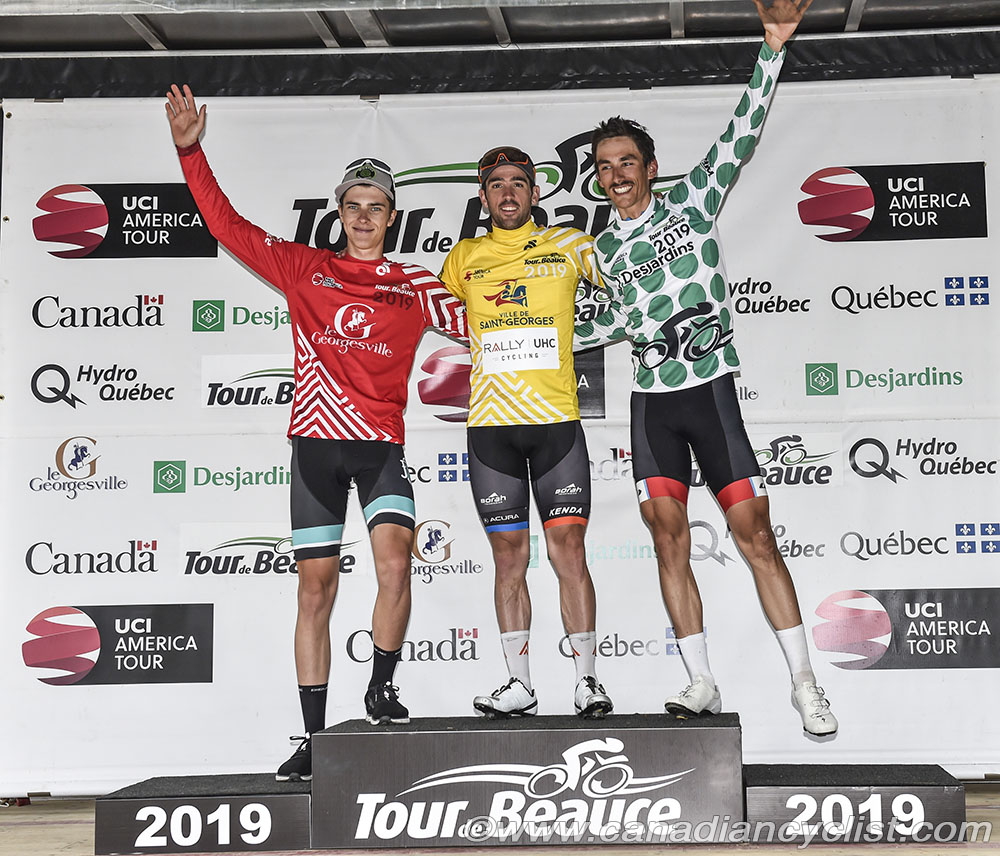 Nicolas Zukowsky (Floyd's Pro Cycling Team) Best Young Rider Red jersey, Tyler Magner (Rally UHC Cycling) Yellow Leader's jersey, Adam Jamieson (Team Canada KoM) jersey, absent Ignacio De Jesus Prado Juarez (Canel's - Specialized) Sprint jersey
Zukowsky took the Best Young Rider jersey less than a week after winning the overall title at the GP Cycliste de Saguenay. "Last week was the biggest result of my career, so I was coming in here with a lot of confidence. The race was pretty aggressive, and next thing I knew I was up the road again with a couple of strong guys. It played out well in the end, and I almost got Ty. But, it's a pretty good position to be in with the stages coming up."

Jamieson, a track specialist who is racing at Beauce for the first time, won all three KoM contests to take a solid lead in the climbing competition. "Oh man, that's a tough course. It suits me better than Saguenay did last week. I was feeling great out there until about the four hour mark [about 15 minutes before the finish]. I started to come apart a little bit coming into the finish - my cassette had loosened up and I was getting dropped on the descents. I guess that's racing, but I'm super happy with how the day turned out."

Langlois, racing in his 21st Beauce, was a late addition to the start list - a very late addition. "It wasn't planned; Jean Francois Racine called me last night a few times. The [Brunei Continental] team needed one more rider to be able to start; they had only three and needed four. I told him 'I cannot do it, I have a business and it's not possible'. So I told some of my friends who I was having a beer with, and they all cranked me up, saying 'do it man!'. I had not trained for a stage race and my bike was not ready, but in my mind I started thinking 'I have to do it."

Langlois arranged for people to cover his work, got his bike and kit ready last night, woke up at 7:00 am and drove down from Quebec to sign in for the race 25 minutes before it started.
Tour de Beauce Stage 1 Interviews - Langlois, Jamieson, Zukowsky