June 22/19 18:58 pm - Easter Wins Stage 4 of Tour de Beauce, GC Unchanged

Posted by Editoress on 06/22/19

The Tour de Beauce moved to Quebec City for Stage 5, a 35 lap circuit race along the Grand Allee and past the provincial legislature. The stage saw no changes to the General Classification, with two riders lapping the field. Griffin Easter (303 Project) won the stage ahead of Jordan Cheyne (Team B.C.), with Adam Jamieson (Team Canada) finishing just ahead of the peloton to take third. The only change in the Jerseys saw Tyler Magner (Rally UHC) take back the Points Jersey from Brendan Rhim (Arapahoe/Hincapie) by one point.

Race leader Nick Zukowsky (Floyd's Pro Cycling) and Magner are essentially tied at the top of the standings - 0.97 seconds apart - and it looked like both teams were happy to have an easy day before the final stage.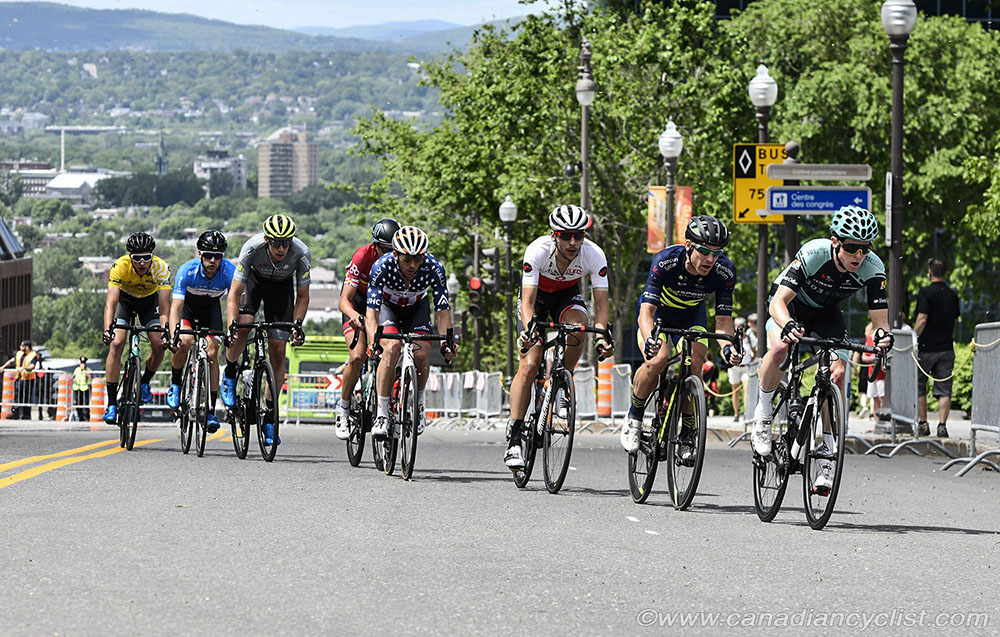 The early break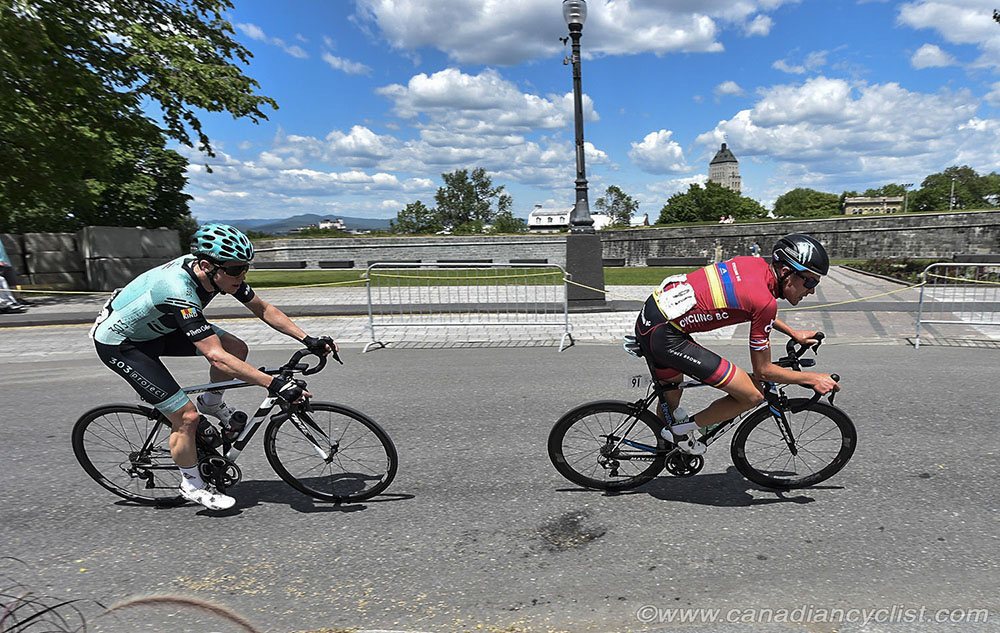 Cheyne and Easter
A break of ten went away in the first couple of laps, and was whittled down to Easter and Cheyne quickly. The two caught the field with 11 laps to go, leaving just a chase group of three dangling off the front. Jamieson was the only member of the group to survive, crossing the line a few metres ahead of the field sprint, won by Pier-Andre Cote (Rally UHC).

Floyd's and Rally UHC will now duke it out on Sunday for the title, on punishing urban circuit in St-Georges that has completely revised the final standings on a number of occasions. The top five riders are all within 14 seconds of the lead.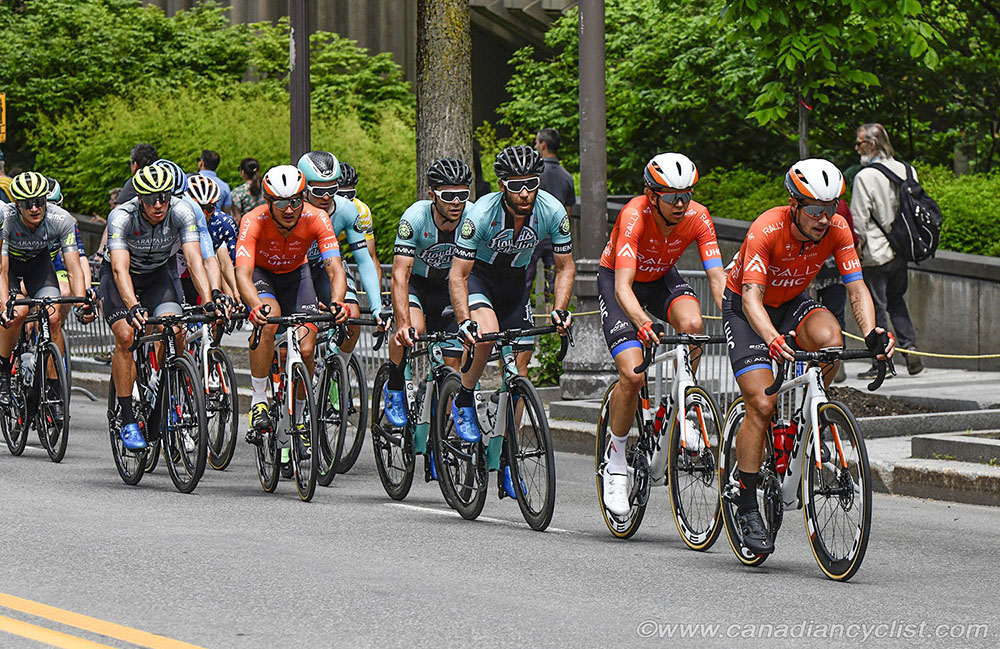 Floyd's and Rally UHC share chase duties
Podium: l to r- Jordan Cheyne, Griffin Easter, Adam Jamieson
"Easter and I attacked out of the break," said Cheyne, "and I think the impetus was lost behind. This is a super hard course to chase on, so we just drove it. I guess the field just gave up. It was less than ideal to lap the field for me as a non-sprinter. I was going to attack, but I broke a spoke with four laps to go, and was just trying to make the best of it. A podium here is pretty special, so I'll take it."

Jamieson, who took the Climber's Jersey on Stage 1, is at his first Tour de Beauce. "I could see the peloton coming up on me with a few laps to go, and Kevin [Field, team manager] was yelling for me to really kick it into overdrive. I attack with a lap to go and just held onto it at the line. It felt really good. I'm really excited to do Beauce; I never got a chance as an Under-23, so to put some results on the board my first time feels good."

Zukowsky held onto the Yellow Jersey for another day. "Our initial plan was to try and put pressure on Rally, but they were content with letting the group go away, so we had a truce and will leave the race until tomorrow. We are feeling confident, and [team mate] Serghei [Tvetcov] is close on time."

Zukowsky agrees that tomorrow's stage is one of the hardest - "I definitely think so; I've never finished it. So, hopefully this will be my first time! It's definitely a hard stage; it's well known throughout the peloton that maybe 20 or 30 guys finish it."
Zukowsky Second on Opening Stage of Beauce
Piccoli Wins Megantic, Zukowsky Into Yellow at Beauce
Tvetcov Wins TT at Beauce, Zukowsky Holds onto Yellow
Zukowsky Retains Yellow Jersey by Smallest of Margins after stage 3b