July 20/19 19:25 pm - Batty & Disera Repeat as National XCO Champions

Posted by Editoress on 07/20/19

Over 700 athletes came out to the Canadian XCO Championships on Saturday at Hardwood Ski & Bike, 75 minutes north of Toronto. Two familiar faces stood on top of the podium in the Elite races, with Emily Batty (Trek Factory) winning her fourth consecutive women's title, and Peter Disera (Norco Factory) winning his third consecutive Elite men's title. In the Under-23 races, Laurie Arseneault (ACQ) successfully defended and Quinton Disera (Norco Factory) won his first title in the category.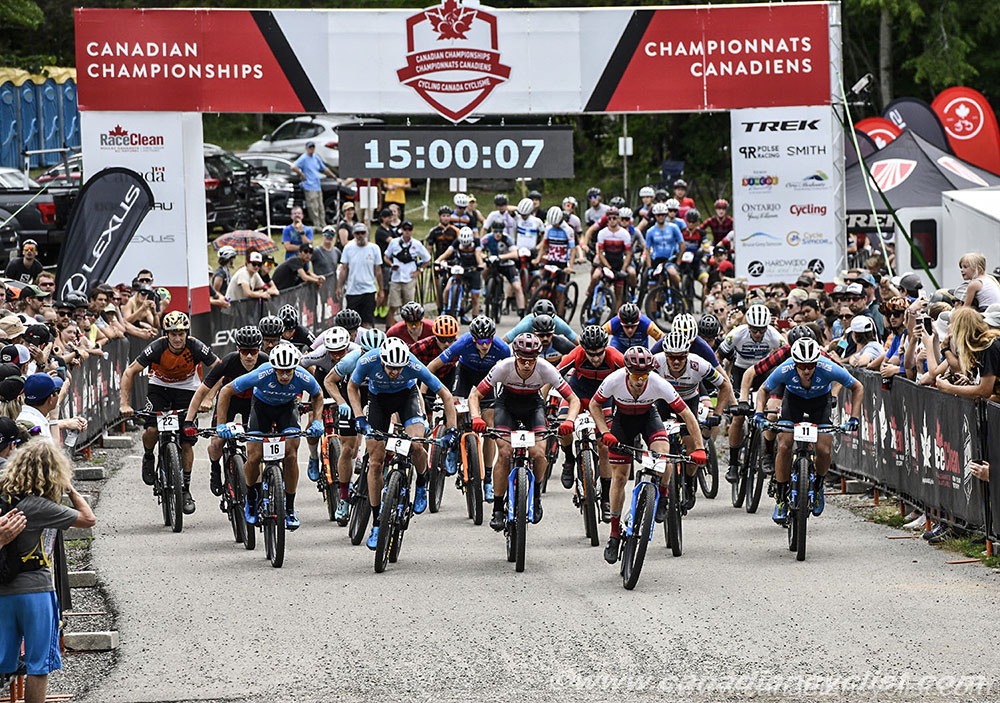 Both riders won in similar fashion: riding with their top rivals for the first few laps before pulling away in the second half of the race, despite heat and humidity that pushed temperatures to the mid-30s. Mechanicals and crashes also played their part in many races, with the dry and rough, rocky track causing problems for many riders.

The women's race had a stellar field of World Cup riders, led by Batty, Catharine Pendrel (Clif Pro) and Haley Smith (Norco Factory). Smith was the clear favourite, after a podium and a string of top-10 results in the first four rounds of the World Cup. Smith appeared to be on her way to victory when she went to the front on the first lap with Jenn Jackson (AWI Racing), but ran into some mechanical issues.

"It was drivetrain," said Smith. "When I put pressure on the pedals it wouldn't stay in gear.

However, she drifted well back to finish seventh, and admitted afterwards that she lost some motivation.

"I didn't have that World Cup fire."

Meanwhile, Batty had surged into the lead and was looking like her old self after struggling to finish in the top-25 at the World Cups.

"I think it just came down to turning on for an event that I wanted to do well in," said Batty, who has struggled in the first half of the World Cup season. "I definitely had a slow start to the season and have been overcoming a bunch of obstacles, but I think it is starting to come around."

Behind Batty, Pendrel had moved into second after crashing twice, but was making no headway. Jackson dropped to third and, on the last lap, was caught and passed by Sandra Walter (Liv Canada), taking the final podium spot.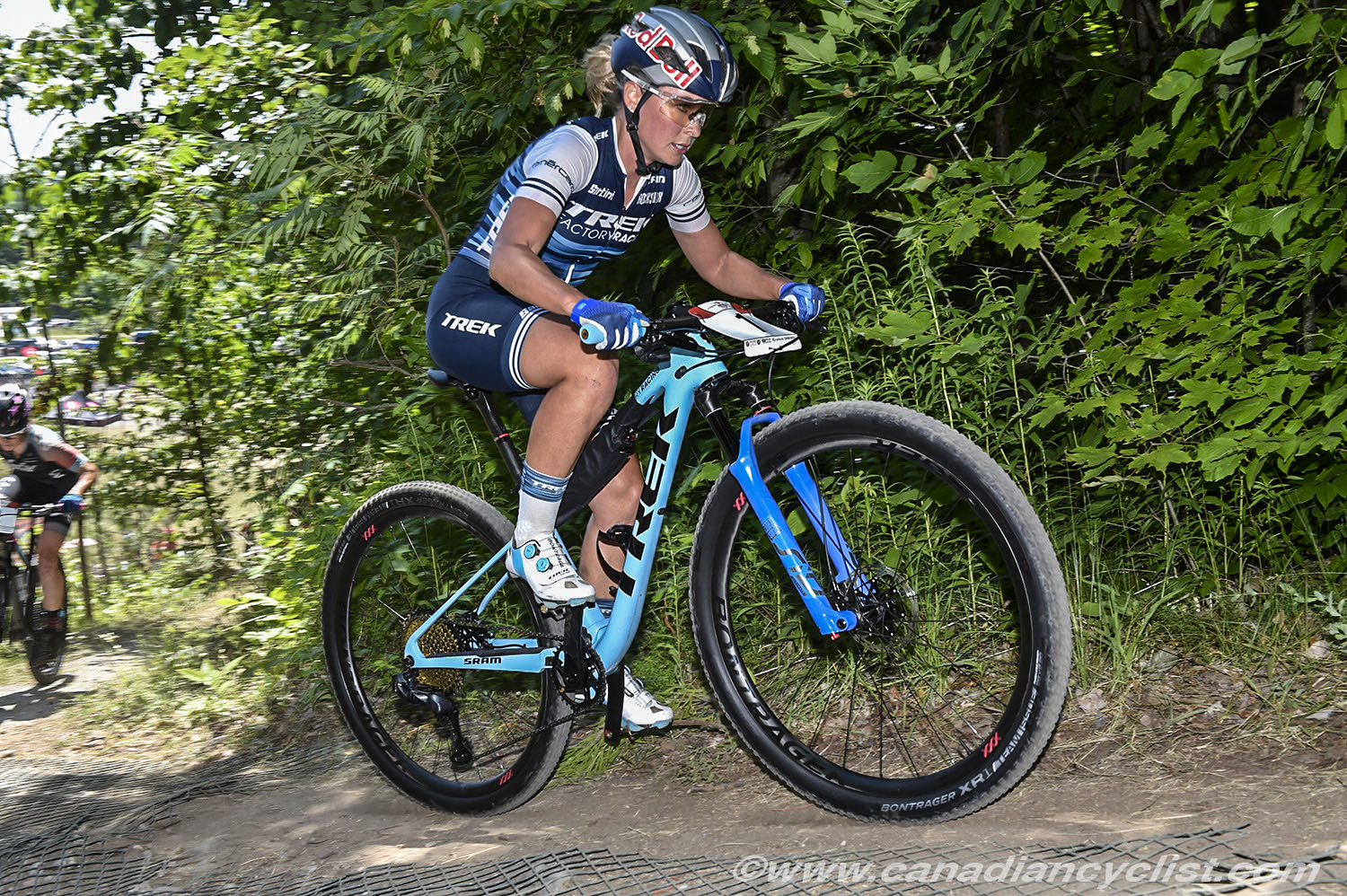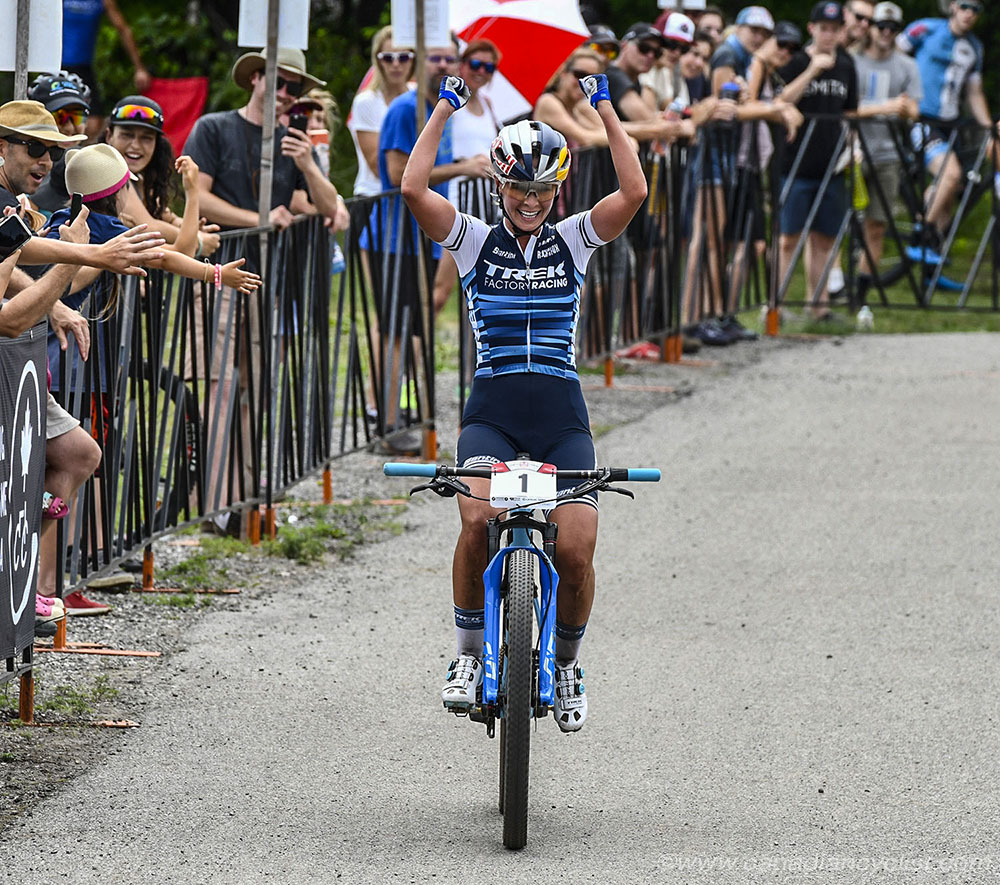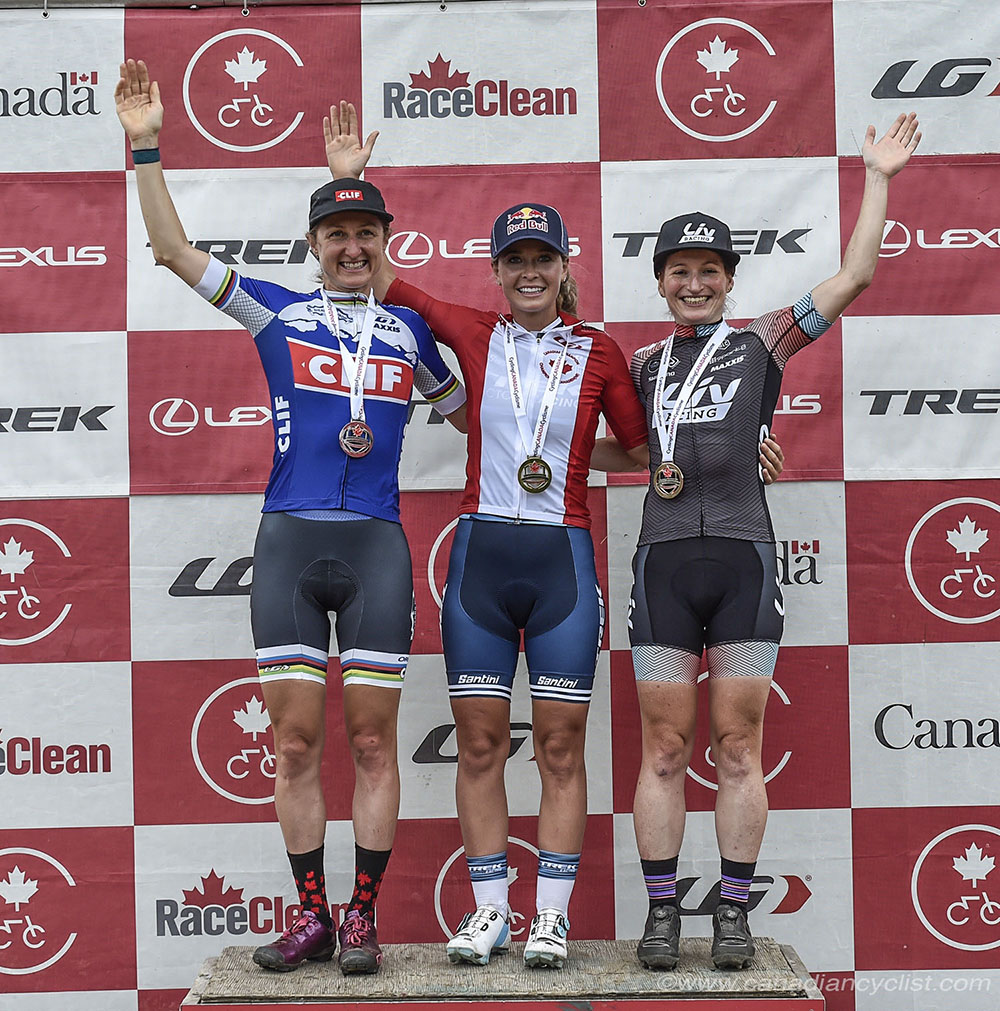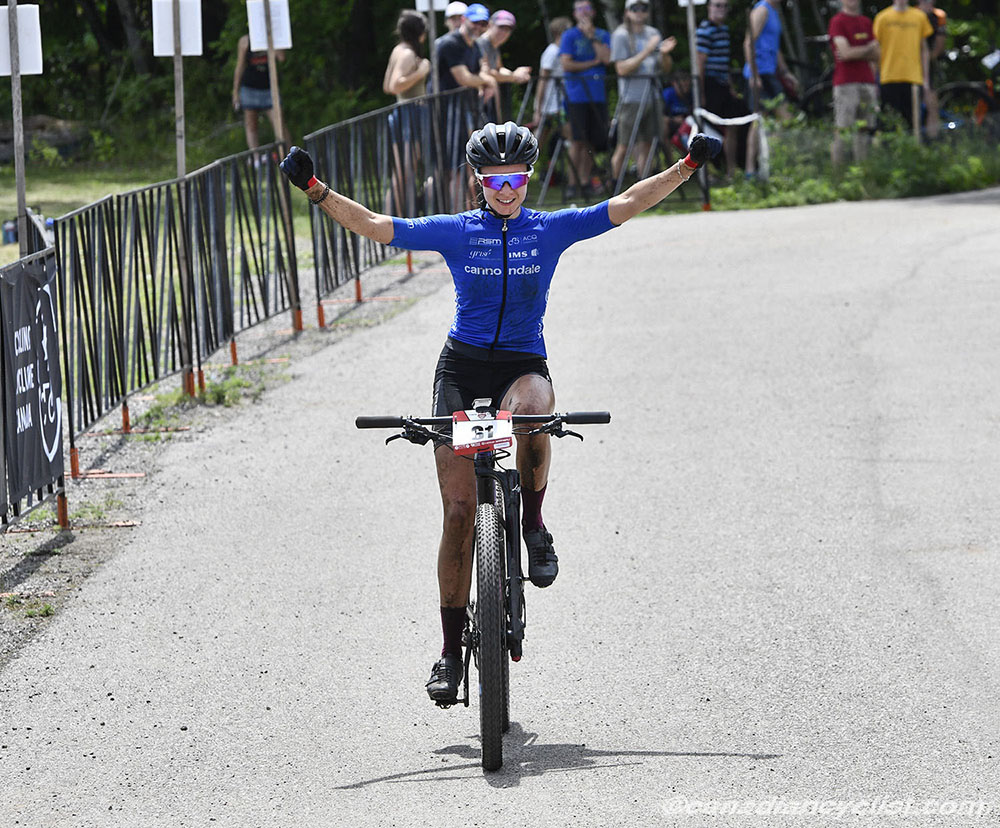 Laurie Arseneault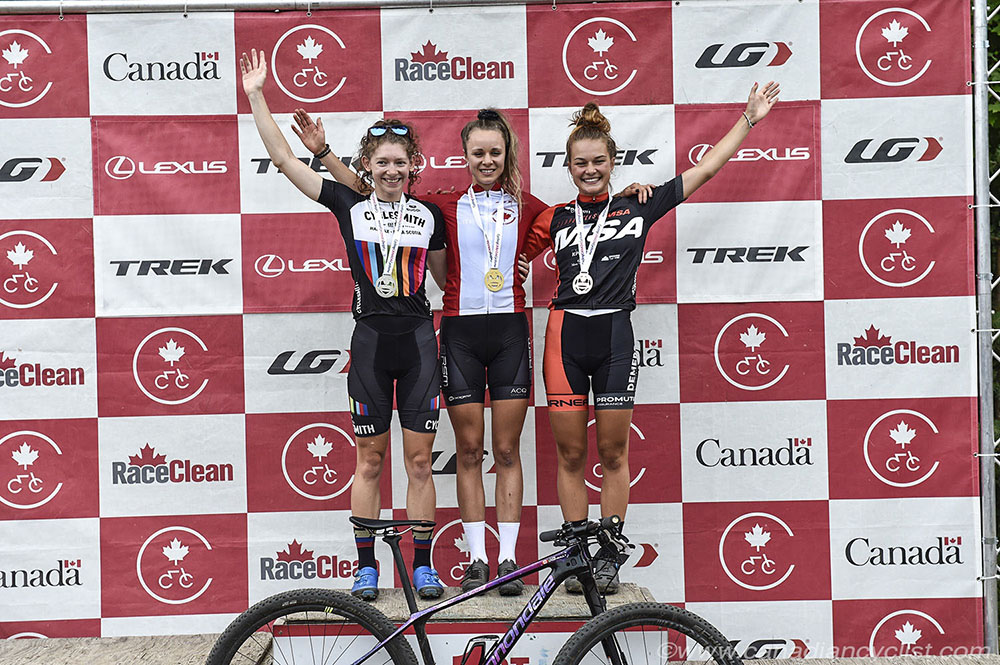 Mackenzie Myatt, Laurie Arseneault, Marianne Theberge
In the Under-23 women's race, Arseneault rode away from from the rest of field to win her first Under-23 title. This was an expected result, after Arseneault's strong World Cup season, with multiple top-15 results. Mackenzie Myatt (Cyclesmith) recovered from a slow start to take second, with Marianne Theberge (MSA) finishing third. Emilly Johnston (Pendrel Racing) won her first title in the Junior women's category, finishing 1:46 ahead of rival Magdeleine Vallieres Mill (Quebecor Stingray), who recently won all three national road titles. In the Under-17 race, Nicole Bradbury (NCCH p/b MGCC) dominated, and was announced as the Catharine Pendrel scholarship winner at the end of the day.

In the men's race, Disera was the one to beat; currently ranked tenth in the World Cup and coming off a stellar sixth place last weekend in Les Gets, France. On the first lap, four riders split off the front - Disera and tem mates Andrew L'Esperance, plus two Pivot Cycles-OTE riders Leandre Bouchard and Marc Andre Fortier.

Disera and L'Esperance were 1-2 until L'Esperance suffered the first of two flats that eventually knocked him out of the race. Disera began to steadily open a gap on Bouchard, to eventually finish a minute and a half in front, while Fortier hung on for third ahead of a late closing Raphael Gagne, the Pan American champion.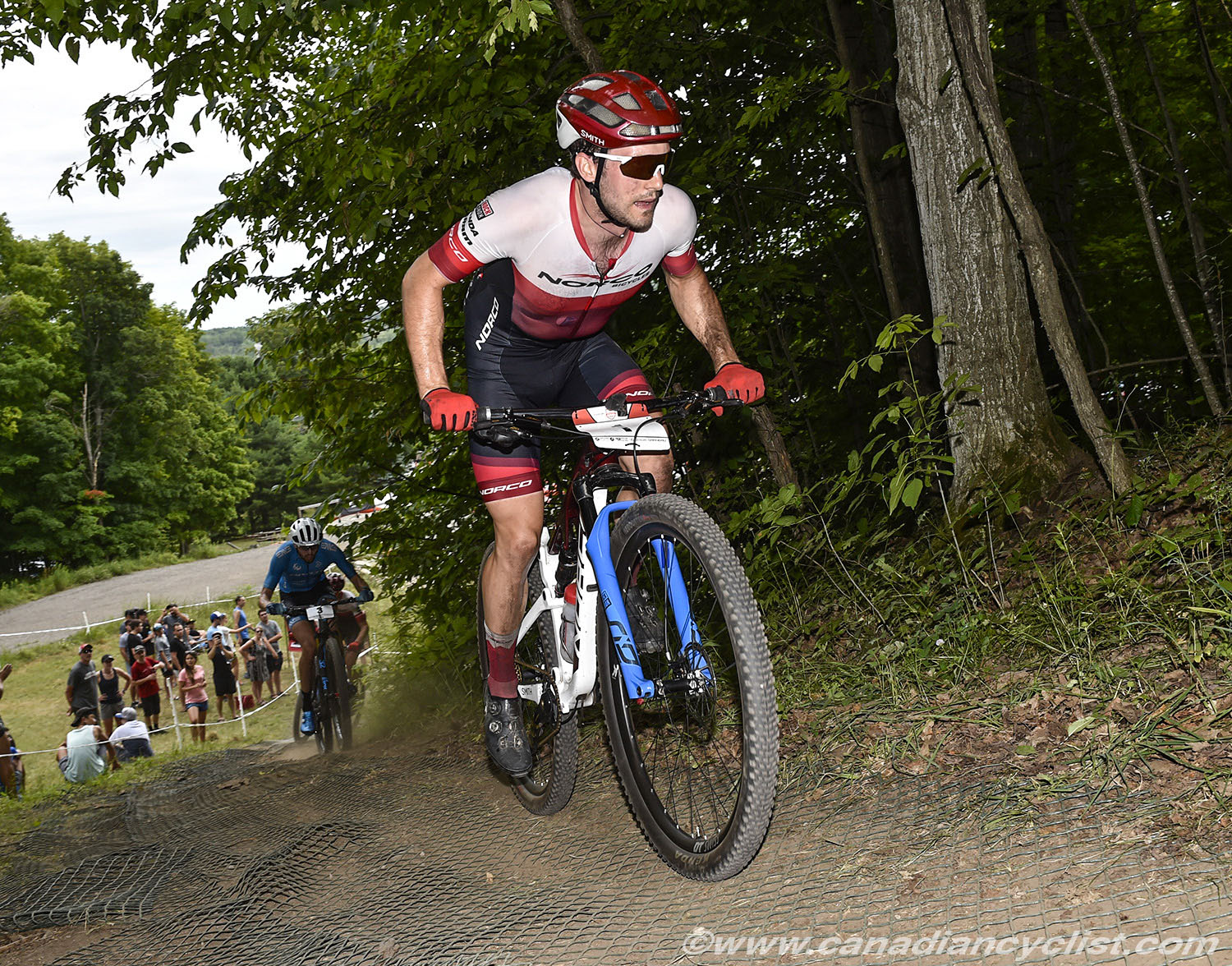 Peter Disera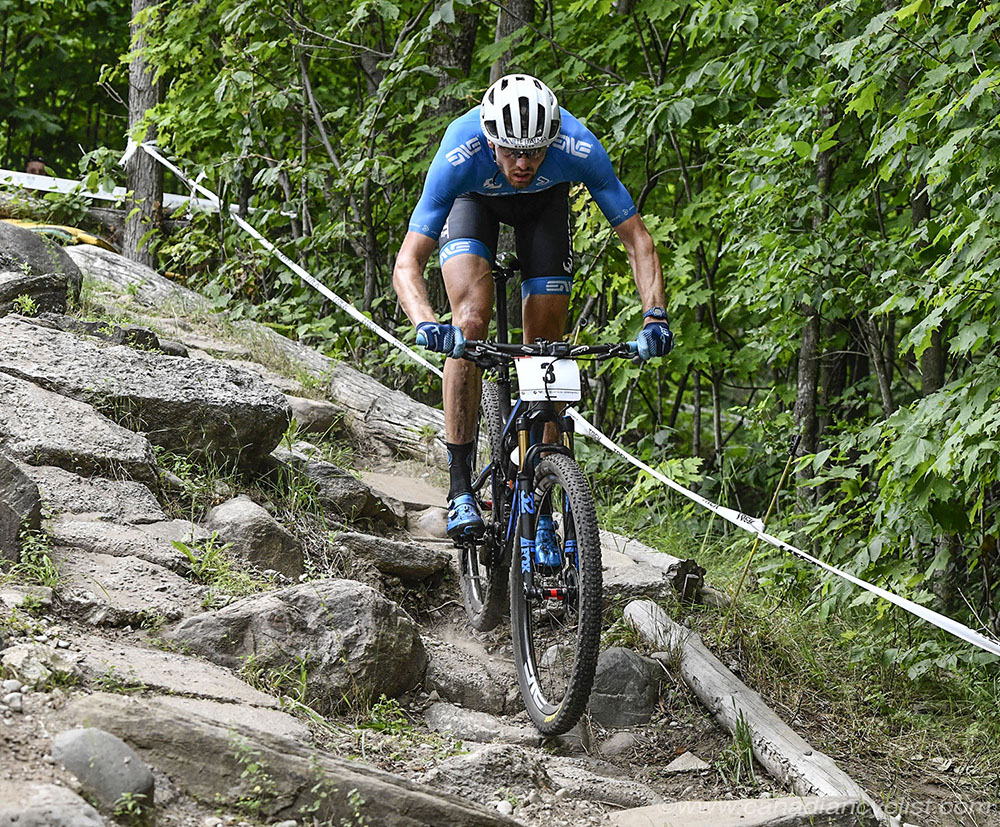 Leandre Bouchard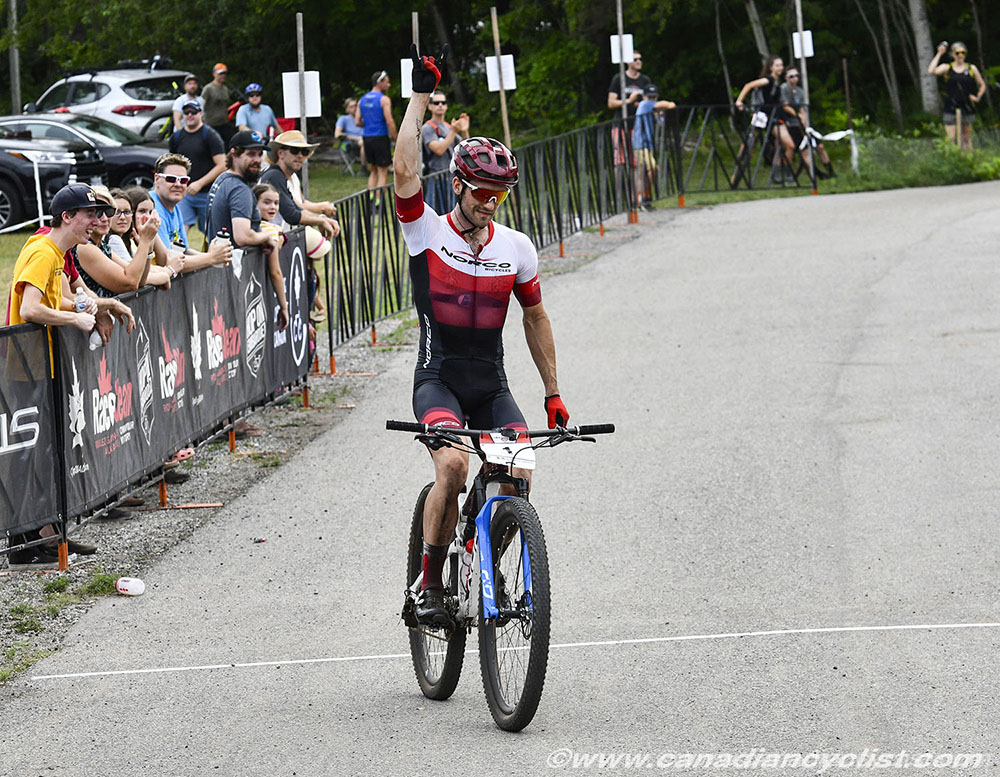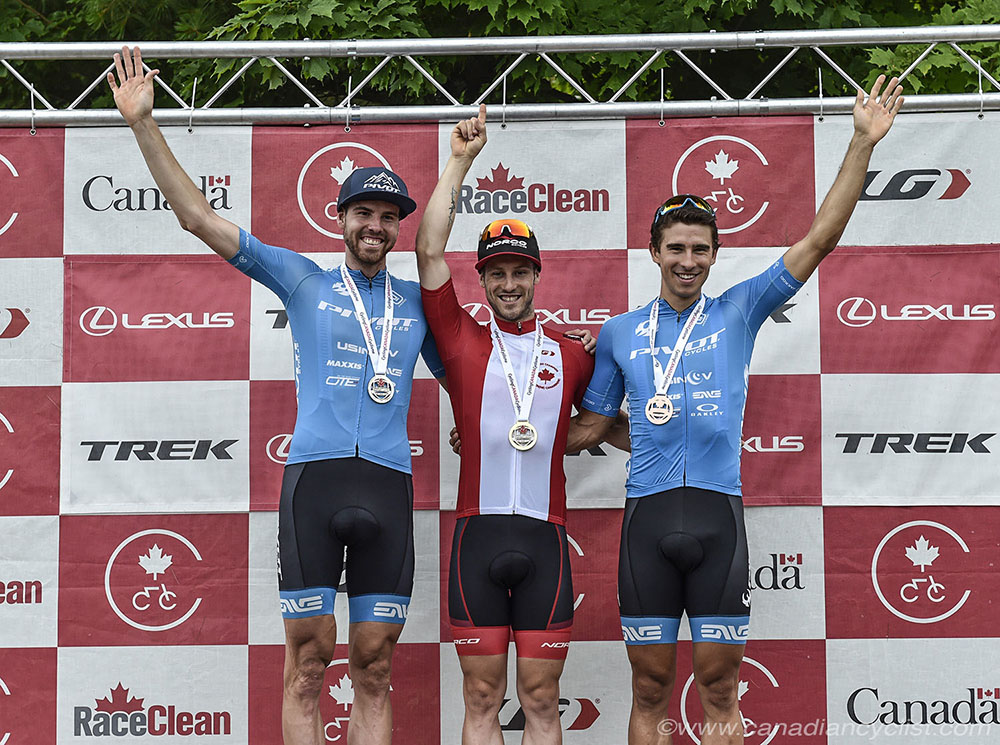 Leandre Bouchard, Peter Disera, Marc-andre Fortier
"The hat trick is cool, and I'm super excited to race here at home," said Disera, whose family lives within 15 minutes of the race site. This is week five [in a row] of racing for me, so I'm pretty tired. This week has been extremely difficult; I came home [from a successful World Cup campaign], and local media has been reaching out. I've never really had those demands on my time and energy like that. It was cool and I'm happy to talk, but it kept the high a little too high and stacked on pressure for this weekend. So, I was a little bit excited and a little bit nervous going into this weekend."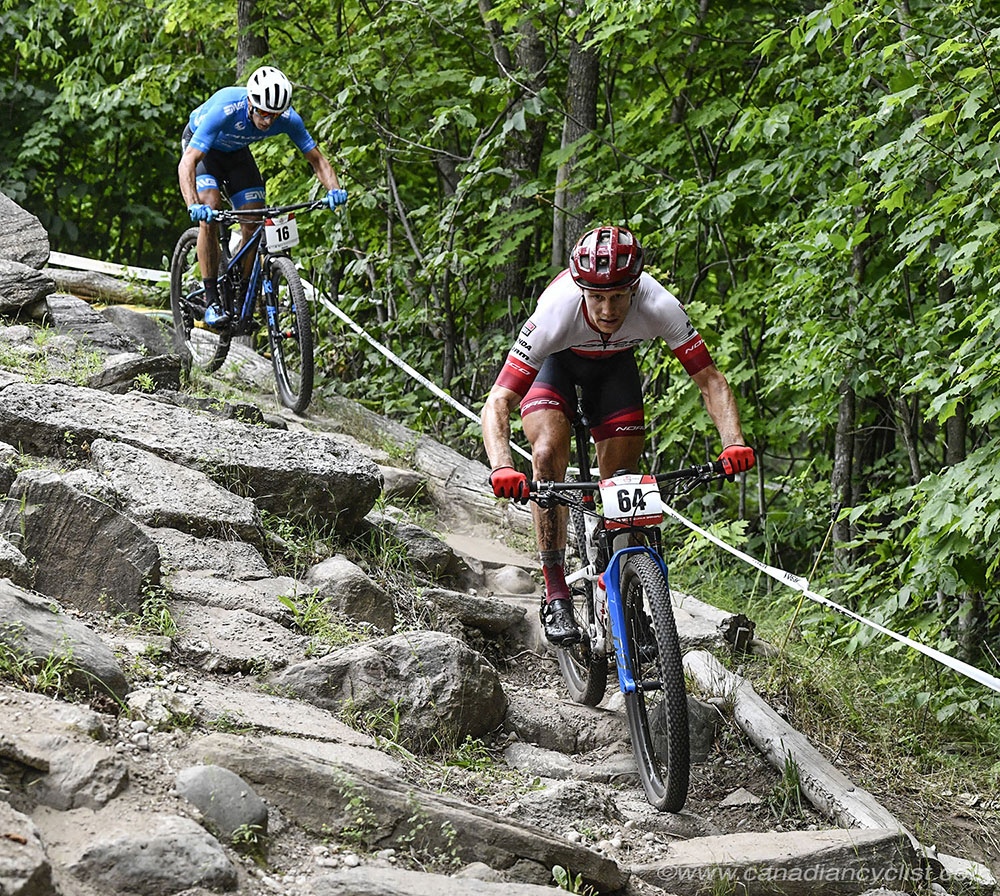 Quinton Disera
The Under-23 men's race saw a dramatic shift at the front when leader and defending champion Sean Fincham (Norco Factory) broke his chain. Fincham was the prohibitive favourite, after finishing third at a World Cup and ranked fourth overall. After dropping to last before making it to the pits, he eventually recovered to finish seventh with an impressive ride up through the field. However, Fincham's team mate Quinton Disera was ready to step up to the lead, and put on a very strong performance, catching all but his brother and Bouchard in the men's field before the finish, despite starting two minutes behind the Elite men. Raphael Auclair (Pivot Cycles-OTE) and Tyler Orschel (Durham Shredders) dropped to nearly 40 seconds back on Disera in the mid point of the race, but recovered in the last lap and a half to close to only 18 seconds by the finish line. Auclair and Orschel were still together coming into the final two corners, with Auclair getting the hole shot to take silver.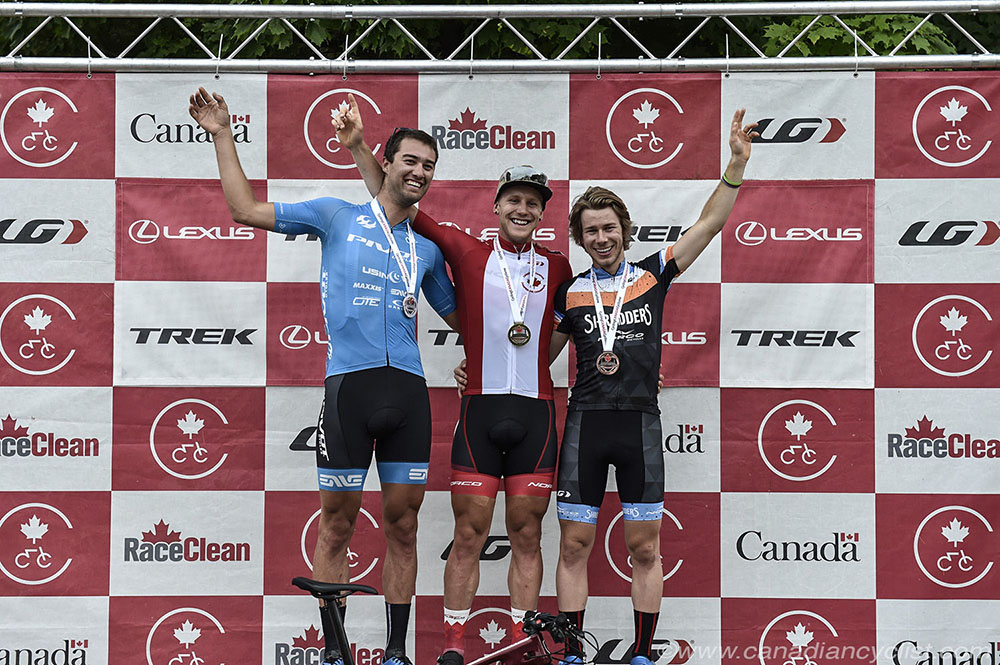 Raphael Auclair, Quinton Disera, Tyler Orschel
In the Junior men, defending champion Carter Woods (Rocky Mountain Factory) rode away from the field to win the title, however, there was a battle for second, with Vincent Thiboutot (Pivot Cycles-OTE) just holding off Canada Cup series leader Hamish Graham (Comox Bike Co.). In Under-17 men, Owen clark (Homestead racing) led from start to finish, with Hugo Brisebois (Ride with Rendall p/b Biemme) just beating Mederic Carrier (Dalbix Siboire) for second.

Mountain Bike National Championships results