July 21/19 16:01 pm - Pivot-Cycles-OTE Wins Team Relay National Title

Posted by Editoress on 07/21/19

The 2019 Canadian XCO Mountain Bike Championships concluded on Sunday with the Team Relay. A total of 29 teams participated, including 11 in the Championship category and 18 in the Club category. Pivot Cycles-OTE 1 came from behind on the last lap to win the national title, while Hardwood Next Wave took the Club title.

Usually, the Team Relay is run on a full (or almost full) lap of the XCO course, however, this year it was changed to a short circuit, cutting out most of the climbing sections, and making for an extremely quick six minute lap for the top riders.

Pivot Cycles-OTE and Norco Factory were expected to contend for the title, and on the first lap Leandre Bouchard opened a gap for Pivot Cycles-OTE. He was followed by Gunnar Holmgren (Hardwood Next Wave), a club squad, who took the lead on the second lap with a strong rider from Cadet rider Ian Ackert. Hardwood Next Wave continued to lead on Lap 3 with Junior man Matthew Leliveld, but U23 women's XCO champion Laurie Arseneault kept the gap in check for Pivot Cycles-OTE.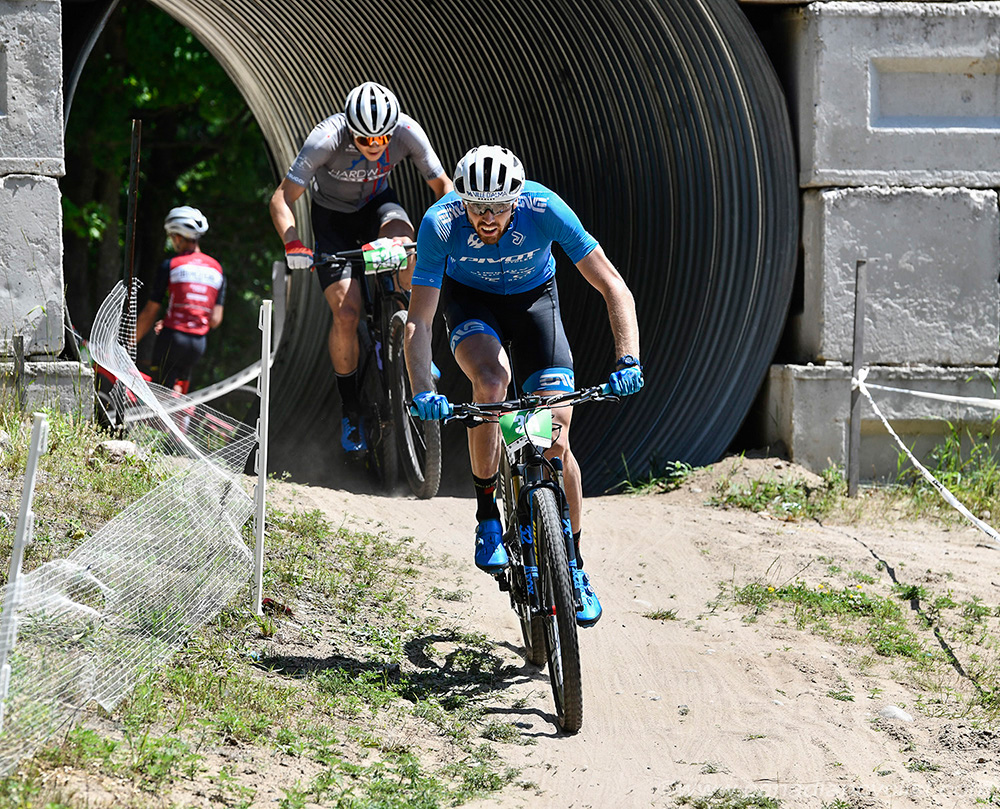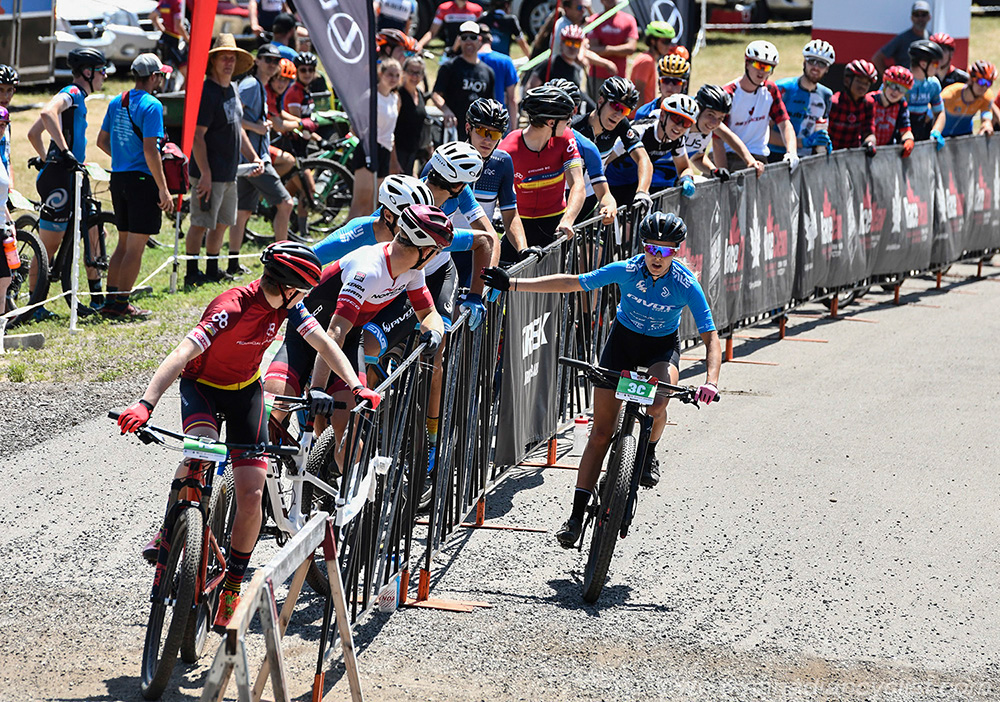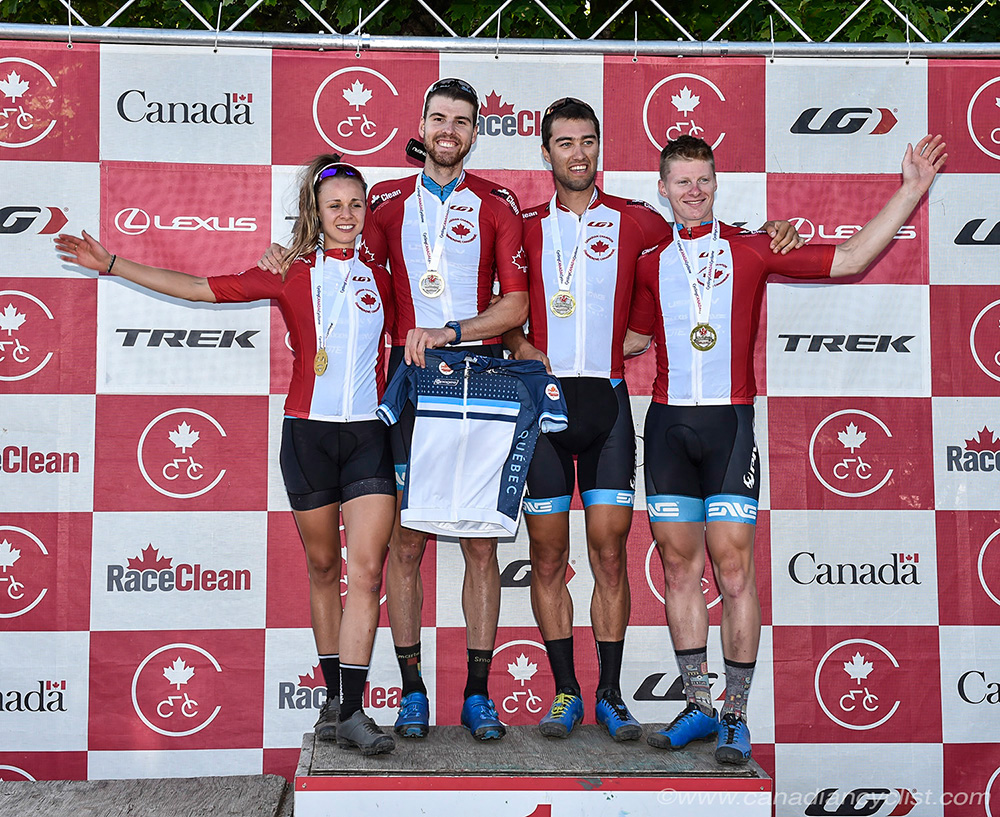 Hardwood Next Wave had Cadet woman Ava Holmgren as their anchor rider, and she was no match for the fast finishers of the pro teams, with Auclair the first to pass her, followed by Marc Andre Fortier (Pivot Cycles-OTE 2), and then Quinton Disera for Norco, who had to come back from sixth place entering the final lap. Hardwood Next Wave easily took the Club title, ahead of CVM Cyclone d'Alma. Leandre Bouchard also rode for for CVM Cyclone d'Alma, his local club team, on the final lap, giving hime both gold and silver medals in the same race.

Raphael Auclair, who rode the anchor position for Pivot Cycles-OTE, said "Usually we ride a full lap of the XC course, but this year it was a short, super fast and non-technical lap, so it was a sprint for everyone. We sent Leandre [Bouchard] first to establish a good gap and then our Junior, Vincent Thiboutot to maintain our lead. Our guest rider [Under-23 women's XC champion] Laurie Arseneault was next, and then I was the anchor leg."
Championship (4 laps)

1 Équipe Du Québec/Pivot1
0:27:41
2 Équipe Du Québec/Pivot2
at 0:10
3 Norco Factory Team
0:15
4 Équipe Du Québec 3
0:51
5 Cycling BC
0:54
6 Team BC 2
2:07
7 Team Alberta
2:07
8 Équipe du Québec 5
2:52
9 Équipe du Québec 4
3:00
10 Équipe du Québec 6
3:38
11 Team Nova Scotia
6:16

Challenge (4 laps)

1 Hardwood Next Wave
0:28:44
2 CVM Cyclone D'Alma
at 0:31
3 Homestead Racing
0:33
4 CC MSA
0:53
5 CVM Sigma Assurances 1
1:01
6 AWI Racing p/b The Crank and Sprocket
1:32
7 Ride with Rendall p/b Biemme
1:48
8 AWI Racing 2
2:34
9 Vélo Pays D'en Haut/PG
2:41
10 CC MSA Turbo
3:12
11 CVM Sigma Assurance 2
4:07
12 Eagle Cyclone D'Alma
4:08
13 Angry Johnny's Racing 2
4:37
14 Project Dialed In
4:58
15 Composite 1
5:08
16 Toyota St-Eustache
5:32
17 Angry Johnny's Racing p/b Norco
6:37
18 Team Alberta 2
6:40